It feels like yesterday I finished the Monarch Revival Garage Remodel and Mallory's Workshop to create the perfect home base for future renovation projects. While they were not my most glamorous projects, both allowed me to tackle some of my more elaborate renovations in an organized and deliberate manner.
With my garage space organized, it allowed me to tackle these renovations:

After working through so many unique projects, I place a lot of value in maintaining an organized garage. It's been years and this space has never failed to keep up with me.
Today on the blog, I'll be chatting all about my favorite ideas for garage organization that actually work! While it can feel quite daunting to tackle a space like this, having a clean and organized garage really elevates your entire home.
Ideas For Garage Organization
Depending on the current state of your garage, whether it's completely empty or filled to the brim, these tips will provide a baseline to get ideas for garage organization. Above all, this space needs to be convenient for you to maintain the clutter for years to come.
Start With A Good Declutter And Clean
If you're moving into a brand new home, you're in luck and can skip this step!
I think the main reason garage organization feels so daunting is because of the current clutter your garage may have. This was the case in our Arizona home! Instead of looking at this step like an uphill battle, change your perspective to how cleansing (literally and figuratively) a complete clear-out is.
If you live in a community neighborhood, check out when local garage sales or bulk pick-up dates are. This is a great timeline to plan out a garage clear-out with a strict end date in mind.
Prioritize What Items Are Most Important
After cleaning and decluttering, look at your remaining garage items and ask yourself what is used the most vs. only a few times a year. For us, holiday decorations and keepsakes are very important, but unnecessary to keep at arm's length. We chose to get weather-proof boxes and keep it up in our attic instead.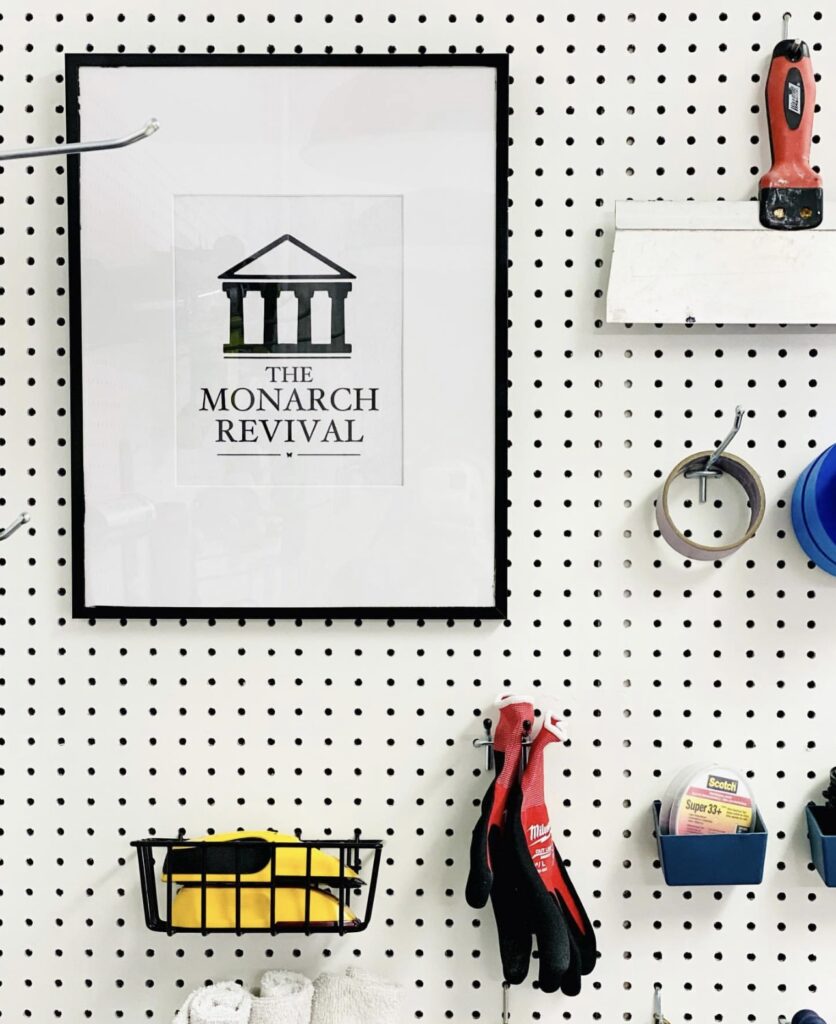 This created a ton of space to create Mallory's Workshop and have all my tools neat and organized.

Tailor Your Storage Solutions To Your Needs
Most likely, the reason your garage doesn't stay organized is because your current storage is not functional for you. Nowadays, you can find almost every storage solution available online- all you have to do is start looking!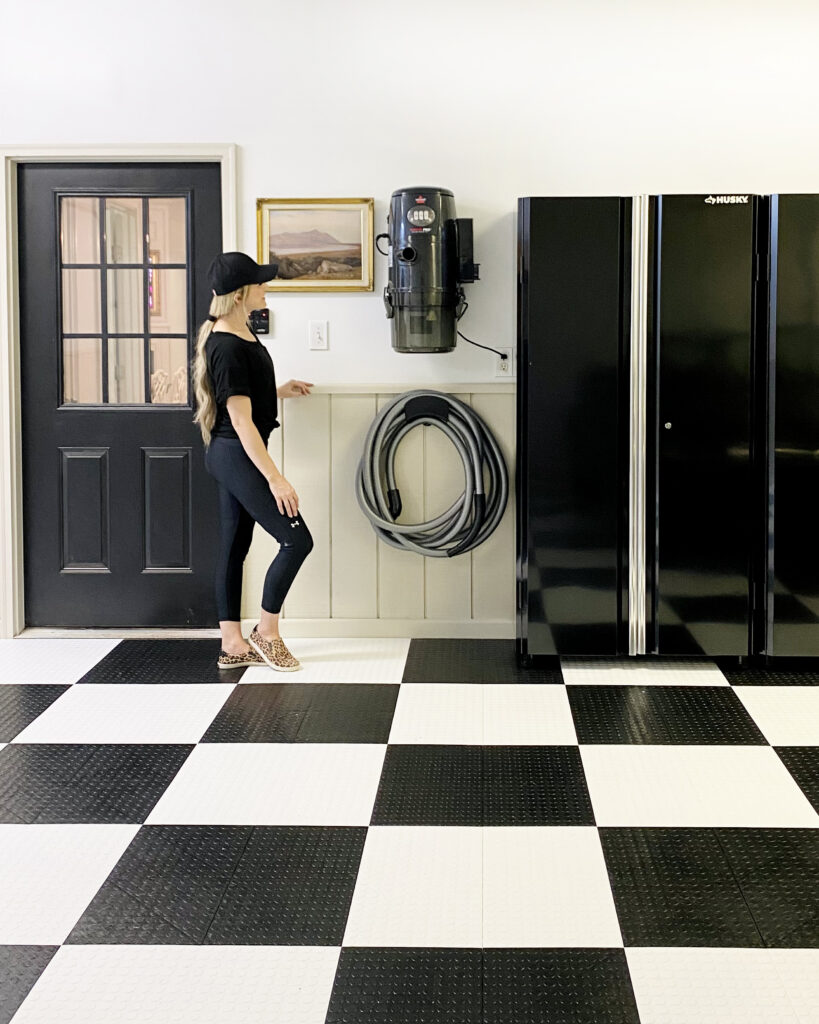 For us, it was a game changer to purchase a stand-alone steel shelving unit from Home Depot. It allowed for bulk storage to be kept in a dust-free environment and away from any projects I bring into the garage.
When trying storage options for your space, it's okay to test it out for a few days to truly decide! Give yourself the freedom to not get it right the first try, but to also not settle for a subpar solution.
Consider Alternative Flooring
Adding flooring has made a world of a difference in terms of keeping our garage clean and sanitary. Although traditional garage floors are really durable, they often are susceptible to staining and scratching.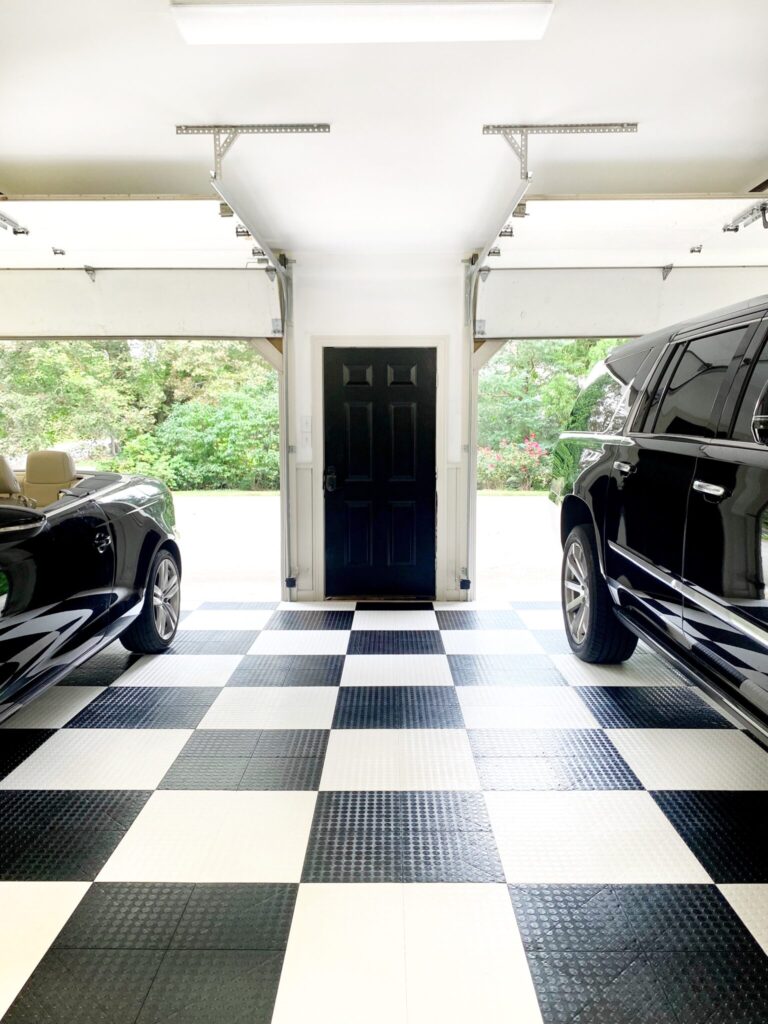 We used the Flex Nitro Tiles, are flexible PVC tile, in the colors Artic White and Midnight Black. They have held up incredibly well after years and come in a lot of color options, but of course I had to go with a classic checkerboard pattern. Although epoxy is a really popular floor covering option, I found a lot of peace of mind in a chemical-free option.
Utilize Wall And Ceiling Space
This is not discussed enough! Your wall and ceiling are prime real estate areas in your garage that allow for many odd items to be up off the floor. Bikes, ladders, and vacuums are some of my go-to recommendations to hang on heavy-duty hooks to clear up space.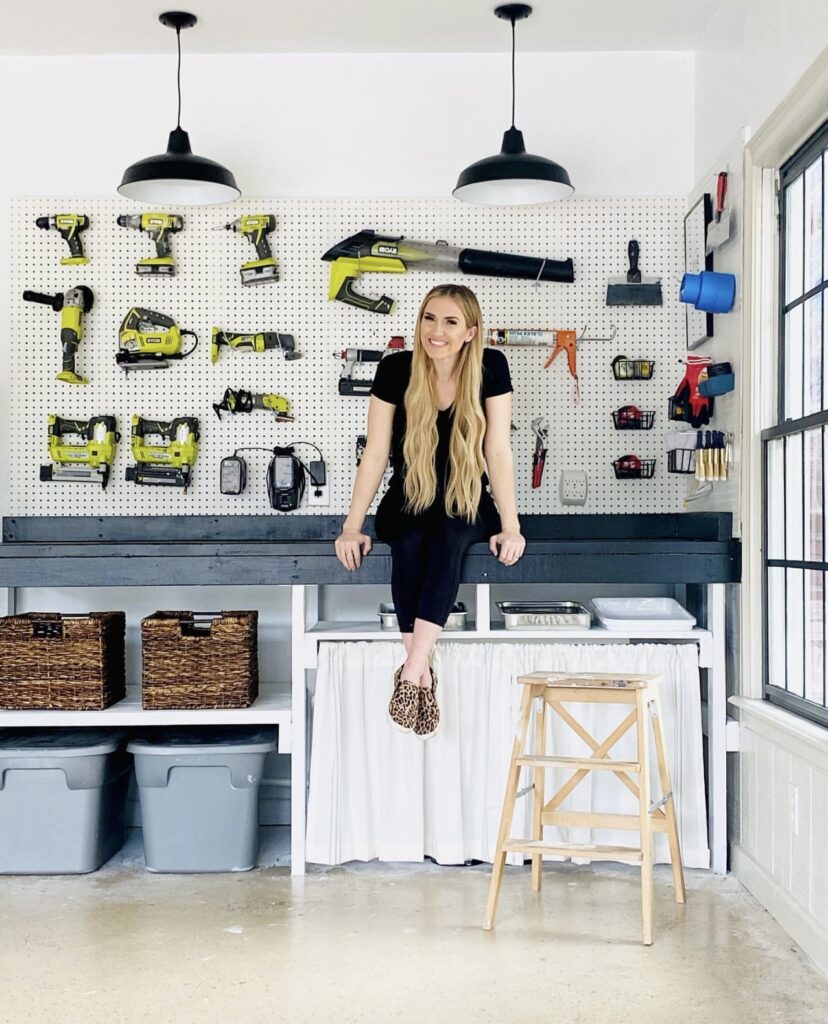 If you are a DIYer like me, creating a workshop space on the wall is a simple and easy solution. Using a pegboard and hooks, I hung up every single tool I look for on a daily basis- this has saved my garage organization! I cannot imagine tackling any of our renovation projects without this hanging storage solution.
Ideas For Garage Organization: My Final Thoughts
Although I don't know if the garage is anyone's favorite room in their home, it should still be a space you enjoy going into. By trying and tweaking ideas for garage organization, you will slowly create a custom plan that will work for years to come. The best garage organization is one that is simple to maintain and works for everyone in your home.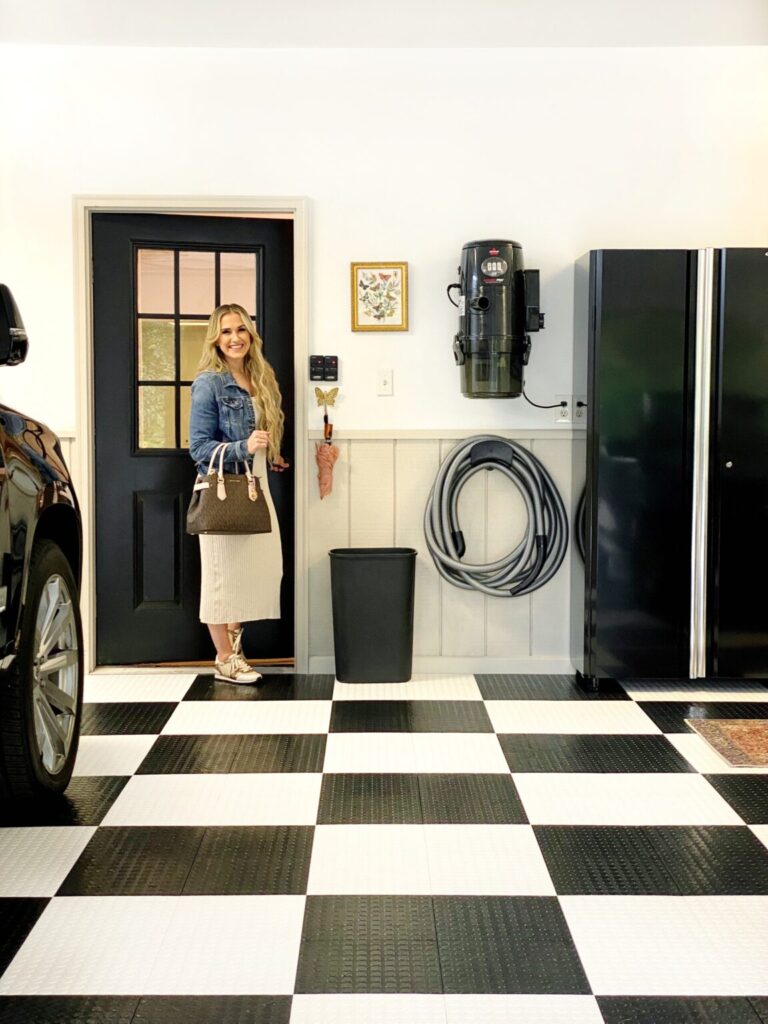 Do you have any ideas for garage organization you love? Please let us know in the comments! And to keep up with all things on the blog, check out my latest posts: