Does it make sense to put a rug on top of carpet?! The short answer – absolutely! I am a huge fan of rugs in just about every single space. After posting several room reveals and hearing from you all, I realized that putting a rug on top of carpet is not the norm! 
Before we dive in – if you need help choosing a rug, I have an entire post dedicated to finding the perfect one for your space. Check out my Ultimate Rug Guide here!
I was genuinely shocked at the strong divide between rug lovers and haters on carpeting. After reading your questions, it seems that the strong opinions come from missing a few key rug styling tips. That's what I'm here for!
Today on the blog, I'll be chatting all about the rugs on carpet in my home. While many of you may still be unsure if rugs actually belong on carpet, my goal is to convince you they absolutely do- just with a couple additional steps. 
The Debate About Rugs On Carpet
While I was only let in on this debate recently, there seems to be an ever-going conversation about rugs on carpet. The practical argument does make sense (you're putting a smaller carpet over a larger carpet), but I personally believe it all comes down to making the space your own.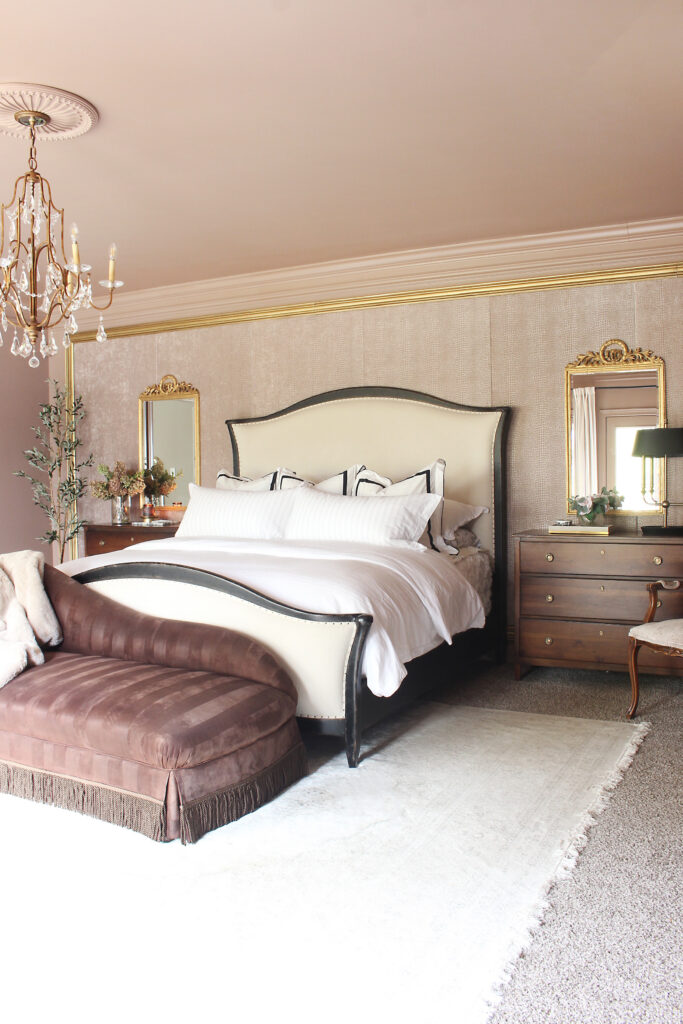 No matter if your home is new, old, rented, or has always been yours- there is something so special about adding your touch to it. While this can be done in an endless amount of ways, adding a rug creates a grounding and welcoming feel unlike anything else.
The best part- there is a rug for every style out there. Not sure how to get started on finding the perfect choice? Read my Ultimate Rug Guide to get started!
Why Put A Rug On Carpet?
There are a few reasons I would put a rug on top of carpet:
To add layers to the space. Placing a rug centered to the wall and underneath your bed is going to frame your largest piece of furniture and give structure to the room.
Placing a rug gives the room design an additional color palette, texture, and/or pattern. This will enhance your space SO much!
If I don't love the look or feel of the carpet, adding a rug that you do like can draw the eye to something that fits your overall aesthetic.
How To Install Rugs On Carpet
I believe installing a rug on carpeting is where most people get deterred. We've all been there where the corners never seem to stay put! I have two installation tips I live by: using rug corners or wood screws.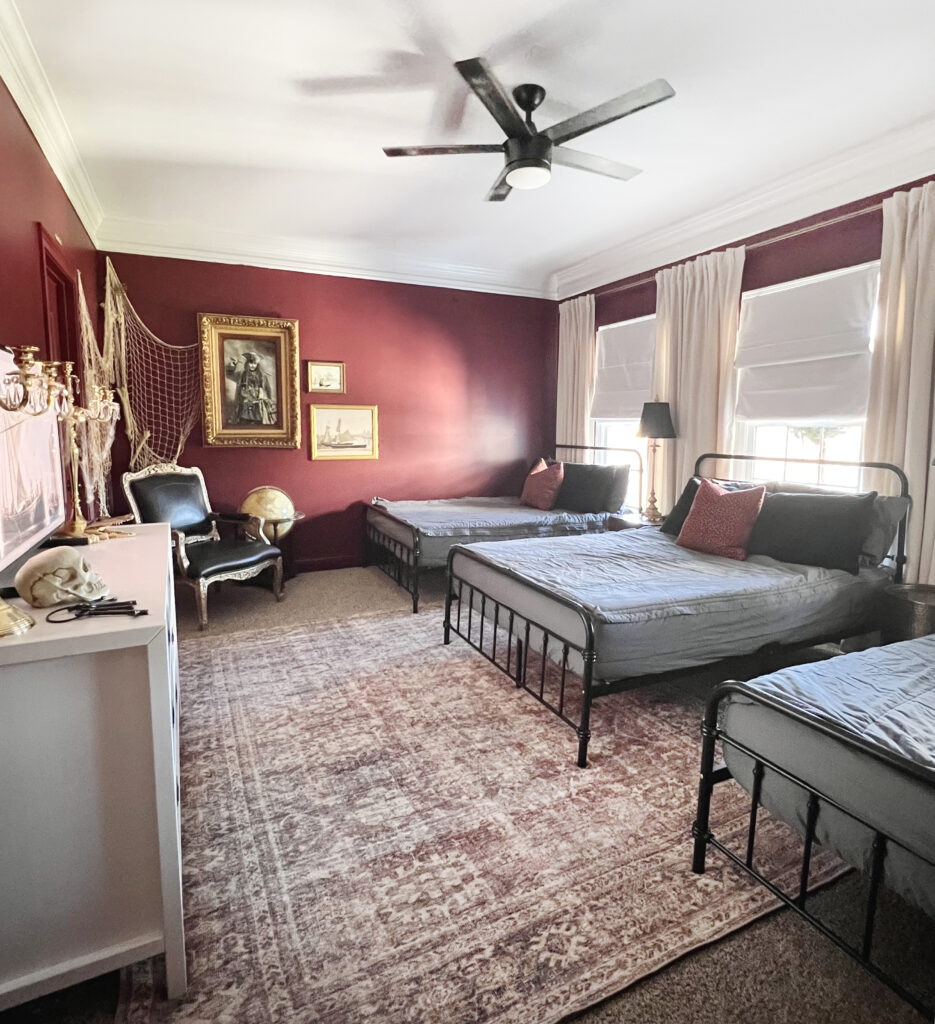 Rug corners are the less intimidating option, but they do not stay as long or work very wall on carpet. You can order any pack of rug corners on Amazon, just adhere them to each side and stick them to your carpeting. For renters and less permanent spaces, these are a great short-term solution. Be warned, eventually the corners may start to come up over time.
This may feel slightly more extreme, but I swear by wood screws for keeping my rugs down. While this only works for a wood sub flooring, this DIY is as simple as drilling a small wood screw into each corner. It's really that easy! I vacuum each corner to fluff up around the screw after and it's good to go. Best part of all, you cannot see or feel the flat screw in your carpeting.
Personally, I would do this even in a rental because after removing the screws, there is no visible damage to the rug or the carpet/floor.
Styling Rugs In My Home
When writing this post, I did a quick count and I have rugs on every single carpeted room in my home! I love them for any space, but the bedrooms especially feel extra cozy with an oversized rug under the foot of the bed.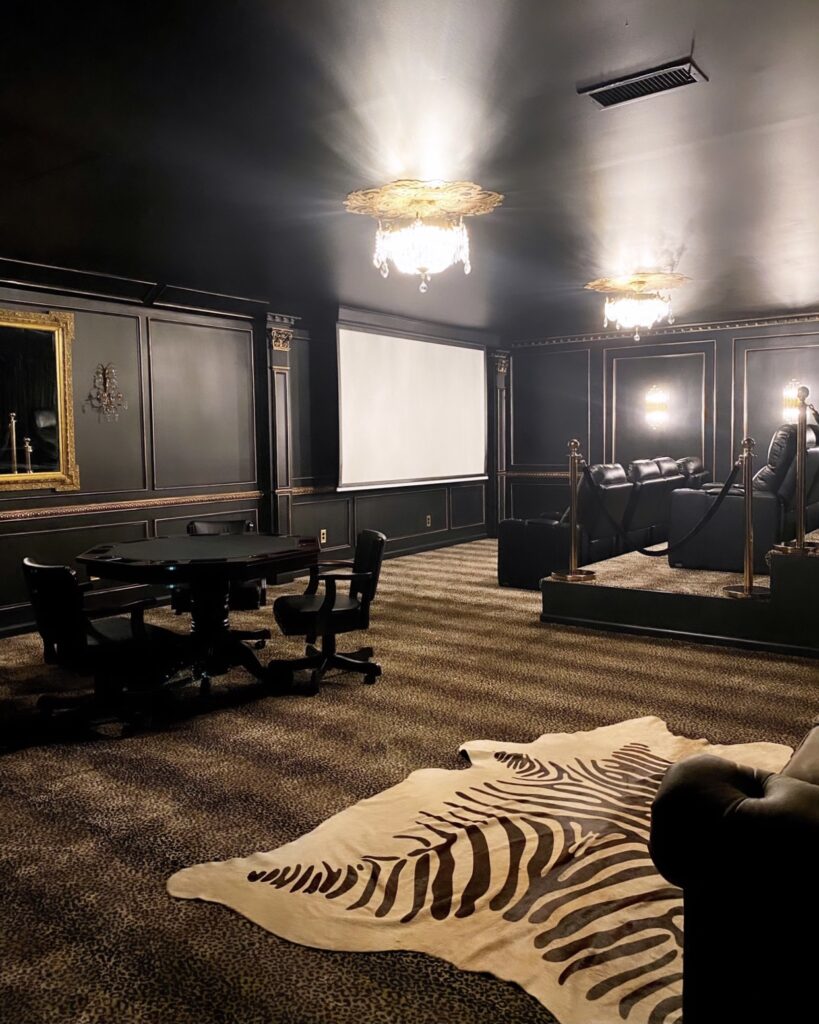 I love this example of rugs on carpeting in our media room. I wanted the vibe to feel moody and dark, but still cozy for Friday night watch parties with the boys.
I ended up mixing two different animal prints, one in the carpet and one with a faux-skin rug, and became obsessed! It was the finishing touch I had dreamed of and the rest is history.
Room after room needed a rug on carpet to tie in colors, textures, and patterns to the space. Before I knew it, my mood boards started with a rug and worked around from there! To learn how I make my mood boards, click here.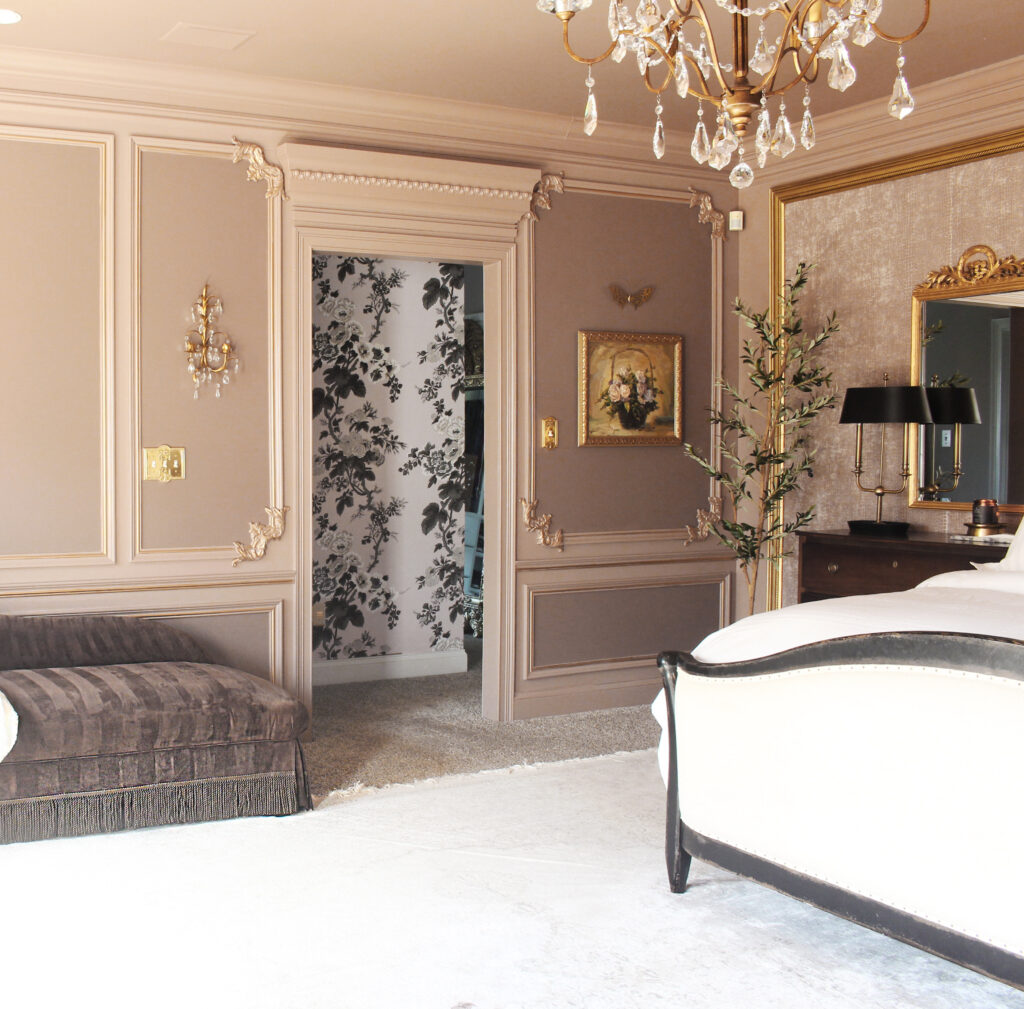 I am not a fan of the carpet in our master bedroom, but it was installed by the previous owner just before placing the house on the market. It was brand new carpet and I didn't want to rip it up when we have so many other projects on our priority list.
Instead, I found the largest rug I could find (11×16) to cover as much of it as possible. I love the outcome so much! It's the perfect solution until we find the time to replace the carpet with the same wood that is throughout our home.
Do Rugs Belong On Carpet?
If you can't tell already, rugs absolutely belong on carpet! There is no better finishing touch than adding in an oversized rug to tie in every other styling element you've added to a space. Plus, it's the ultimate grounding touch.
Do you think rugs belong on carpet? Let me know in the comments below! And to keep up with all things on the blog, check out my latest posts: