Someone asked me the other day to link my new ring haha! Before I do, I wanted to share a bit about it and how much The Oura Ring has changed my daily routine.
I talk about my grief as often as I'm comfortable doing so. I can be difficult because I feel as if I'm never going to be able to articulate how much my grief can impact my day to day. While I've learned a lot of coping skills and still have a lot of joy in my life, that's only possible when I'm taking care of myself physically and mentally.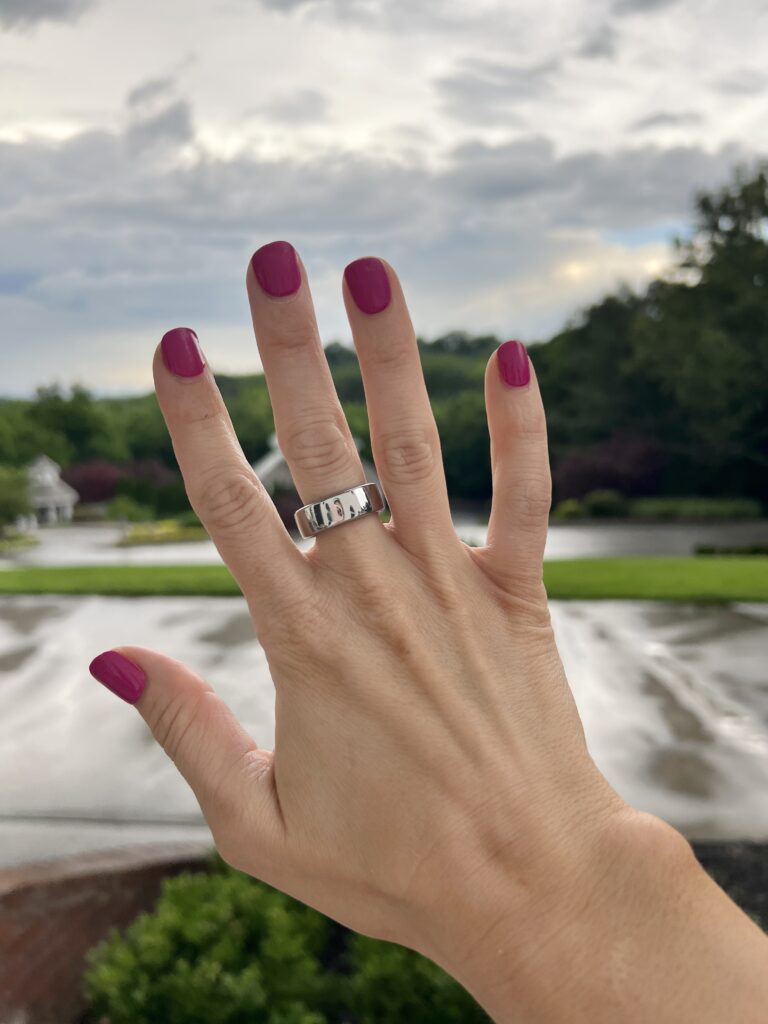 One of the foundations of health that I'm passionate about is sleep! To be honest, my sleep is…not great. I have a hard time going to sleep and staying asleep which is not a great combination. I've tried all the things and still test new products (natural supplements, pillows, etc.) regularly to see if I can make a difference in how I feel in the morning.
I had been seeing ads for the Oura Ring everywhere and when I saw the data it could provide for determining exactly how much restful sleep we get, I was very interested it try it out.
In this blog post, I want to share my personal experience with the Oura Ring, highlighting its beauty, comfort, and how it has helped me stay accountable to my well-being goals.
What Is The Oura Ring?
The Oura Ring is wearable device designed to track sleep, activity, and overall health. I would consider it somewhat similar to a FitBit or an Apple Watch without the communication features or apps – which I LOVE! I keep the Oura Ring on as often as I can, even when I sleep, so it can track all of the data into an app on my phone.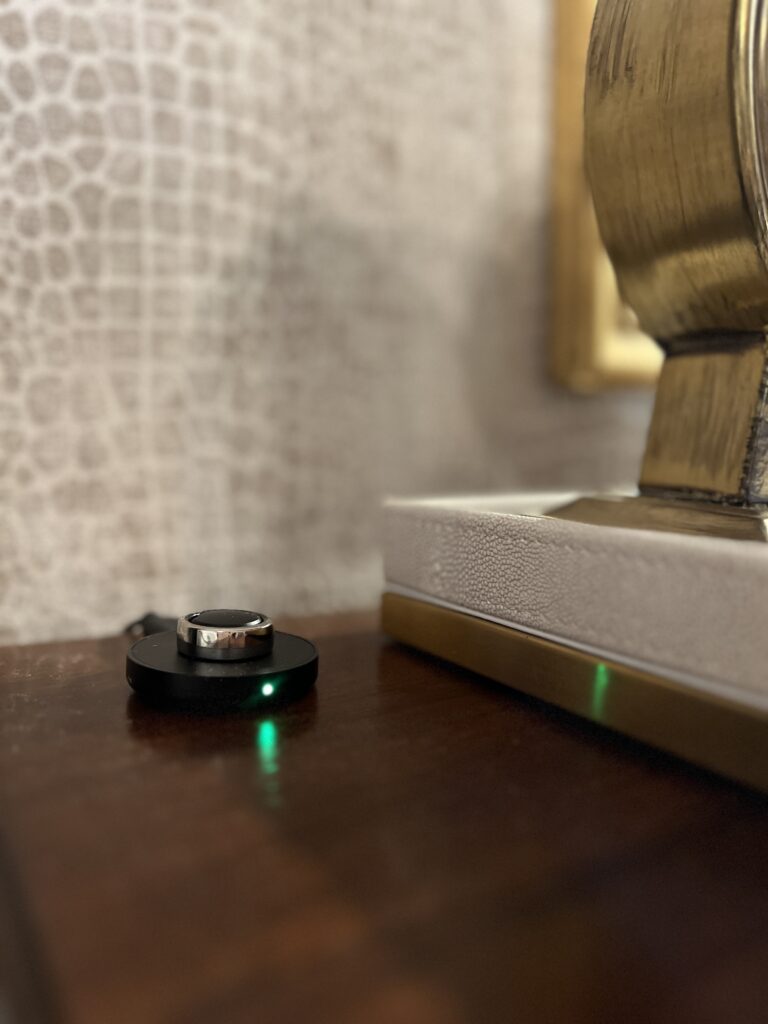 You wear The Oura Ring all the time?!
This part does sound a little strange, but it's no big deal. The ring is extremely comfortable and completely waterproof. I wear it swimming, in the shower, and when I'm working out. I really try not to take it off unless I'm working on a messy project. The less I take it off, the less I forget to wear it.
How Long Does The Oura Ring Take To Charge?
My ring charges right on my nighstand. It takes about an hour to fully charge and the Oura Ring battery lasts about 7 days!
What does the Oura Ring look like?
One of the first things that drew me to the Oura Ring was the design. I opted for the silver version to match my wedding rings and it looks like any other accessory. It doesn't look like costume jewelry or have a cheap appearance. It's simple and just what I'm looking for.
Aside from its visual appeal, the Oura Ring is incredibly comfortable to wear. The band is slim and lightweight- so much so that I forget I'm wearing it throughout the day. Whether I'm typing on a keyboard or playing with my kids, the ring never gets in the way or causes any discomfort.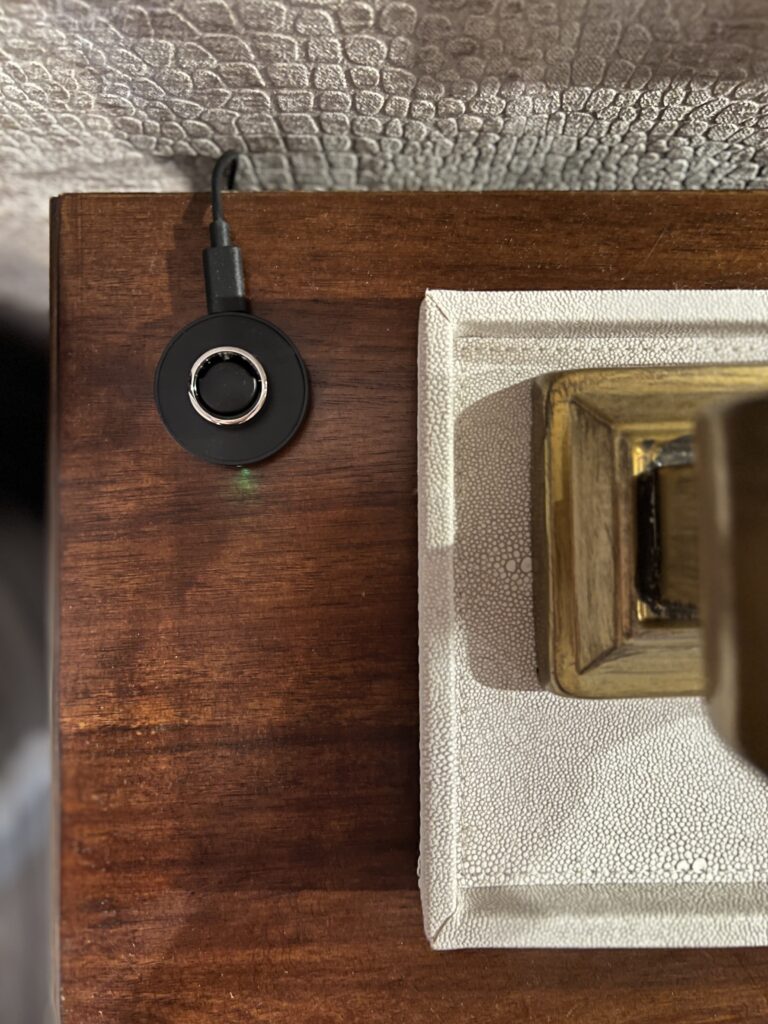 What Does The Oura Ring Track?
What truly sets the Oura Ring apart is its ability to provide in-depth insights into my sleep patterns, activity levels, and overall health. By syncing the ring with the Oura app on my smartphone, I can see all of the data that helps me understand how my body is doing. In my day to day, I tend to be busy and on the go and there are many times where I've checked into my stats to realize that I need to sit, drink some water, or simply pay more attention to what my body needs.
Heart rate
Sleep stages
Heart rate variability
Activity
Stress levels
Body temperature
Blood oxygen
Cycle/period prediction
Oura Ring Sleep Tracking
Sleep tracking has been particularly eye-opening. The Oura Ring measures the duration and quality of my sleep, including the time spent in each sleep stage. Seeing this info has made me more aware of my sleep habits and has motivated me to prioritize getting a sufficient amount of rest each night.
I feel more accountable to take better care of myself and make necessary adjustments to my routine – it's my virtual sticker chart! It's been interesting to create a routine based on data. I know exactly what makes the biggest difference in my sleep each night and I'm able to replicate that each day.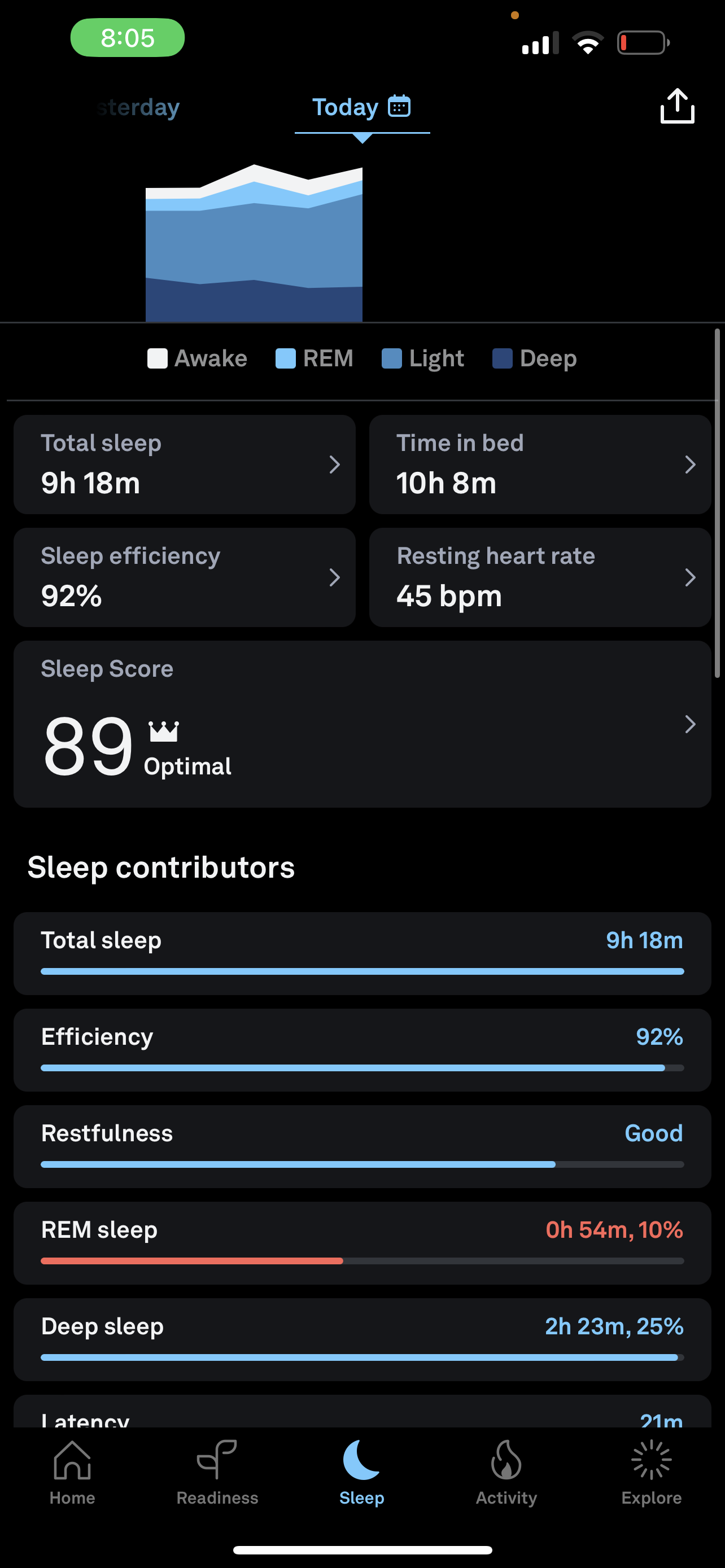 Oura Ring Activity Tracking
The Oura app also provides detailed insights into my activity levels, including steps taken, calories burned, and overall exertion. Because my job can be very physical, I take this into consideration when I'm thinking about my evening routine. Instead of wondering "Why the heck am I so tired?!" I look at my app and realize – wow, I burned 600 calories installing tile today! Not only does that mean I need more sleep, but I also need more nutrition.
The Oura Ring integrates with other health and wellness apps, such as Apple Health and Google Fit. I don't use these integrations right now, but maybe in the future!
The Oura Ring Period Predictor
I feel like it's not talked about often enough, but the Oura ring also has a period predictor feature. The ring uses your body temperature to predict when your cycle is going to happen. I imagine this could be a great tool for Natural Family Planning which is so neat. Or, if you simply want to be more aware of where you're at in your cycle, you can use it for that as well.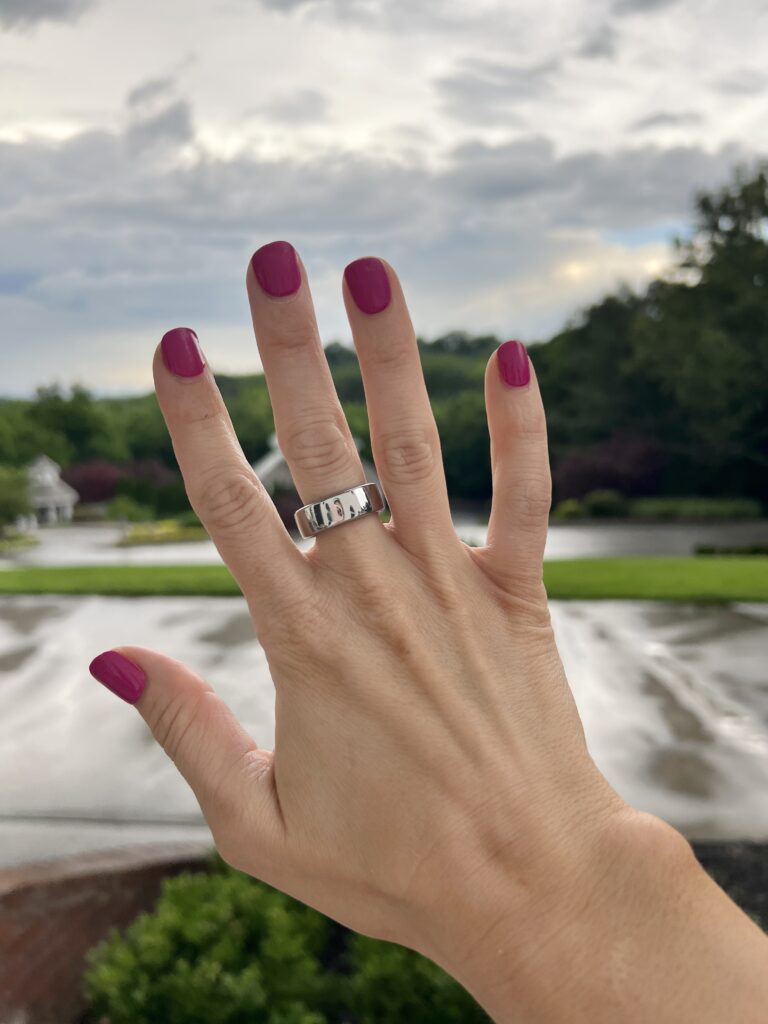 I test out a lot of different products and not every one makes to my blog because they are just….okay. The beauty, comfort, and insightful data from the Oura Ring have surpassed my expectations. Wearing the ring daily has become a ritual that reminds me to prioritize my well-being and make informed decisions about my health.
Do you have an Oura Ring? What's your favorite feature? Tell me below!
And to keep up with everything on the blog, check out my latest posts: