After sharing my deep love for the grandmillenial style that's embodied my decor taste, it only felt right to discuss what I like to think is the beachy sister – Coastal Grandmother. Coastal grandmother style has become very popular in the fashion, lifestyle, and interior design worlds, as everyone (myself included) wants to welcome summer in a casual yet elevated way.
While it may feel a bit trivial to write about decor styles, I have found it to be much easier to curate items you love if you can find inspiration online. To find what you're looking for, you need to be able to articulate what you like. If you like my home and my style, I resonate with the grandmillienial style, but in certain parts of my home (specifically my outdoor spaces), coastal grandmother comes in to play, too!
Today on the blog, I'll be breaking down my interpretation of coastal grandmother style and how to apply it to your spaces!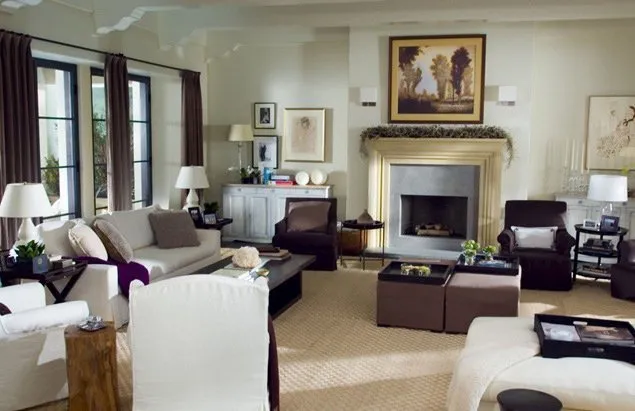 What Exactly Is Coastal Grandmother Style?
The style was coined from the online love for the beautiful coastal grandmothers seen in magazines and movies. Their light color palettes, airy spaces, and relaxed lifestyle is a vibe so many want to emulate in their homes.
The trend itself morphed from a few funny videos to an actual movement. Now more than ever, interior design is embracing classic pieces (sounds a lot like grandmillenial to me) and bringing a touch of the coast along with it.
Nancy Meyers – The Ultimate Curator of Coastal Grandmother
When I think coastal grandmother, one person in particular comes to mind – Nancy Meyers! Nancy Meyers is a filmmaker famous for creating unforgettable sets for her movies. Just to name a few….
Father of the Bride (and the sequel!)
The Holiday
The Parent Trap
It's Complicated
From the movie – It's Complicated: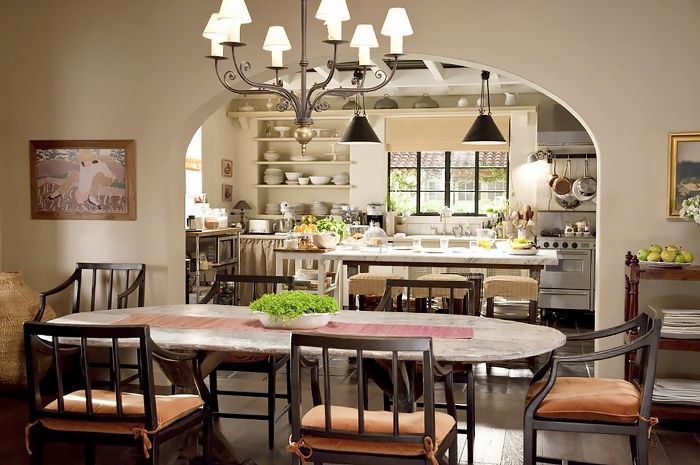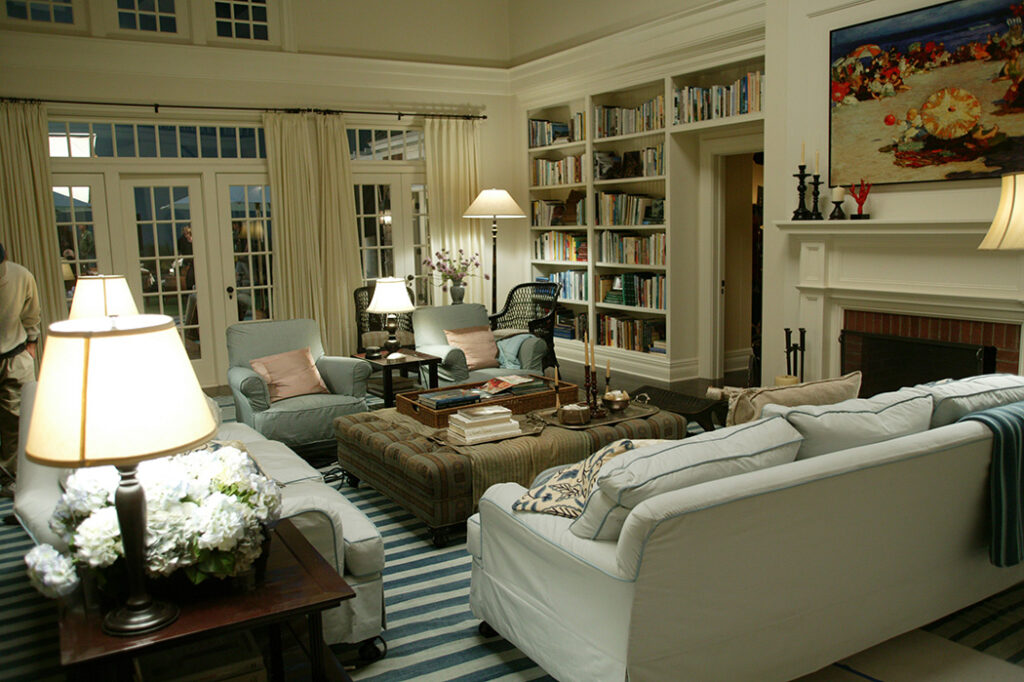 How Does It Intertwine With Grandmillenial Style?
I've been honing and sharing the grandmillenial style for quite a while, so it's exciting to see others fall in love with it too. While grandmillenial tends to be less beachy and more elegant, the two share a distinct love for classic elements.
The "grandmother" in coastal grandmother comes from leaning into the antique touches that stand the test of time. Simply put, it feels like HOME in the best way.
Something's Gotta Give movie set: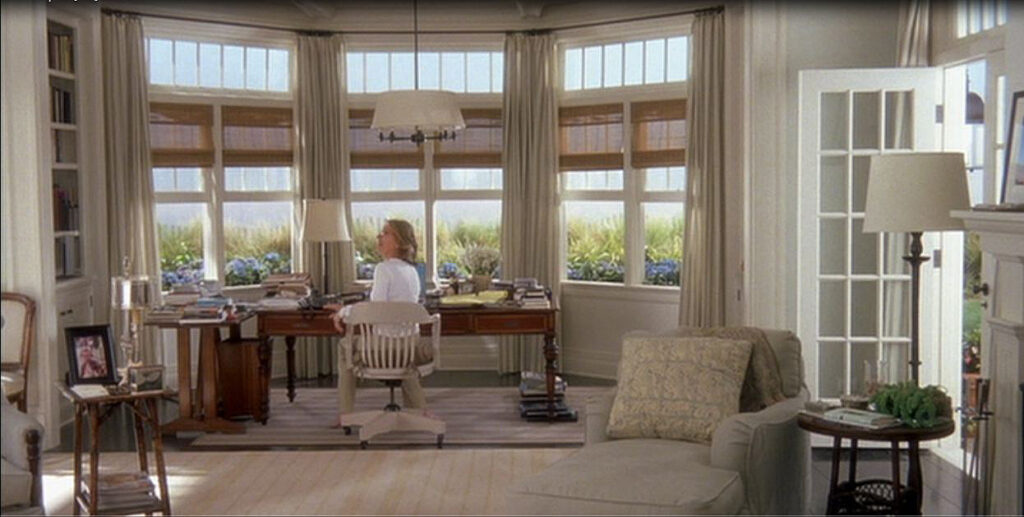 While I love modern interior for certain elements, both grandmillenial and coastal grandmother celebrate the comfort of older touches. There's something so special about a living in a curated home, somewhere you can walk into and know it's yours.
Coastal Grandmother Style Color Palette
I could talk about the coastal grandmother palette all day because it truly is stunning. The style sticks to the routine use of white, creams, browns, and blues all leaning lighter in hue.
By keeping with these relatively muted colors, it ensures your home feels bright and airy- almost like opening your windows could bring in a fresh ocean breeze.
On a personal note, I really enjoy the serenity that comes with a color palette as relaxed as this. I think so many have jumped on the coastal grandmother style train because of the peace it brings to their homes. With days that seem more crazy than the next, embracing this calmer way of living feels therapeutic.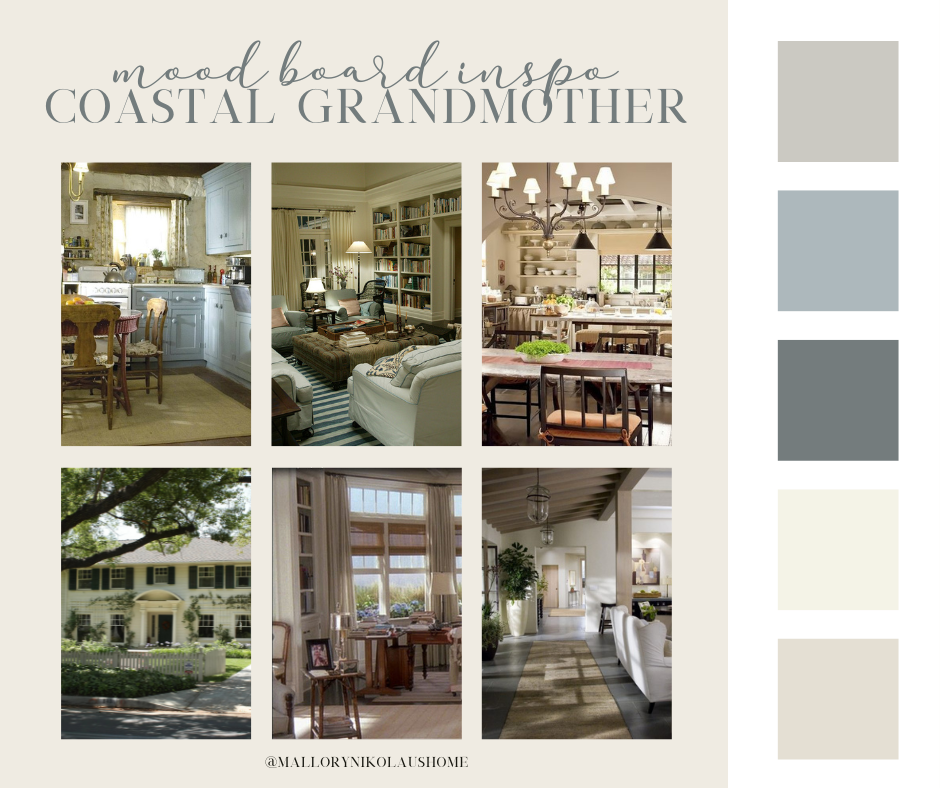 It's All About Textures And Patterns
The color palette is just the start. Bringing in specific textures and patterns is how to elevate the coastal grandmother style to feel more luxurious.
For texture: linen, rattan and wicker do wonders to bring the nature of the coast into your home. They all remain muted in color, but provide an elegant shift for the eye.
For pattern: soft florals, stripes, and gingham provide a beautiful finishing touch to any classic furniture pieces. I advise you to stick to the classic colors, but have fun with what the pattern looks like. A typical coastal grandmother would let her personality shine through patterns, so you do the same!
MY TAKE ON Coastal Grandmother Style
While I'm partial to the grandmillenial style, I love how easy the coastal grandmother style feels, especially in my outdoor spaces. The airy colors, rich textures, and fun prints bring an elevated feel without requiring too much effort. Most of all, I love how it embraces a more relaxed lifestyle.
What do you think of the coastal grandmother style? Let me know in the comments! And to keep up with all things on the blog, check out my latest posts: