I'm so glad we finally tackled our Garage Makeover! I have been planning to lay our favorite garage flooring tiles for months now and it's exciting to finally see my vision come to life. I am just LOVING our garage flooring tiles! Of course, the garage is going to be a space that evolves over time according to our family's needs but my goal for our home is to create an organized space that reflects our family's personality but inspires creativity! The garage is a place where start and end our time at home so it's important to me that it feels inviting and welcoming for us and our guests that may use this entrance.
If we haven't met, hi there! I'm Mallory Nikolaus! My husband Craig and I recently moved to Knoxville, Tennessee from Mesa, Arizona with our five boys! Yep, they're all ours! We are currently renovating our dream home and loving every minute of the process. You can follow along on the blog and on Instagram!
About Our Garage Flooring Tile:
We used the Flex Nitro Tiles are flexible PVC tiles in the colors Artic White and Midnight Black. These tiles are extremely durable and resistant to chemicals which was important to us. They come in so many different shapes and colors, but if you know me, you know that black and white checkered patterns have my heart!
And no, this is not a sponsored post!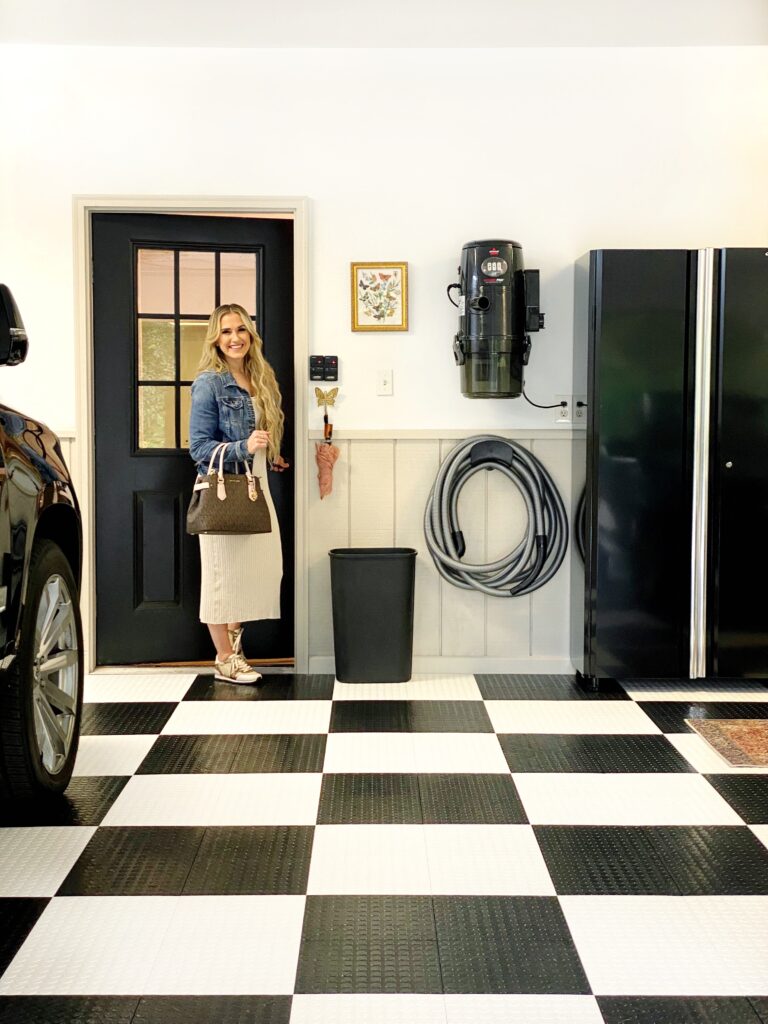 Our home has 2, 2-car garages so 4 car garage total, separated by a wall and a door. We have already completed the garage workshop! You can check out the garage workshop here.
before |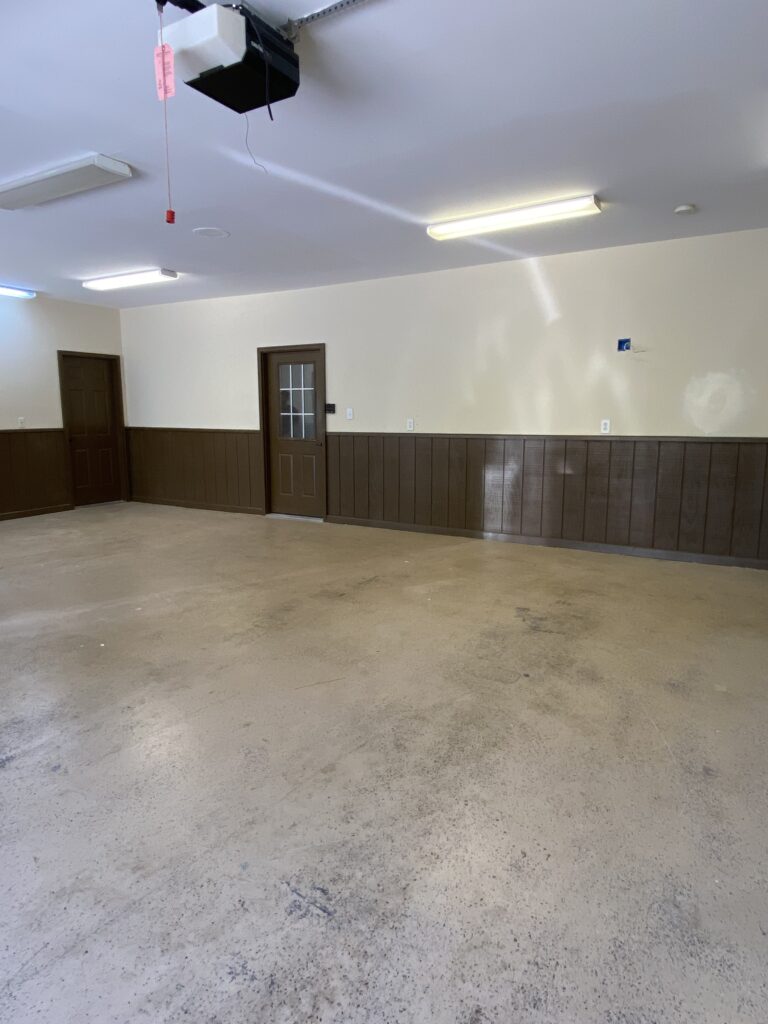 How To Update Your Garage Storage:
It might feel like you need an entirely new setup to transform your garage – but I did mine with a little paint, organization and new flooring that we installed ourselves! More on that in a minute.
Garage Storage Ideas:
First things first – purge everything you no longer need or access everyday. It is a million times harder to organize a space that is cluttered with unnecessary items.
Next, consider doing a space makeover! For our garage, we gave it a fresh coat of paint which made it feel nice and new! While epoxy flooring would be great down the road, we purchased these garage flooring tiles from Garage Flooring Inc. and we LOVE THEM! You can install them right over your existing flooring and they have held up great.
Consider the necessities. Gather all of your most-used items and store them at the very front of the storage you have available. For holiday decorations or other seasonal items, store them in the attic or at the very back of the garage since you only need them once per year.
Hang as much as you can. I'm a big fan of utilizing wall space for storage. You can see in the photo below that I hung our vacuum with an extra long hose so I can vacuum out my car weekly. It's such a game changer! You can also hang bikes, tools, etc. to keep storage off of the floor.
Invest in additional storage where needed. With everything purged and the space looking pretty, you can properly evaluate how much storage you actually need. This could be built in cabinets, but in our case, we bought these black steel cabinets from The Home Depot. We also invested in this sports organizer for balls, helmets, and protective gear. Overhead storage is also a great way to maximize the space in your garage.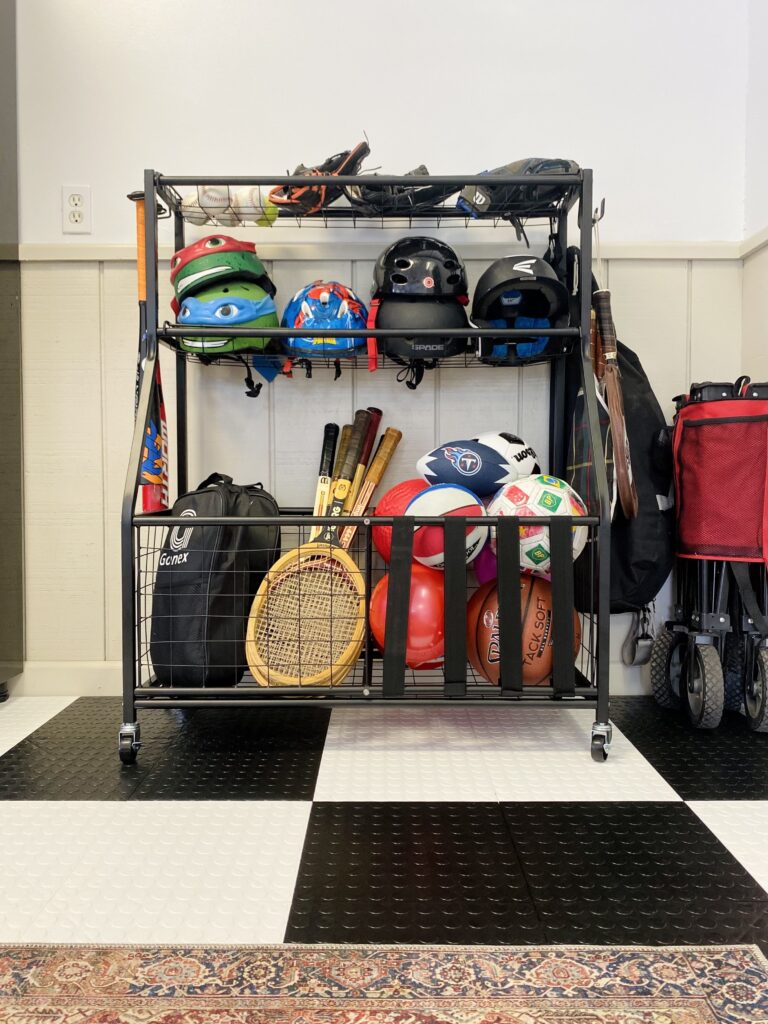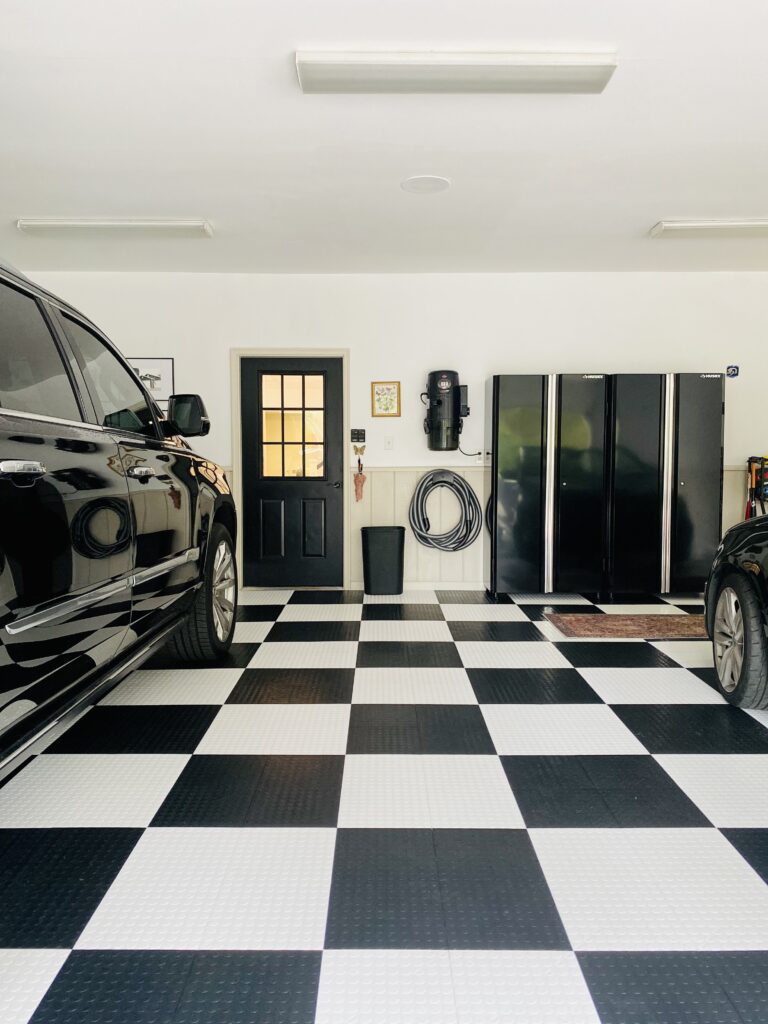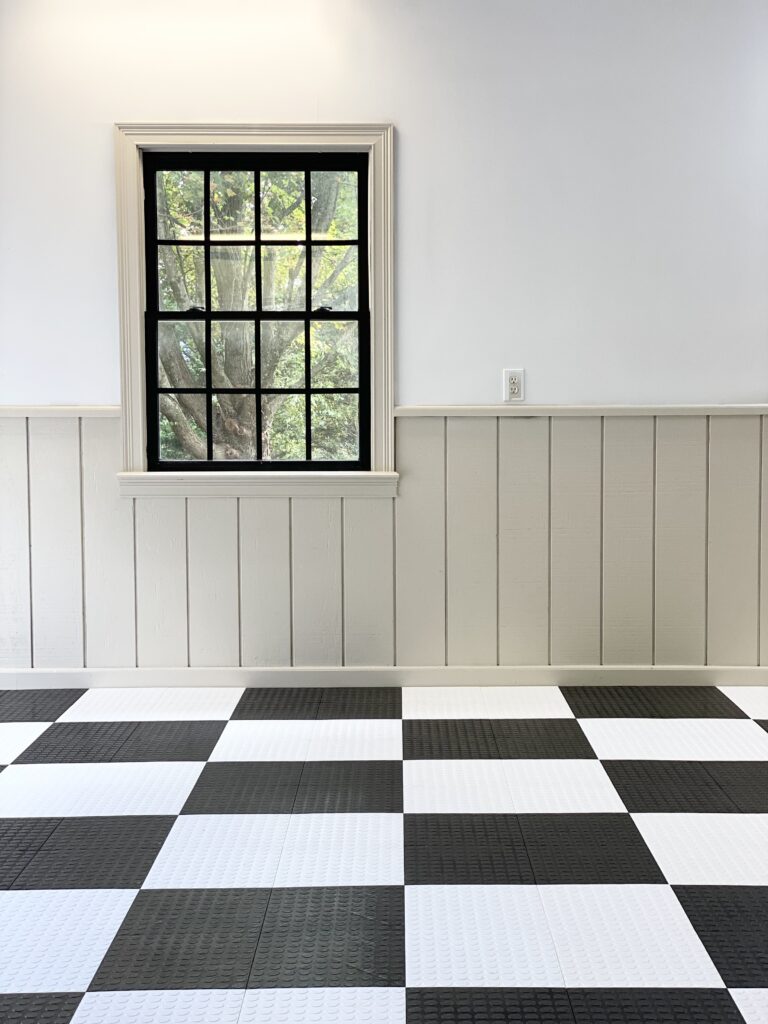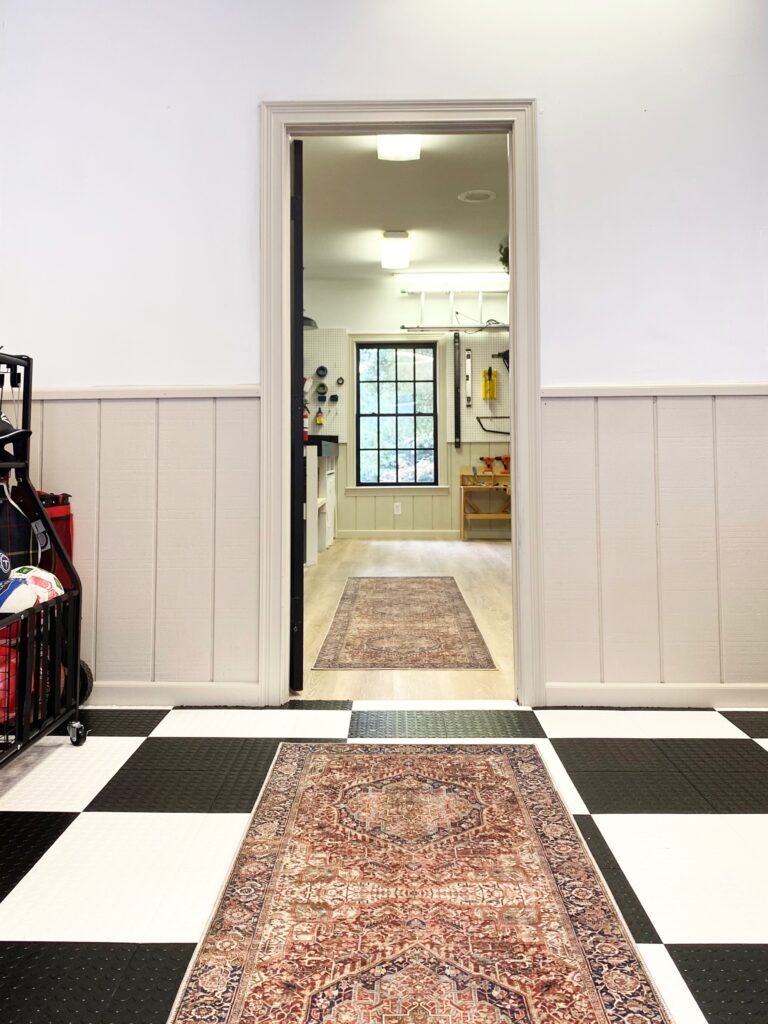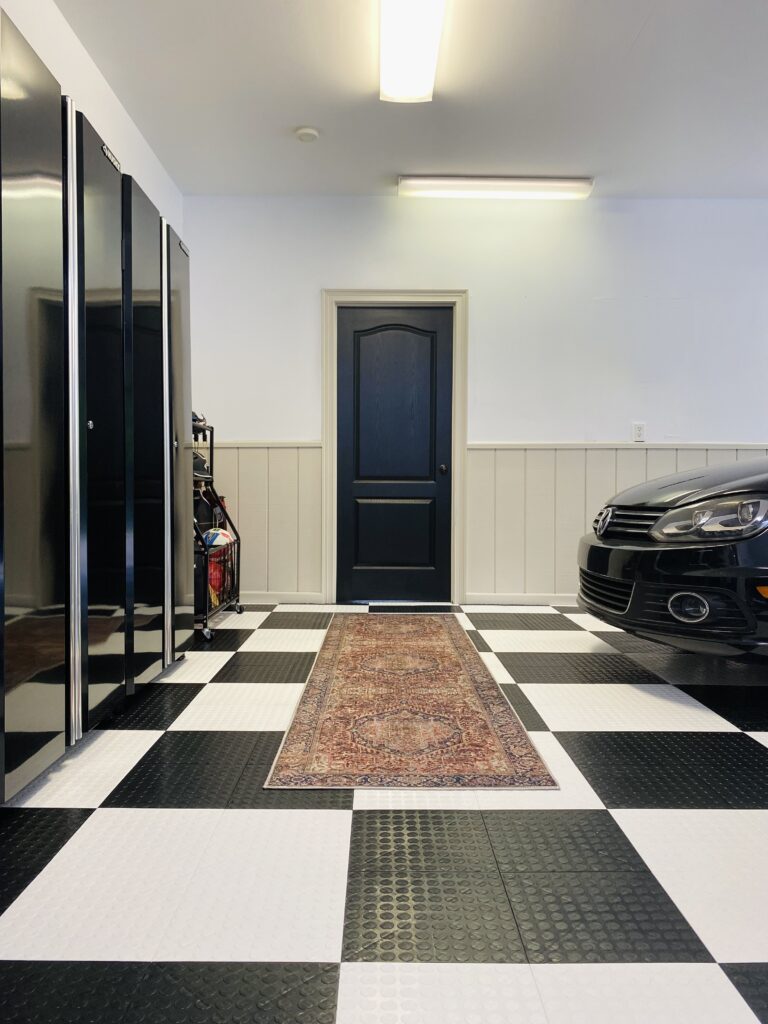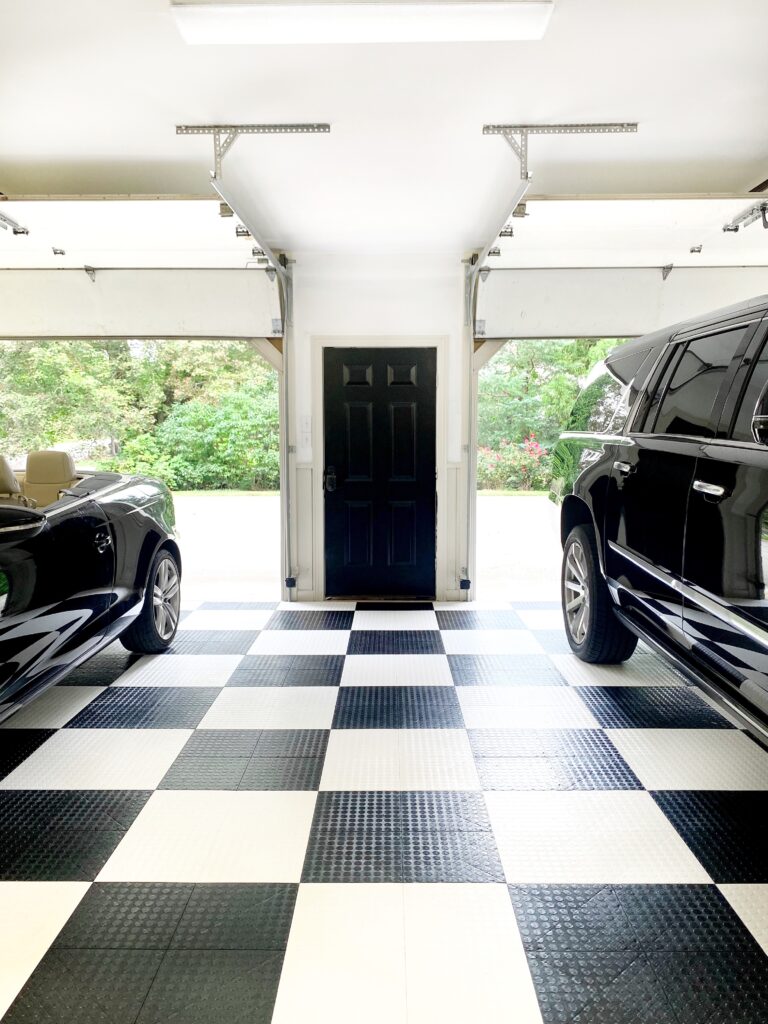 What We Drive
With a big family, we get asked pretty often what we drive to fit all 7 family members in the car. I think when people notice that we have 5 kids, they wonder how we fit 5 car seats in the car. That would be tricky, but luckily we haven't had to deal with that as my oldest is 14. My older two have been out of carseats for quite some time, which made picking a car so much easier.
We drive a Cadillac Escalade and a VW Eos. We bought the VW Eos when we lived in Prescott and I was commuting to Phoenix each week for work. We still have it to this day and I love it so much! We really get the best of both worlds with these cars!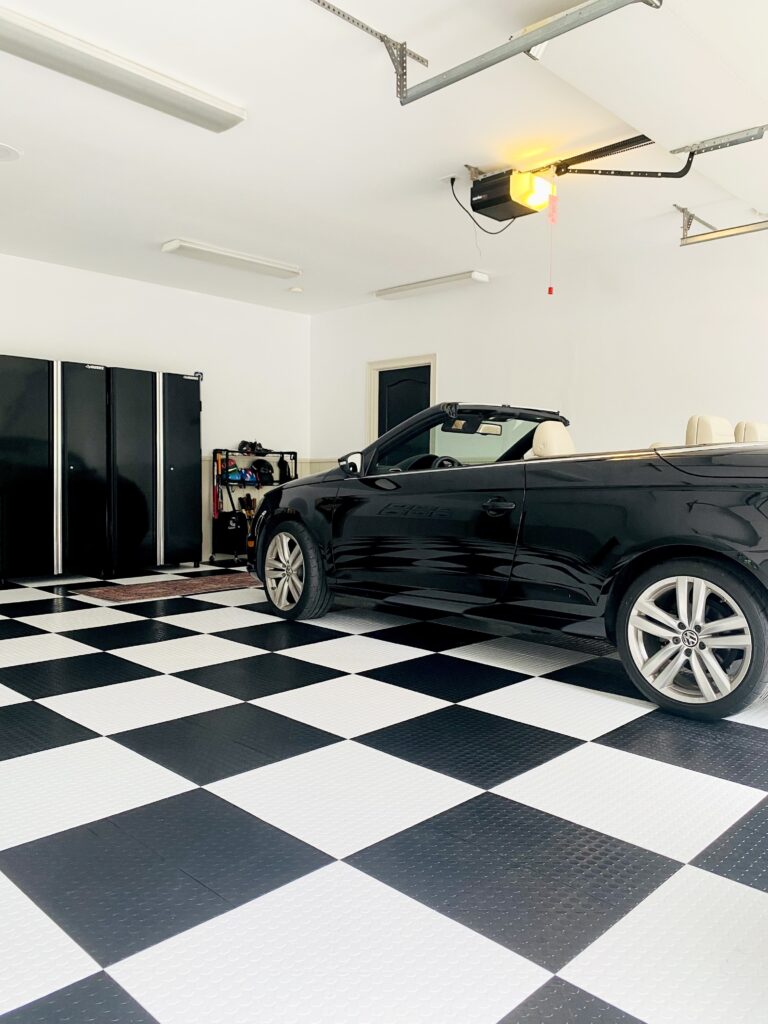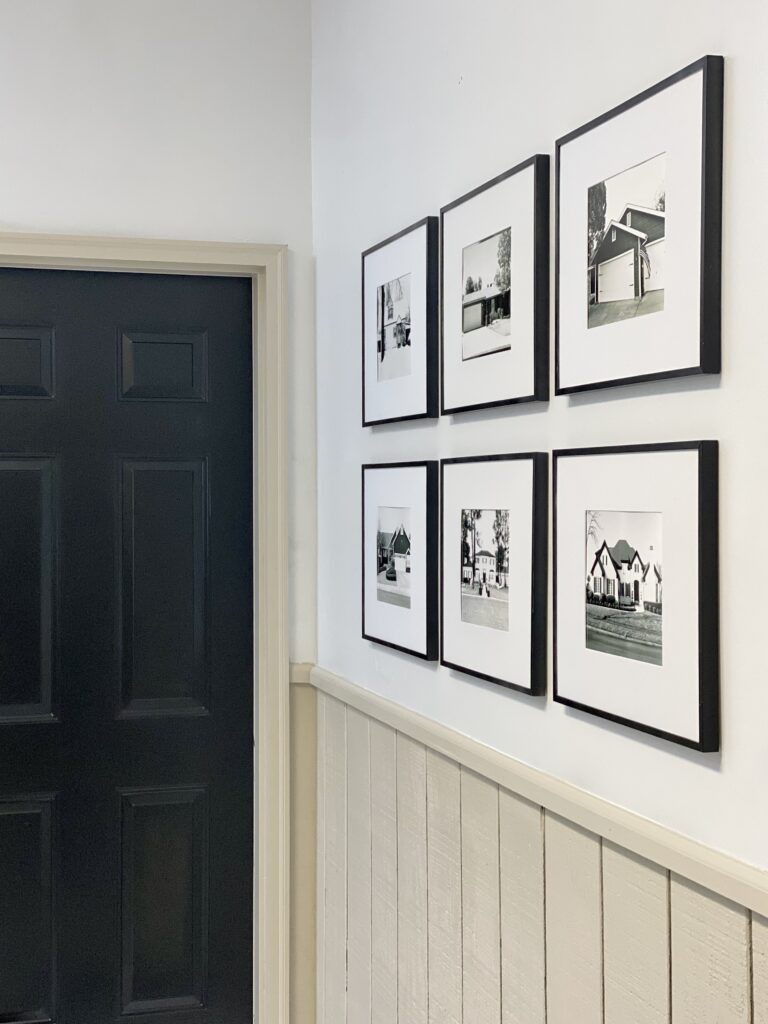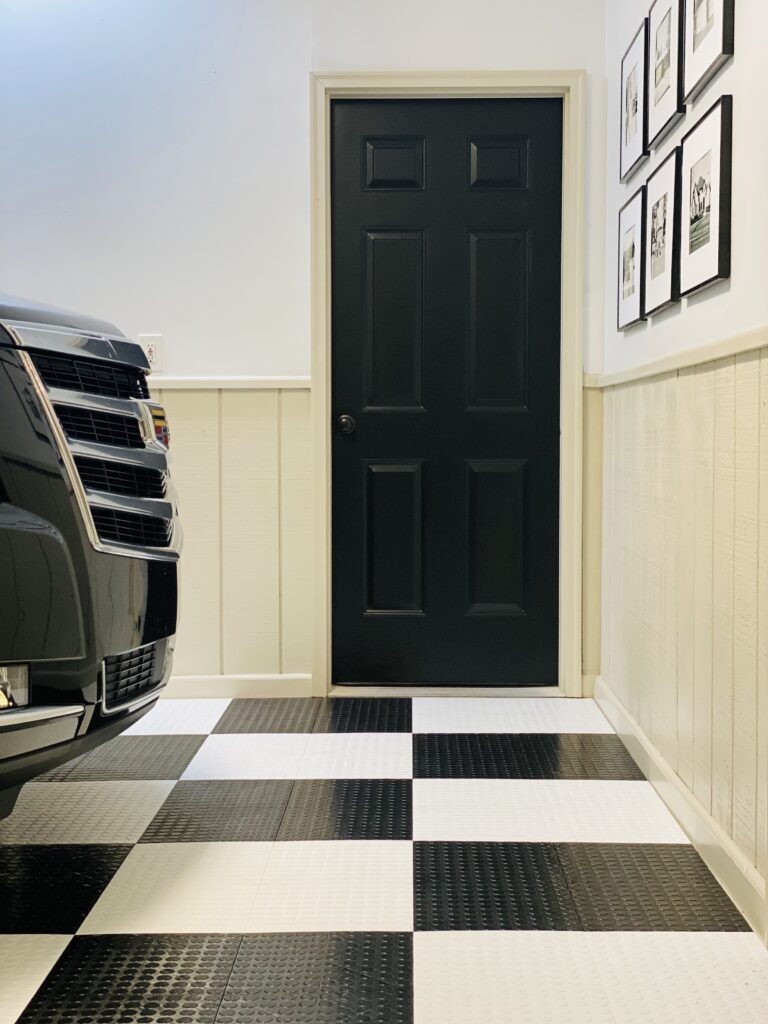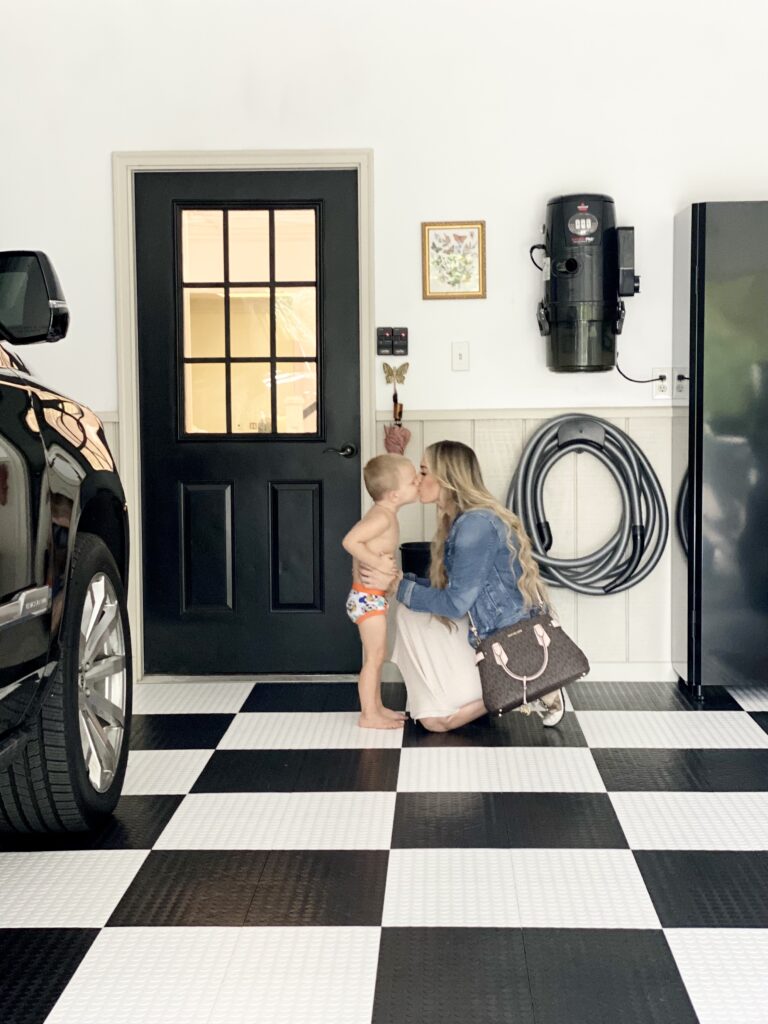 Sources |
Paint Colors:
Walls: Behr Frost
Paneling: Sherwin Williams – Accessible Beige
Doors: Behr Carbon
---
Flooring: Coin Flex Nitro Tiles: Arctic White, Midnight Black