I can't believe the Monarch Revival Pool Reveal is almost here! In case you missed any of the updates, here are a few of the projects that led up to the grand reveal:
Of all the renovations we tackled in our backyard space, adding diamond pavers to create an exterior flooring transformed it the most (well, that and the pool of course!).
Today on the blog, I'll be chatting all about our the process leading up to my exterior diamond porcelain pavers, plus taking you back to all my diamond paver projects throughout the years. I could not be more in love with this classic design, so I'm thrilled to show you the newest way I created it!
What Are Diamond Pavers?
Before I show you all my final exterior flooring, let's first discuss what diamond pavers actually are. Diamond pavers specifically refer to the shape of the paver you're choosing. The pavers are square but having them installed on the diagonal makes a diamond or harlequin pattern. There are a ton of options to go with, whether it be a typical square pattern or more of an optical illusion.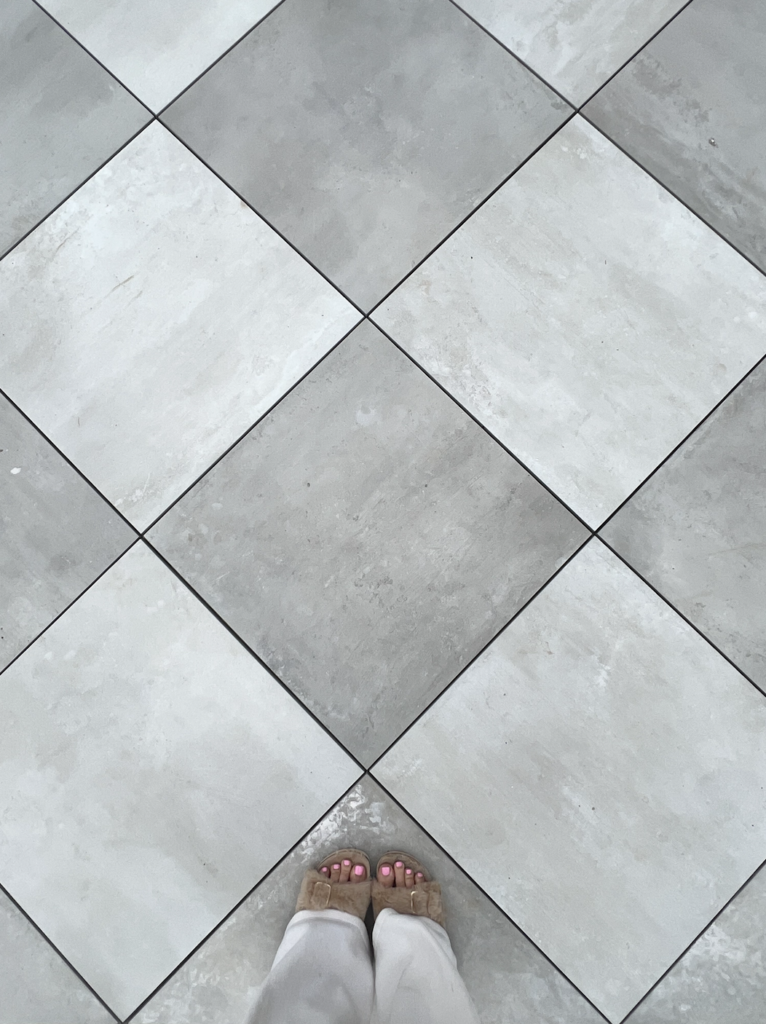 As time went on, people started to have more and more fun with the typical diamond pavers design. Now, there are so many variations that mimic a checkerboard pattern, whether it be black and white, turf, or different stone.
No matter what option you choose, diamond pavers are the perfect timeless design that is also eye catching and unique. I mean, what's not to love?
My Take On Diamond Pavers Over The Years
I'm no newcomer to the diamond or checkered design- I've been loving it for years! Although I couldn't always incorporate it our homes, when the time was right I jumped at the opportunity.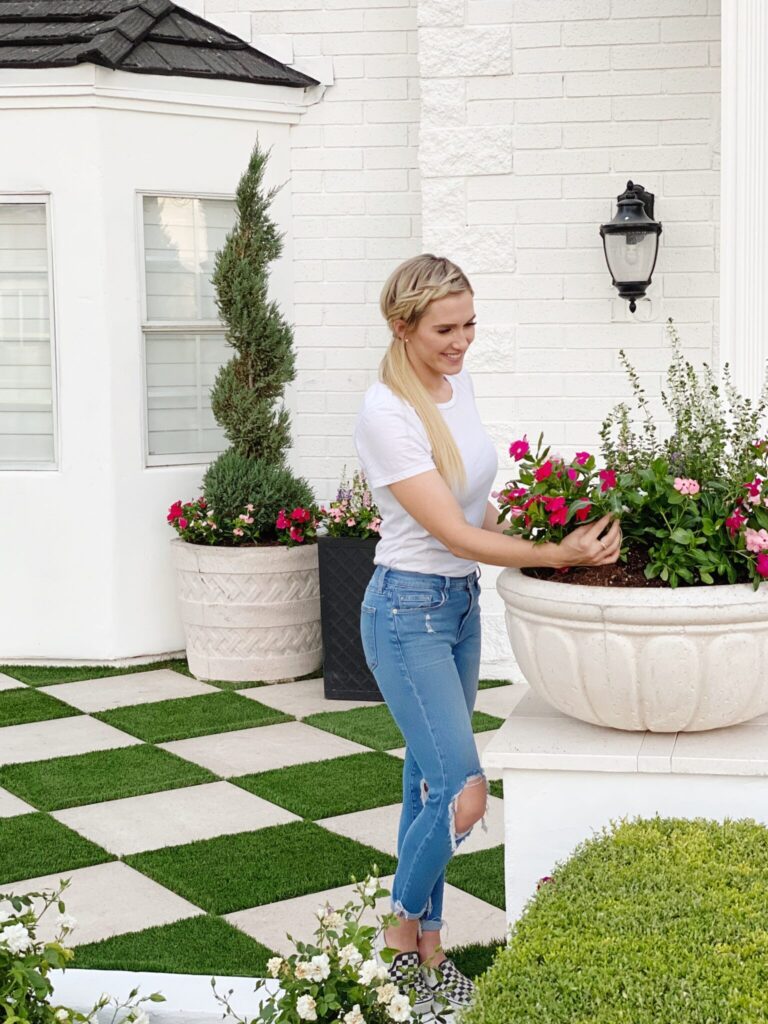 Our House No. 13 Exterior Makeover was the first time I really got to play around with actual (travertine) pavers (not just the checkerboard design) and try it with turf too. I loved it so much, it became a borderline obsession. I'd just go peek outside the window sometimes to look at the beautiful paver design. When we moved to Knoxville, this was one of my hardest goodbyes.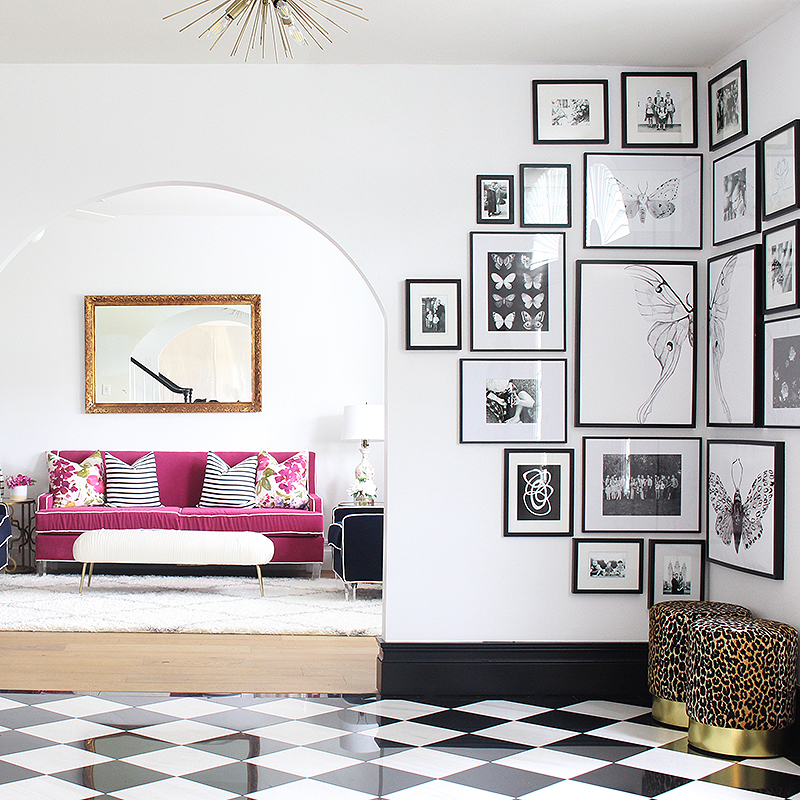 When we moved into our home and I decided to take the entire Monarch Revival on, I knew the diamond pavers design had to go somewhere. I wanted to incorporate it into the exterior projects at some point but I did my signature, checkered foyer almost immediately after we moved in. To this day, this Black and White Tile Flooring gets me the most compliments throughout my entire home!
Deciding On Pool Exterior Flooring
During the initial design stages of our pool, I considered a lot of flooring options, from simple to more of a statement. Since this backyard remodel is going to be here to stay forever, I wanted a timeless design that still had an element of my personal taste in it.
I took inspiration from everywhere, but I always knew I was going to incorporate the diamond pattern with turf in our backyard. It was just a matter of finding the right shade of stone and color turf. We looked at SO many options but finally landed on this!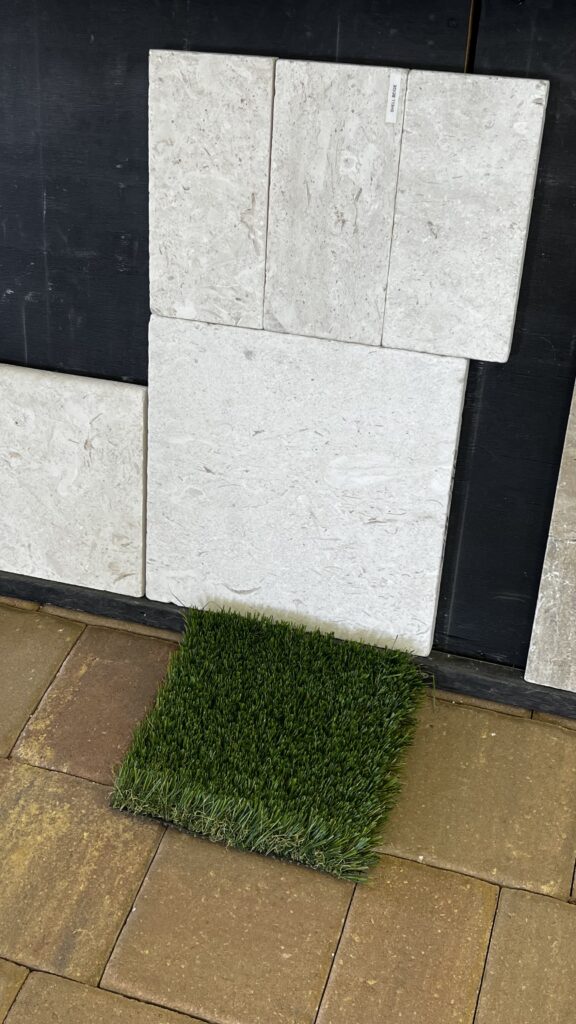 Then a few weeks went by and for some reason, I didn't feel settled about the design. I decided I wanted a solid surface (instead of using the turf) but couldn't let go of the checkered design I was longing to incorporate into our exterior.
PAVERS SOURCE:
I ultimately decided on 2 colors of porcelain pavers from Paver Turf! I chose +One 2CM Outdoor Porcelain Pavers in color sChalk (a creamy white) and Greige (a warm gray). The porcelain was the perfect option for the look, durability and non-slip surface it provided. It gives the look of tile without the slippery-ness. The textured surface stays cooler than most materials around the pool, so it's great for bare feet in the summer. Best of all, it's incredibly durable.

We used 2 colors to make a diamond paver pattern and using these spacers, it made installation pretty straightforward. We had our landscaper install them and despite the weight of each paver, they said it was a pretty easy installation. They used a wet tile saw with a diamond blade to make the necessary cuts.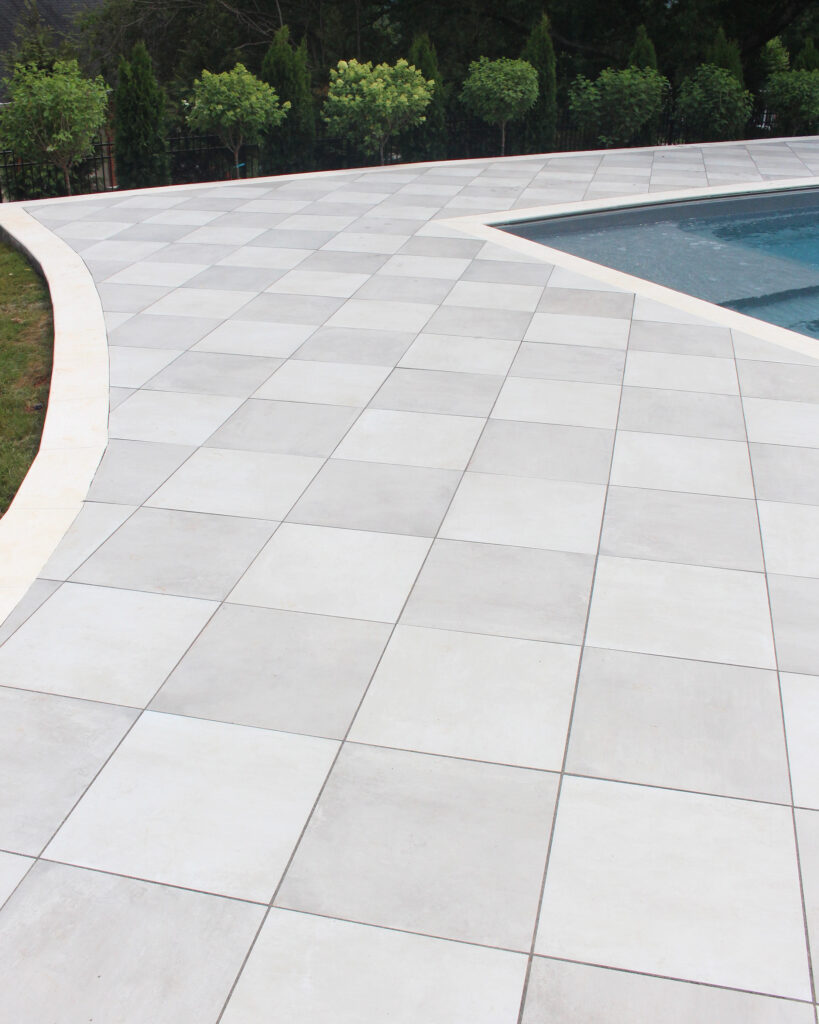 Our Diamond Paver Exterior Flooring Reveal
I could not be happier with the end result of our diamond paver pool deck! It is the perfect combination of a classic choice with a bit of flair that I know we will love for years. For anyone considering this with a pool and kids, this is a great practical choice that stands up well and still looks fantastic!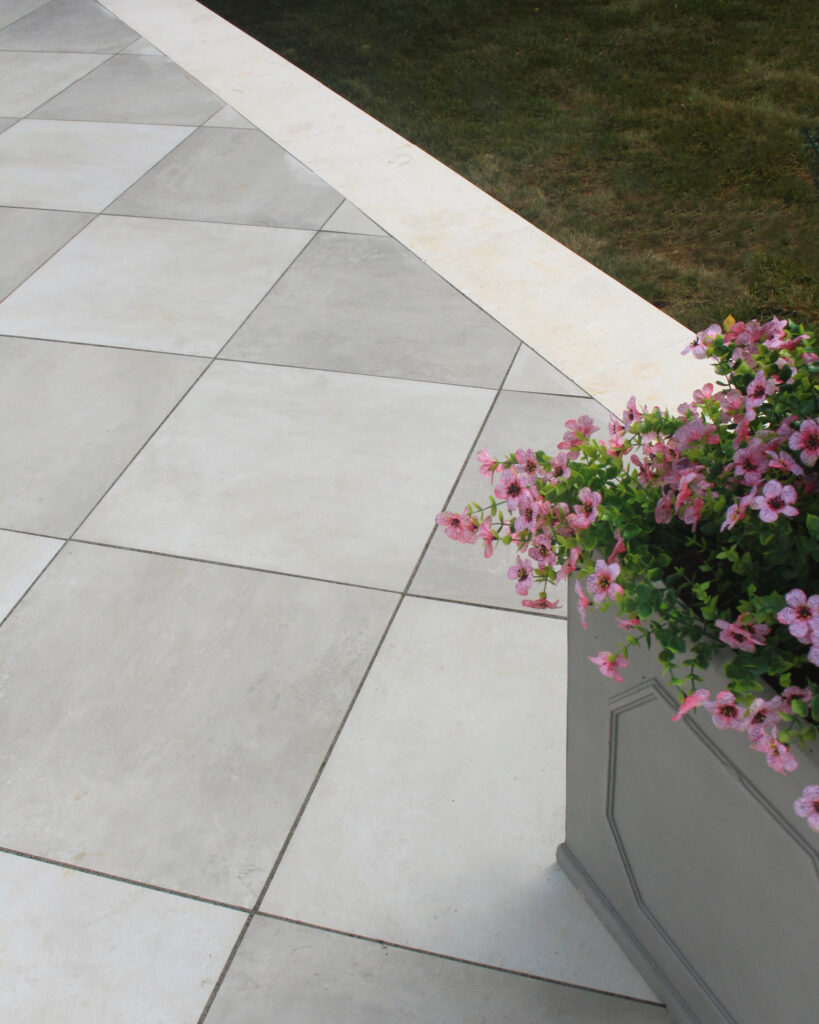 Porcelain pavers are the perfect flooring no matter how you choose to implement it. We love it around our pool and plan to repeat this pattern using the same materials on our front porch.
I love how there is an option for everyone, whether it be traditional, geometric, or a checkered pattern. Best of all, this style is that added touch of whimsy I wanted for this space.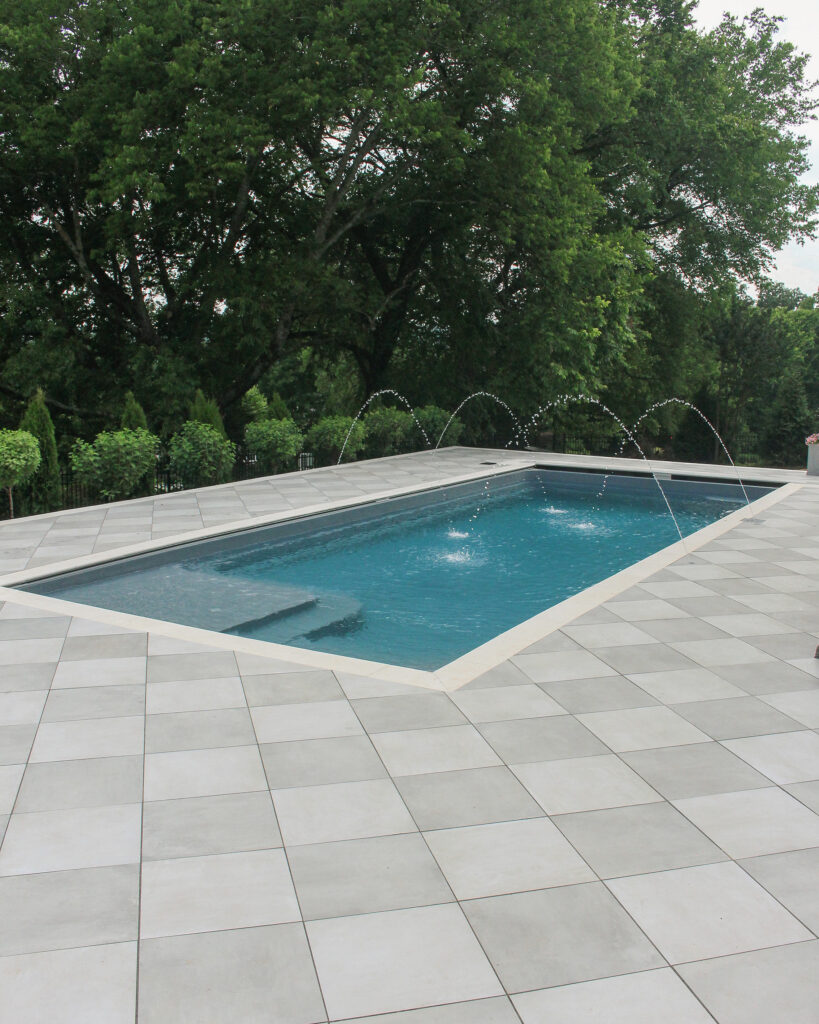 What do you think of diamond pavers? Please let me know in the comments! And to keep up with everything on the blog, check out my latest posts: