An exciting project is beginning at our house- we are installing a pool! This has been a dream our whole family has shared, especially the boys, since the very second we moved to Tennessee. As spring and summer are upon us, it felt like the perfect opportunity to get this project started. I grew up with a pool and most of our previous homes have had pools since they're extremely common in Arizona!
Today on the blog, I'll be chatting all about the planning details and everything I've learned about fiberglass pools along the way. While a lot of this project is still in the beginning stages, I couldn't wait another second to share it with you all!
Missing Our Arizona Backyard Pool
Living in Arizona for so many years, my boys have grown up loving the water. When we moved to Knoxville, our pool was one of the most difficult goodbyes. While we have a wonderful community pool in our neighborhood, we miss the convenience of having our own. My boys swim almost daily (if weather permits) and I know our new pool will get so much use. Anything to get them outside is a win for me!
Don't you have a community pool across the street?
Many have asked why we would do our own if we have one in our community, literally across the street. While we have LOVED having one so close, a community pool is just that, for the community. My boys are the type that will swim all day, every day.
Our community pool has an off season during the cooler months while our personal pool will be heated for year round swimming! It's also often reserved on holidays and weekend and we can technically still use it while it's reserved. It's a little awkward to go swim during someone else's birthday party or family get together! When we were working through the backyard design, we just couldn't find a good reason NOT to get our own since we've always loved having one in Arizona!
Our backyard currently: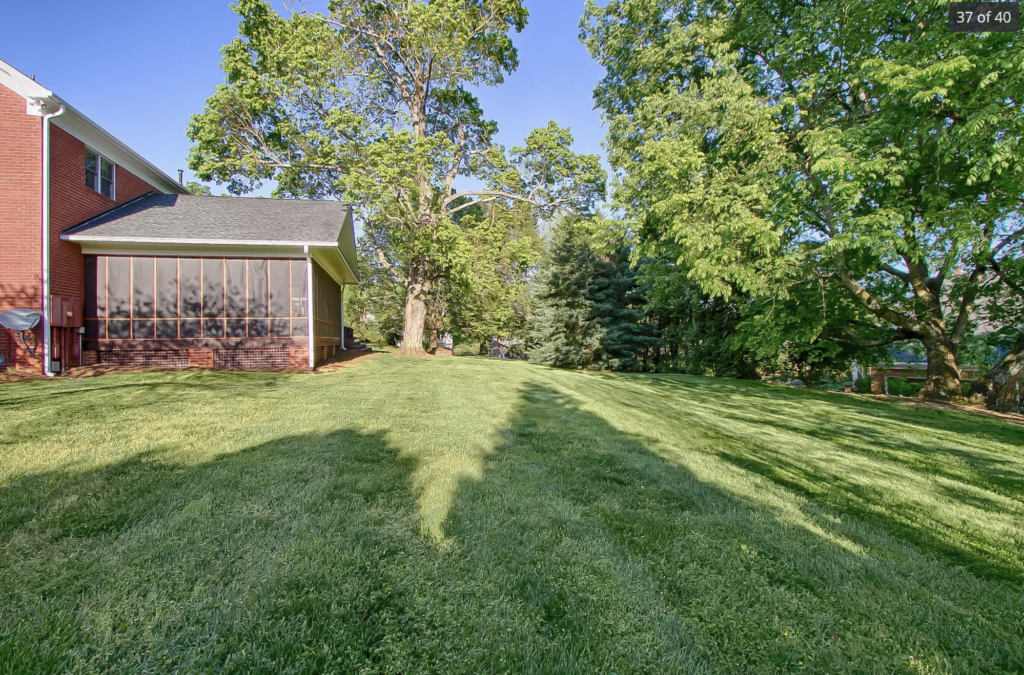 Looking Into Fiberglass Pools
Have you heard of a fiberglass pool?
I've known a TON people who have put in a pool in Arizona and the number one complaint is the timeline. Not only does it take a significant amount of time to dig and build a pool, but many people are interested in remodeling vs. moving, causing wait times to increase even more. I expected to start the project this year and to finally be swimming by next summer.
I was genuinely shocked when our builder came over to measure, quote, and explain the process of fiberglass pools. It's very likely we are going to be swimming THIS summer instead of 2024!
Here is a mockup I made in photoshop of what it could look like: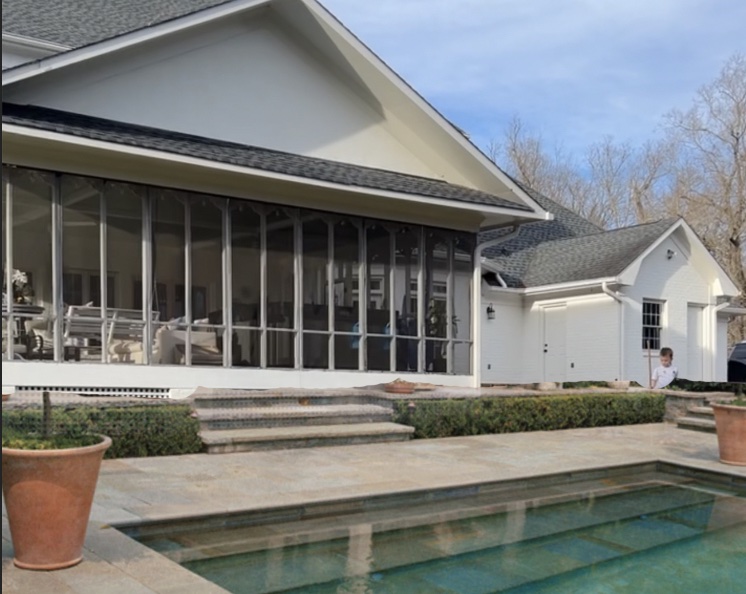 What is a fiberglass pool?
Fiberglass pools are premade, in-ground pools that are delivered to your home in one full piece. While I was worried this option may not last as long, modern fiberglass pools are designed to resist cracking, chipping, and remain maintenance free because they do not need resurfacing.
To my knowledge, fiberglass pools aren't quite as common in Arizona for whatever reason but it's very common in Tennessee and other parts of the country. Our builder does fiberglass pools exclusively. I have done extensive research and loved everything I've heard about fiberglass pools. Another bonus is that although there aren't as many customization options, I had my heart set on a rectangular pool so I didn't need a fully custom design.
After doing our due diligence, we are thrilled to be getting a fiberglass pool of our own! I included a photo above of the mock-up created and we are in love!
Creating My Dream Pool Area Mood Board
I want this pool area to feel like an oasis from the moment you step through the fence, yet still have a fun luxurious, classic feel.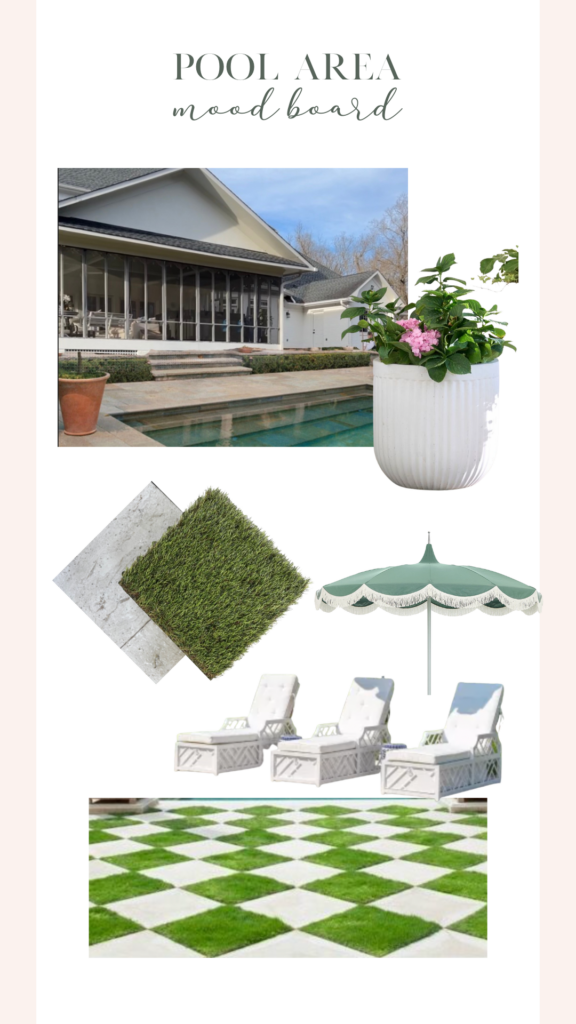 You know I love a mood board! I make them for myself as a planning tool, but I also share them with anyone involved in the project so they understand the full vision. We remodeled our front yard in Arizona just before moving, so I drew inspiration from what I had designed there with the checkered pavers + turf! I hadn't seen it a lot when I first designed this for our old house 3 years ago but I've noticed the turf + paver combination is popping up more and more. It's gorgeous, so I'm not surprised!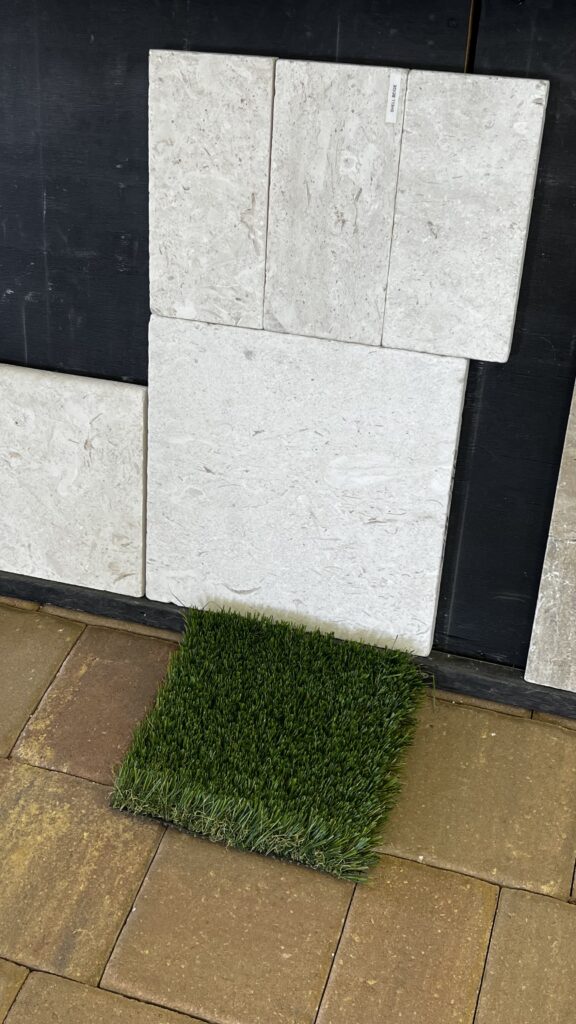 My favorite addition of all: the checkered turf and tile! Checked flooring is one of my all-time favorite projects from our home, so I wanted to include it outdoors but with a fun outdoor twist. I love the travertine pavers we chose!
Fiberglass Pools: Our pool selections And Plans
I wanted to include our plans for a better visual of the fiberglass pool. We have a great spot of land picked out, so we were able to get a larger rectangle pool and still have the tanning ledge I'd been wanting.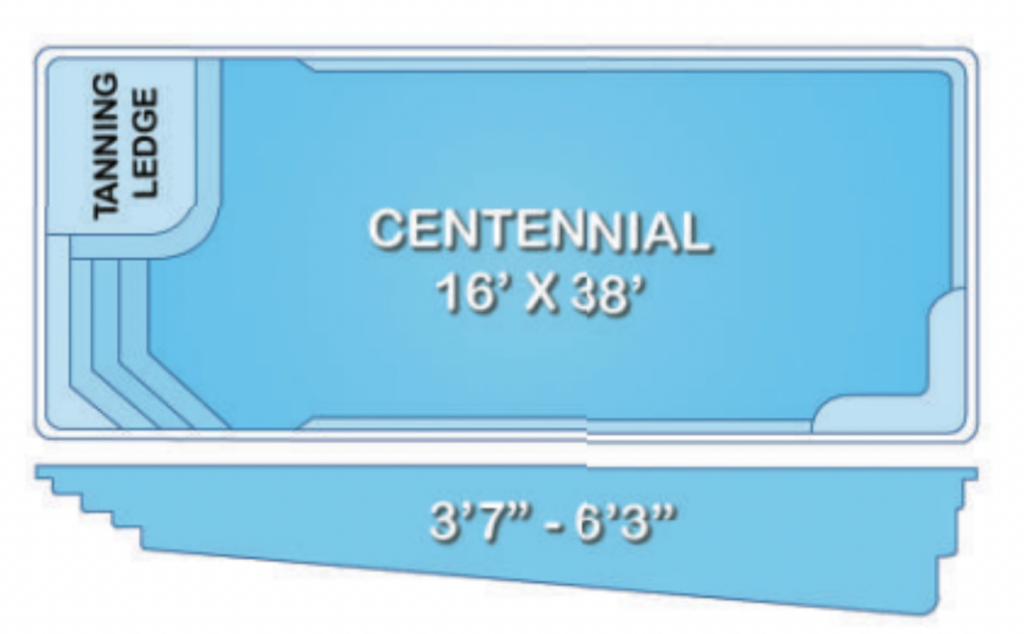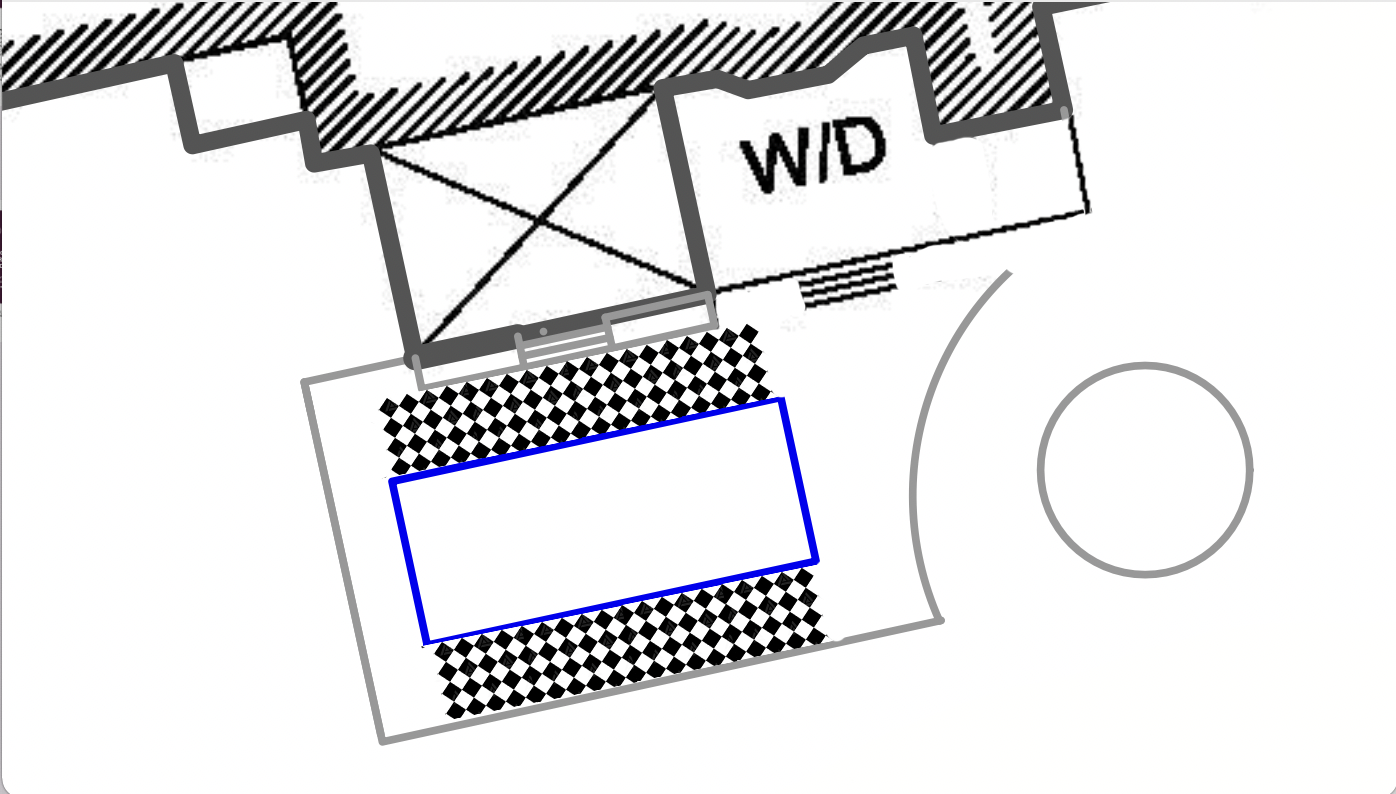 We chose Glacier Grey for the fiberglass color. I almost never choose grey for anything but when you choose a pool color, you choose the color WITH water in it for obvious reasons. The grey is like a blue/grey without water the magic happens with its' filled with water. It's the prettiest blue color when filled up.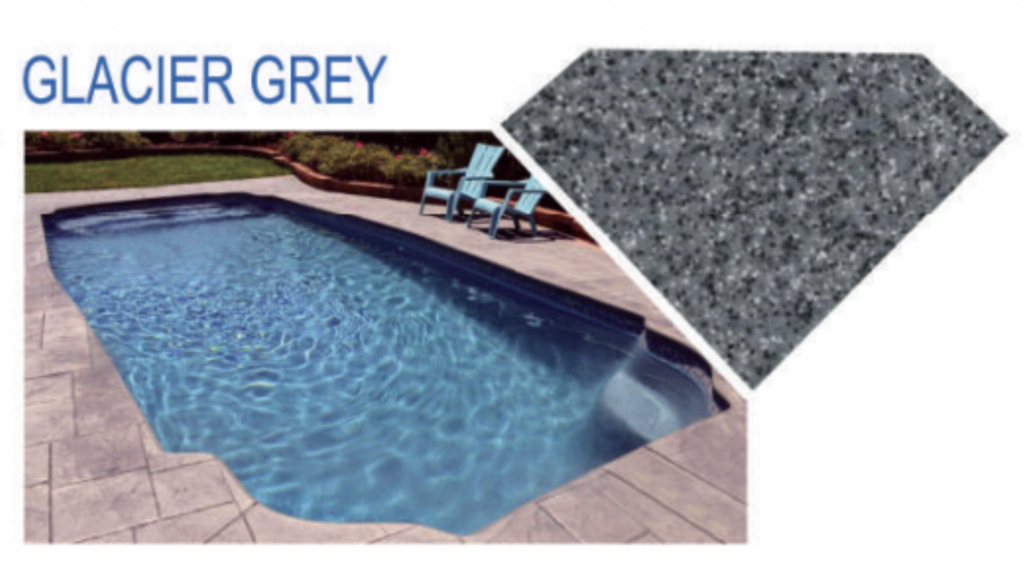 Progress photos – our pool got delivered!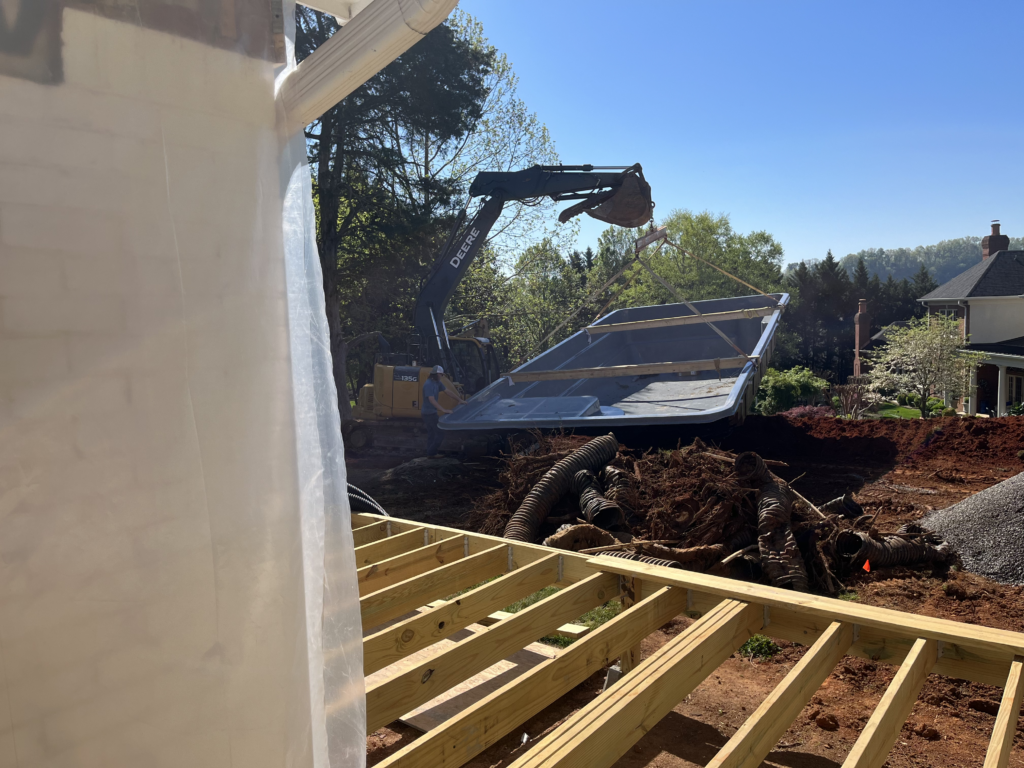 My Final Thoughts On Fiberglass Pools!
We cannot wait to get this project started and share the details with you all! Of all the projects we've done in our Knoxville home, this one is by far the biggest yet. Have you ever built a pool in your backyard?
Please let me know any tips in the comments! And to keep up with all things on the blog, check out my latest posts: