Our pool house design has been brought to life and today – it's reveal time!
It's a rare feeling for an interior design project to feel as personal as this. With my boys out for the summer and Tennessee getting warmer, I've been wanting to create a space that creates family memories for a lifetime. While the entire backyard renovation is still in the works, I get to share with you one huge step towards the finish line: our pool house reveal!
The Monarch Revival has been a journey that has seen my blood, sweat, tears, and triumphs. I feel prouder than ever that each space feels like a piece of me. So without further ado, I am thrilled to share with you the Monarch Revival Pool House Reveal!
SOURCES:

RELEVANT POSTS:
Making A Space Work For Your Current Needs
Craig and I have always a bit unsure of what to do with this space. It's a small one-off part of our house that seems functional, but deciding what would be the most functional for us was tricky.
I'm a true believer in not wasting precious square footage, but turning it into something purposeful for you. Boy did this small room serve us well.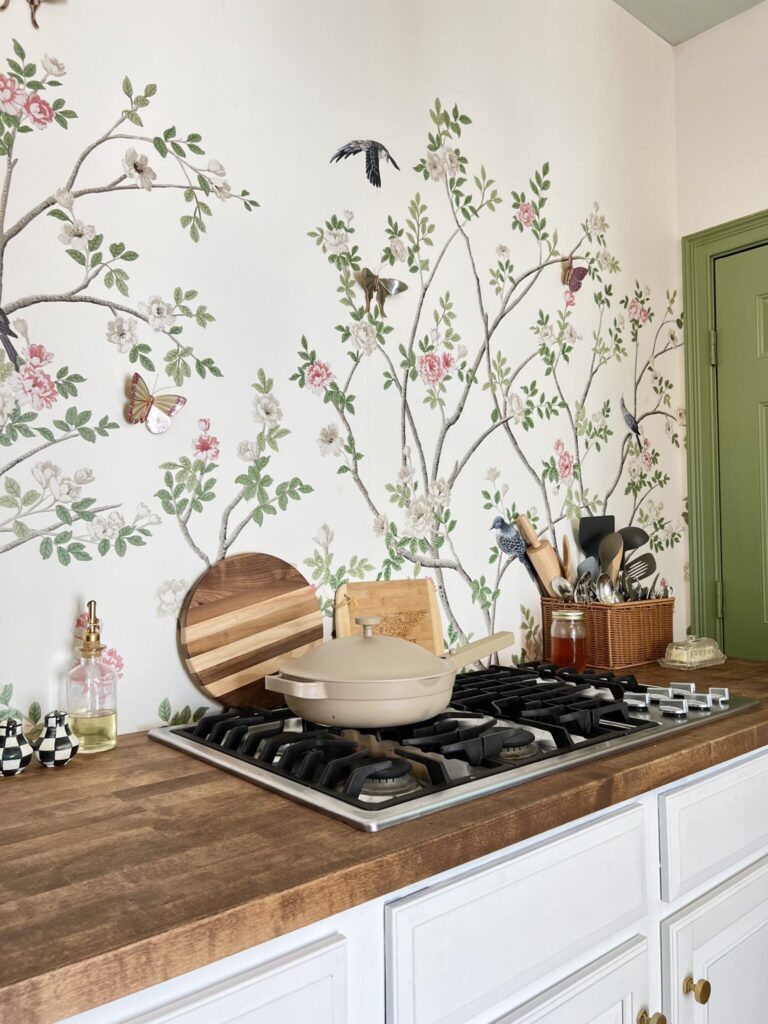 This room is off the kitchen and the garage – so it could be used for anything from additional storage space to a home office.
Initially I thought a garden room would be perfect for backyard storage… and it was! With 6 other boys in the house, I used this space to embrace feminine touches. It was n integral part of finding my footing in Knoxville and it was bittersweet to change it into something new.
We ended up transitioning this space into a makeshift kitchen during our kitchen renovation and it saved us!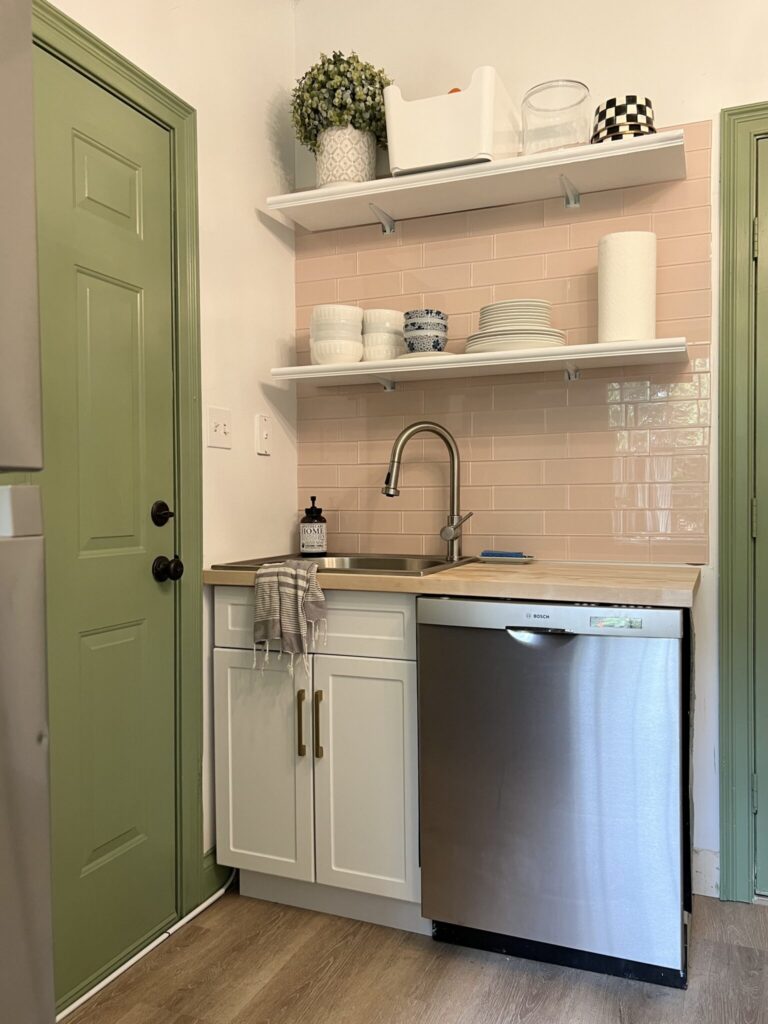 With the Monarch Revival Kitchen Remodel complete, we were left with a half kitchen/ half garden room combo. When the time came to finally redo the backyard (and add the pool my boys had dreamed of) this small room's final form seemed like a natural transition.
I could not be more in love with the convenience and fun of having a pool house in our backyard! It's the little oasis I've always dreamed of.
The Monarch Revival Pool House Reveal
Here it is! The Monarch Revival pool house is finally complete and right on time for summer. Even though our backyard is not completely done, my boys have already been running in and out of here on these warm Tennessee nights- a dream I've had in my mind for forever.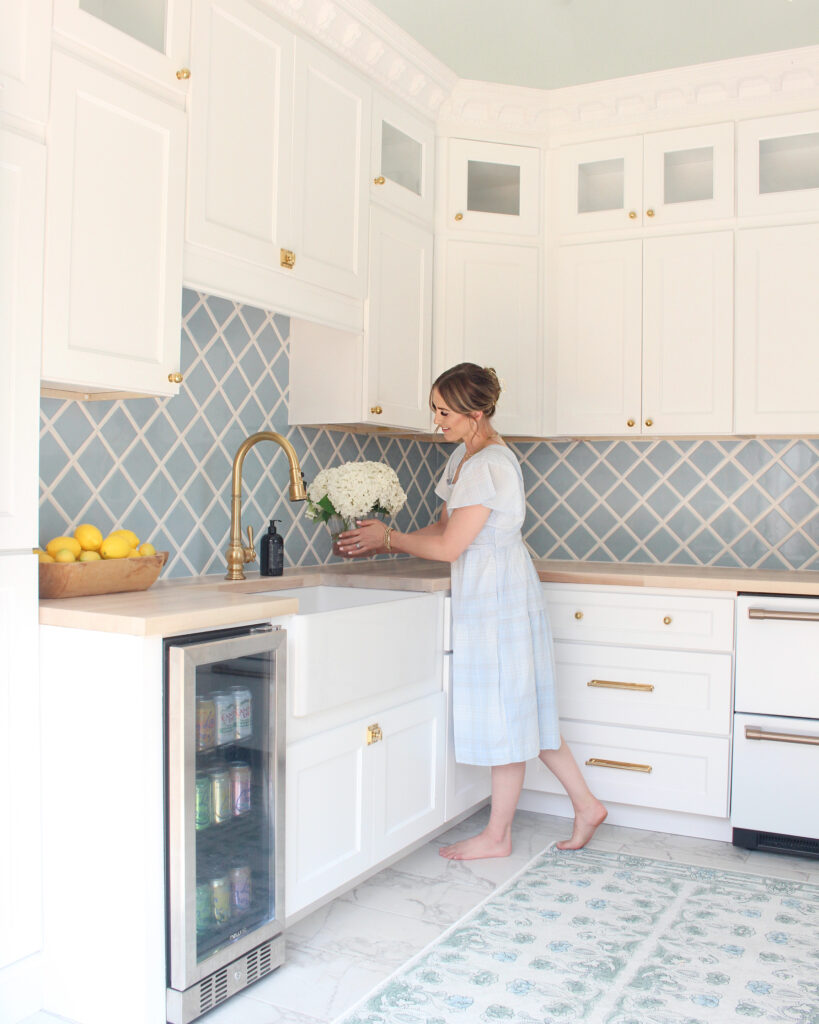 Craig and I wanted this space to be beautiful and useful. We brought in a ton of storage (both cabinets and drawers) and added a practical farmhouse sink. We kept to a small drink fridge, so the integrity of our kitchen could stay in tact.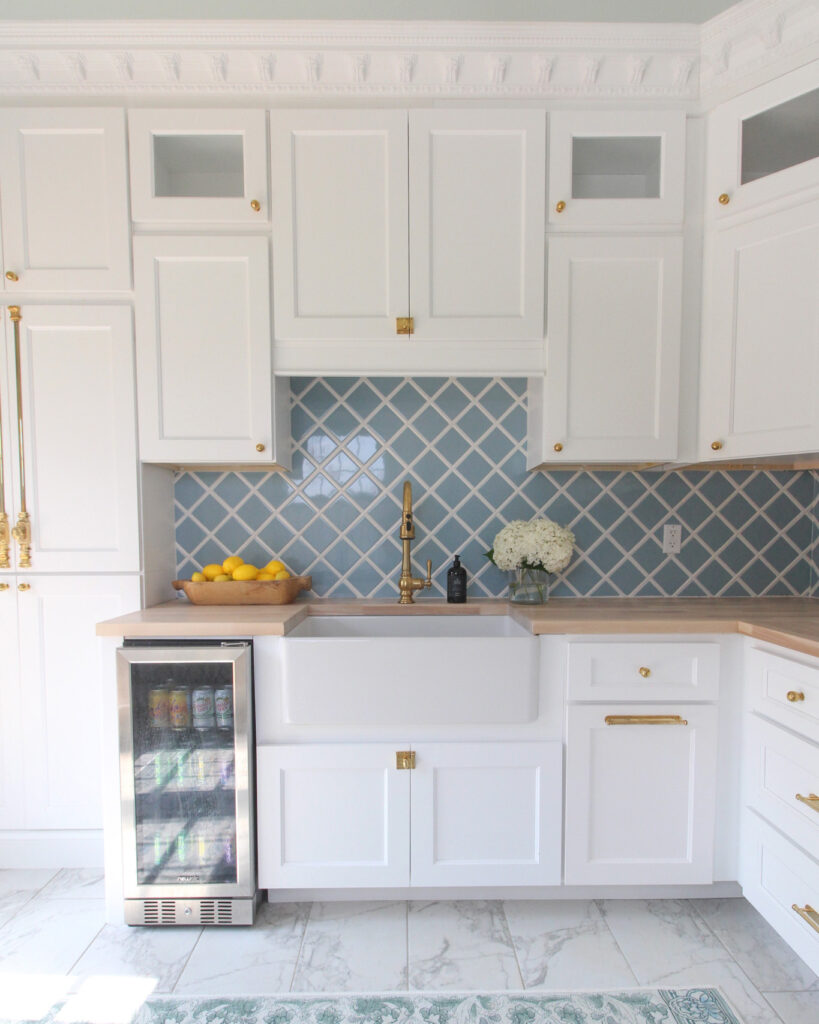 I chose to go with the same white cabinetry we used in the kitchen because I've been so happy with our RTA cabinets! I built them and installed them myself – I wrote a full review here1
The cabinets are a beautiful crisp white, which really help make the wood countertops pop. I've never done a wood countertop before, but I thought why not out here! I opted for a lighter stain, which goes quite beautifully with the gold accents.
I used a new product to maintain the light, raw color of the butcherblock and documented the entire process on this post.
A Closer Look At The Details
Adding In Nods To Our Monarch Revival Kitchen
Since my boys will be running in and out of the pool, a durable floor is a must. Wood floors were out of the question, so I knew I had to get creative with tile.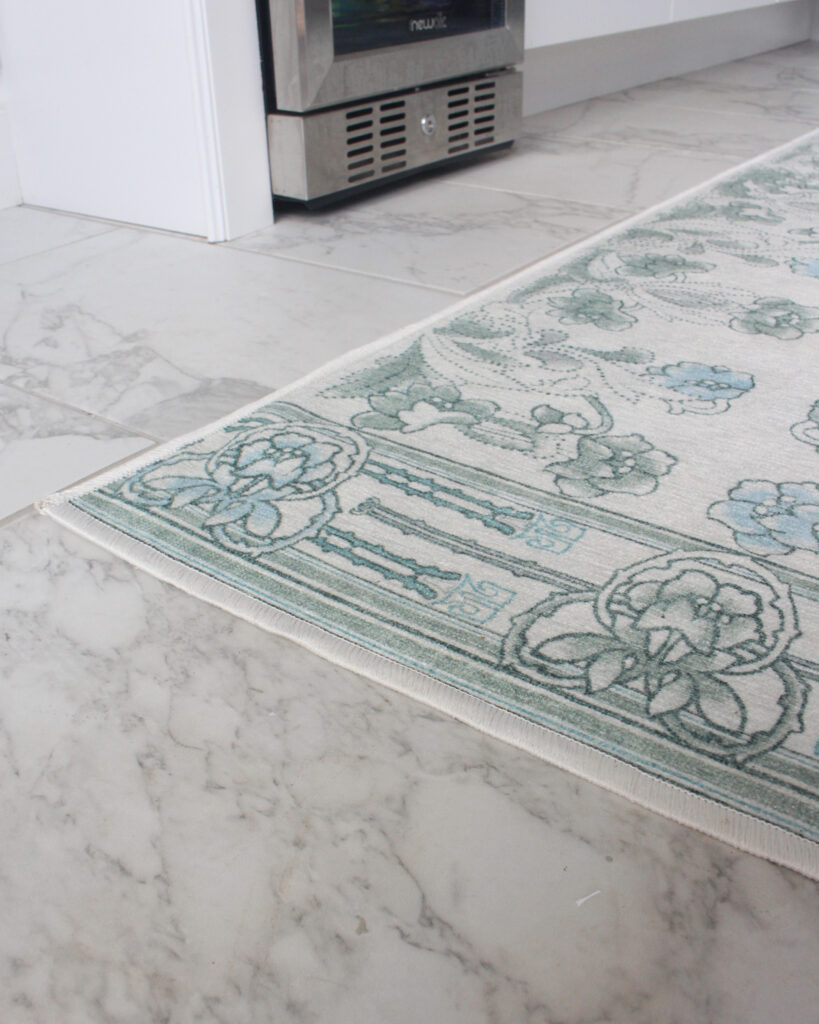 I found a stunning tile from Home Depot that had a similar marble grain as our kitchen countertops- it is perfect! I added in a blue and green rug for some added warmth, and to stop any slips from happening.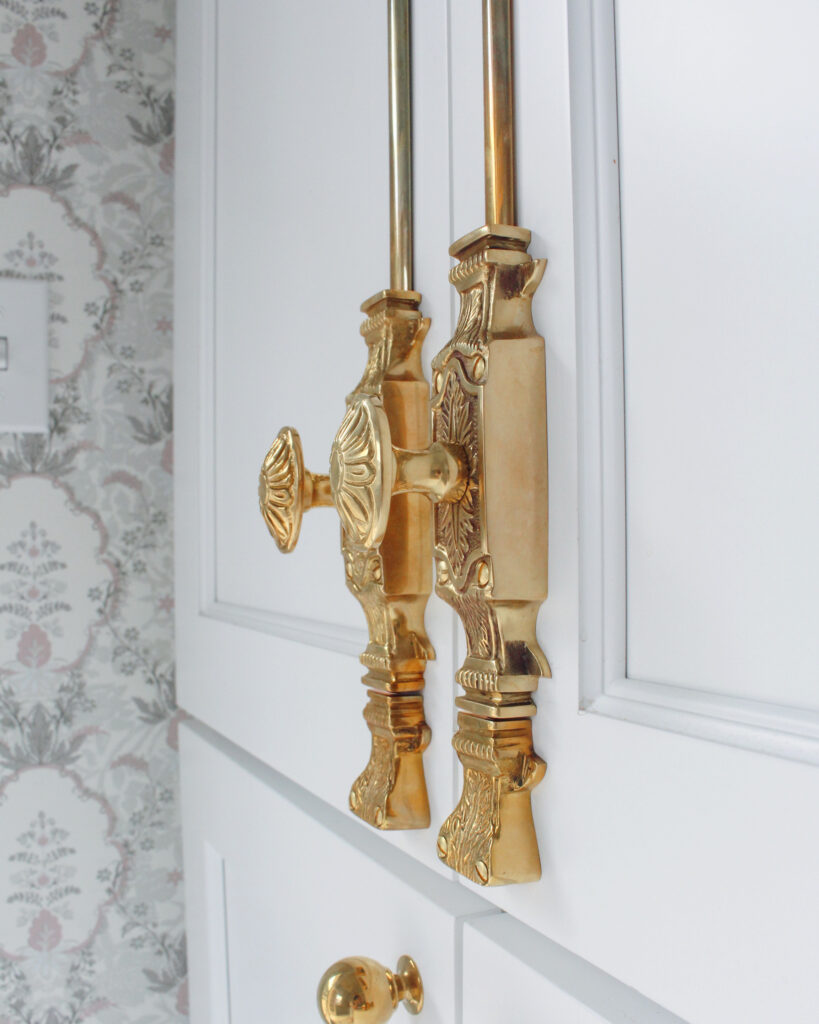 One of my favorite things in our kitchen is all the gold accents I incorporated throughout. It really added that grandmillenial touch we all know I'm a sucker for. The star of the show ended up being these antique-esque cremona bolts which were the perfect finishing touch.
The Fun Is On The Walls
I've been keeping this project closer to my chest, but if you've seen on my Instagram I'm designing my own line of wallpaper! This new venture has been beautiful and at times a bit overwhelming. I love these designs so much and seeing them on my walls for the first time (in a complete space) feels surreal!
While things are still in the works, I wanted to add one of my first designs into the pool house to commemorate this special time.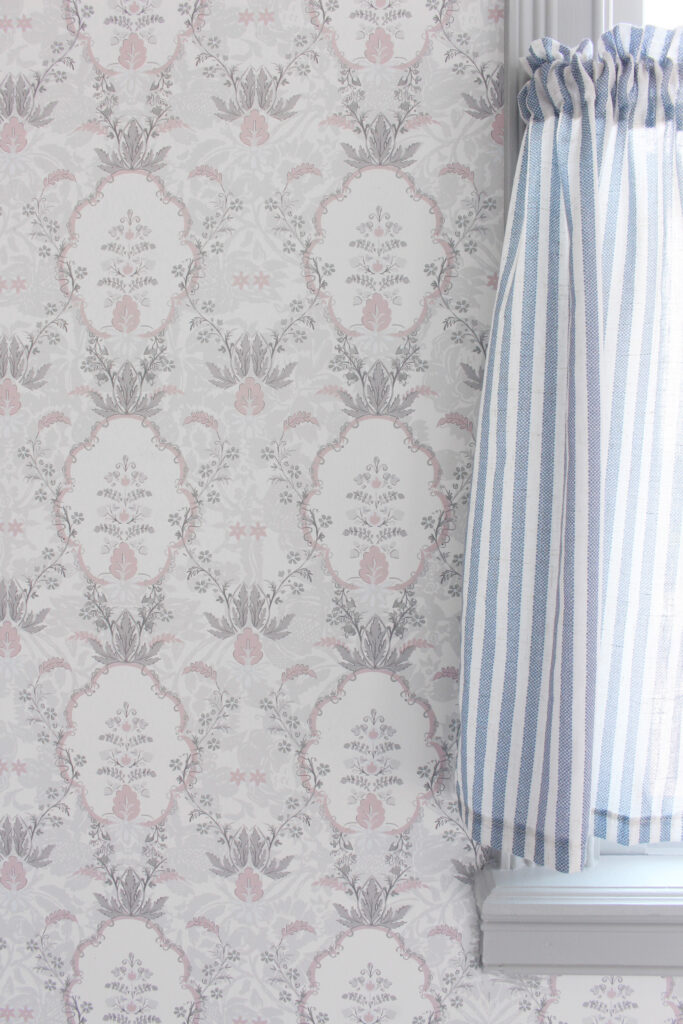 This is the Ryleigh wallpaper, a muted floral print with a touch of pink, green, and a little bit of blue. From the moment I put up the first panel, I knew adding it into the pool house was the perfect choice.
I knew I wanted to add a blue backsplash to bring out the small blue flowers in the wallpaper. I planned on a simple pattern I'd done many times, but decided to challenge myself with a lattice pattern. I created this custom lattice look with blue tiles and white trim pieces. It took (almost) forever, but the blue in the tile accents the wallpaper so nicely.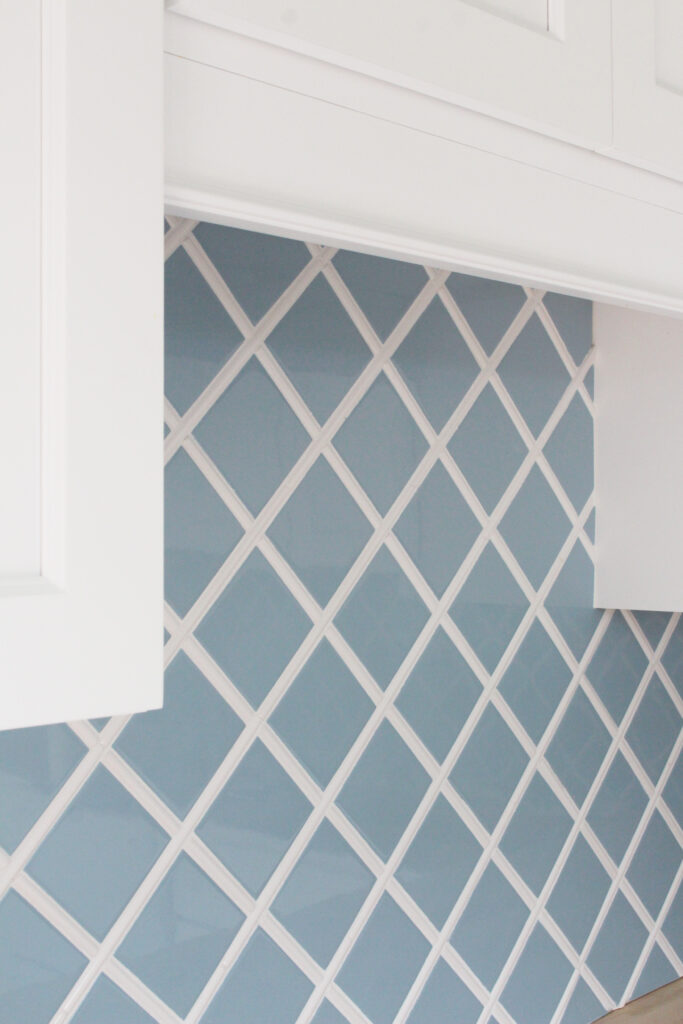 Although it looks small, this tile design was a real piece of work. The end result is totally worth it though! It reminds me of how pushing yourself out of your comfort zone creates a little bit of magic.
The Final Reveal:
I hope you all love the pool house design as much as I do! I haven't taken on a project this big since the kitchen renovation last year so I was ready for something with impact! With summer in full swing, I'm so happy we get to enjoy this space to the fullest for months (and years) to come.