A black and white checkered tile entry has my heart – so much so that I've done that in my last three homes!
I first had the idea for this stunning tile work in my home in Mesa. It was the first time I had an entry that called for something dramatic and timeless. I began to envision special family moments in this space – Sunday photos, greeting family and friends when we are hosting, and someday, sending my boys off to prom! When we finally had it installed, it instantly became my favorite thing in my house.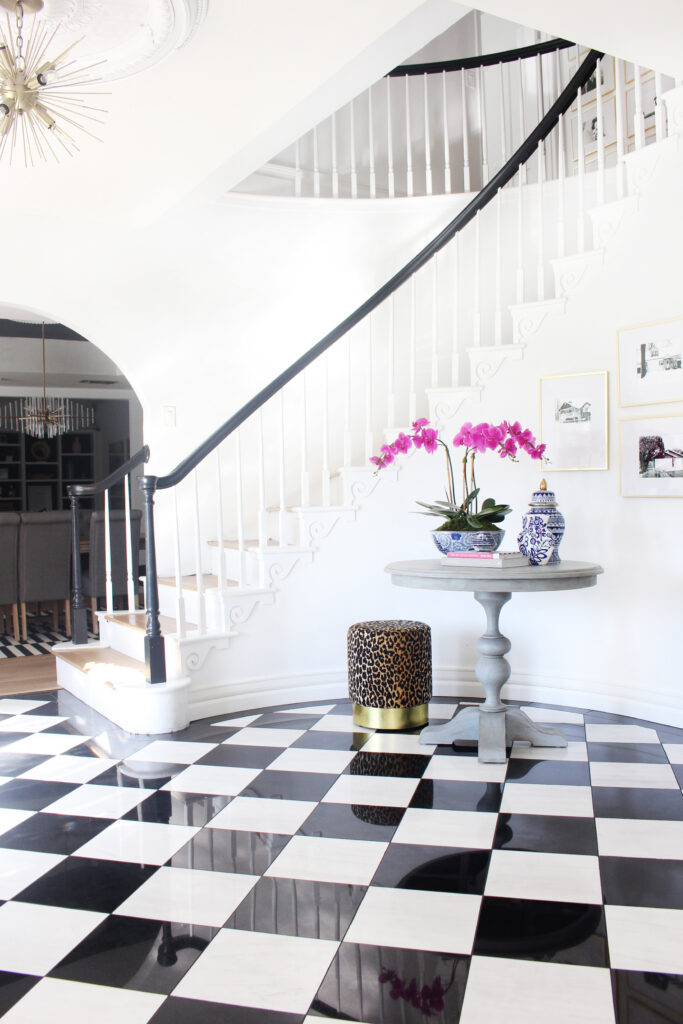 When we moved from #HouseNo13, I was heartbroken to leave it! A grand entry that I could adorn with black and white tile was one of my non-negotiables when we moved to Tennessee. I've learned a lot about black and white tile trends that I'm so excited to share with you today!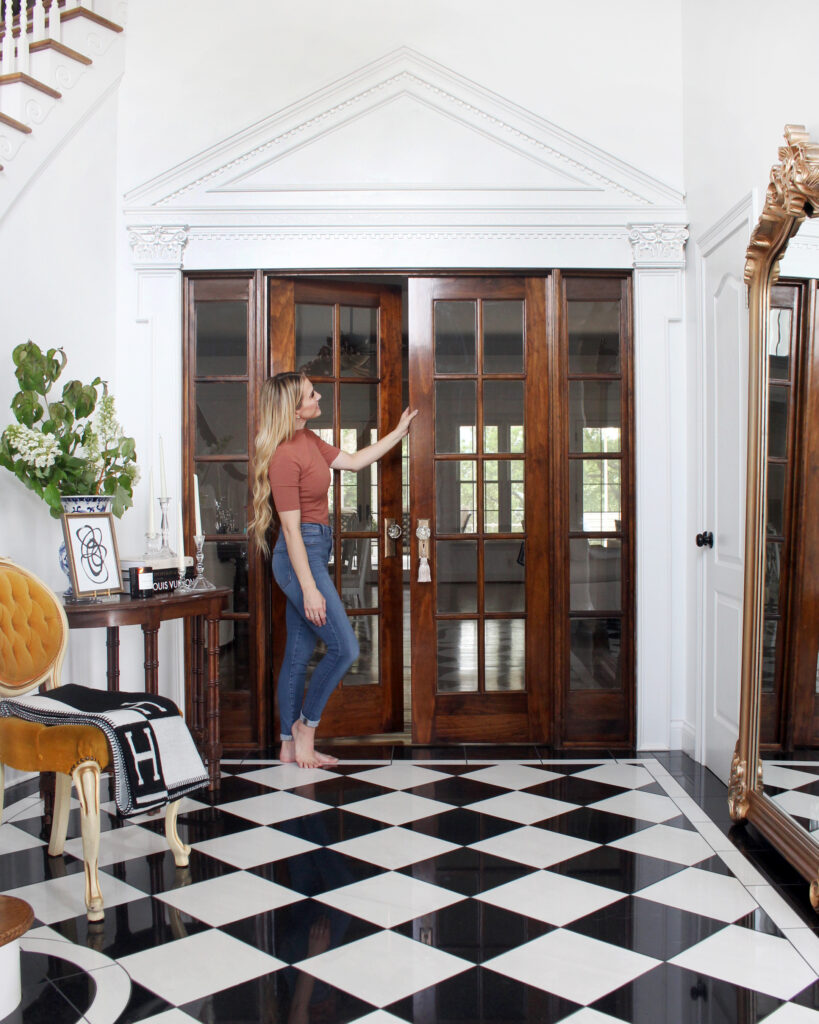 When we started our home search in Tennessee, I found that I was naturally drawn to colonial and greek revival style homes which tend to have bigger entries. A larger entry lends itself to having a different floor pattern than the rooms it leads into. It feels natural that it is separate from the living room or the music room (which is off the entry!), and different flooring makes that definitive distinction. In a small entry, different flooring, especially black and white tile, may look out of place so that is something to keep in mind.

What tile did you use?
I have polished marble for the white and black granite for my black tiles. I like the classic, stark black and white look of these tiles. Polished marble is high-shine and easy to clean.

My Favorite Black and White Tile Combination: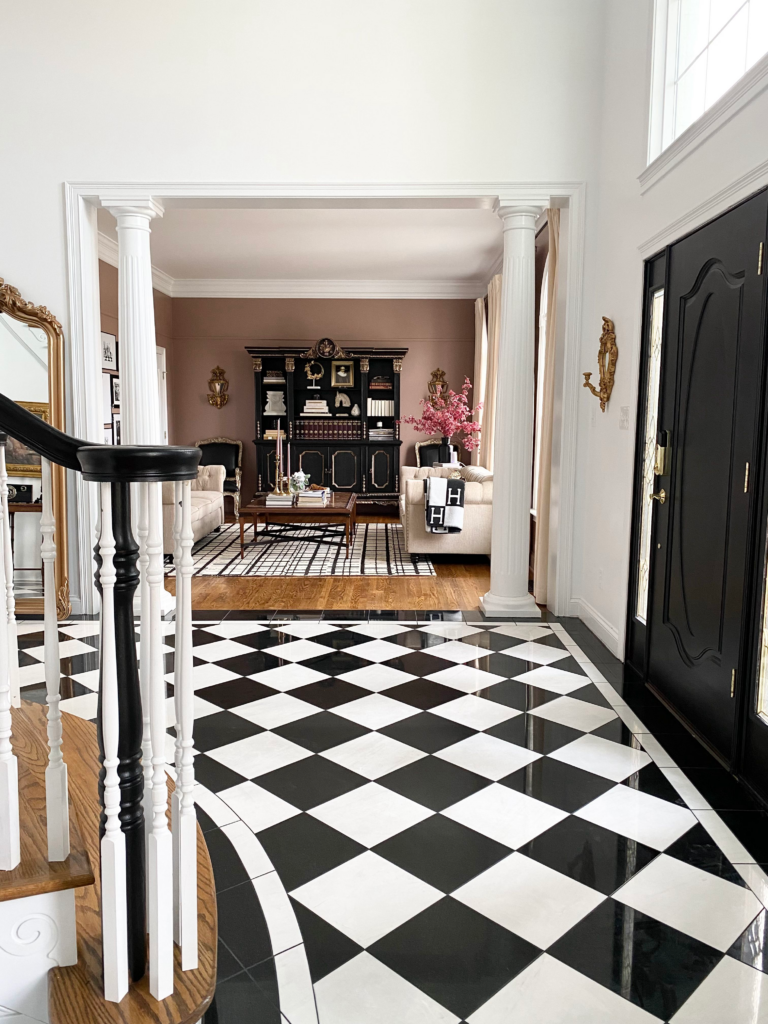 You'll notice that I also included a double border as an added design element. this is just personal preference – but the detail blows me away!

Grout for Black and White Checkered tile
The best thing I ever did was use a black grout for my checkered entry! It isn't going to show dirt like white grout would. I am so happy with this choice and highly recommend it.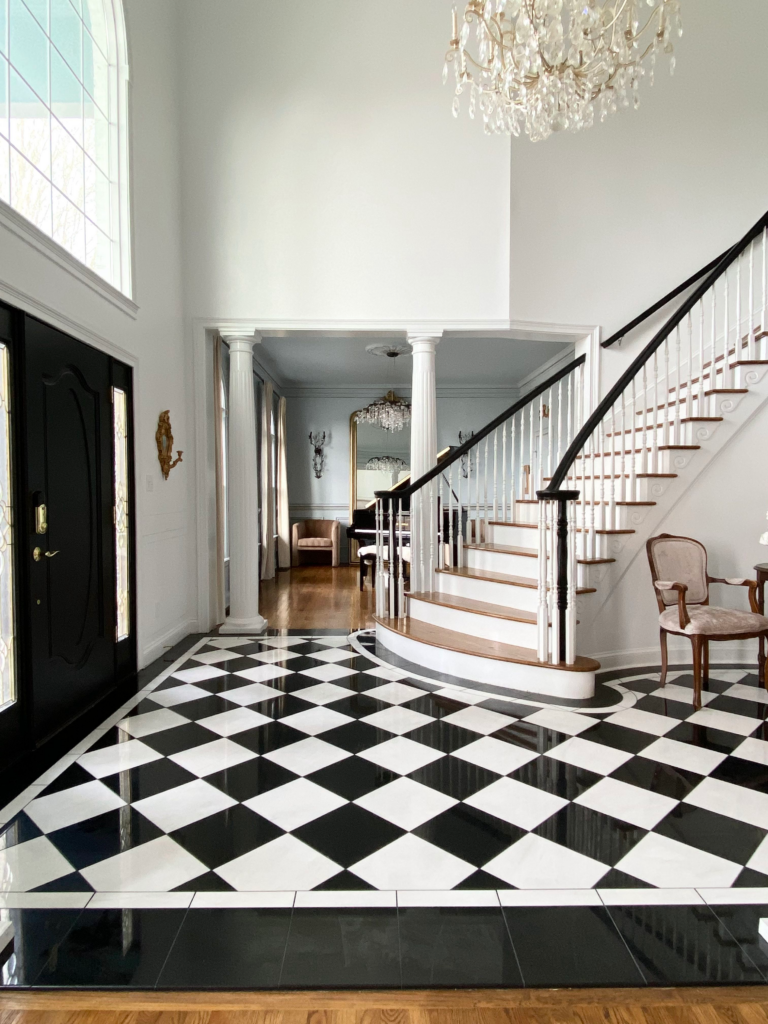 Did you install it yourself?
Installing this tile with added border is extremely tricky. I love tile work, but this is likely beyond my skill level. Without the border, I would tackle it but the border made for some tricky cuts and measurements so it was best to leave it to the pros. For each installation, I hired the experts and I am so glad I did! It would be very easy to spot mistakes or missteps with this predictable pattern.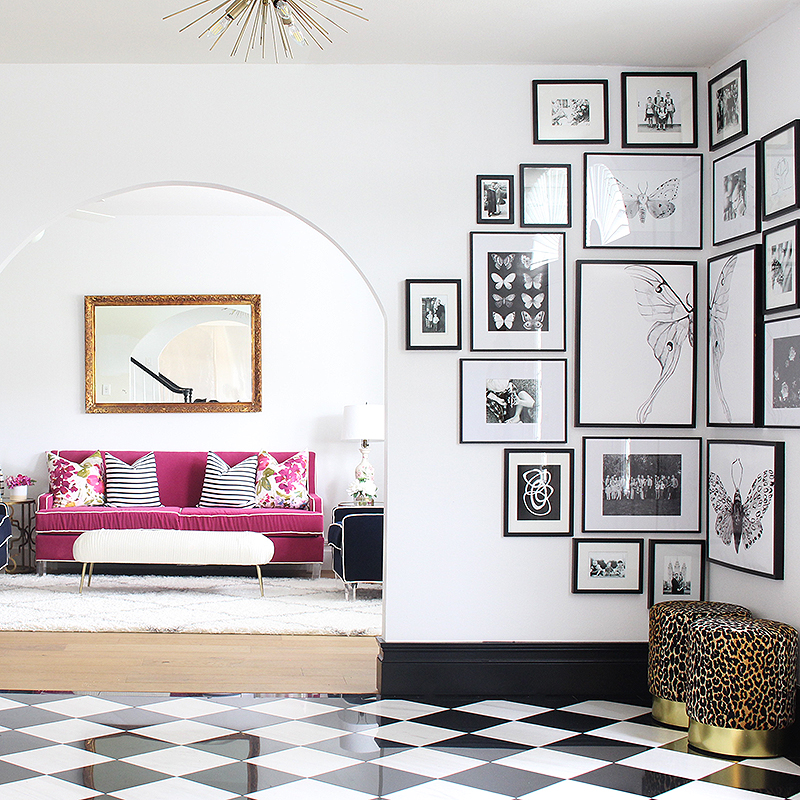 Black and White checkered Tile Inspiration
I love that black and white tile can have different variations that feel so different. You can spot black and white checkered tile is so many historical photos. It is a statement that won't phase out because it is so engrained in design history.
You'll see in the photos below that it can be incorporated in various design styles beautifully!
Chris Loves Julia's Dining Room
The first piece of inspiration that comes to mind Chris Loves Julia's matte black and white tiles in their former dining room. This gives a more natural feel and is such a show stopper!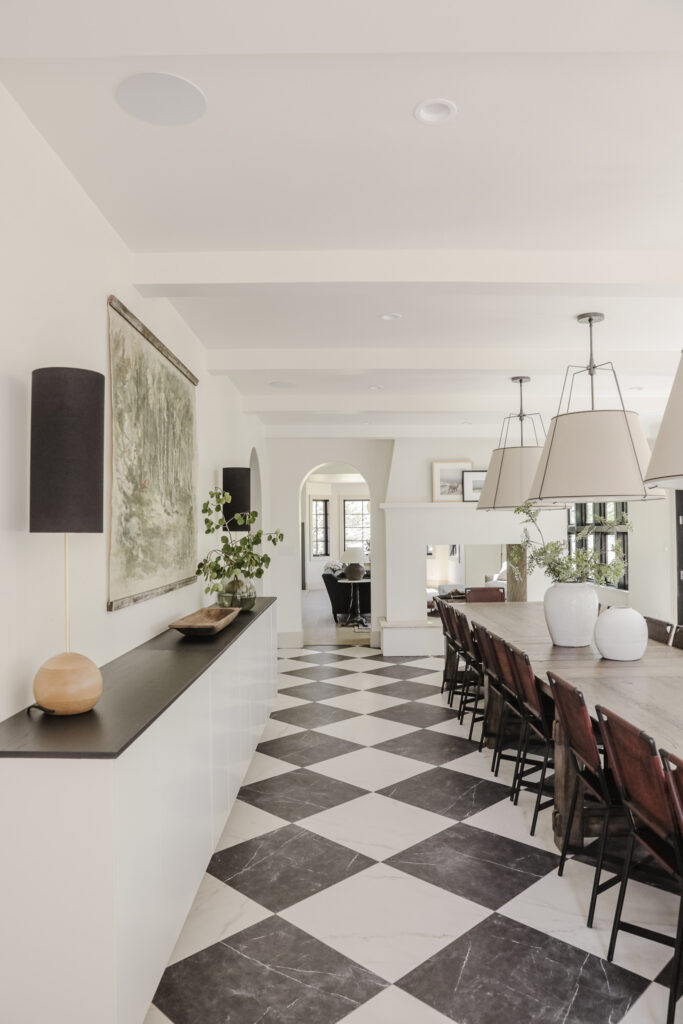 Studio McGee Kitchen
Shea McGee installed this tile in squares (rather than a diamond pattern) and it gives a more retro feel in this kitchen. Love! Checkered tile is a popular choice for kitchens for good reason!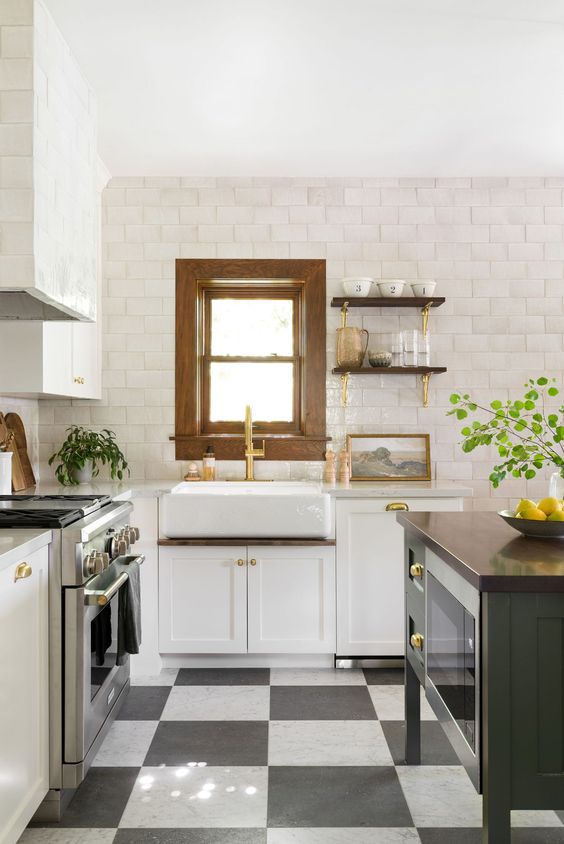 Monarch Manor Powder Bathroom
Do you recognize this powder bath? In our previous home #MonarchManor, we extended the black and white tile into the powder bathroom and it was so stunning! This is a great example of just how versatile checkered floors can be.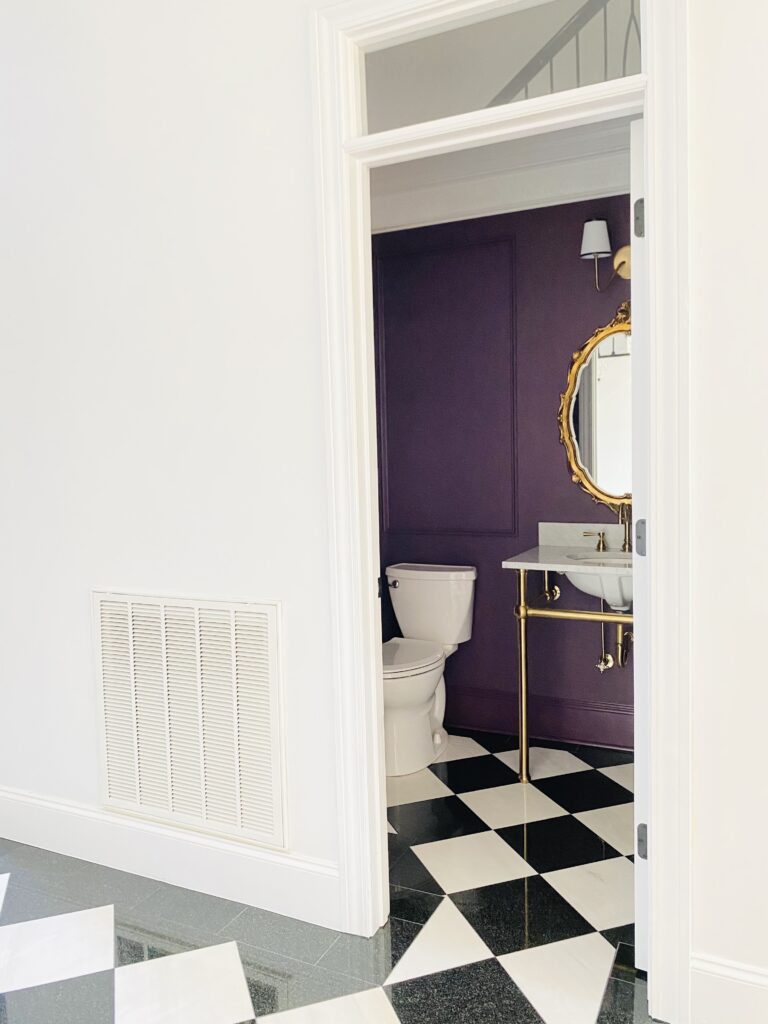 I truly will never get sick of black and white tile in my entry. It is the first thing I see when I walk into the front door and it makes my heart flutter every. single. time. It just feels like ME!
What design element in your home makes it feel like you? Are you a fan of black and white tile? Tell me in the comments!