This feels like the year I've fallen more in love with color! While I'll always be partial to black and white, color has been a lot more prominent in my design projects for 2023. Check out some of the other colors I've used in my home:
Today on the blog, I'll be chatting all about the gorgeous neutral green: Evergreen Fog! Since this color has already made an appearance in my latest project, I can't wait to share where it would look great in the rest of a home.
Evergreen Fog: An Award Winning Color Choice
Although I tend to remain more classic with my design choices, I can get down with a trend or two! Evergreen Fog won the 2022 Color of the Year award and it's for very good reason.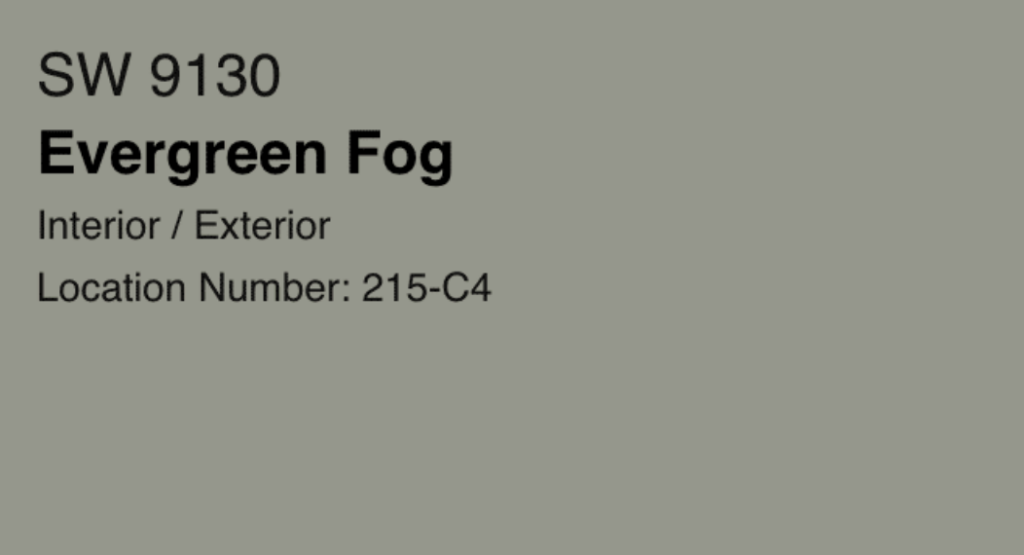 It can be best described as a gray/green combination with just the slightest hint of blue mixed in. If you love sage green, think of Evergreen Fog as its mature older sister.
Evergreen Fog RGB And Hex Code
Depending on the project you're going for (walls, trim, etc…) different paints will work better than others. To ensure you get the exact shade of Evergreen Fog in the brand of your choice, bring in this information:
R: 141 G:151 B:138
Hex Code: #95978a
Once you've chosen a brand, the next task is a paint finish. To learn exactly what finish to choose, read my complete guide here!
What Colors Pair With Evergreen Fog?
Evergreen Fog is coming in at the perfect time to combine with another paint trend: greige! This is becoming everyone's new favorite neutral (mine included) because it tows a perfect line between cool and warm tones. When thinking of color pairing with greige, read my post for the best shades here!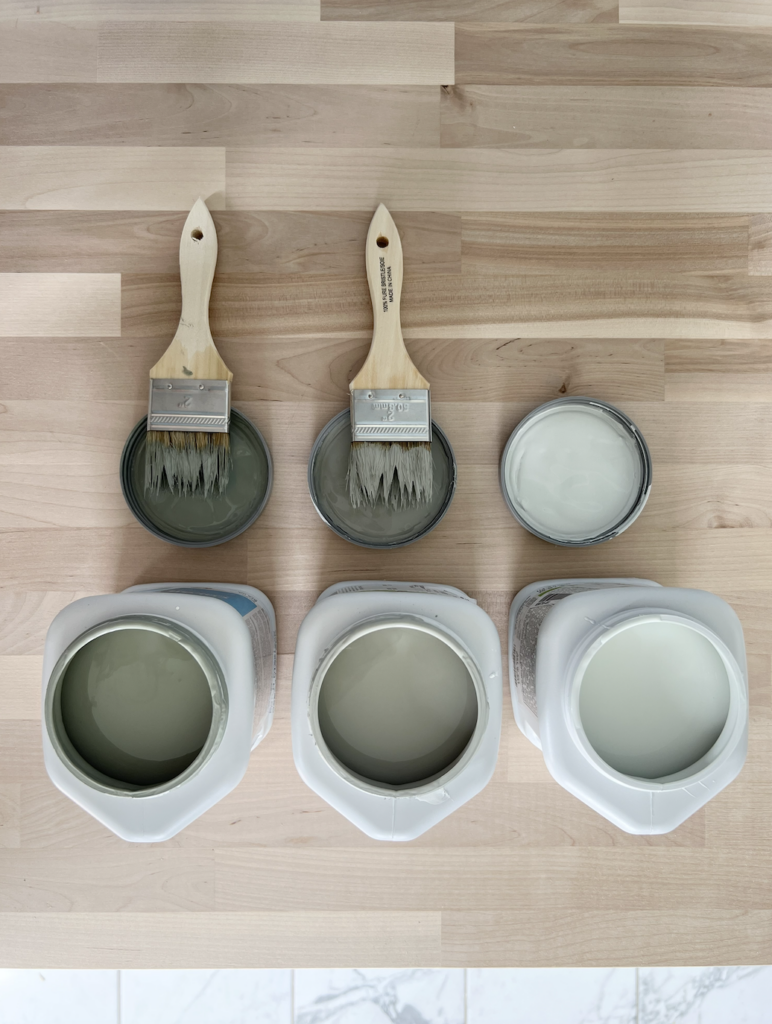 If we think back to design basics, use the color wheel to help with color pairing. Since green is right next to yellow, it tends to be the perfect choice for matching with Evergreen Fog. Think gold accessories, warm toned woods, and just anything that brings a golden hue.
Where I Would Use Evergreen Fog In My Home
When I think of a color like Evergreen Fog, it is the perfect balance between neutral and fun. As I keep dipping my toe into the world of color, I'd imagine this shade would be perfect in all the places that deserve an extra pop.
Pool House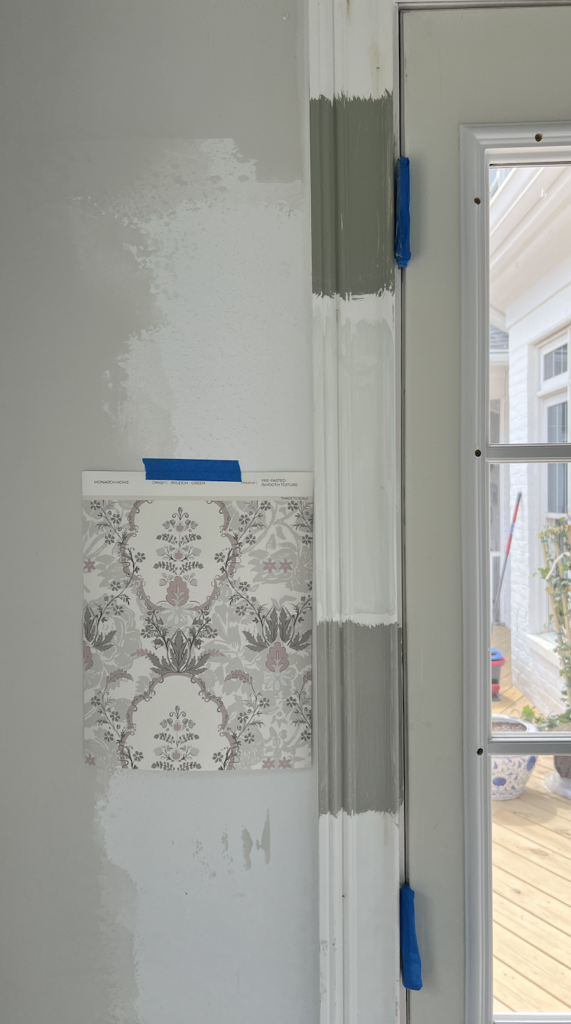 If you don't know, we just finished an entire backyard renovation! While it was truly a labor of love, our pool house was the cherry on top to a summer full of outdoor fun. To see the complete reveal, click here.
The most exciting part of this project was being able to use my wallpaper for the first time. I was so proud to be able to put it up and see the finished product in a space we will use so much. To help emphasize the green in the print, I turned to Evergreen Fog and tested a slightly darker and lighter version for the perfect fit.
The end result is so stunning!
Entryway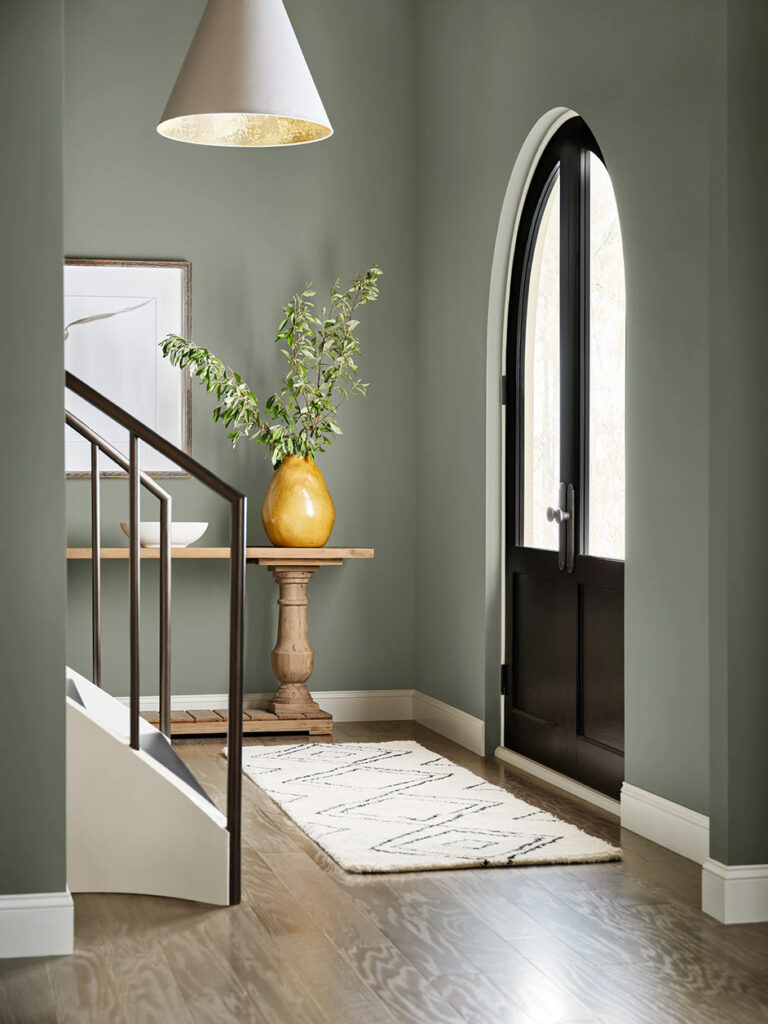 When it comes to a place that a bolder choice feels like the perfect fit, I always think of an entryway. With a color like Evergreen Fog, you can greet anyone that comes in with an added touch of whimsy, while remaining classy at the same time.
Secondary Bathroom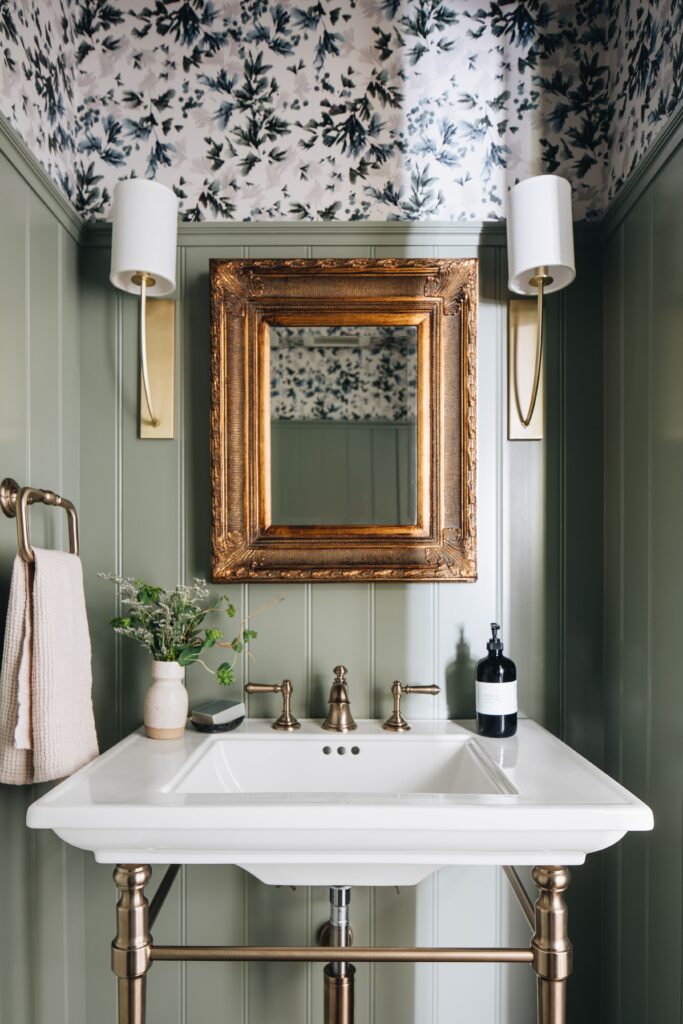 I love playing around in a secondary bathroom with all types of design choices. Evergreen Fog is a dream color to create a serene space without having to turn to a typical white or cream color. Combine it with a few vintage gold touches and it makes a gorgeous oasis.
A Fun (Yet Neutral) Color Choice
I hope you love Evergreen Fog as much as I do! It's the perfect color to pair with your other favorite neutrals, while still adding depth to the space. It just brings a bit of freshness to wherever it's used.
What do you think of this 2022 Color of the Year? Let me know in the comments! And to keep up with everything on the blog, check out my latest posts: