It's done! ✨🦋 Yes, we painted the brick! The Monarch Revival got a fresh new paint job and we are in love! The first thing out of my husband's mouth when walked through this home was… we are painting this thing WHITE!We have always dreamed of having a white brick home for our forever home and she is looking pretty!
Did you know our last home was painted brick as well? You can check that out right here.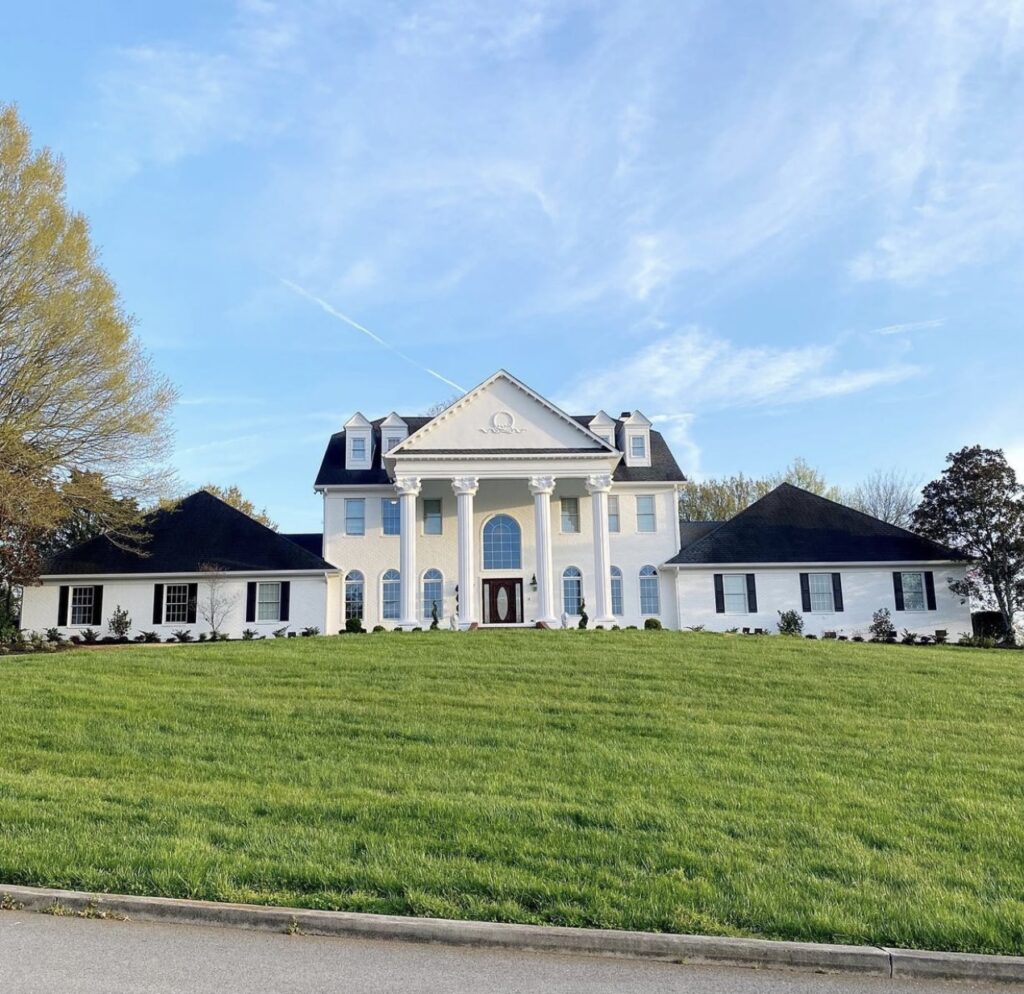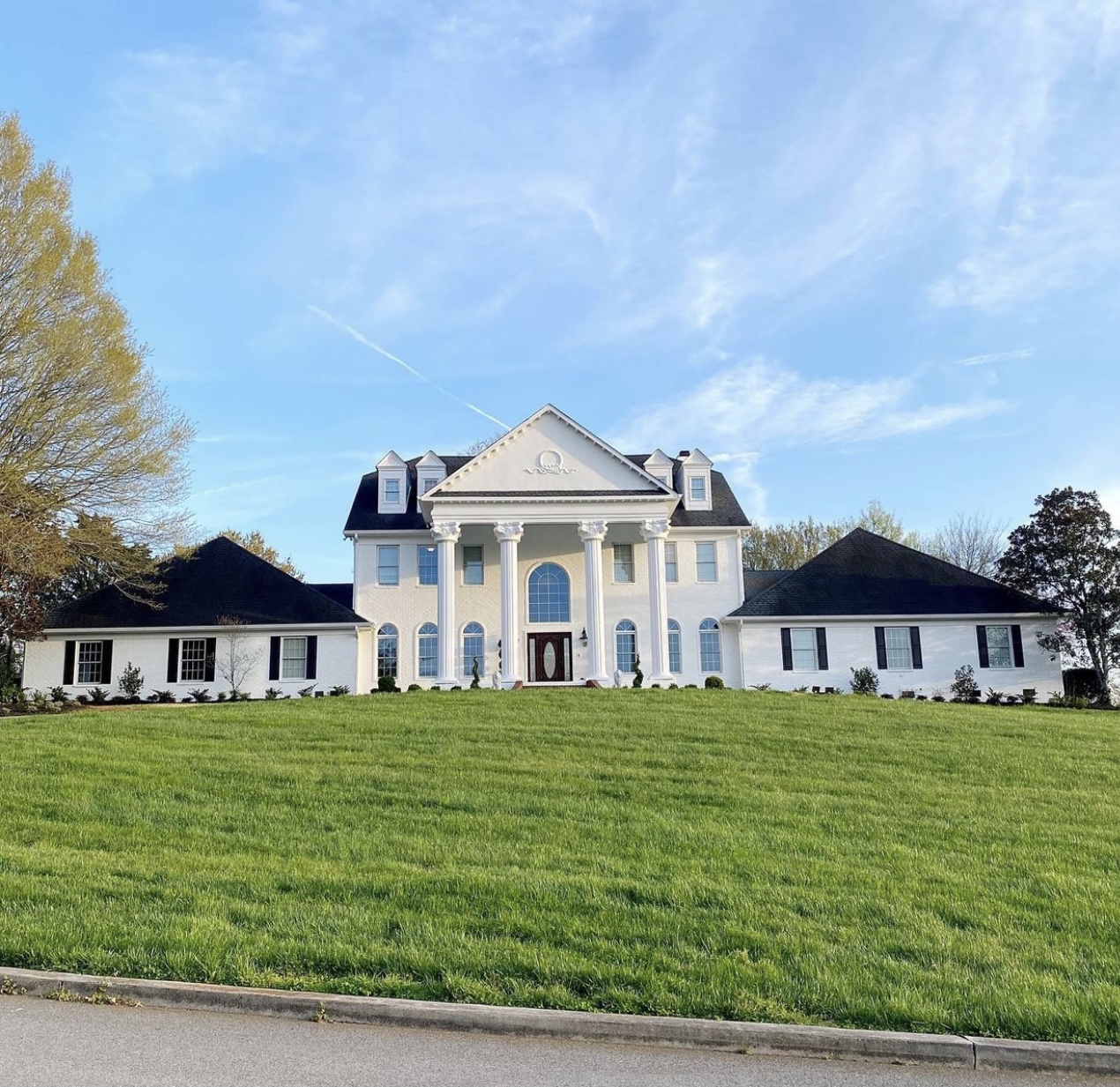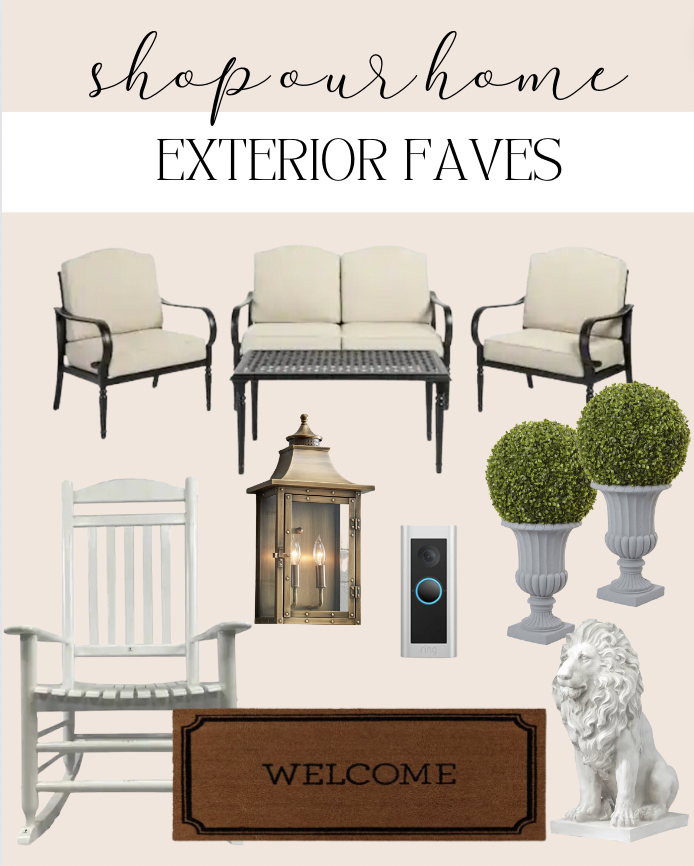 Painting Brick Is Controversial
What I learned over the last few months is that painting brick is controversial! I actually got quite a bit of push back from painting this home which surprised me. The thing about painting brick is that it is a permanent decision. Once it's painted, there isn't a great way to restore it to it's original condition which can be scary!
I think this speaks to a larger fear about projects and home improvement in general. It can intimidating to make changes that you pour your heart and resources into without the guarantee that you'll LOVE it. Craig and I have been making decisions like this for years and I'm guessing all of you have as well, maybe without realizing it. We've made large family decisions like pursuing dental school, residency, cross country moves, starting business…all without a guarantee that it will pay off. But in making those decisions, we have been blessed a hundred times over in ways we wouldn't have imagined.
All of this to say – don't be scared about making a change you won't love forever. The only guarantee in life is that things will change and evolve. The best thing we can do is make a decision based on the information we have in this moment. If you want to, paint the brick!
How To Paint Your Brick Exterior
If you remember, this isn't the first home we have painted. In fact, we've painted every home we've lived in. Most times, we did it ourselves! It wasn't until our last home that we decided to hire this out. Can you guess why? This house is extremely tall and it takes a team of professionals to get up there.
If you can access the top of your home safely, painting our exterior is one of the easiest ways to improve your curb appeal. It requires some sweat equity, but it's so worth it.
Tools For Painting Brick
If you're going to painting the exterior of your home, invest in this paint sprayer!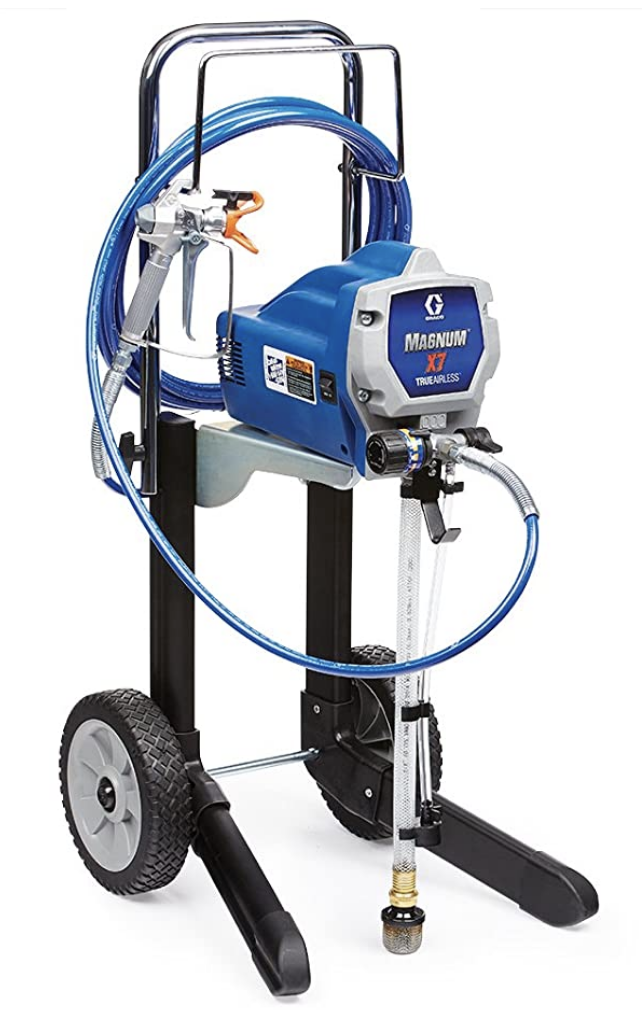 BEST Paint Sprayer for Large Scale Projects – We used this paint sprayer to paint the exterior of our (three different!) homes and it is the BEST! It is efficient, easy to clean, leaves gorgeous finish and doesn't have a ton of overspray.
Highly recommend this for big projects – painting home exterior, fences, large rooms, deck railing, etc. It also has a pressure roller that can be used for painting walls super quickly and efficiently.
What Kind Of Paint To Use on Exterior Brick
When you're painting your brick exterior, it is extremely important to use the right type of paint. If you're wondering what kind of paint to use on exterior brick, you'll want to use a Masonry Paint. This is a specific type of paint that is meant to adhere to brick and withstand the weather. It is different from an interior paint, so keep that in mind when you're choosing your paint at the hardware store.
We used Sherwin Williams Luxon XP Masonry Paint and had a great experience. It has held up great in our previous homes as well as this one. Highly recommend!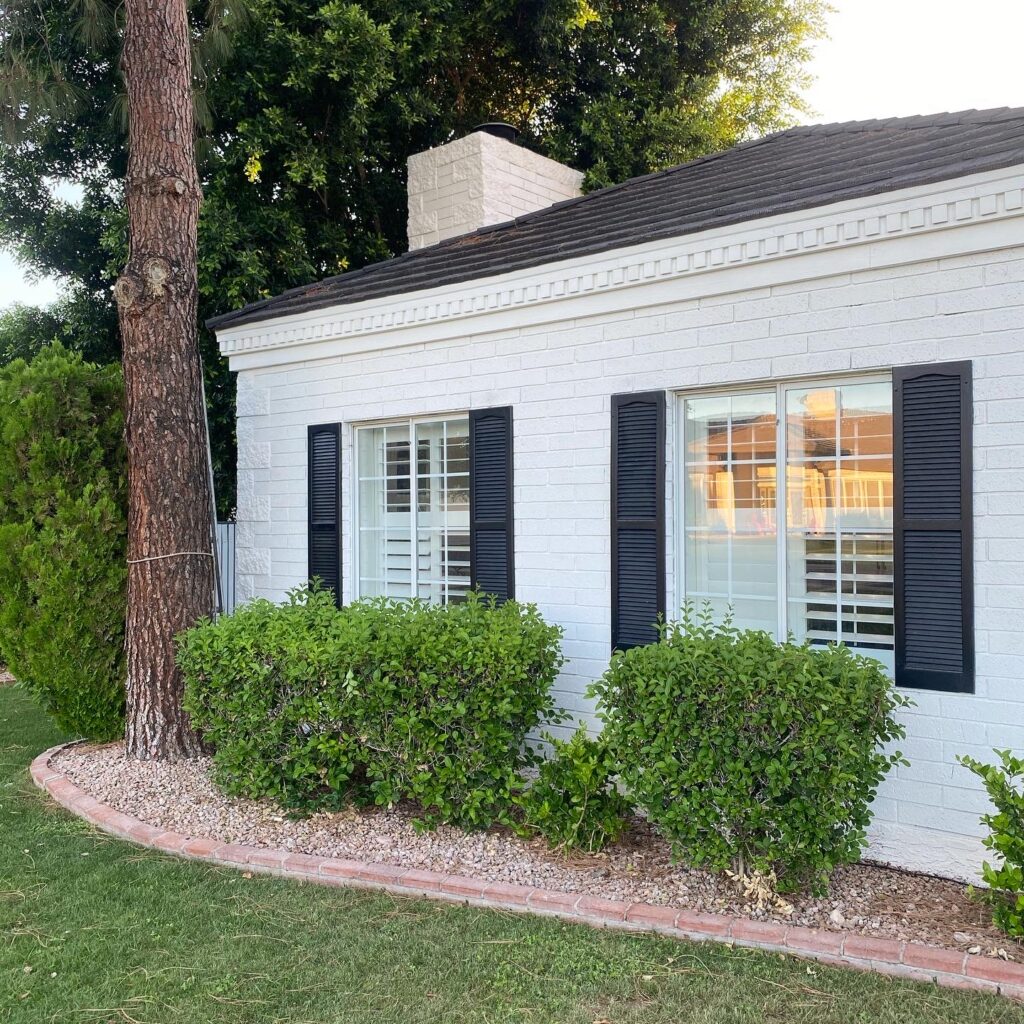 BEST PAINT COLORS FOR A WHITE HOUSE WITH BLACK TRIM
If you've been around long enough, you know my thoughts on this! You really can't choose a wrong white and black combination. It just depends on what your priorities are and the shade you're wanting to find. Here is my favorite combination:
Sherwin Williams Pure White
Behr Carbon for black trim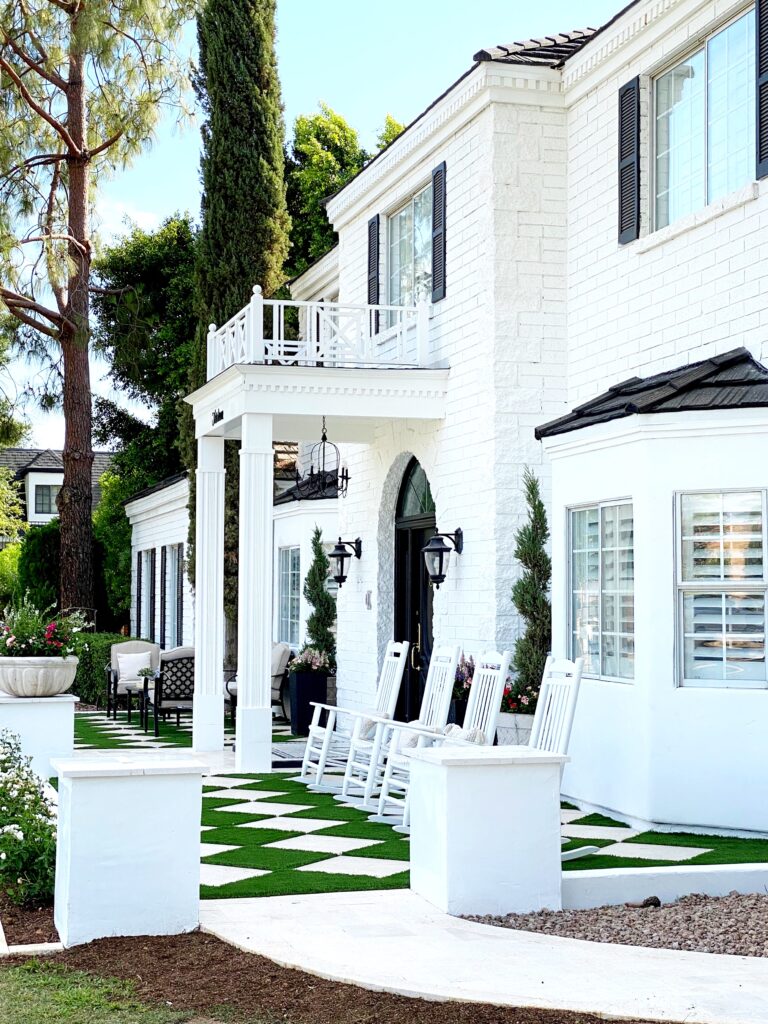 Sherwin Williams Pure White Exterior
We chose Sherwin Williams Pure White for our exterior. It isn't too warm or too cool which is exactly what we were going for. It contrasts the black perfectly.
Behr Carbon Exterior
In our last home in Arizona, we used Behr Carbon as our trim color. It is black without being too black. When you're contrasting with white, that is really important!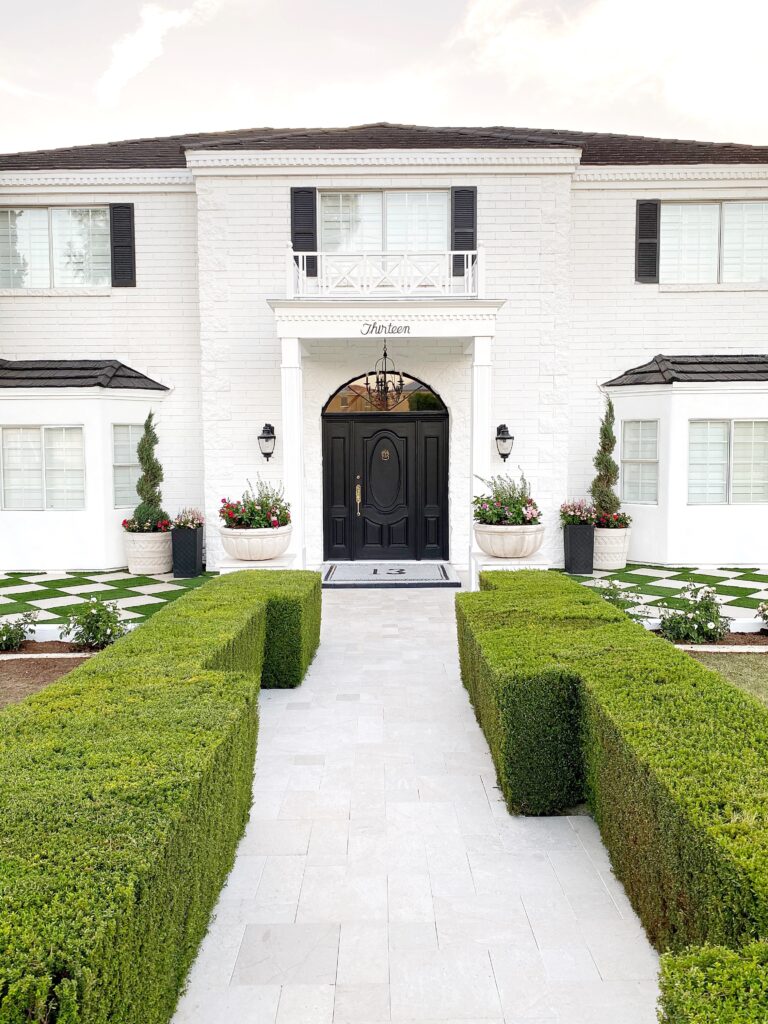 Do You Love The Painted Brick As Much As We Do?
After YEARS of undergrad, dental school, residency and moving a million times, (our 12 year old has lived in TEN apartments/houses) we are so thrilled and feel so at home in Knoxville, Tennessee.
We sure hope we can stay here forever and ever! I hope my grandkids will have an Easter egg hunt in that lawn someday but for now, I'll play catch and do somersaults with my little guys down the hill.
Before |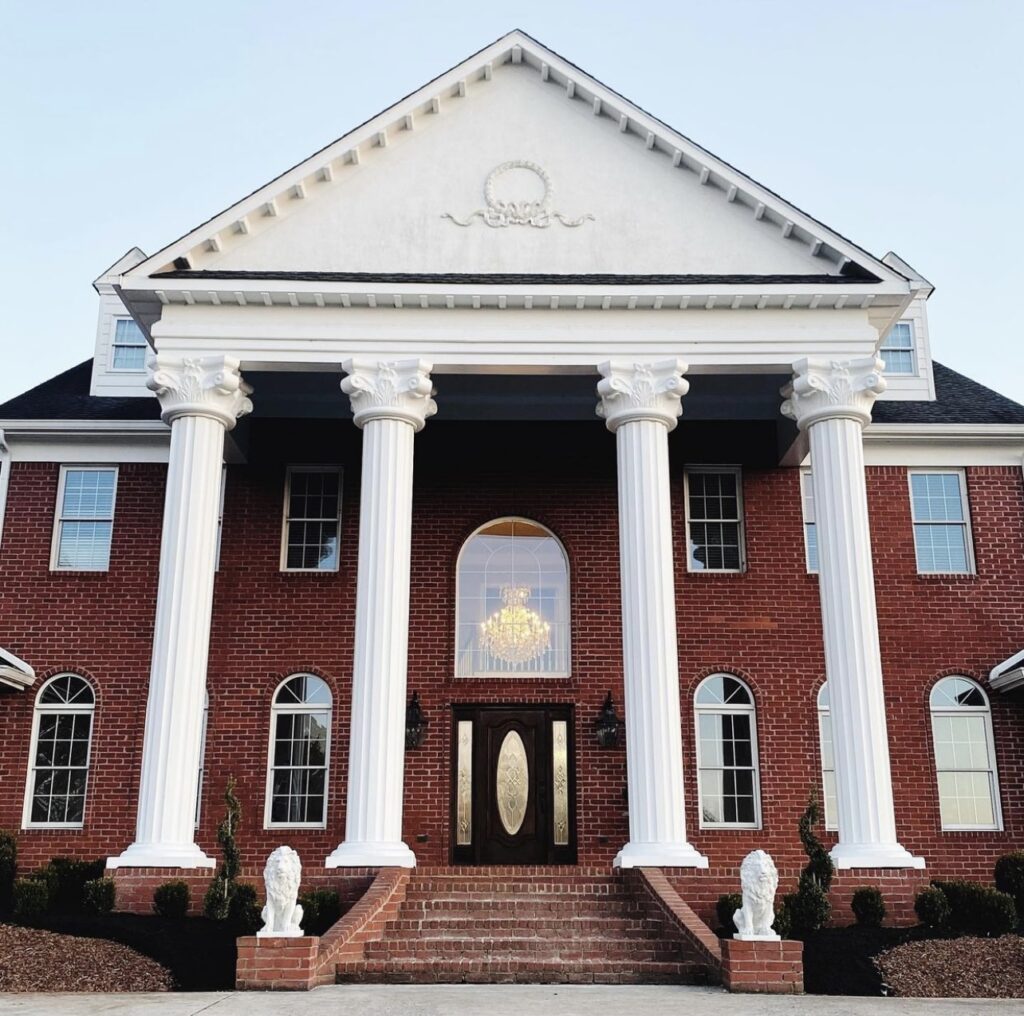 After |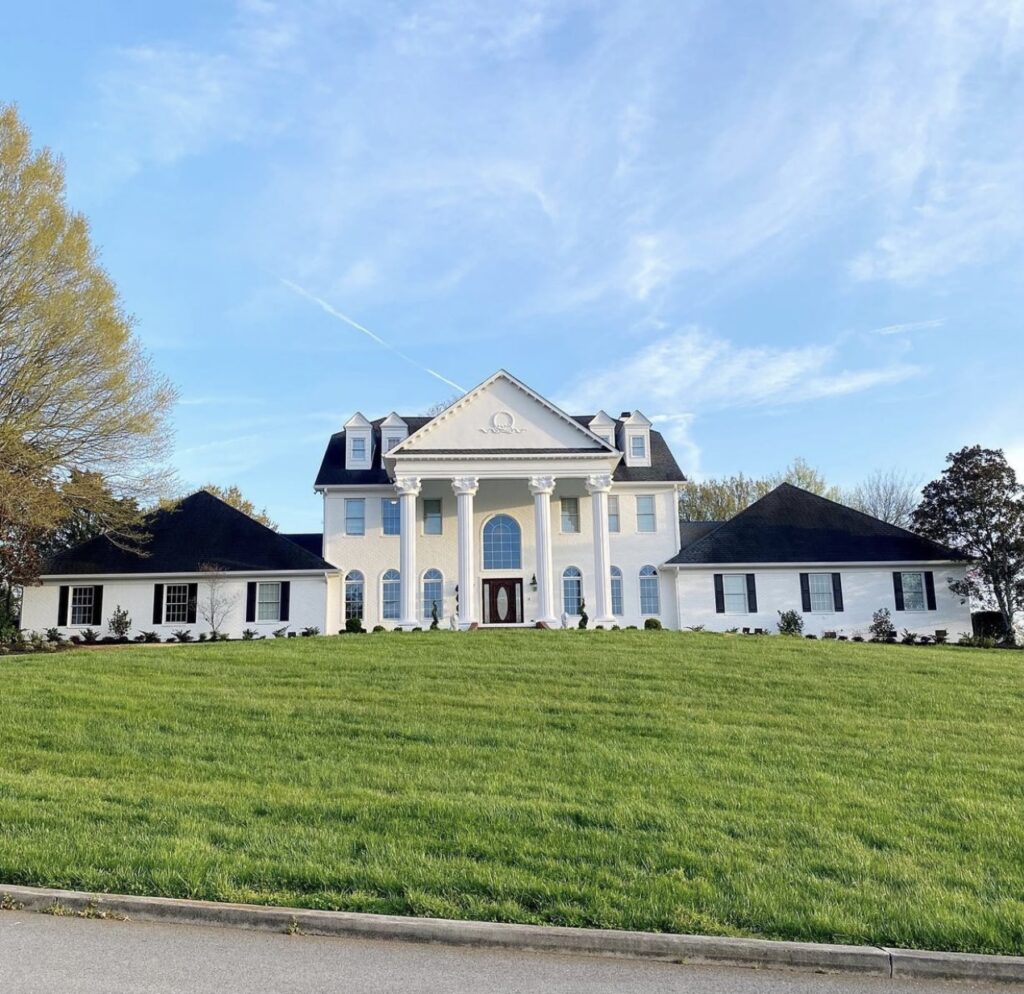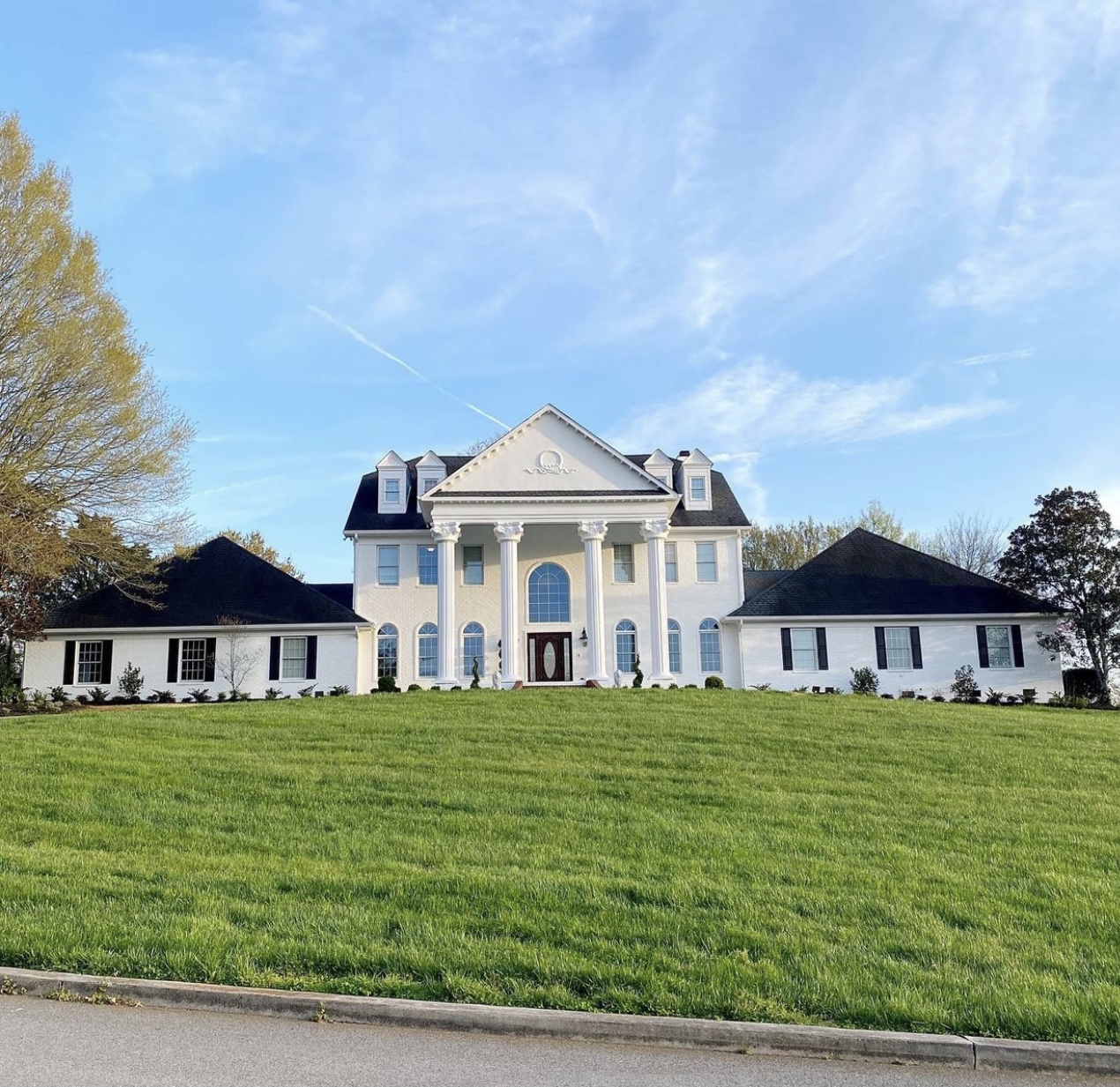 Sources for Exterior Reveal
Exterior Paint: Sherwin Williams Luxon XP Masonry Paint
Brick: Sherwin Williams Pure White
Shutters: Behr Carbon
Door: Behr Carbon
Trim: Behr Ultra Pure White

Love this? Pin it! 🙂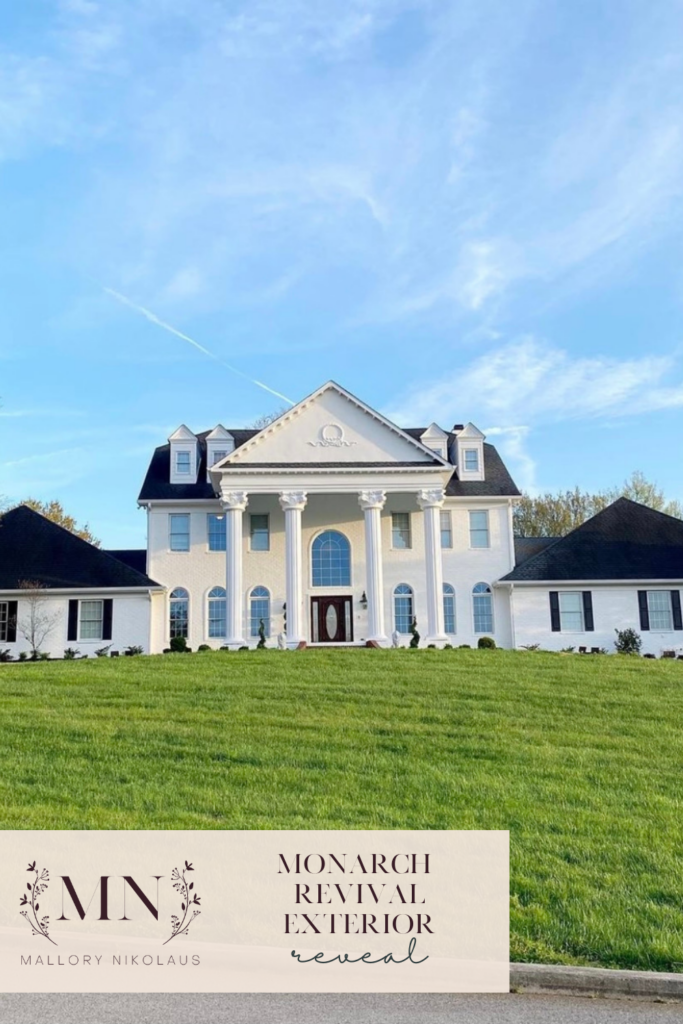 See what else I'm up to, HERE!