The perfect blue paint color for your bedroom (or your next project!) isn't impossible. If you're like me, you could stand in front of the paint section for hours wondering which one will be "the one!"
Today on the blog, I want to share all the ways I've used blue paint colors over the years in my favorite shades! Revisiting these spaces has me in my feels in the best way. I miss them!
Blue paint has always had my heart. In every single house we've lived in, I've felt called to incorporate blue walls. It brings a sense of familiarity, even when we've moved across the country!
Before we dive in, if you're getting ready to paint, I've written an entire post on my best painting tips and the tools to help you get it done FAST! I'll leave riiight here for when you need it.

Is Blue Paint Outdated?
Navy blue had a moment about 10 or so years ago. It was everywhere! Cabinets, nurseries, sofas – and I was in deep.
As my style has evolved and matured, so has my love for the color blue in interior design. Instead of painting it anywhere and everywhere, I've learned to intentionally use it to create an experience. When you pay attention, you'll notice blue in all types of design styles. It can act both as a neutral and a bold color depending on the shade.
Blue is everywhere – the sky, the ocean – it's not going anywhere in the world around us or in the world of design. I'm happy to have it stay!
My most used Blue Paint Colors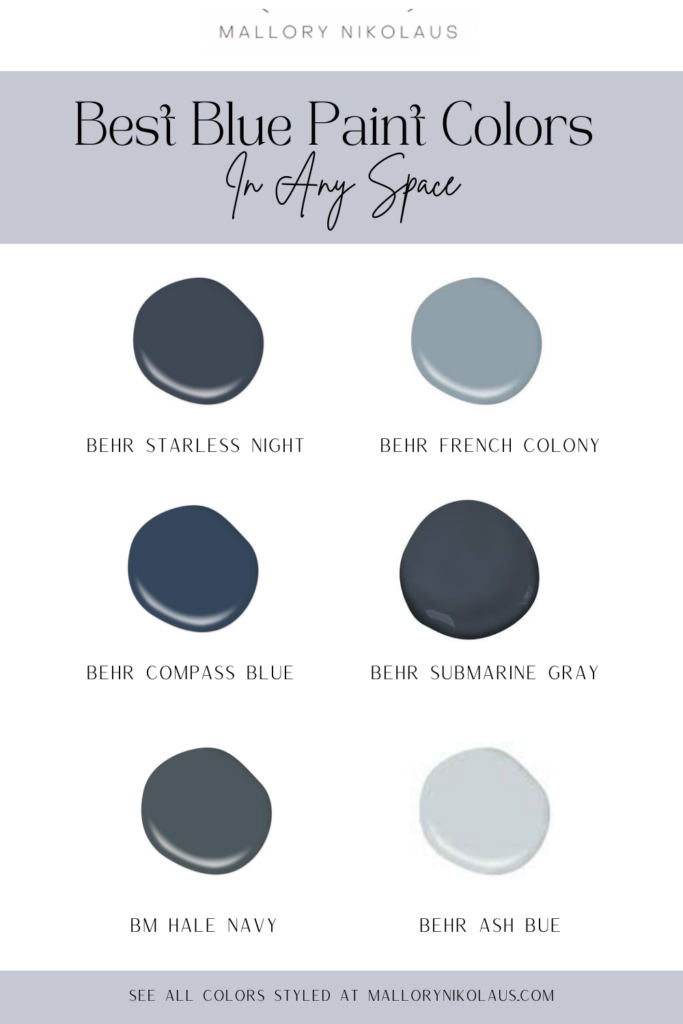 BLIE PAINT COLORS Mentioned In This Post:
Behr Starless Night
Benjamin Moore Hale Navy
Behr Compass Blue
Behr Submarine Gray
Behr French Colony
Behr Starless Night
First up – the Breakfast Nook of #HouseNo13! This was my last home in Mesa, Arizona. We had an amazing dark and moody breakfast nook using Behr Starless Night. It is a universally stunning dark navy that in my opinion, reads as a true deep navy blue. Painting the ceiling brought the space in and gave it a dramatic feeling,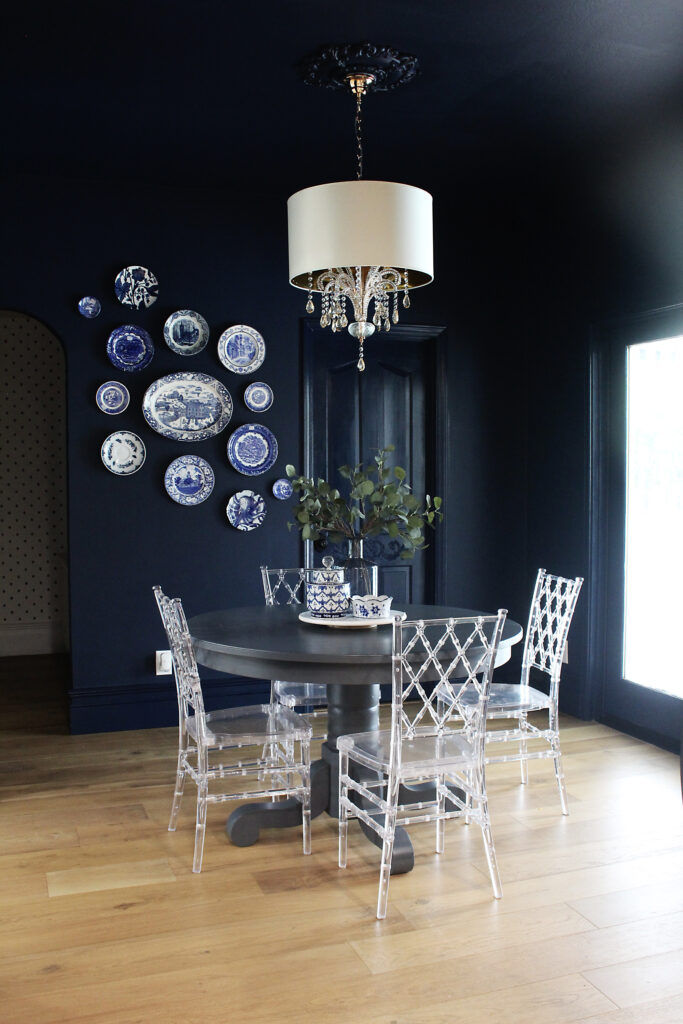 We also used Behr Starless Night in the Monarch Manor kitchen makeover. This was a phase 1 renovation that we did in just 3 days! You can find the before and after photos here. This is Behr Starless night some natural light flowing in.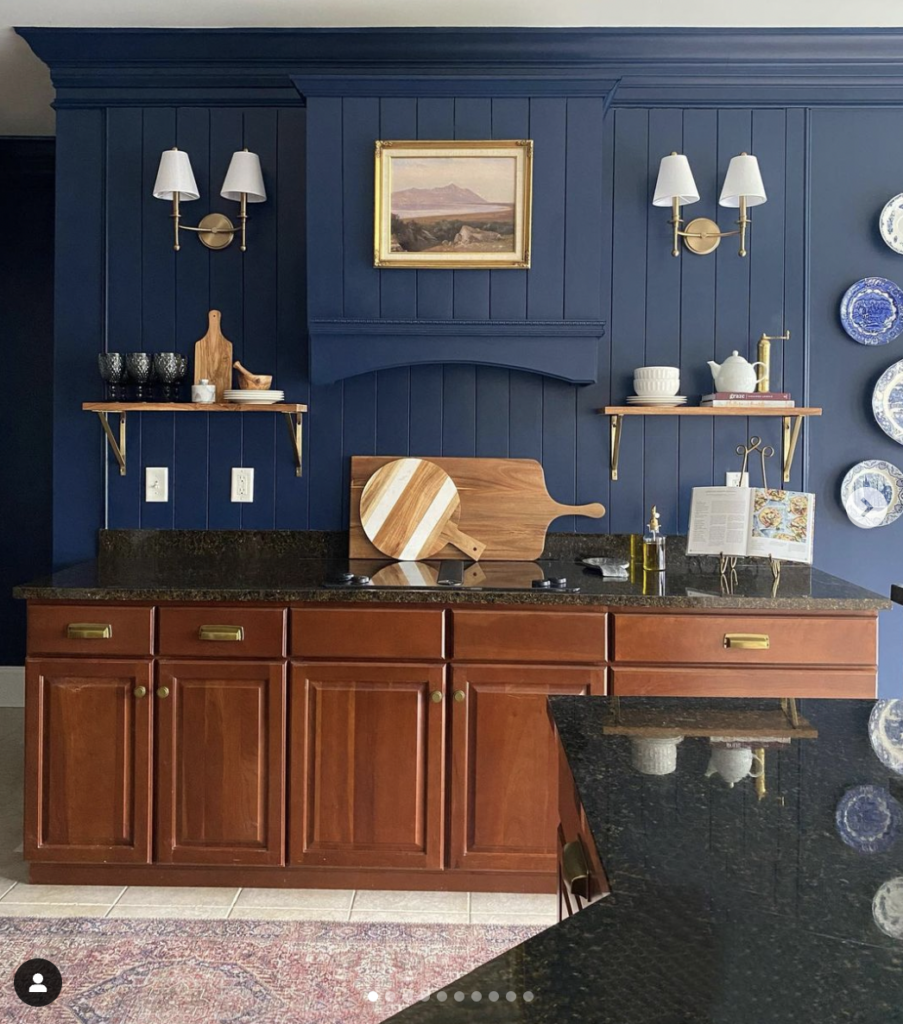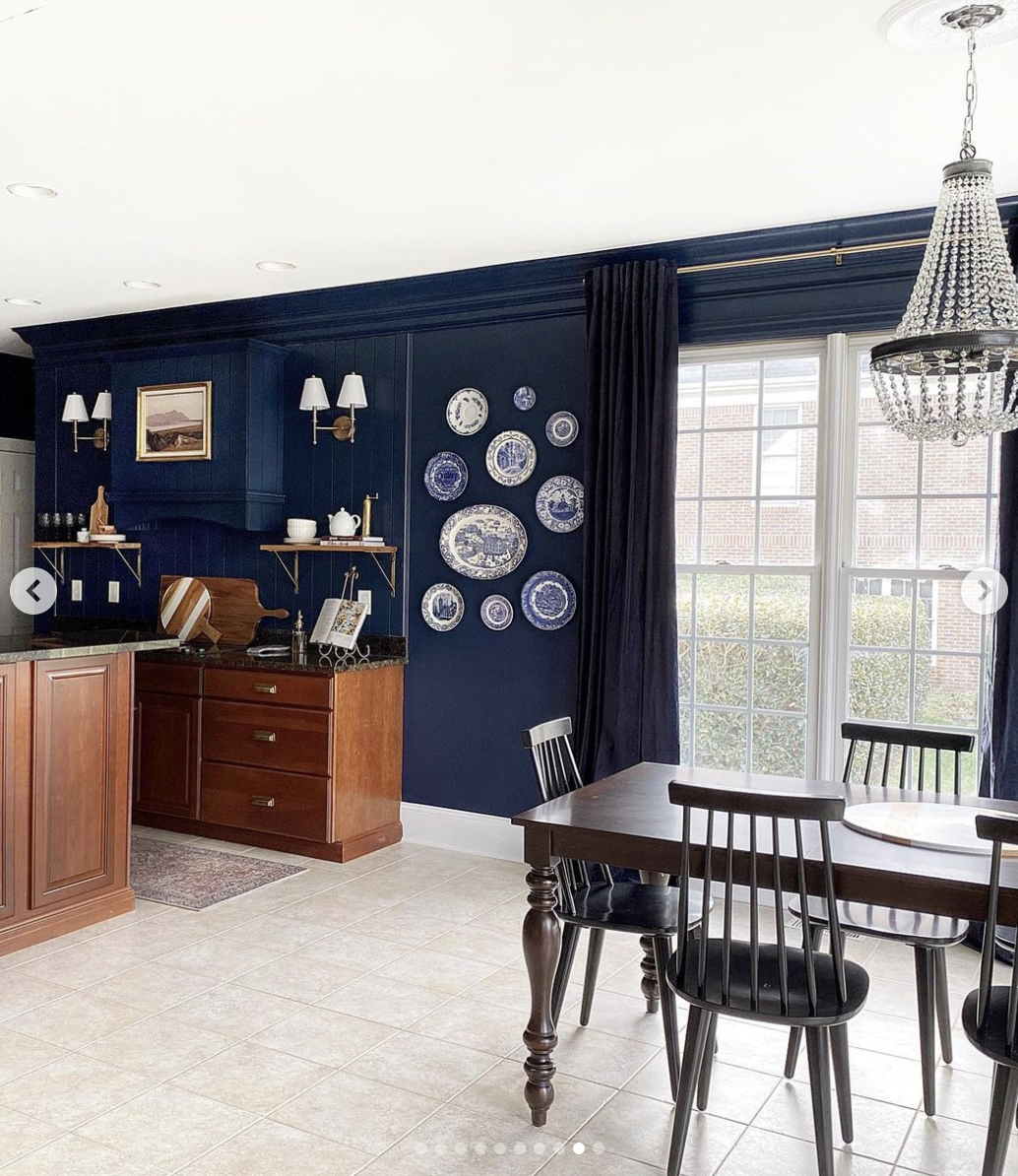 Benjamin Moore Hale Navy
Blue can make for a stunning exterior paint color! With white trim, this blue by Benjamin Moore was the perfect fit. I like that it wasn't too bright or too navy. This color highlighted all of the greenery around us (remember, I'm from the desert!) without being too loud.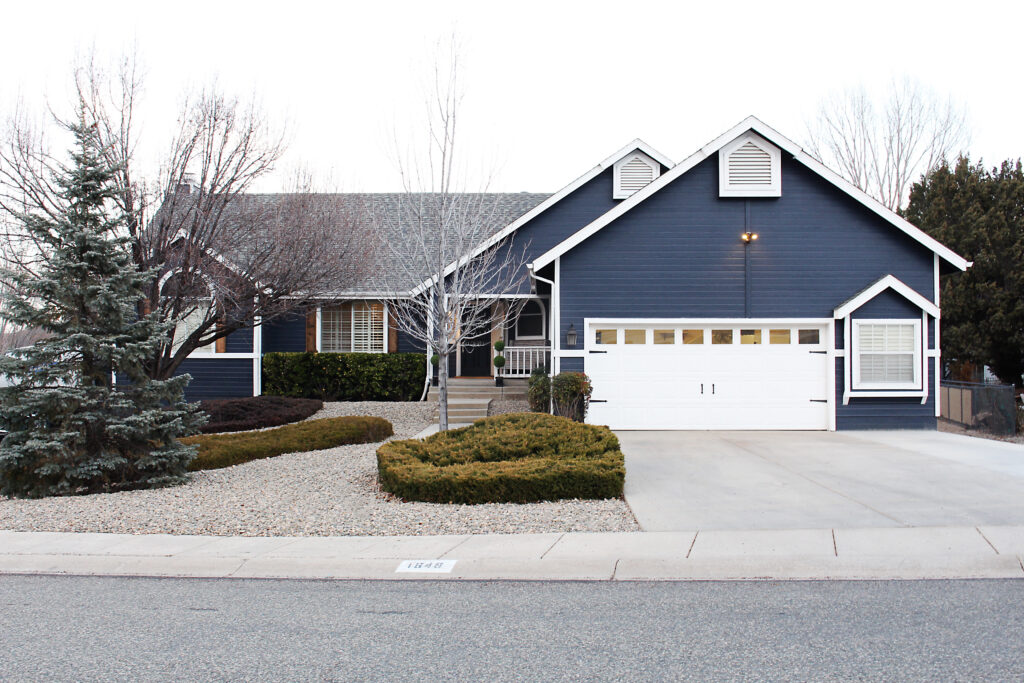 Behr Compass Blue
Behr Compass Blue is another true navy color that I love. It is a tad brighter than Starless Night. You can see it used here in my sons' space themed room as well as the Monarch Revival Billiard Room that we are working on right now!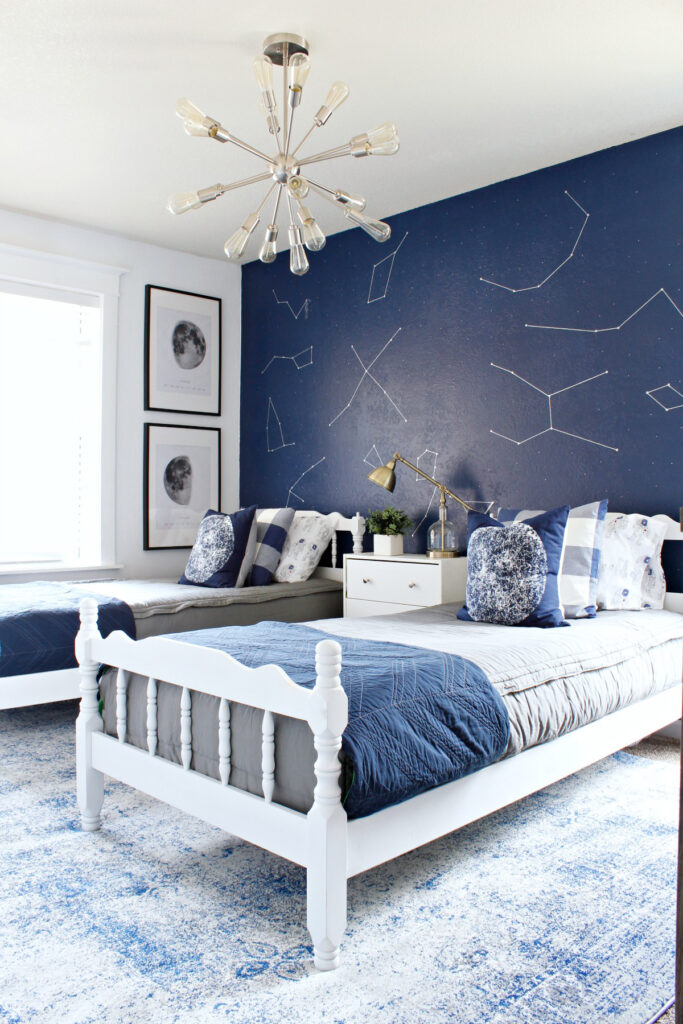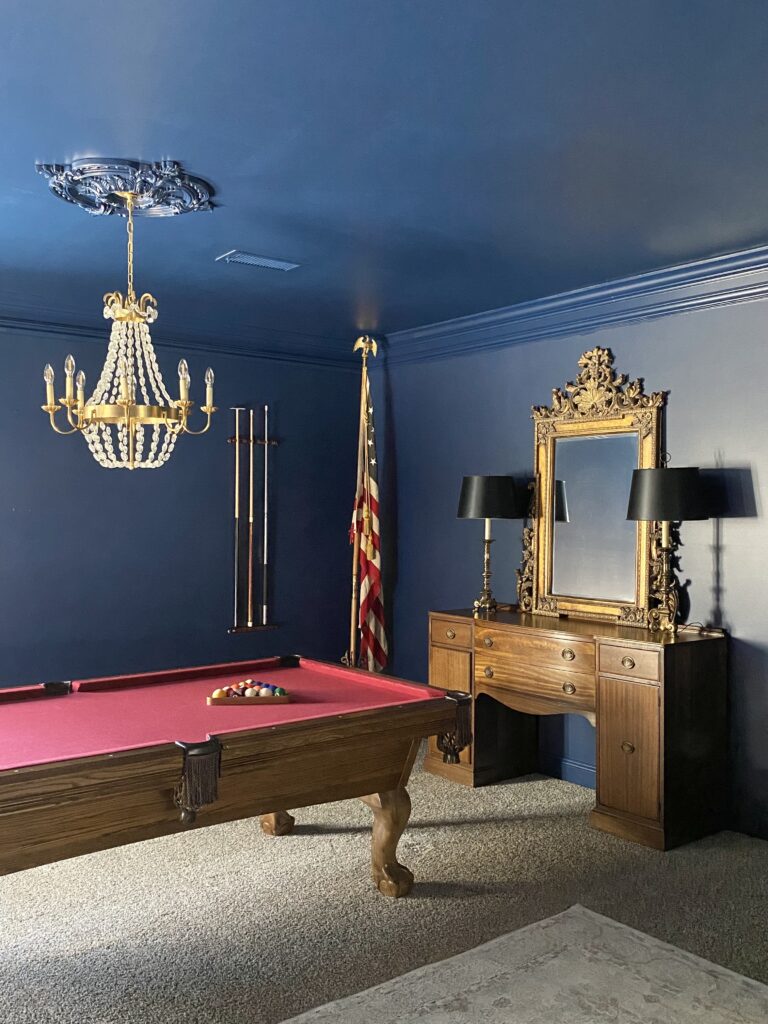 Behr Submarine Gray
I was looking for a masculine feeling blue/gray which is exactly what I found in Behr Submarine Gray! It's not too blue, not too gray and gives the perfect contrast to the deep wood tones and gold accents in this space.
This is my husband's bathroom in our current home, The Monarch Revival. You can see the full room tour with all of the sources here.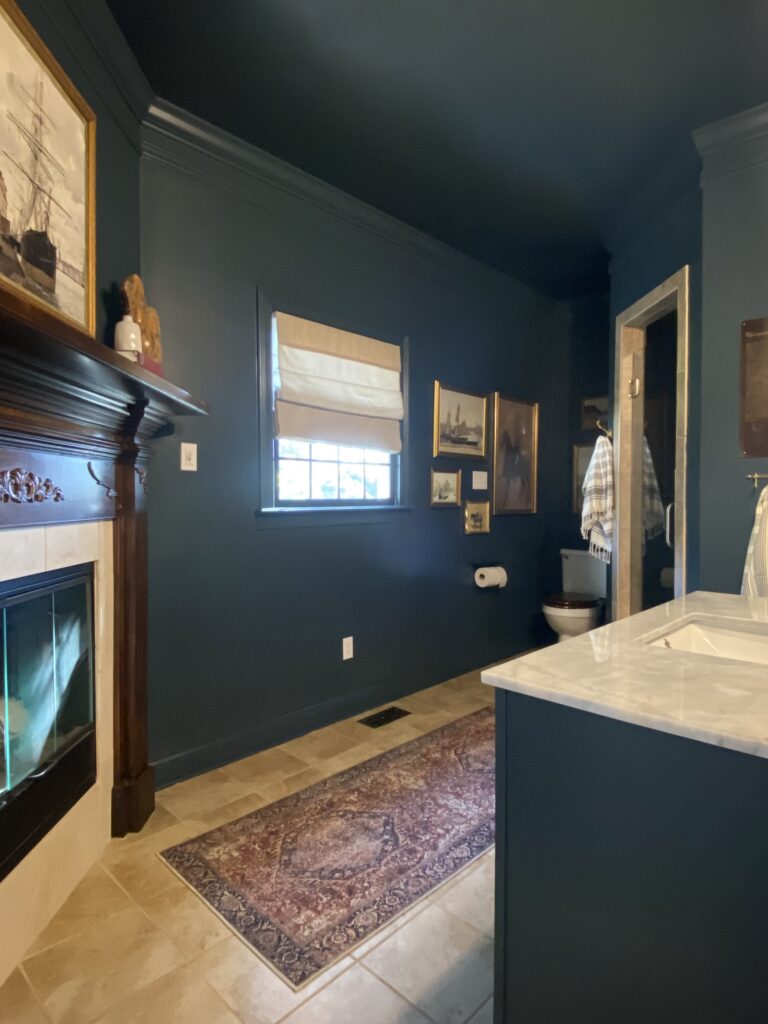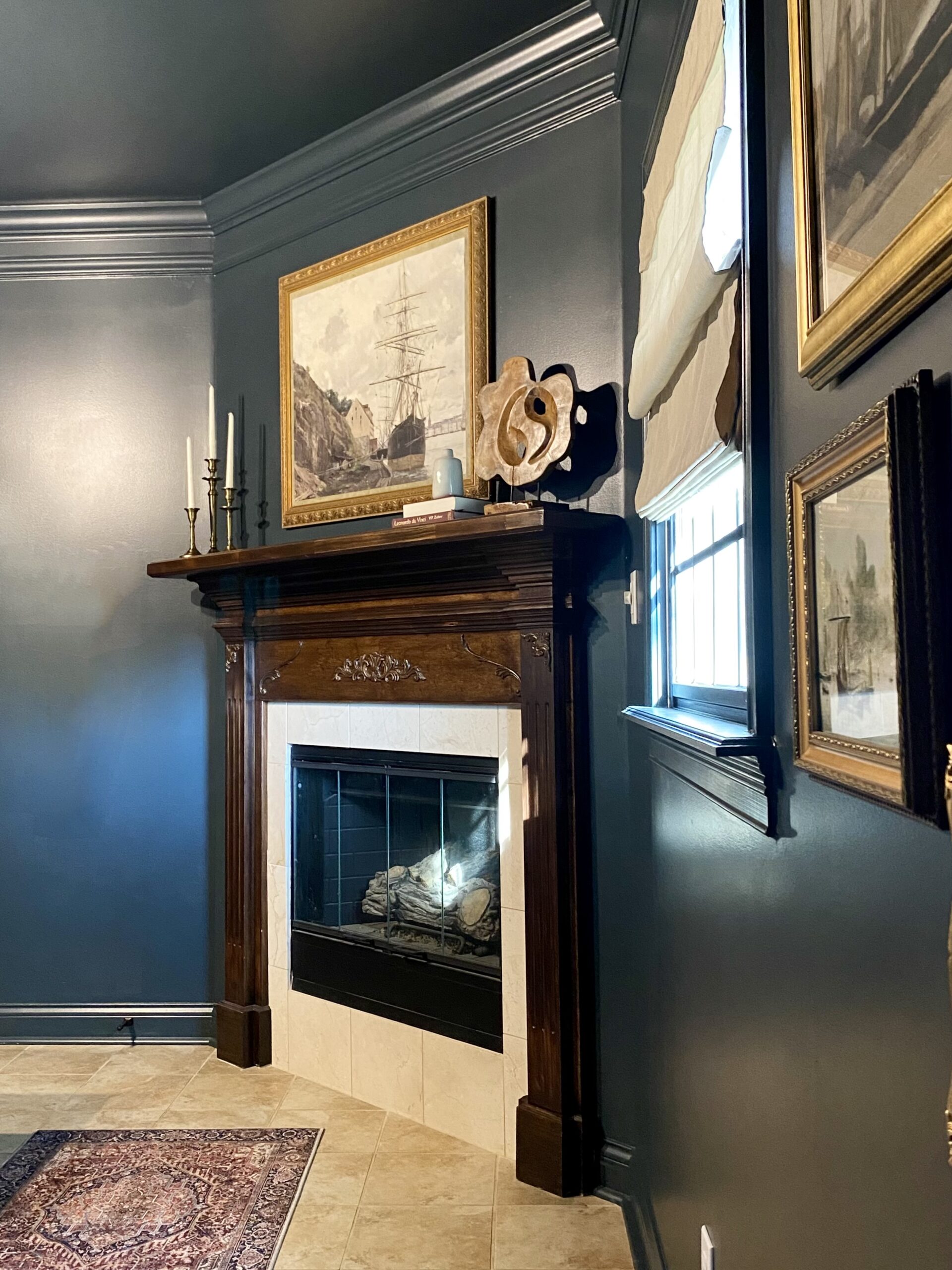 Behr French Colony
A lighter, more feminine blue/gray can be found in Behr French Colony! I loved this color in my previous primary bedroom! It goes perfectly with so many other color schemes which makes for a great accent wall. It's color without being too colorful – you know?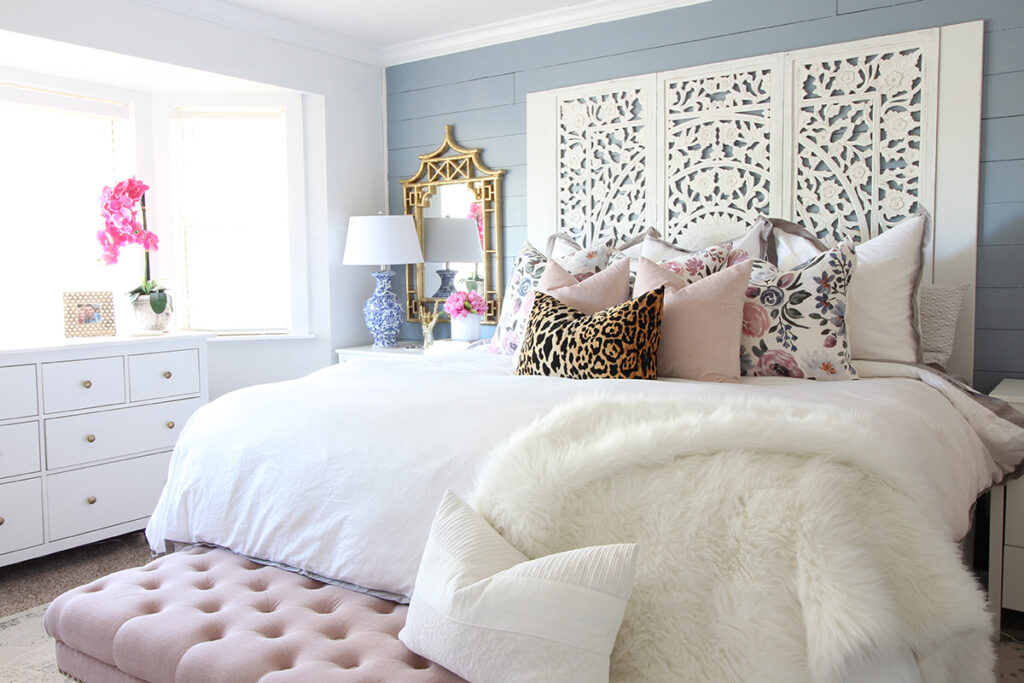 The Music Room in The Monarch Revival was just meant to be this shade of blue. It has my heart! It is one of the first spaces you see when you walk in and it still takes my breath away! Here's proof that a light blue can be used in more than just a nursery! Although, it would be a phenomenal blue paint color for a bedroom or nursery!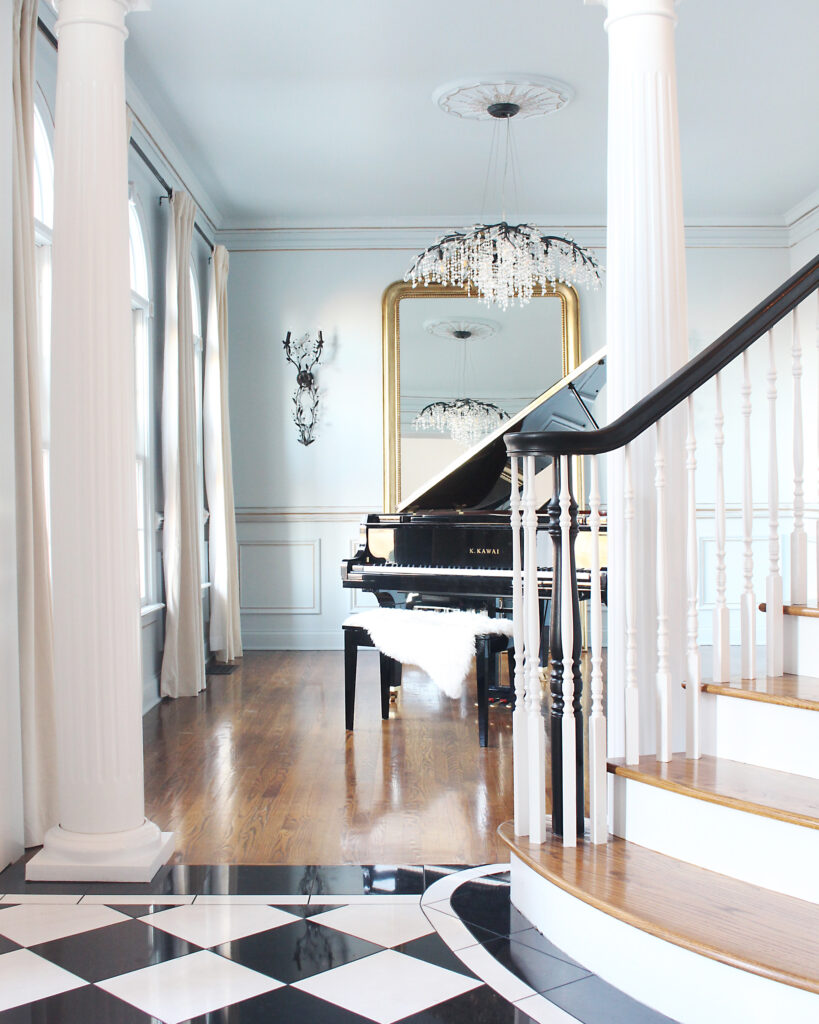 BLUE PAINT INSPIRATION
Just like you, I'm always getting inspiration from my favorite designers and accounts. These are a few blue rooms that stopped me in my tracks!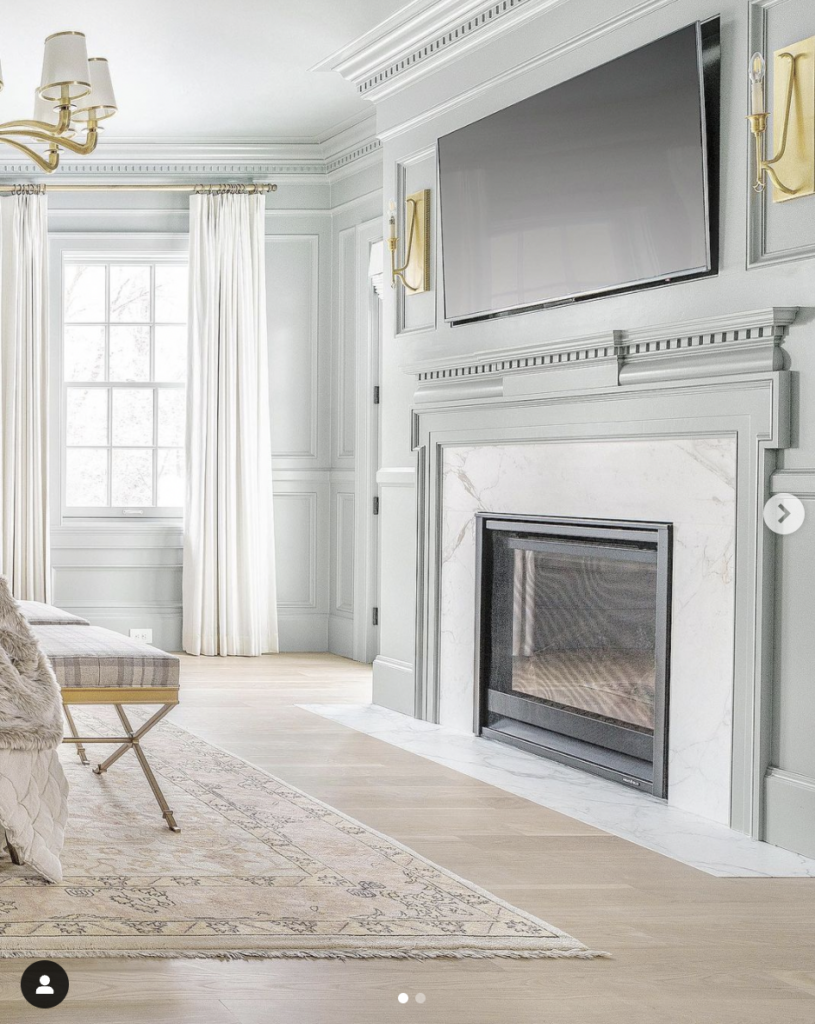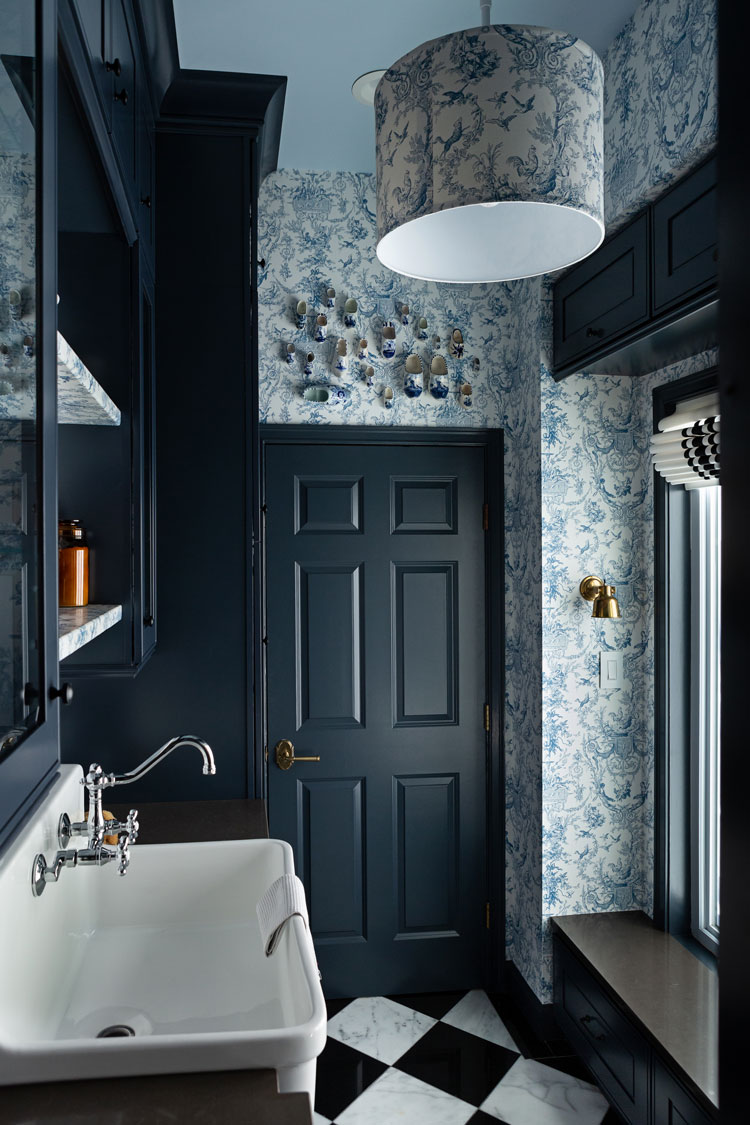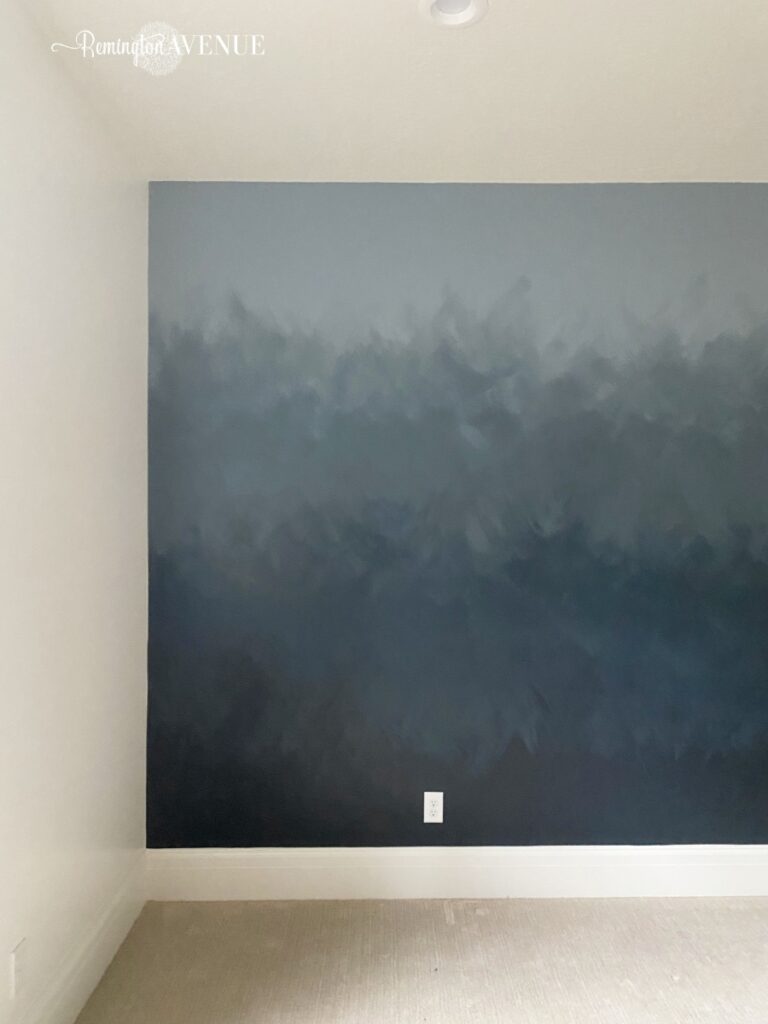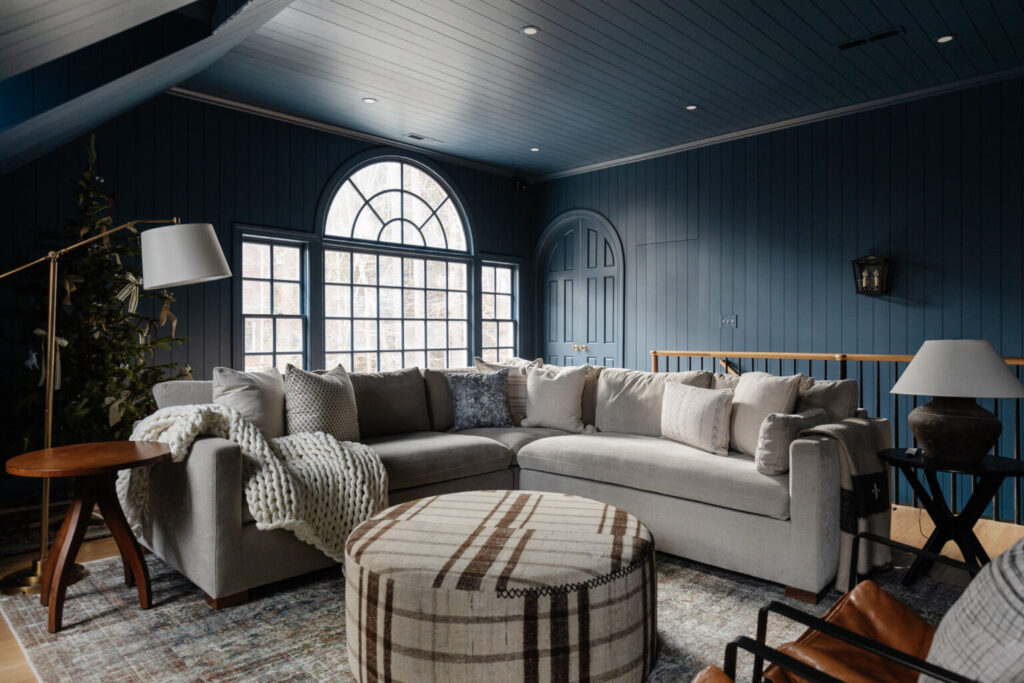 What is next on your project list?
I hope this helped in taking one step closer to find the perfect blue paint color for your bedroom!
When you paint an entire room one color, it creates quite the statement. It separates that space from the rest of the house and lends itself to its own color scheme and vibe. Paint is truly transformative which I know I've demonstrated today!
What is your favorite shade of blue? Do you have blue paint in your home? Tell me in the comments!