I don't know if the day will ever come where I stop dreaming of the Monarch Revival Kitchen Remodel! It gives me butterflies every time I think about putting the finishing touches together and seeing the final result come to life. Although I like to keep the accessories in our kitchen on the minimal side, one grounding element I just had to have were rugs in the kitchen.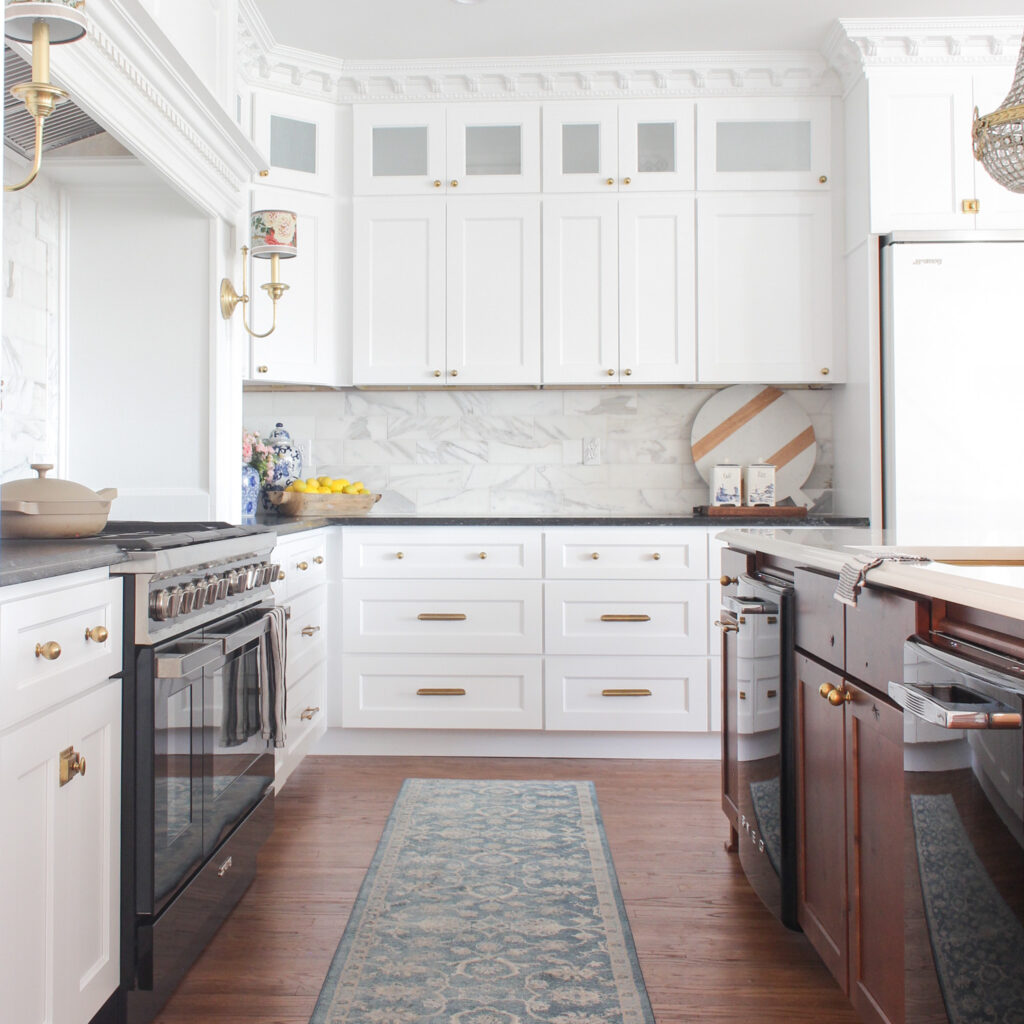 Today on the blog, I'll be chatting about all the reasons why I think rugs in the kitchen are essential. Although it may seem a bit extra, once you see the extra warmth they bring into your home, I promise you'll never look back.
Why Put A Rug In The Kitchen?
The first thought that may have jumped into your mind is: why put a rug into the most heavily-trafficked place in your home? I know it may feel counter productive, but area rugs are the perfect addition to spots that receive so much in and out.
No matter if you've had your floor for months or years, maintaining its integrity is crucial to a fresh looking home. By protecting your flooring with a rug, you ensure it stays free from spills, scuffing, and even the occasional drop of a pan.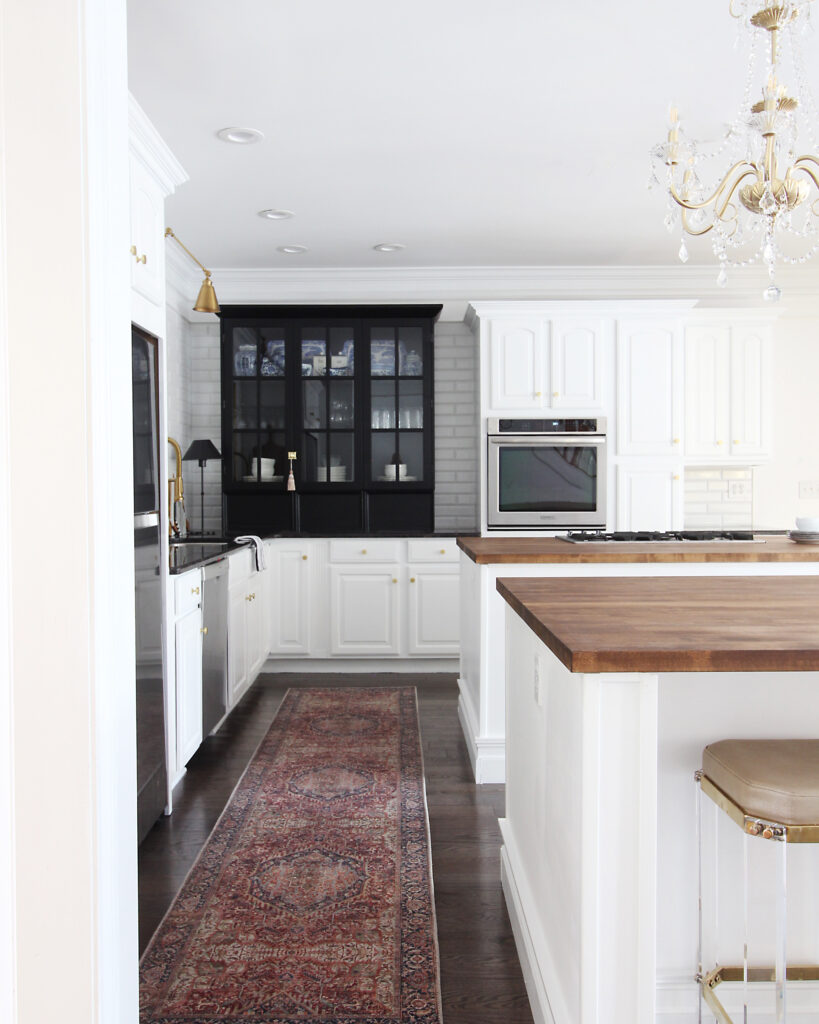 Does your kitchen ever feel echoey? Kitchen rugs solve this problem! When moving into a new home, it can be difficult to make it feel like yours, especially when a space as large as a kitchen echoes. Trust me, a simple area rug will give you the noise reduction you need.
Best of all, adding a rug will really help ground and bring warmth into your kitchen. Although functionality wise appliances are a must in the kitchen, they can feel really industrial or sterile at times. Little touches, like an area rug, bring a touch of charm into your kitchen that reflects your design taste really easily.

What Kind Of Rug Is Best?
Since this rug will receive lots of wear and tear over its lifetime, investing in the right kind of rug is key. I will always recommend going with a washable rug in any area of your home, but it's a must-have for a space where spills are inevitable. There are a ton of brands available that offer machine-washable rugs that hold up well and my personal favorite is Ruggable. To read my complete Ruggable review, click here.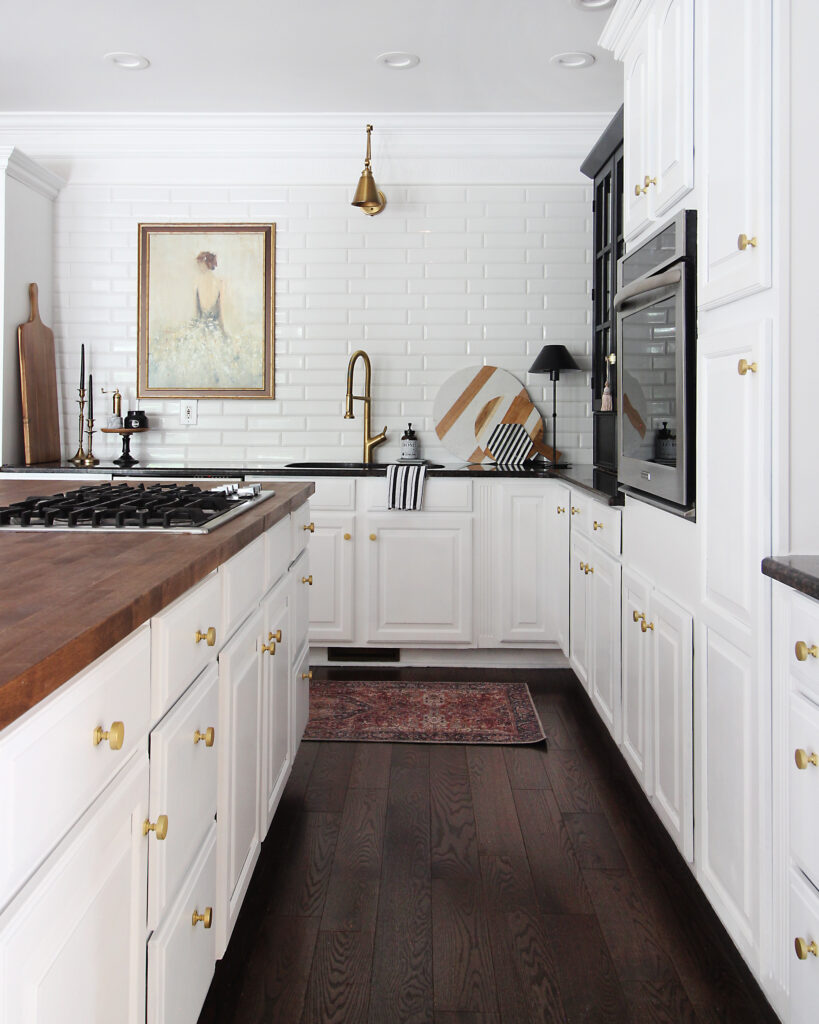 If you trust yourself to not spill on your kitchen rug (or don't have young kids), I recommend opting for a darker patterned rug made of a polyester or nylon material. These are great for both durability and being easy to spot-clean when necessary. If you do end up getting a spill, blot it quickly and vacuum the spot- it works like a charm!
The only fabric I wouldn't recommend in the kitchen is jute because it doesn't hold water very well.
Sizes For Rugs In The Kitchen
When choosing the size of rug in the kitchen, consider first where you want to place it. The two most common spots (and where I have them in my home) are in front of the oven and under the kitchen table.
Kitchen Runner Sizes:
The standard runner rug is between 2 and 3 feet wide and can be up to 14 ft long. A smaller runner is 72″-96″ and the longest you'll find is 168″.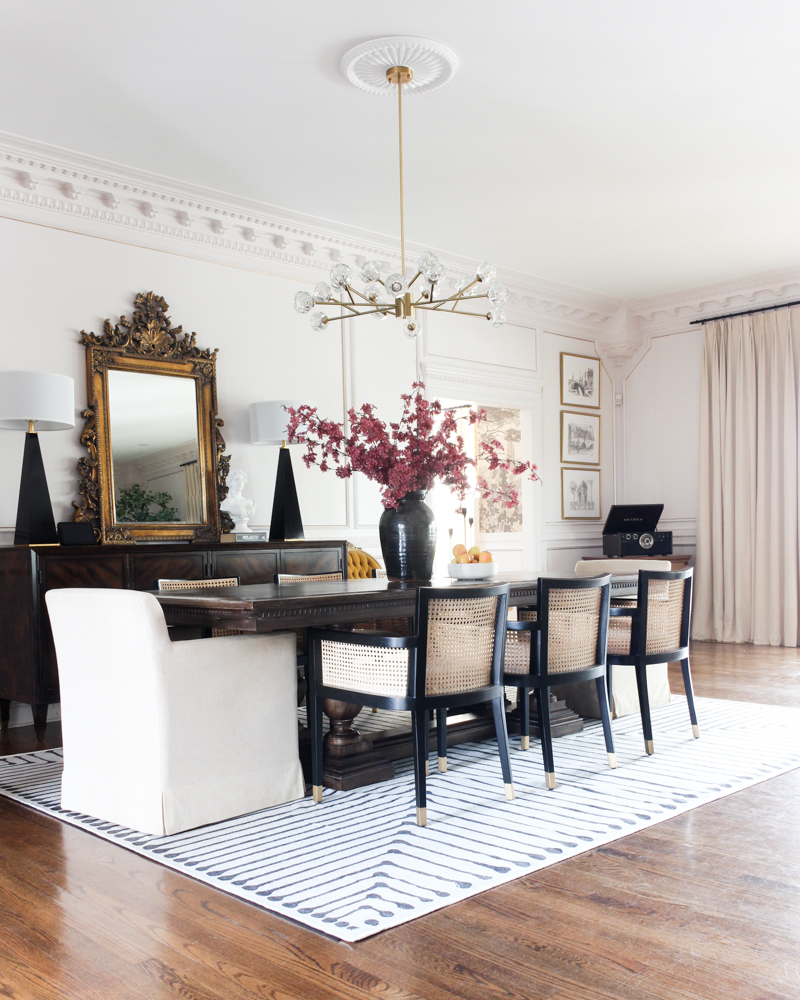 If your rug in the kitchen is in front of the oven, a runner is the way to go. It's thin enough to fit within the space, but you can get a variety of sizes to fit the optimal width and length of your kitchen. I recommend having a few inches of space between each side of your cabinets.

For a rug under the kitchen table, choose an oversized area rug that will fit completely under both the table and chairs. To read all my tips are tricks for how to choose the perfect rug size, read my Ultimate Rug Guide here!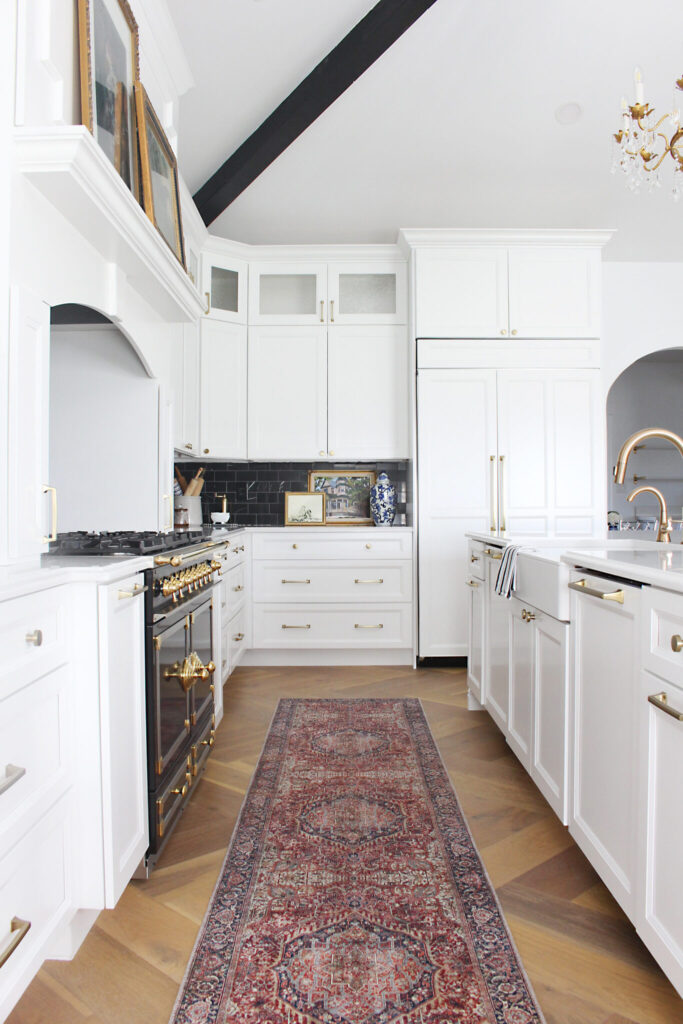 What do you think of rugs in the kitchen? Would you add them in your home? Let me know in the comments! And to keep up with all things on the blog, check out my latest posts: