I can't believe it's taken me so long to talk about one of my all-time favorite decor pieces- rugs! While they may be overlooked as you walk from room to room, rugs have the power to really finish off a space without putting up much fuss.
Not sure how to start when trying to find the perfect rug for each area of your home? I've been there! After years of trial and error when purchasing rugs, I've found the perfect steps to share with you all.
Today on the blog, I'll be sharing my ultimate rug guide to guarantee you choose the right one for your home, every time!

Picking The Right Size
One of the most critical aspects of choosing the perfect rug is selecting the right size. The rug's size should be based on the size of the room and the furniture layout. In most cases, the rug should be at least 7×10 or larger to accommodate a sofa and chairs in a living room- any smaller and the space feels unproportional and cramped. Typically – the bigger the better!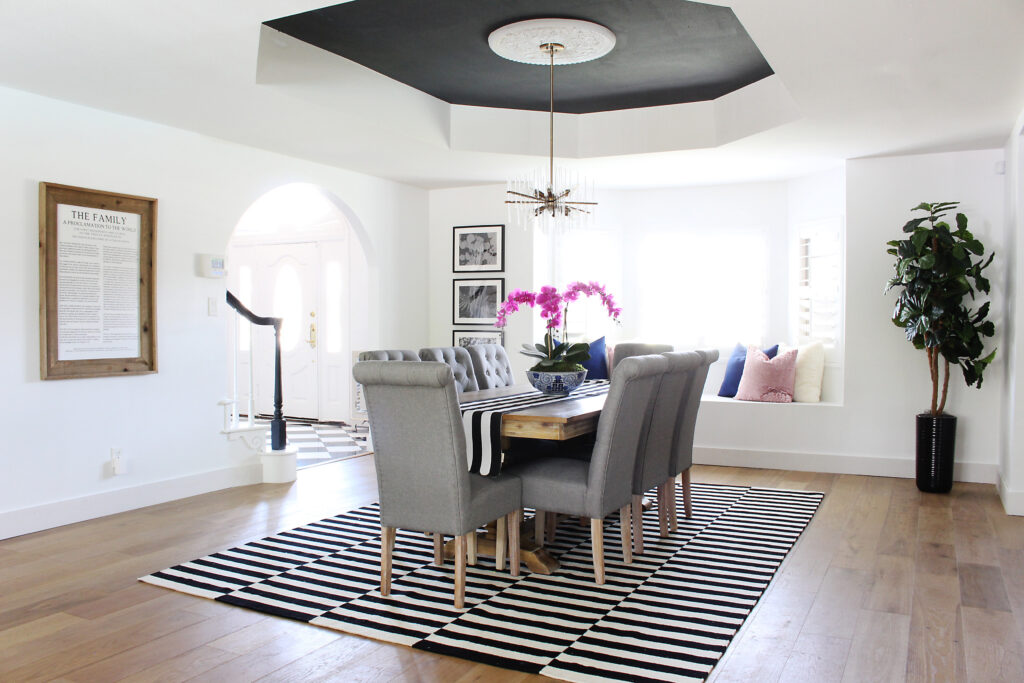 Standard Rug Sizes:
12×15 – very large – perfect for an open concept space or wall to wall coverage
10×14 -also very large
9×12 – my most-used size for living rooms and master bedrooms
8×10
6×9
5×8 – most people order this size and it's too small for most spaces!
3×5 (welcome mat size)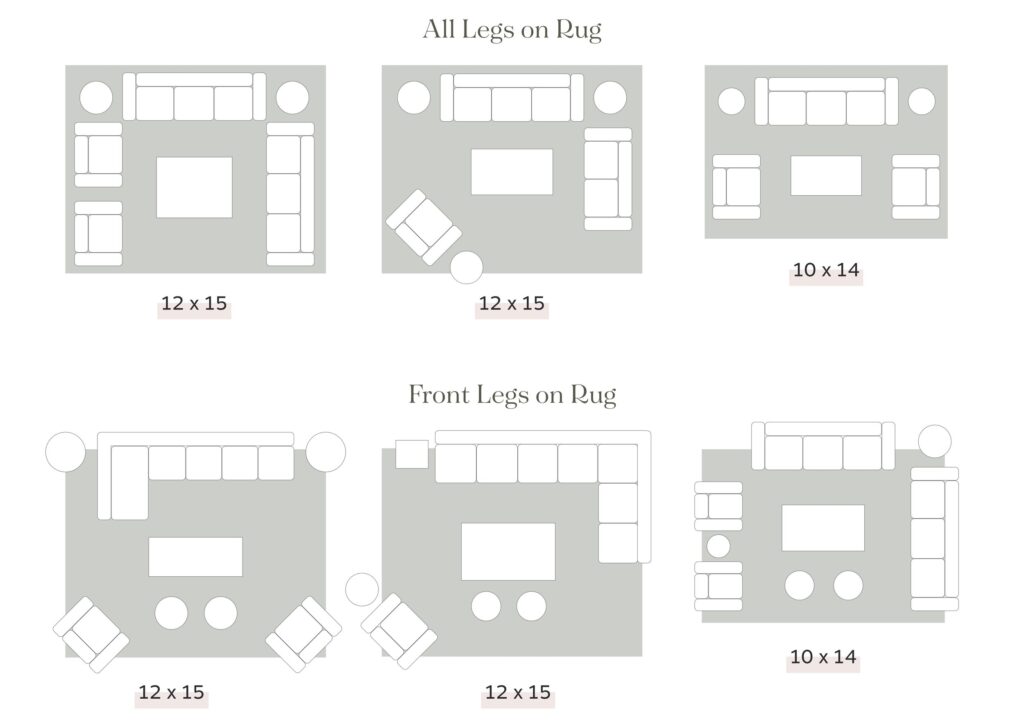 For a dining room, the rug should be large enough to accommodate both the table and chairs with an additional two feet of space on all sides. It really makes the space feel luxurious with a slightly oversized look.
When I was renting or had flooring that wasn't exactly my style, I would choose rugs that would almost reach from wall to wall. This was my way of covering up floors that needed to be replaced and it worked great!
Rug Placement Ideas:
Once you've selected the perfect rug size, it's essential to place it correctly. In a living room, the rug should be placed halfway under the sofa, with the front legs on the rug. This placement creates a cozy and cohesive space without overwhelming the area.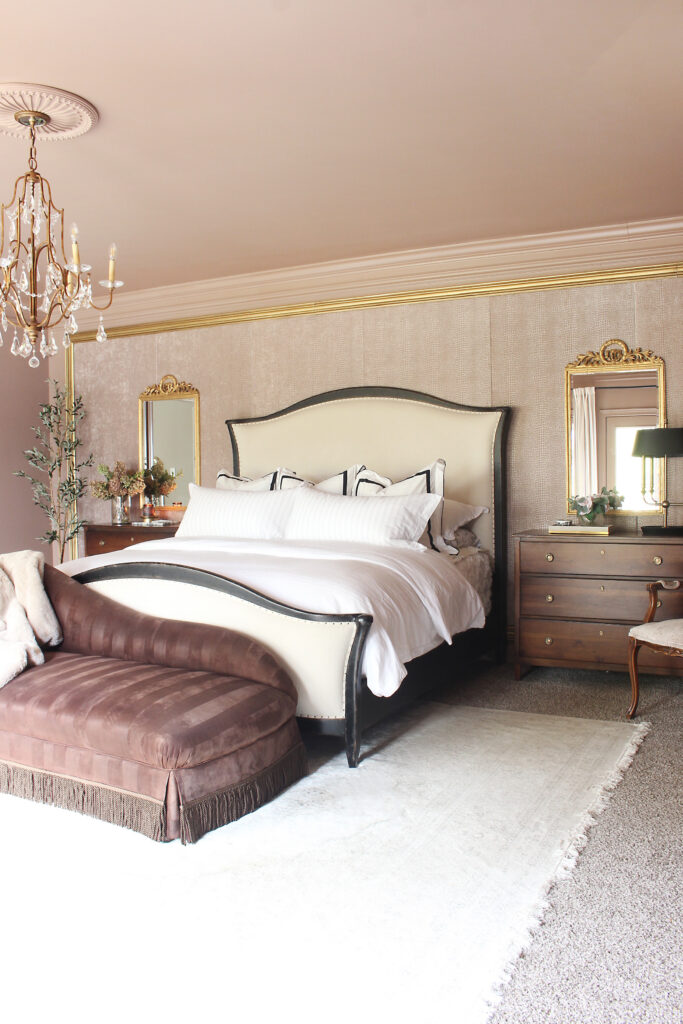 In a bedroom setting, the rug should be placed three-quarters under the bed, with the remaining quarter extending slightly beyond. No matter if it's in the primary or guest bedroom, placing a rug like this creates the most luxurious look. The second you place a rug like this in one room, every other room needs the same!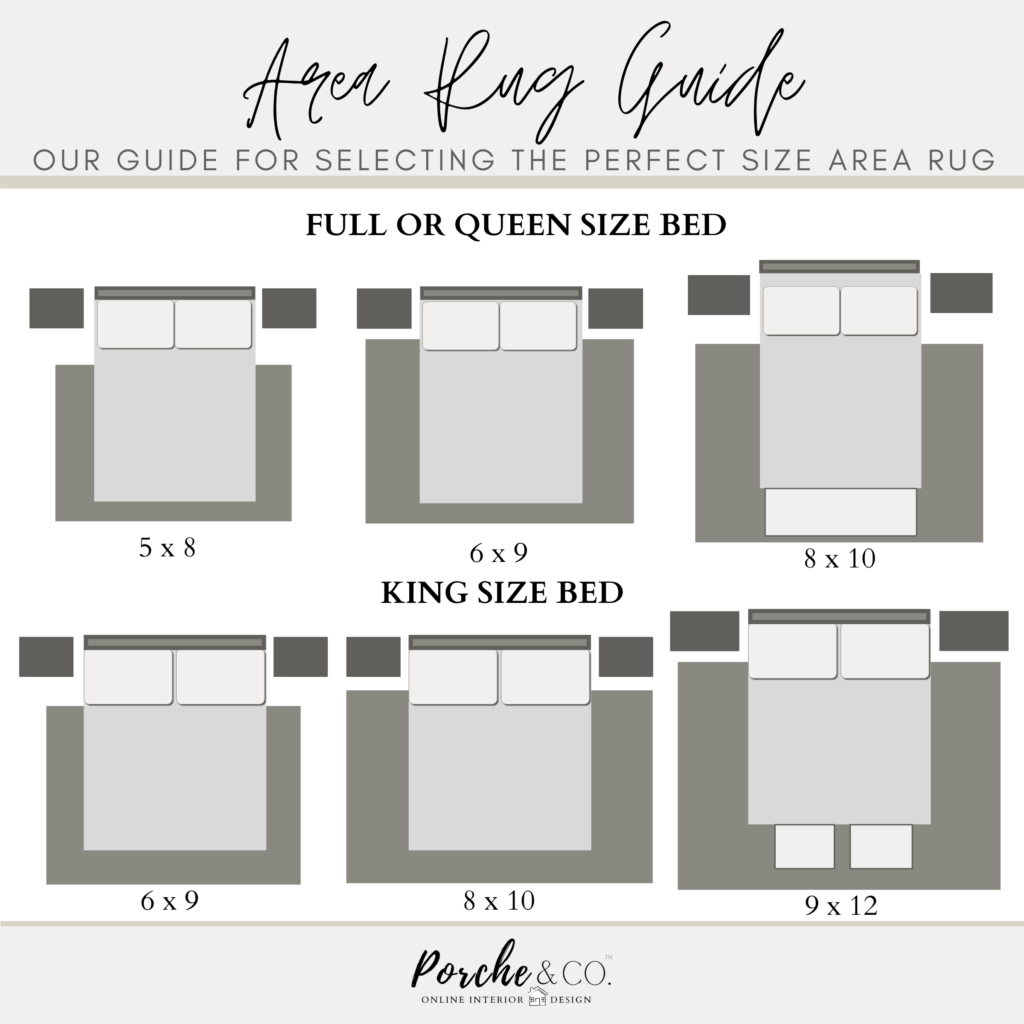 How To Keep A Rug In Place
While rugs are the number one way to warm up a space, they never seem to stay put.
If you're looking for a solution to keep your rug in place on carpeted floors, rug corners from Amazon are a great solution. These corners adhere to the bottom of the rug, keeping it in place and preventing it from slipping. 
For a more permanent solution, I've found drilling through the carpet into the underlayment and securing the rug with screws works like a charm. While it may sound intimidating,I promise it's a really easy DIY! This method keeps the rug from moving and lays flat on the carpet forever. The best part, you can't see or feel the screws! It's one of my favorite interior design secrets. 
Rug Pricing
While not every item in a home is worth a hefty price tag, the general rule of thumb with rugs is you get what you pay for. Rugs made of 100% wool or other fine materials are a great investment if you have a classic design style that doesn't change.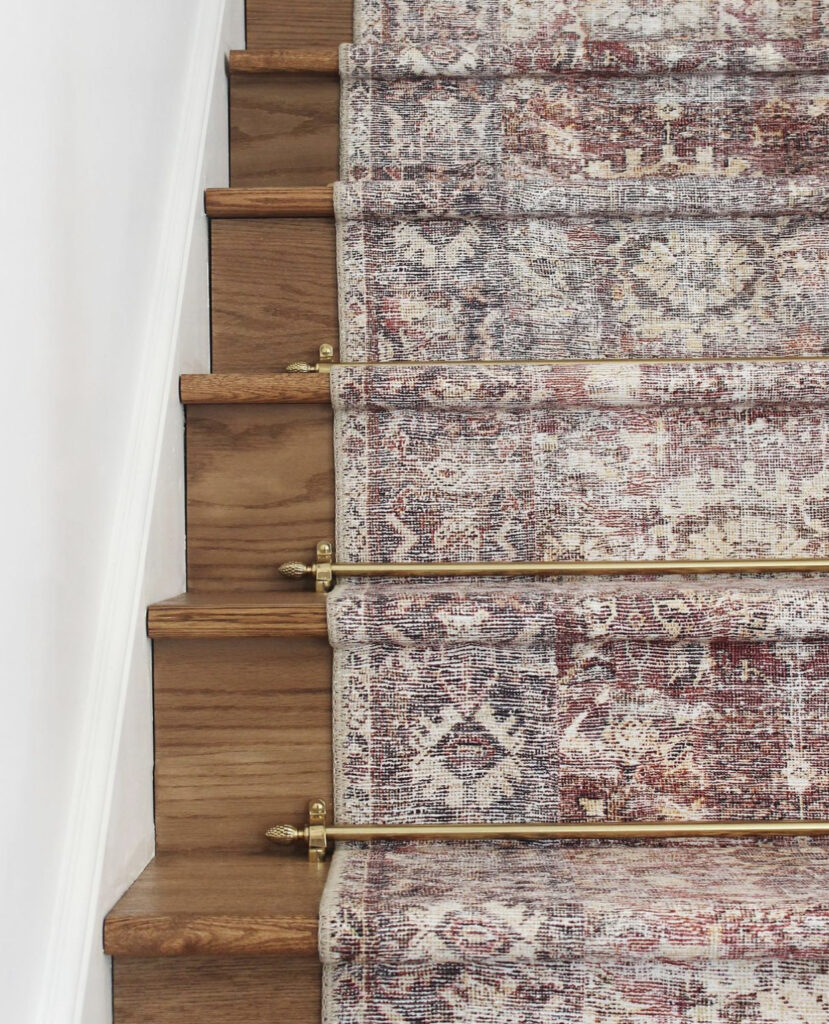 However, if your design style is constantly evolving I recommend going with a less expensive option. Swapping out a rug is an easy way to make an impactful design change without breaking the budget. I just did that in my kitchen this week!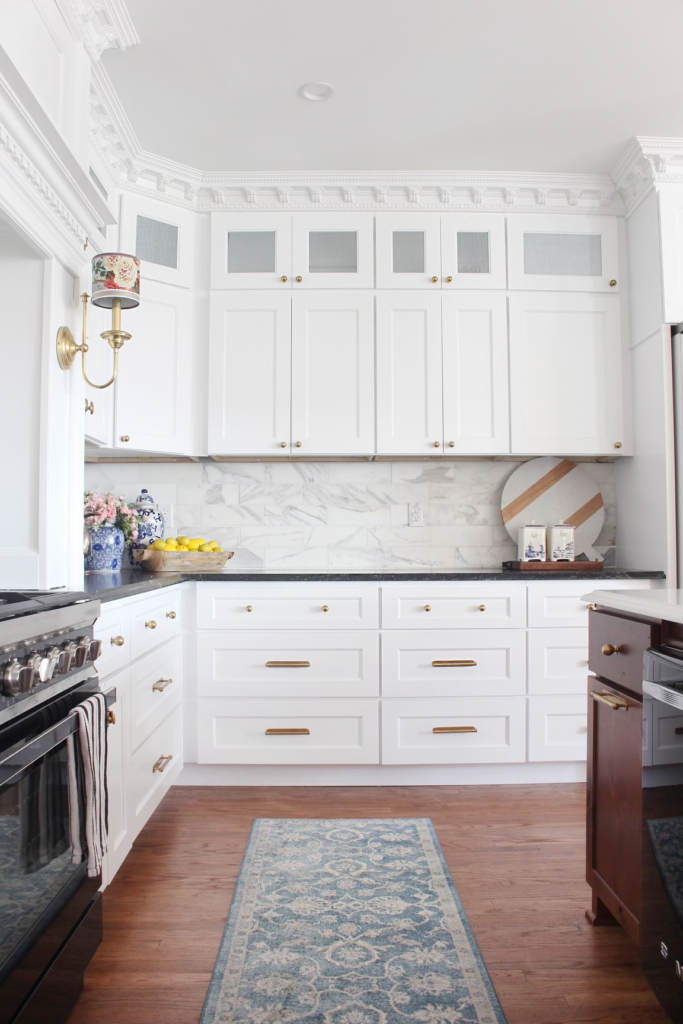 Another reason to save on a rug is if it's going to be in a kid-friendly space. No matter how hard you try, spills and dirt are inevitable. Save your heart (and wallet) and go for the more cost-effective rug option. This is my preference, currently!
Choosing The Perfect Rug
Bringing in a rug is the perfect finishing touch to showcase your interior design taste, but it can be a tough choice! I've been there countless times, so here is what I try to focus on when choosing a rug.
If you're feeling really hesitant, I recommend going with a rug that compliments your existing color palette. Playing with similar tones is a great way to make everything feel cohesive. On the other hand, if you want to be bold- go for a pop of color! Rugs can pull the richest colors out of even the most plain of spaces, but this choice is definitely for the more daring of homeowners out there. 
Grey Rugs:

Black and White Rugs:

Transitional Rugs:

Pop of Color Rugs:

As for patterns, the possibilities are truly endless. You can choose a traditional pattern, like a Persian rug, or opt for a more modern geometric or abstract pattern. Keep in mind that a bold pattern can serve as a statement piece in the room, while a more subtle pattern can tie the design together.
The beauty of living in 2023 is that affordable rugs are easy to find and source. If you try something you don't love in-person returning is as easy as ever.
The Ultimate Rug Guide: My Final Thoughts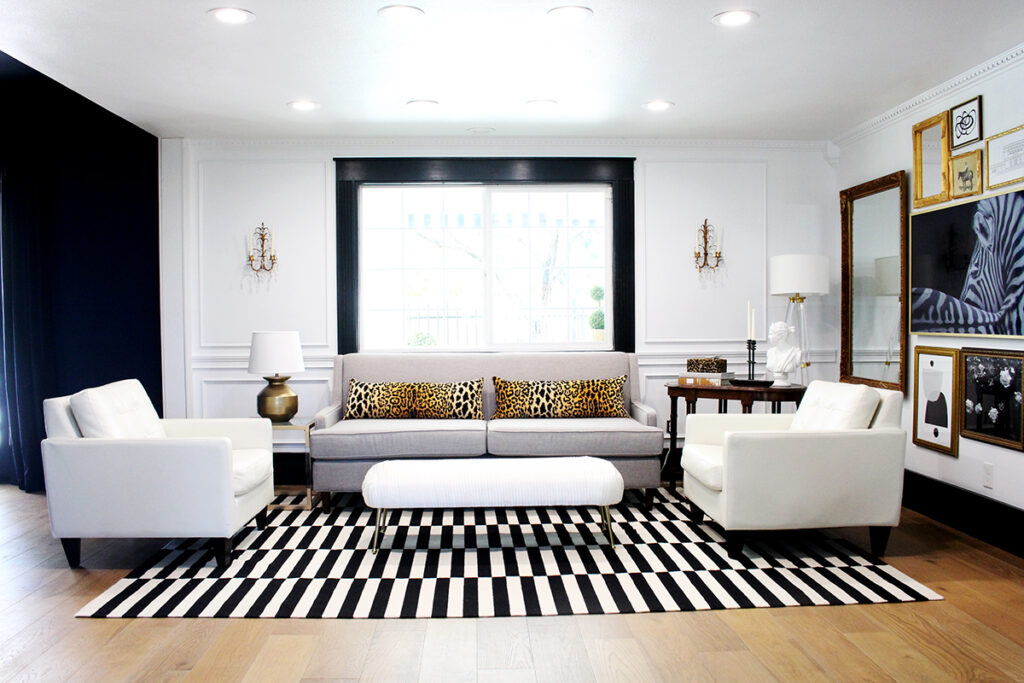 No matter what rug you choose, I can guarantee the space will feel warmer and have that added touch of home. Make sure you are being cautious with rug sizing, as the only major rug mistake you can make is choosing a size too small.
As for color, design, and shape- get creative! The best way to make your home feel perfectly curated is to choose each item that calls you to it. Remember, a rug can be an investment piece, but it doesn't have to break the bank. There are so many great options that exist in all price points.
Are there any tips you think need to be added to my ultimate rug guide? Please let me know in the comments! And to keep up with everything on the blog, check out my latest posts: