I still cannot get over the finished Monarch Revival kitchen remodel! With all the love my entire family put into this project, I feel like I could talk about all the details for ages.
If you missed out on any of the kitchen update posts, here are a few of my favorites: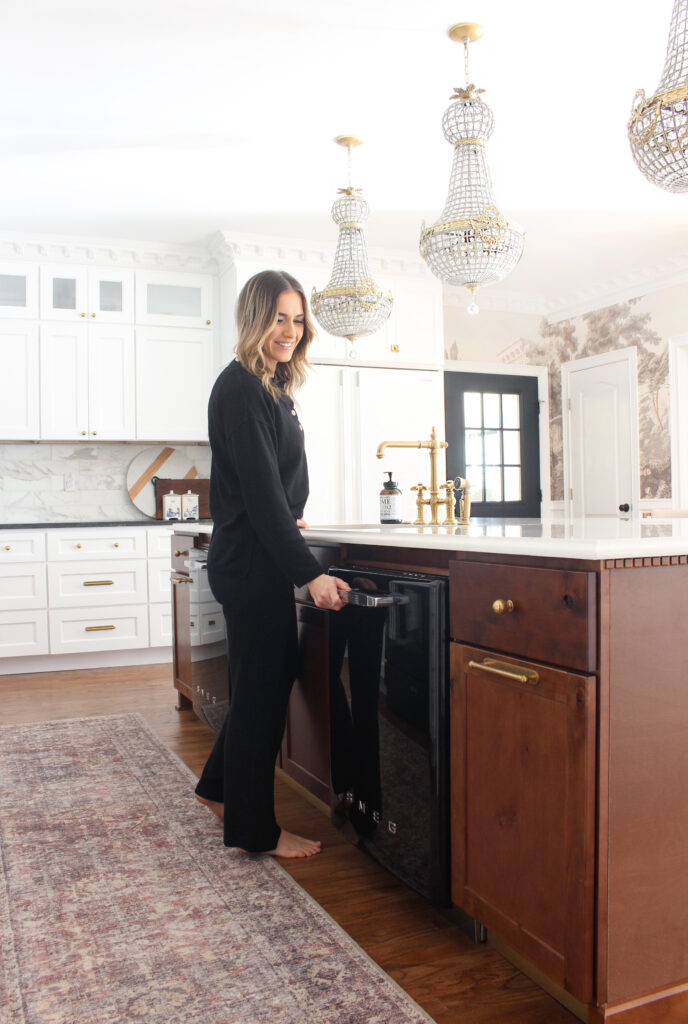 Earlier this week, I found myself reminiscing on all the care my boys put in while building the kitchen island. It was such a joy sharing what my dad and I both love to do with the four of them. The details turned out to make the finished result truly shine- so I knew it was perfect to share!
Today on the blog, I'll be chatting all about my top 5 kitchen island must-haves that elevated the overall design. I can't imagine the kitchen without them, so hopefully they inspire some renovation ideas for your home too!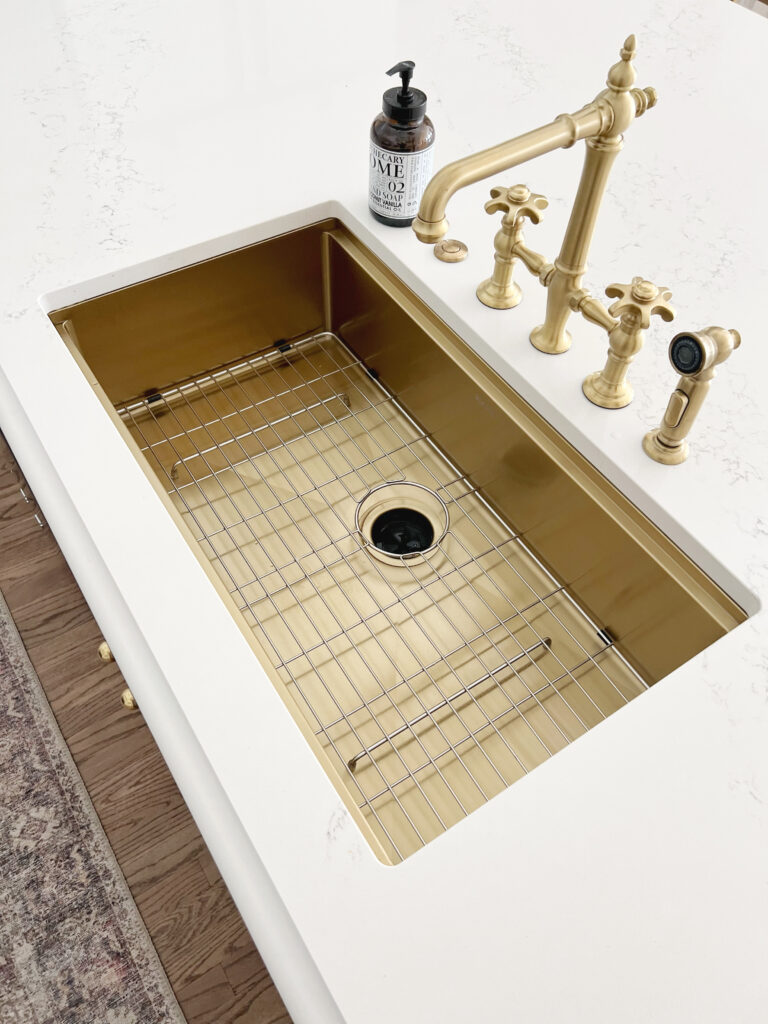 Sink: Giana Undermount 33-in x 19-in Matte Gold Single Bowl Stainless Steel Workstation Kitchen Sink

I didn't know I could have such strong feelings towards a sink until now. A workstation sink allows you to chop and prepare ingredients directly over the sink while washing at the same time.
For both convenience and sanitary purposes, I love having it for daily use. It allows me to free up more island space for my boys to sit and spread out, plus the mess-free clean up is every mom's dream.
Of course, I wanted the sink to act as a design element as well, so I found a gold version that promises just as easy of a clean as traditional stainless steel. Every time I go into the kitchen, I love that the sink acts as a centerpiece to my island.
Extra Storage Under Barstool Seating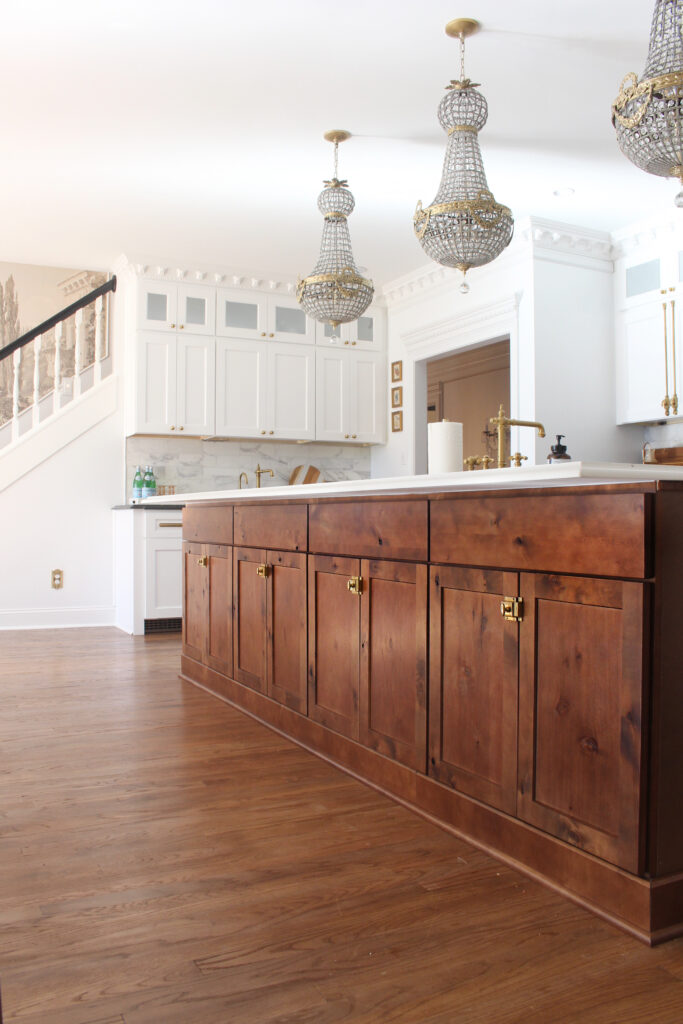 Extra storage can be so hard to come by in a kitchen! There is never a good place for special dishes, holiday accessories, or even just a place to store bulk items. As I started my kitchen island must-haves list, extra storage was the very first bullet point.
I used a combination of both drawers and cabinets to maximize the space available on the backside of the island. It was really important to me to not just add in extra storage, but to utilize it to the best of its ability. To read exactly how I organized my kitchen drawers, check out this post.
Once the base of the island was complete, I added minimal gold cabinet pulls to tie in the metal texture I love. This small detail completely elevated the entire look.
Island Power Outlets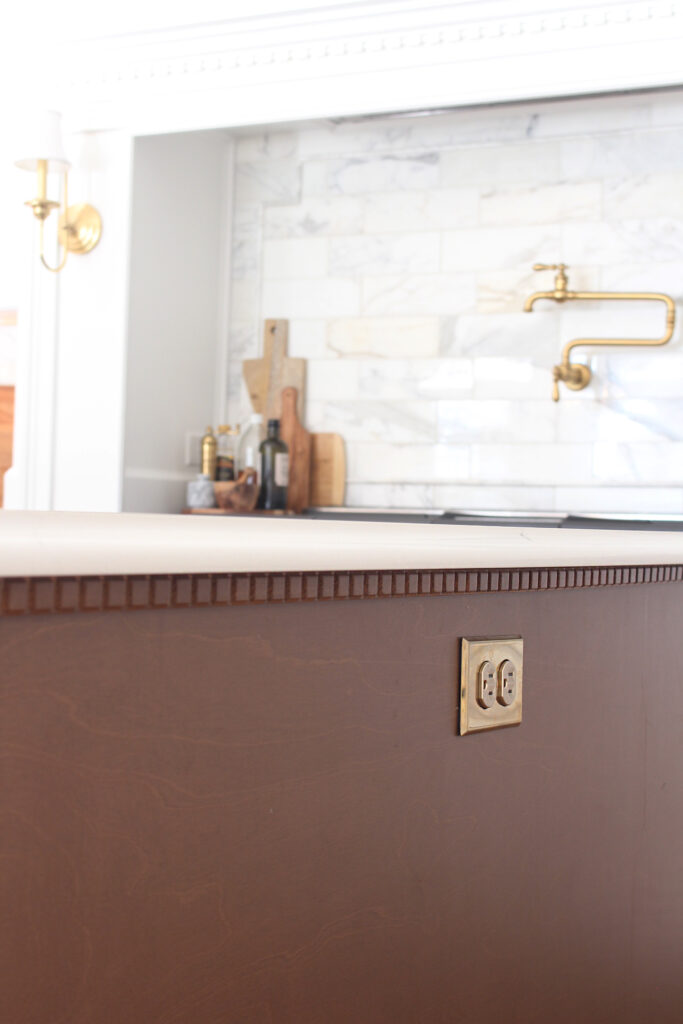 I've lived in homes where it feels like power outlets were thrown in as an after-thought and it's become one of my kitchen pet peeves. There are always too little outlets for all the appliances, plus they look like complete eye-sores. I knew having island power outlets was not a want, but an absolute kitchen must-have.
The outlets were placed both higher up and horizontally to make plugging in appliances easy. Finishing off with outlet covers, the placement felt much more intentional.
While I love these island power outlets all the time, I was especially thankful for them during the holiday season. Making dinner and desserts was a total breeze!
Adding Unique Details
By now I think it's obvious how much I love interior design details, so the kitchen island was no different. I was really picky in how I wanted the details to look- they needed to be minimal and nonobstructive, yet feel intentional.
Gold Toe Kick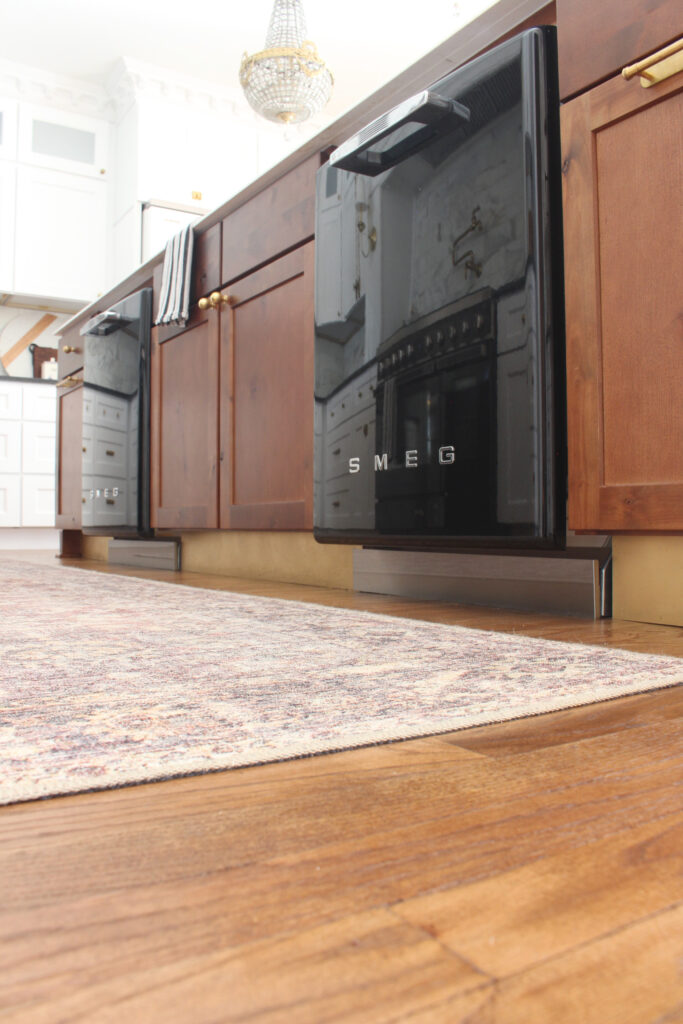 Up until recently, I didn't think twice about toe kicks in the kitchen. This is such an easy spot to overlook, which is why I did for years! After heavily researching kitchen details, I stumbled upon accented toe kicks and fell in love.
While I wasn't a huge fan of color at the bottom of the island, I kept getting drawn to painting the toe kick gold. Eventually I decided it's such a small space to just try it out- I'm so glad I did!
My biggest hold up was deciding on a paint finish. It took me forever. Finally, I chose a semi-gloss finish to ensure the paint would stay intact when eventually someone would kick it and thus far, there is not a single chip. To learn all about my paint finish tips, check out this post.
Interesting Molding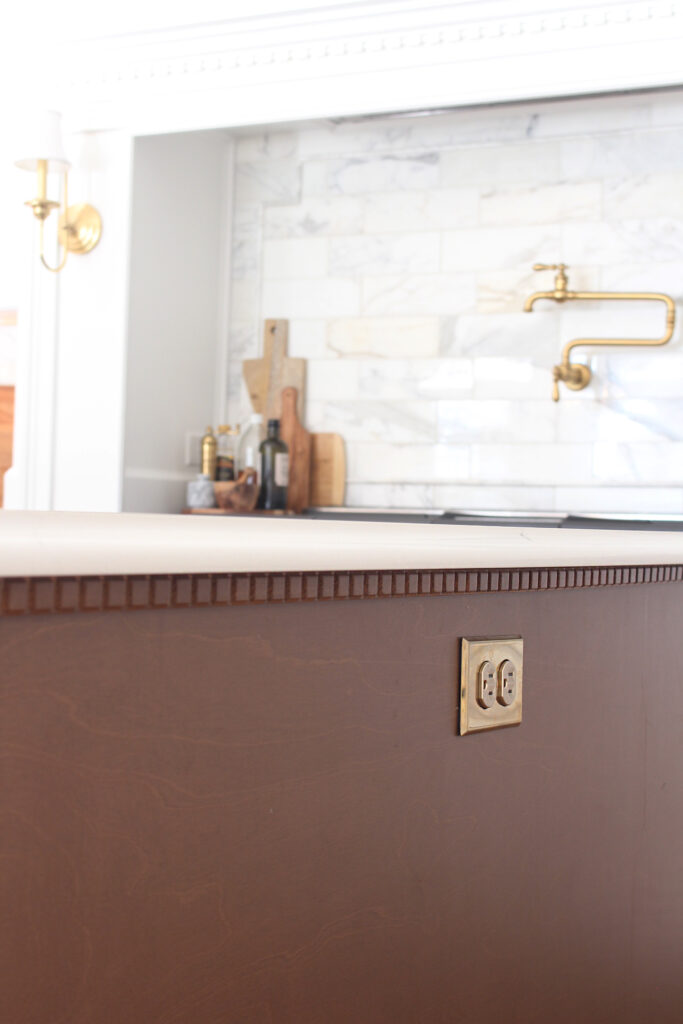 I'm here to set the record straight- molding does not just belong in your grandma's house! It can be used as a beautiful texturizing element, no matter how big or small.
The molding detail I chose for the kitchen frames the top of the island, but needed to remain very minimal. While sometimes it goes unnoticed when someone sees it, they always comment on how it's the perfect finishing touch.
Double Dishwashers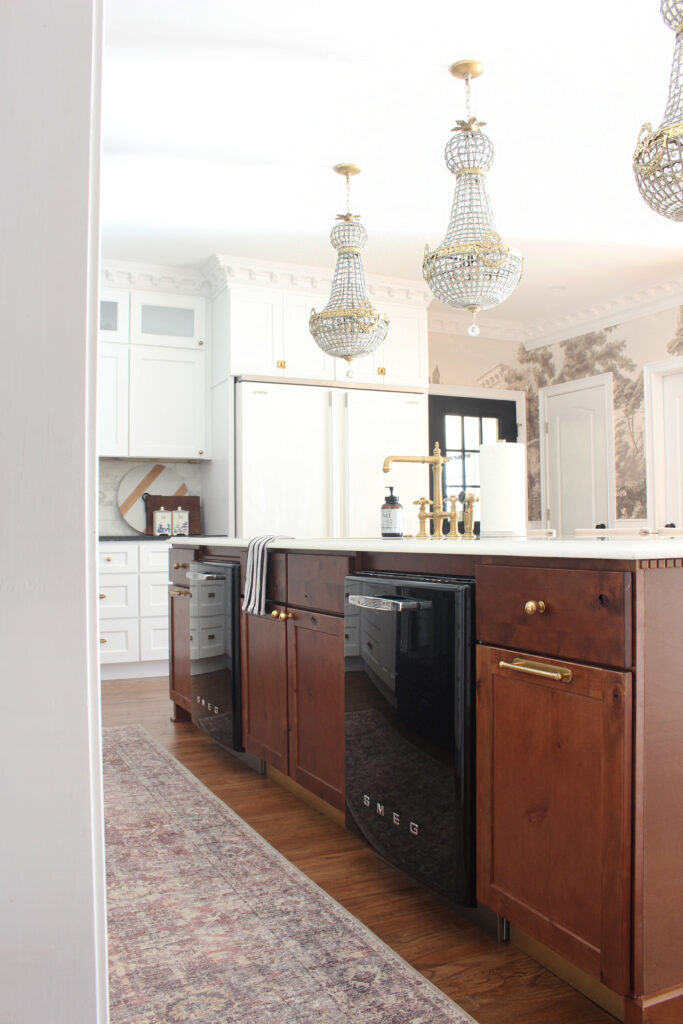 While this is not always the case, I've saved my final kitchen island must-have for last. Having double dishwashers has been a dream of mine for forever, so I was thrilled when it worked out to have them on my kitchen island must-haves list.
We chose to use Smeg appliances and I'm so glad we did. I absolutely love the retro design of them! They're GORGEOUS without skimping on quality or efficiency!
This built-in model features a generous 13 place setting capacity, since we have 2, we can wash 26 place settings at once or a mix of pots, pans, plates, etc! We run our dishwashers every night, so what sold us on Smeg was the ultra-low level noise. I can't hear them running from anywhere else in the house and it's a low hum if you're in the kitchen! SO quiet!
Living with my dream kitchen everyday is a feeling unlike anything I could describe. It's even more special knowing all the details I've wanted for years finally made their way into my home. Do you have any kitchen island must-haves? Please let me know in the comments!
The Monarch Revival Kitchen Sources:
Lighting:
Countertops & Backsplash:
I have a full blog post will all of the details here! (& how I saved $15k!). Both countertops were sourced from Stone Creek Surfaces – Knoxville.
Hanstone Quartz (Yorkville)
Negresco Granite (honed)
Cabinets:
Cabinets: RTA Cabinets that I built and installed myself – Florence White and Rustic Shaker (island)
Appliances:
We are so excited about our Smeg appliances – we LOVE them!
Plumbing Fixture & Accessories:
Hardware:
Decor: