Remember a few months back when I decided to completely redo the stairs? I installed this amazing stair runner to complete the project. But, it wouldn't be me if I took things one step farther, right?!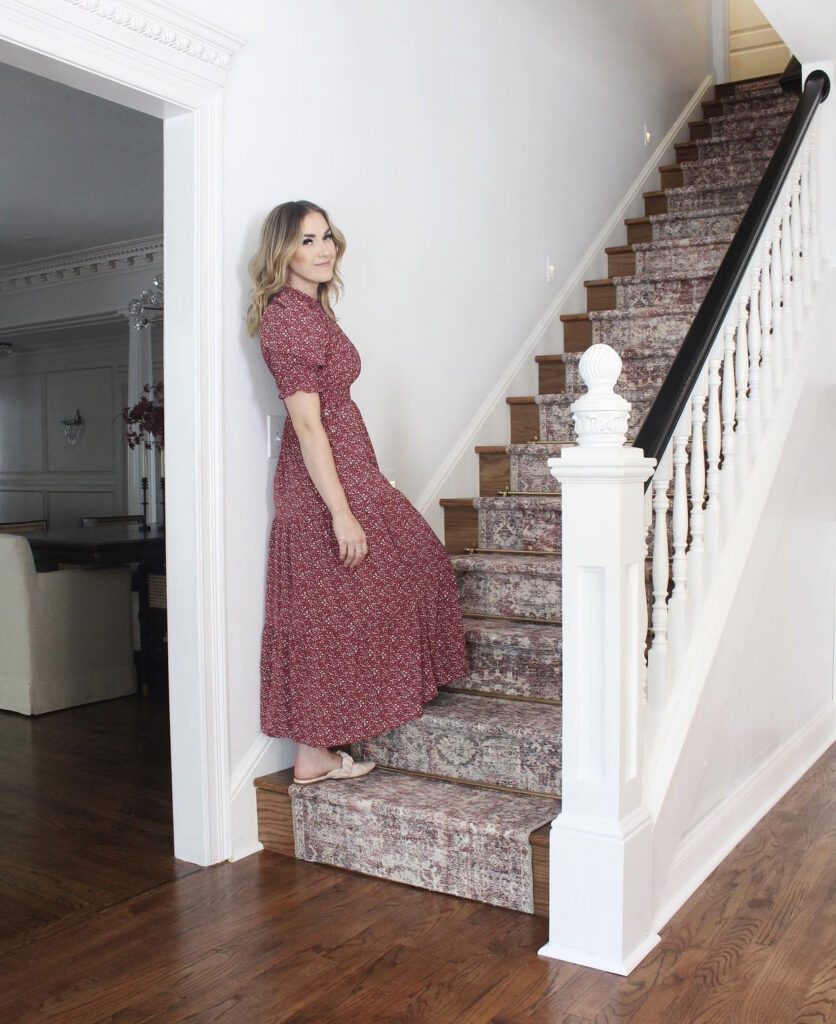 What I didn't share is that I was hoping to install the most epic mural wallpaper in a panoramic layout throughout the kitchen nook and up the stairs. Especially in person, the mural adds so much to the room in a way that nothing else could! It's not something you see in everyone's home, so naturally, there have been a lot of questions about the process of choosing and installing a mural of this scale.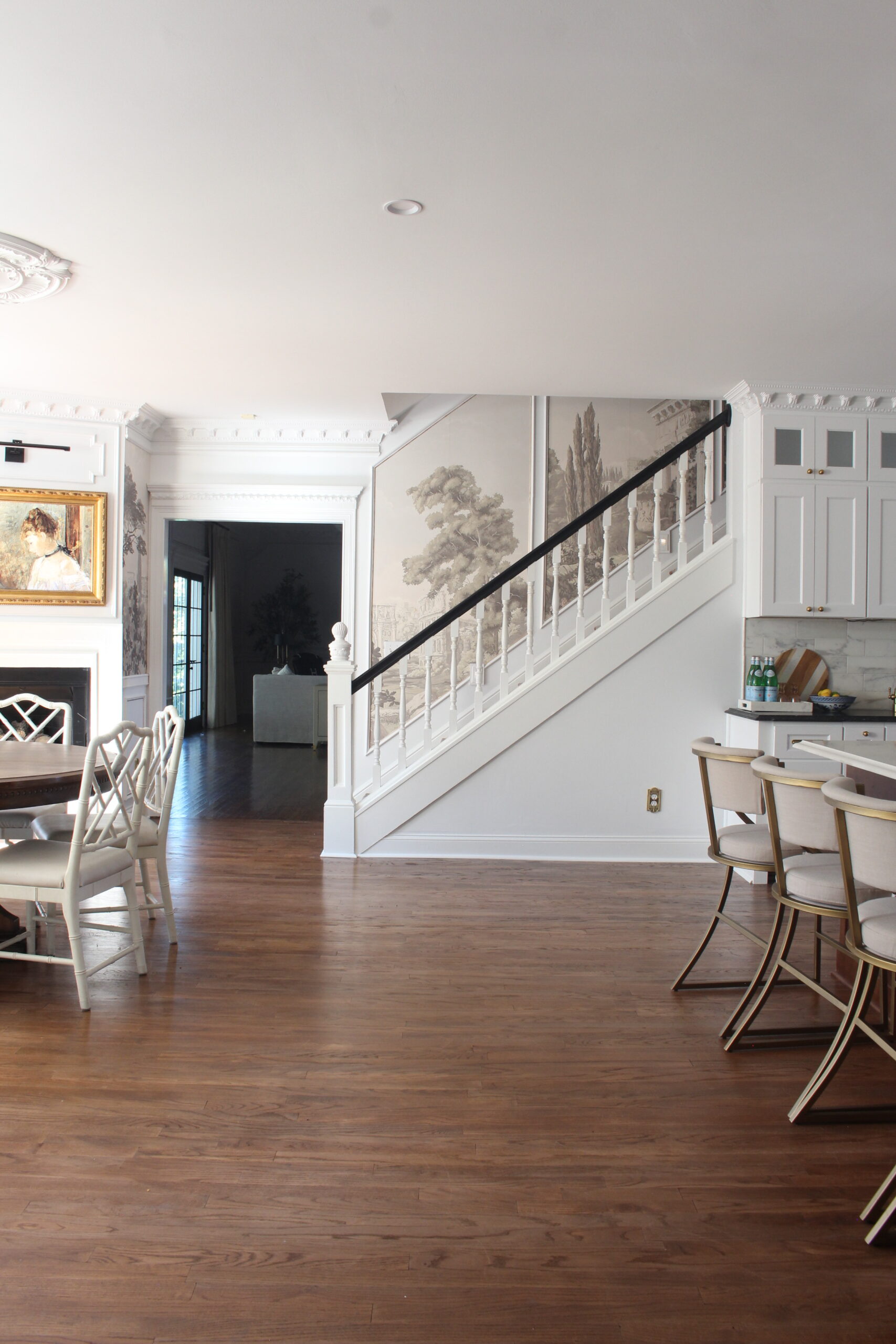 Deciding On How To Fill The Blank Space
As we were working on the kitchen, every time I looked over at our stairs it just felt….empty? Not every wall needs to be decorated, in fact, it's nice for your eye to have a place to rest when looking at the space. However, the stairs were just begging for some interest – a gallery wall or wall trim were also considered!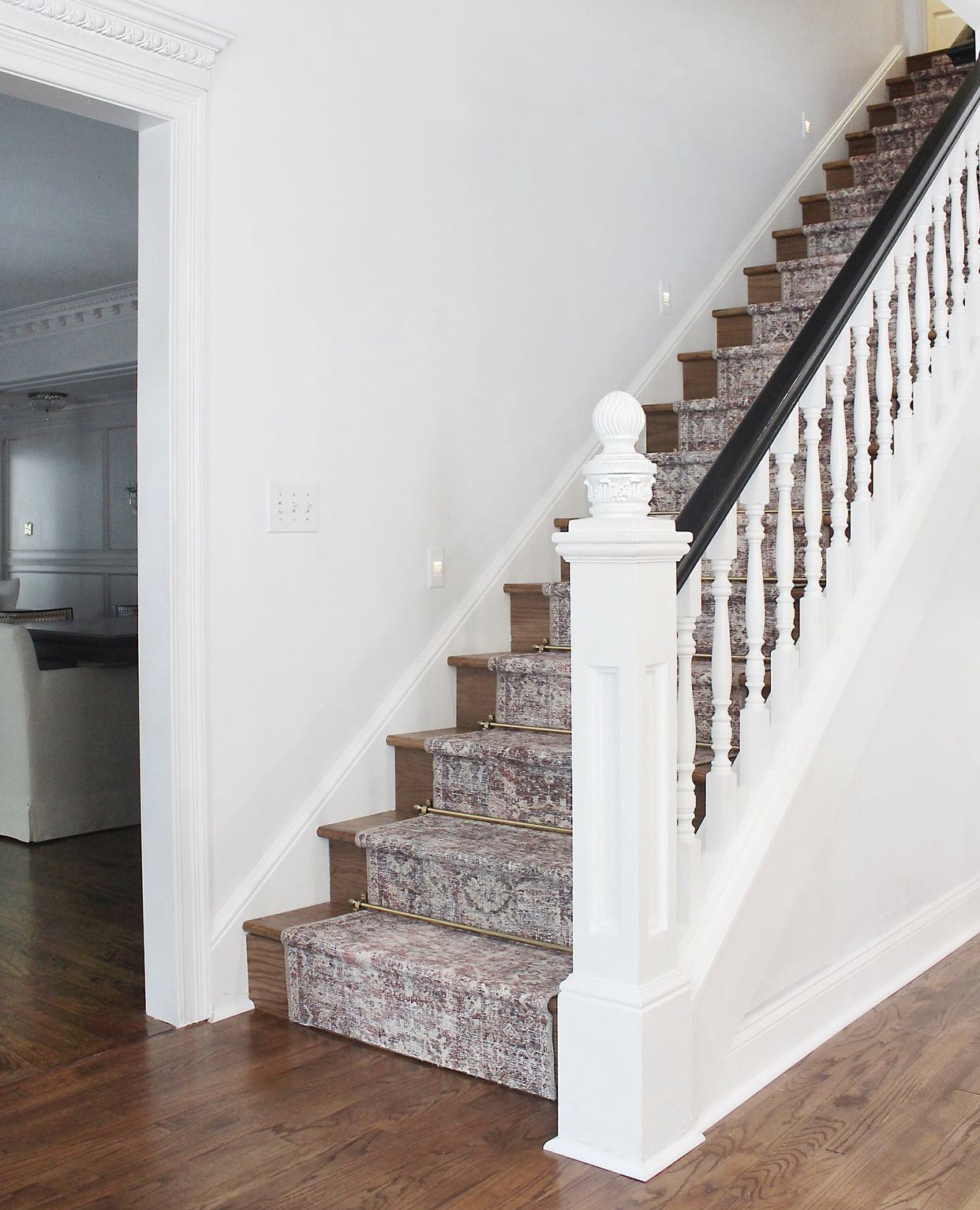 I had already chosen this wallpaper mural for the dining room but at this point, I hadn't considered bringing it up the stairs. To be perfectly honest, wallpaper can be super challenging and time consuming. I hadn't ever done an install at an angle before, but once I had my mind set on it, I couldn't shake the idea. I knew this would perfectly finish off the entire look, but man ,would it be a lot of work to get it there!
Choosing The Perfect Wallpaper
In the kitchen reveal post, I shared how this entire renovation has been a display of my true design style. This wallpaper selection is no different. The entire kitchen feels like a reflection of who I am as a designer, so the wallpaper felt crucial to get right.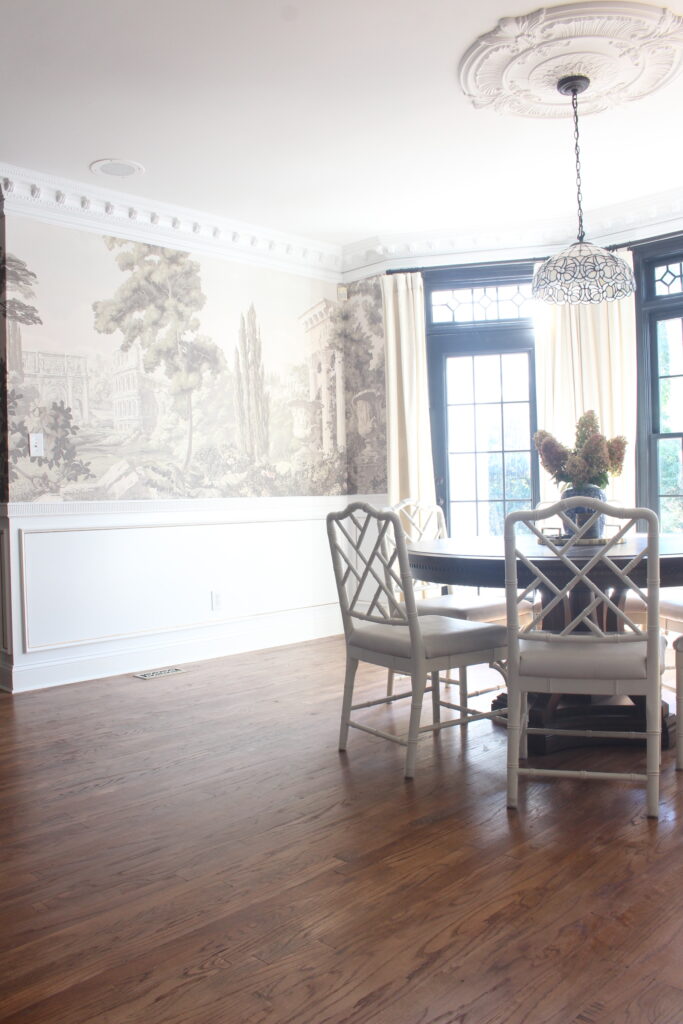 I knew I wanted something that added interest, but didn't take away from the space. I loved the idea of having a mural by our dining space to spark conversation and have something for the eye to study. Every time I look at it, I find something new I never noticed!
Keeping the space neutral, but warm was also a priority for me. This mural adds to all of the elements that are already in the space. I love the ideas that I can still evolve my design taste and still have this statement piece tie into my existing pieces. I don't want to be put into a box, and this wallpaper gives me more options for design – not less!
The Complete Wallpaper Mural Process
Once the wallpaper arrived, the hard part began. Depending on what wallpaper you choose, applying it to the walls can be fairly easy or the project that seems to never end. The biggest difference in your application experience will be the thickness and quality of the wallpaper mural itself. This Etsy shop had so many raving reviews – and for good reason. This paper is high-quality and stunning!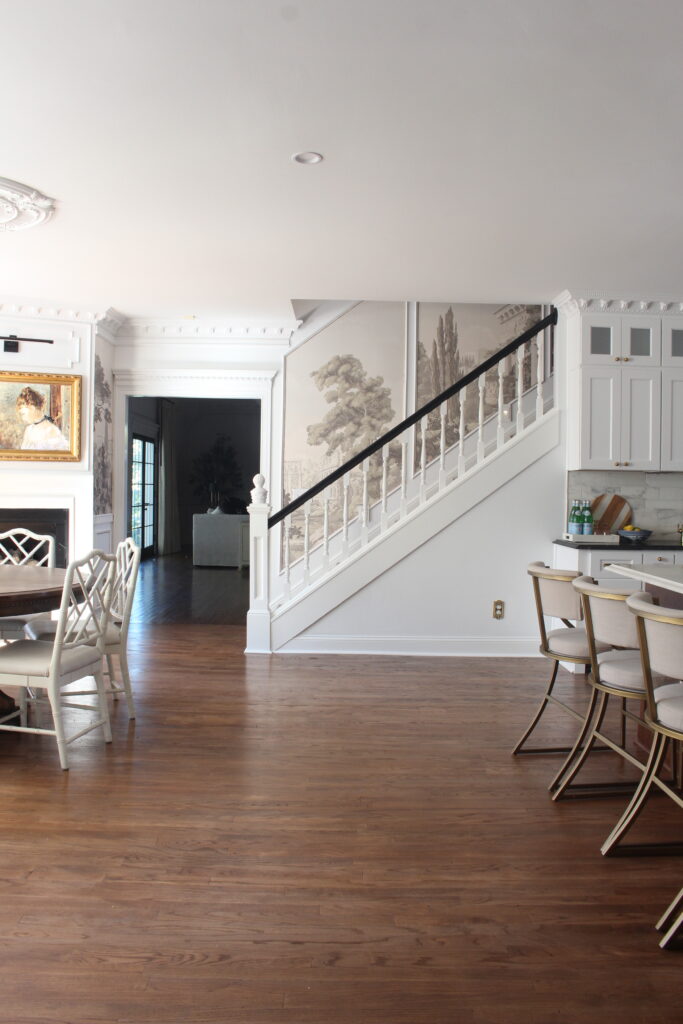 Just like any other wallpaper application, all it took was measuring, an eye for when things are crooked, and a lot of patience. Adding the mural to the breakfast nook was simple, but carrying the mural up the stairs required perfect angles. After many (many) tries, the wallpaper finally looked just right.
I finished off the wallpaper mural by framing each panel. I love how it feels like an art piece that jumps between several areas of our kitchen- it truly is the finishing touch.
Our Finished Kitchen Wallpaper Mural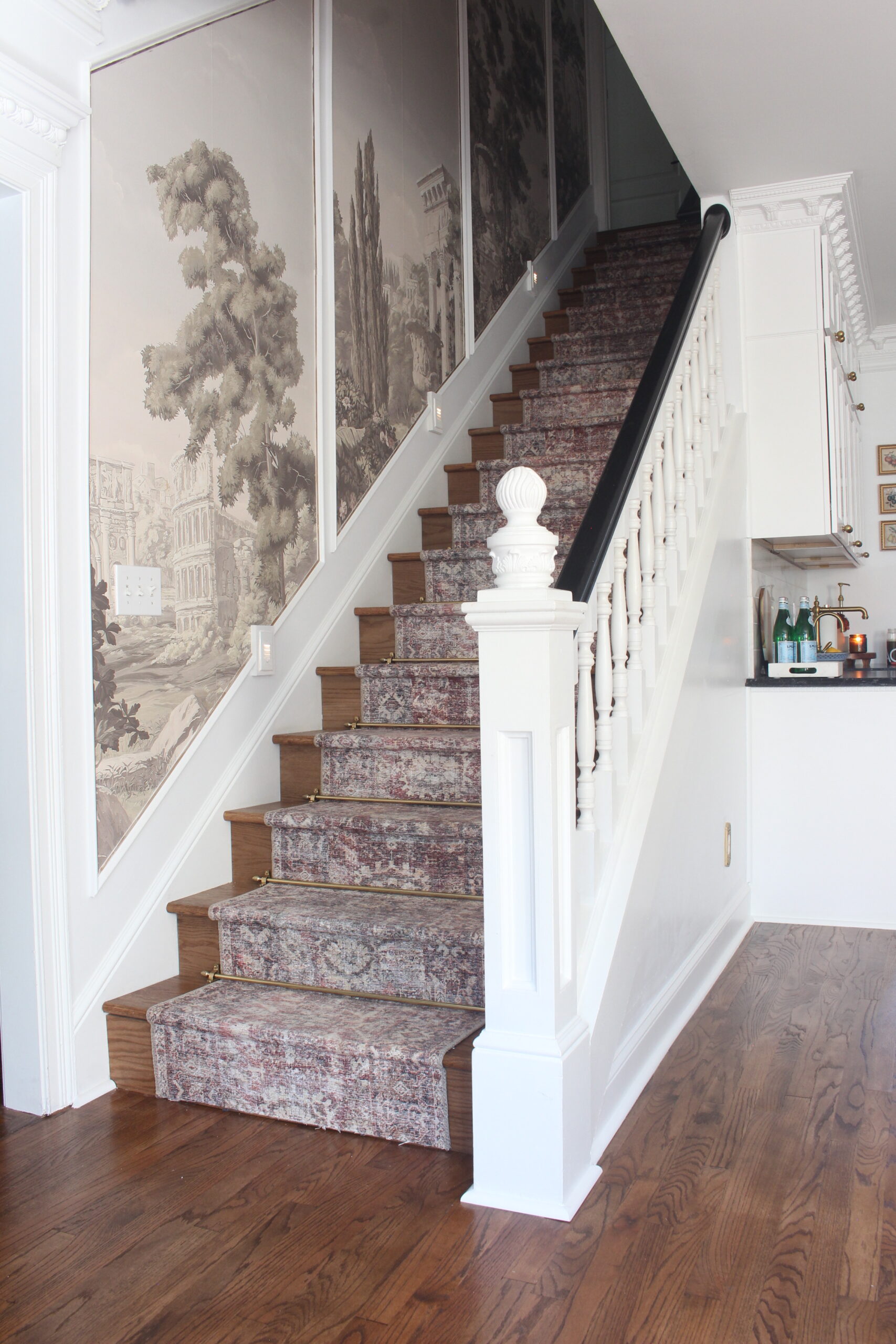 It feels surreal to think that the Monarch Revival kitchen remodel is behind us, but the memories being made here have only just begun! While I'm always changing and tweaking all the spaces in our home, it feels good to have another crossed off the list!
Thank you all from the bottom of my heart for keeping up with every detail and being so kind about my design choices! Being able to share this labor of love truly means the world to me.
Please let me know what you think of the wallpaper mural in the comments! And if you missed any update during the Monarch Revival kitchen remodel, here are some of the most recent posts: