This feels personal, but today on the blog I'm going drawer by drawer to share my ideas for kitchen drawer organization!
A decision I made early on the kitchen renovation process was to prioritize kitchen drawers over open cabinets. In #HouseNo13 in Mesa, AZ, we made the same choice and my life was so much better for it. It was my favorite functional design element that is at the top of my life for kitchen must-haves if you're renovating. Speaking of that – I listed all of my Kitchen Remodel Must-Haves on this post right here.
More on our latest (and biggest) project – The Monarch Revival Kitchen Renovation: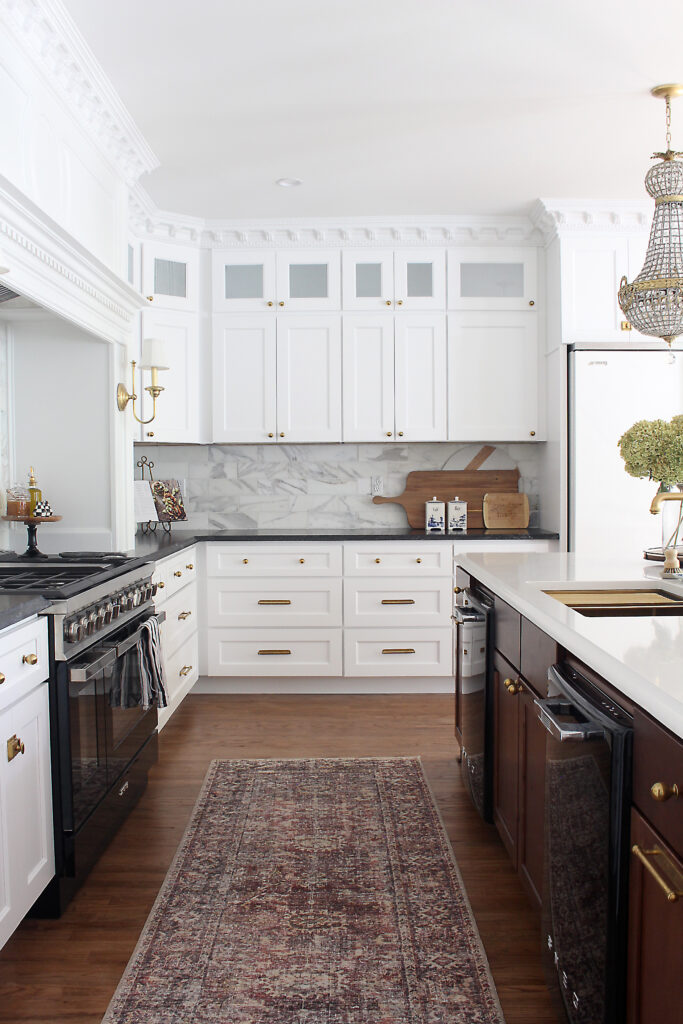 Having organized kitchen drawers is so unbelievably important to me. Truthfully, I don't do a ton of "re-organizing" because I focus so much on implementing a system that works for each space the first time. I like to think of it as one of the perks of moving one million times over the last few years haha!
A word of wisdom I live by is that "everything has a home", meaning that each item our family owns has a designated space that it can return to at the end of each day. This is definitely the case for our kitchen organization drawers.

I get asked all the time about how I stay organized or how I keep my home organized and it really comes down to a few core beliefs:
How I Keep My Kitchen Drawers Organized (Or any space!):
How To Organize Kitchen Drawers
First things first – purge!

I don't have a lot duplicates unless there is a legitimate reason. For example, we have 4 ladles but we love hosting and serving multiple soups at the same time so that makes sense. However, I have one quality set of most items. If I find a set I like more or realize I've collected an extra, I will set that aside to donate. Simply put, even in a house our size, we have to pare down our belongings to make everything fit in an organized manner. My rule is, if I don't have a place for it, I don't buy it or I have to adjust my system. I try to NEVER shove anything anywhere temporarily.

Keep items closest to where they are being used.

Keep items closest to where they are being used. For example, plates and silverware near the dishwasher (or dining table is another option), spices near the stove, and cleaning supplies under the sink. For our family, we also keep most-used medicines in a nearby drawer and trashbags right above the trash cans!


Don't overstuff.

Try not to fit too much in one space. Any space that is cramped or over-filled will immediately look unorganized to the eye and therefore, will be hard to keep it clean. I would aim to guess that 99% of spaces you're struggling to organize have too much stuff! It either needs to be relocated or parted with.


Everything has a home

Everything has a home – and everyone knows where that is. Find a home for every single item in your house and if necessary, label accordingly. I love using clear acrylic or plastic bins within my drawers to make this possible and so items aren't freely rolling around in the drawers. This takes time (and budget!), so don't be overwhelmed! You don't need to do your whole kitchen in a day. Take your time and make sure your systems make sense before investing in bins, dividers etc. Once you organize a space, label each bin or spot on your shelf until it feels natural. The labels will help keep your family on track too!
It is definitely easier to organize a kitchen that has as many drawers and cabinets as we do. But for many years, our kitchens were much smaller and I had to follow the same techniques. In those days, I simply had less "stuff" which made it easier to organize.
This was our first home in Buffalo, NY!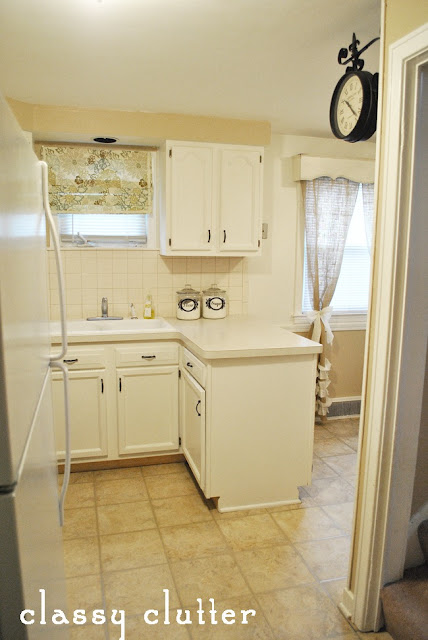 Since kitchen drawers may not be the norm for everyone, I wanted to give an example of how cabinets can stay organized as well!

Kitchen Cabinet Organization Ideas:
If you're able, invest in cabinet organizers that give your cabinets the function of a drawer. Budget for it and make it happen! This is helpful especially for tupperware and pots and pans! We added this to our tupperware cabinet and it is such a game changer. It was worth the investment for sure. They have these types of organizers for any set of items you have.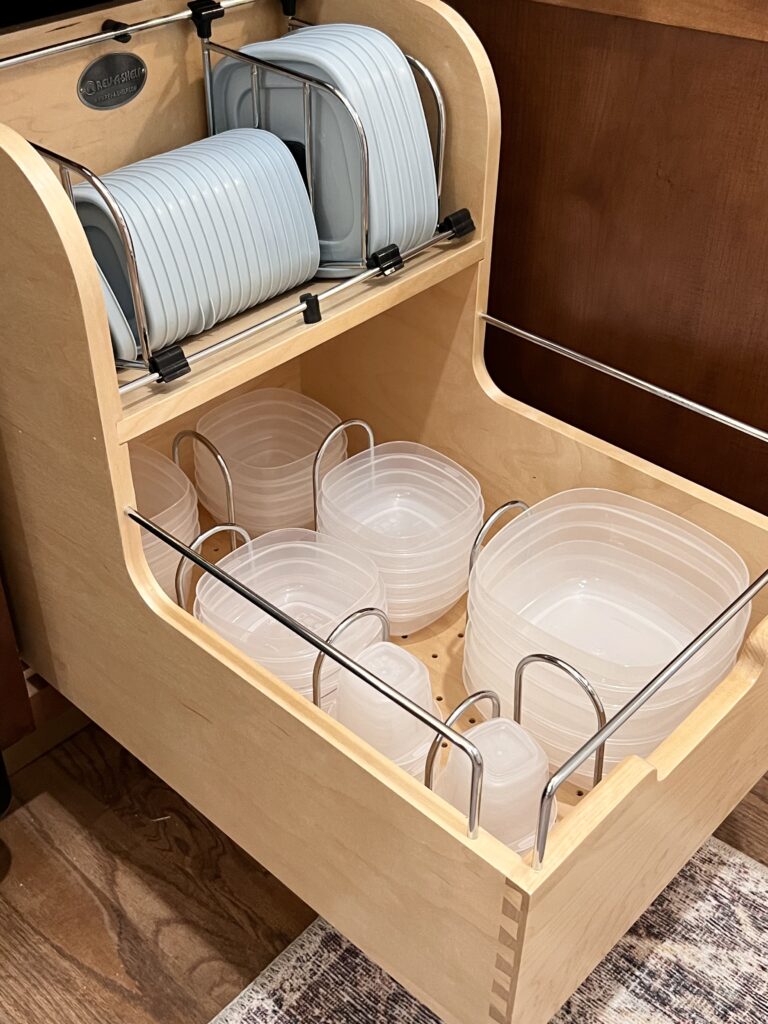 If that isn't in the budget, try clear bins to store our items. With this approach, you can pull the bin out of the cabinet easily rather than reaching alllll the way to the back each time you need something!
Keep your kids' cups and plates in a lower cabinet for easy access. It makes it really hard for your kids to help with kitchen chores if none of their items are accessible. It has taught my kids so much independence to help themselves to water or a snack without asking.
Are we ready for the full kitchen drawer organization tour?!