Butcher block countertops: Do you love them or hate them? Are considering adding them to your kitchen? Before you take the plunge, read my review to make sure this is something you'll ACTUALLY want to do.
Remember my budget-friendly kitchen makeover?
One of the big lessons I learned from remodeling homes over the years is to tackle projects in a specific order. While you might want to immediately gut the kitchen, I think I may be able to talk you into what I call a "bandaid makeover".
You see, there is so much you can do to improve your space before you completely renovate it. You can do things like paint, add decor, or switch hardware. Simple things that don't usually cost an arm and a leg and can elevate your space tremendously.
With the help of my best friend Savannah from Savannah Kay Designs (and the blog classyclutter.net) and her husband Kyle, we tackled a budget friendly makeover on my kitchen that have us an entirely new look. You can check that out right here!
My favorite budget-friendly kitchen find? My butcher block counters!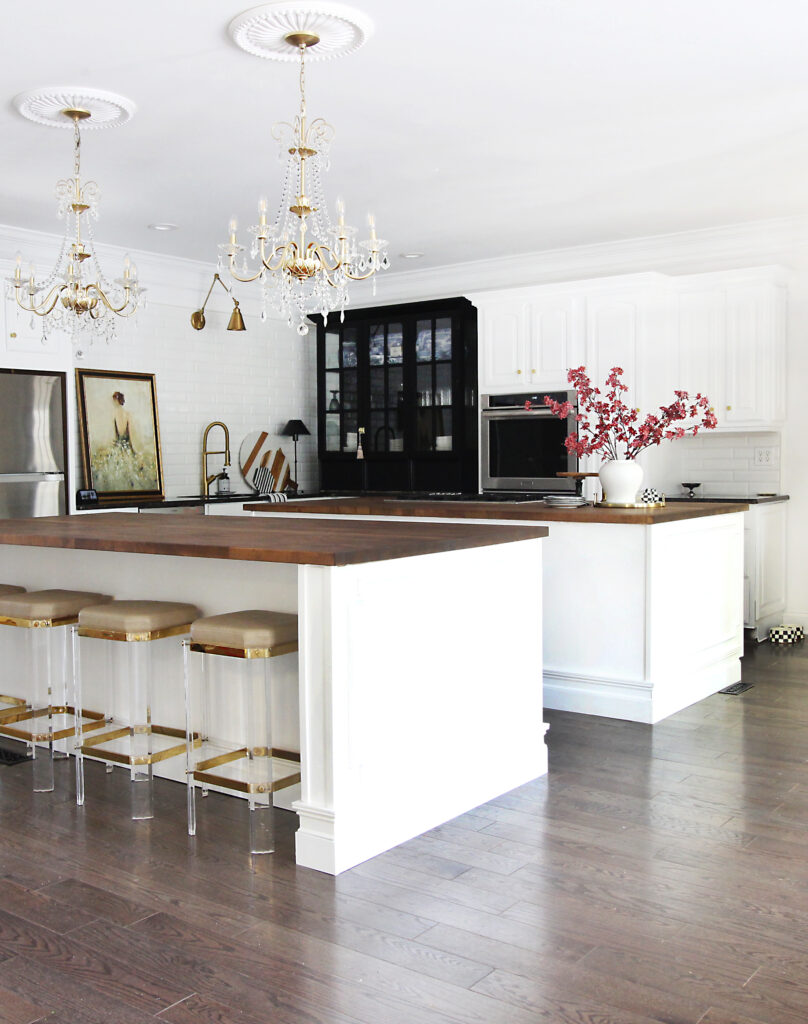 Butcher block counters have grown in popularity over the years – and for good reason. They are extremely affordable and add warmth to your kitchen. They go with just about every cabinet color and flooring option making them versatile and trendy.
Essentially, butcher block are wood counters that are glued together and cut to fit your specific kitchen layout. They are secured to the top of your cabinets or island like any other countertops.
5 Reasons to Consider Butcher Block Countertops:
They are affordable. We spent about $600 on the butcher block for our kitchen. Traditional countertops would have cost thousands!
Butcher block is naturally antibacterial. It's true! It's a very safe surface for your kitchen.
You can stain them any color you'd like. I love that we can alter it any time we'd like to.
Very easy to clean. A little warm water and dish soap get it looking as good as new!
Repairing scratches and dents are a breeze. We haven't had this problem yet since we have had them for less than a year. But with five boys, at some point, we will sand them and get them looking perfect!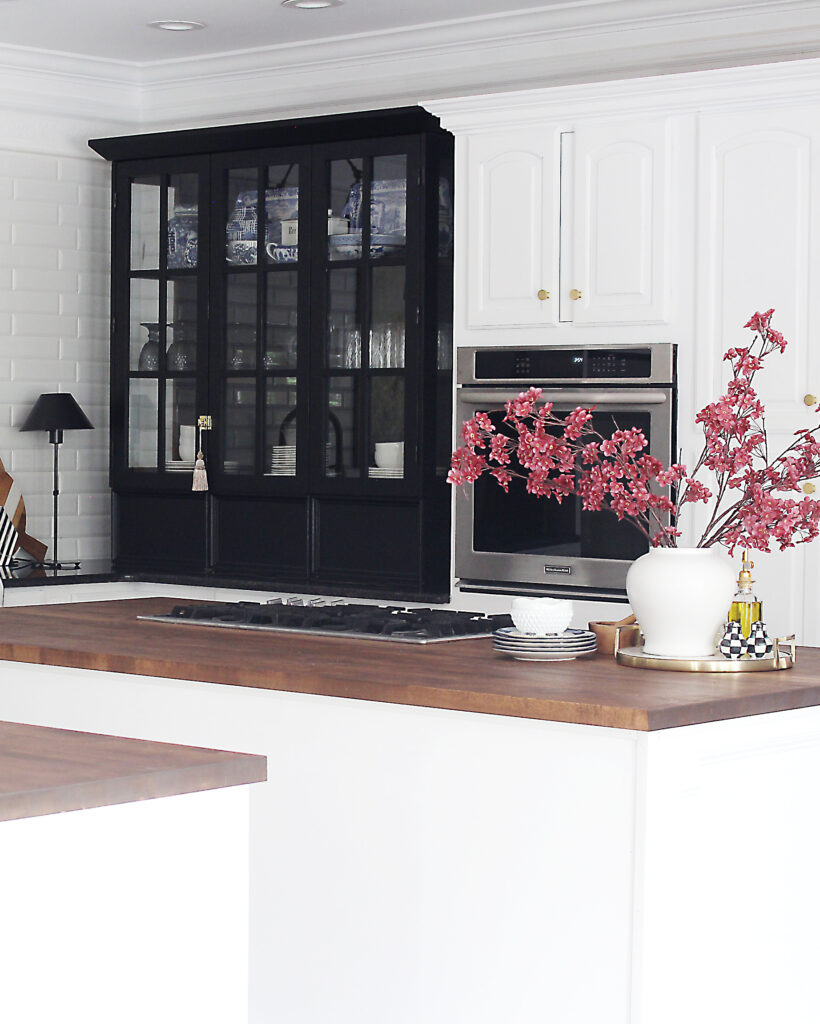 What Counters Do You Have? Are they sealed?
In this kitchen, we used the Unfinished Birch 8.17 ft. L x 25 in. D x 1.5 in. T Butcher Block Countertop from The Home Depot.
In hindsight, I would've sealed them like I did in the Billiard Room Kitchenette to protect them.
How To Seal Butcher Block Counters
We have been so excited to install butcher block counters in our pool house that is currently being renovated. It was really important to me to keep the natural color of the butcher block and avoid pulling the red tones to the surface (which can happen during the sealing process!). I love the natural look in this space and I know that is a popular opinion!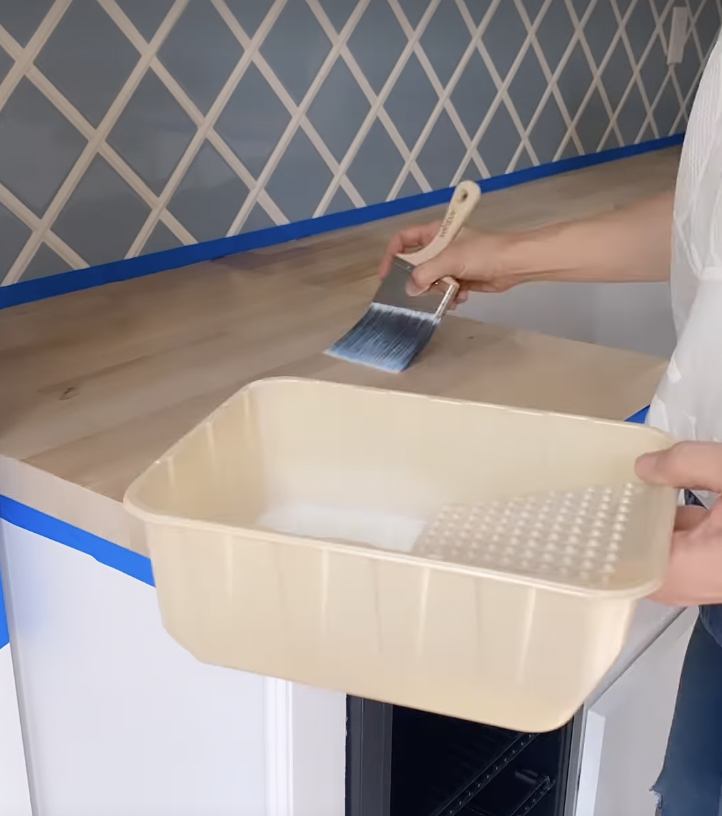 I tried out the Bona NordicSeal in our pool house and I have been blown away by the results! It a very subtle whitewashing effect that counteracts the warmer tones brought out by sealers. I painted it on with a large, thick brush and let it completely dry overnight.
After it cured, it raised some of the natural grain in the wood and needed to be sanded down. I wanted to be careful not to remove the coating, so I took the finest sandpaper I could find and lightly sanded any raised spots. You could user an orbital sander, but I have a small amount of countertops and I was trying to be extra careful!
The end result was AMAZING! It is as smooth as glass and looks stunning. I had such a great experience with this product and highly recommend!
Where To Buy Butcher Block Countertops
We bought ours from The Home Depot but I see them everywhere! I have found great options at:
At any of the above stores, they have installation experts who can take that off of your hands. We installed ours ourselves – it's a pretty DIY friendly project.
Can You Use Butcher Block Countertops As A Cutting Board?
If unsealed, yes! But I wouldn't recommend it. It will wear down your counters so much quicker. I use a traditional cutting board on top of my counters to protect them. It seems more sanitary to use a cutting board.
How Much Do Butcher Block Countertop Cost?
We spent almost $700 for our counters. We had a lot of square footage to cover which is a major point to consider. We also did not pay for installation because we did it ourselves (with friends!). I've seen lots of tutorials online, but if DIY projects don't interest you, I would also budget approx. $1,000-$2,000 for installation.
You'll notice that many places offer butcher block counters in standard sizes making installation much easier.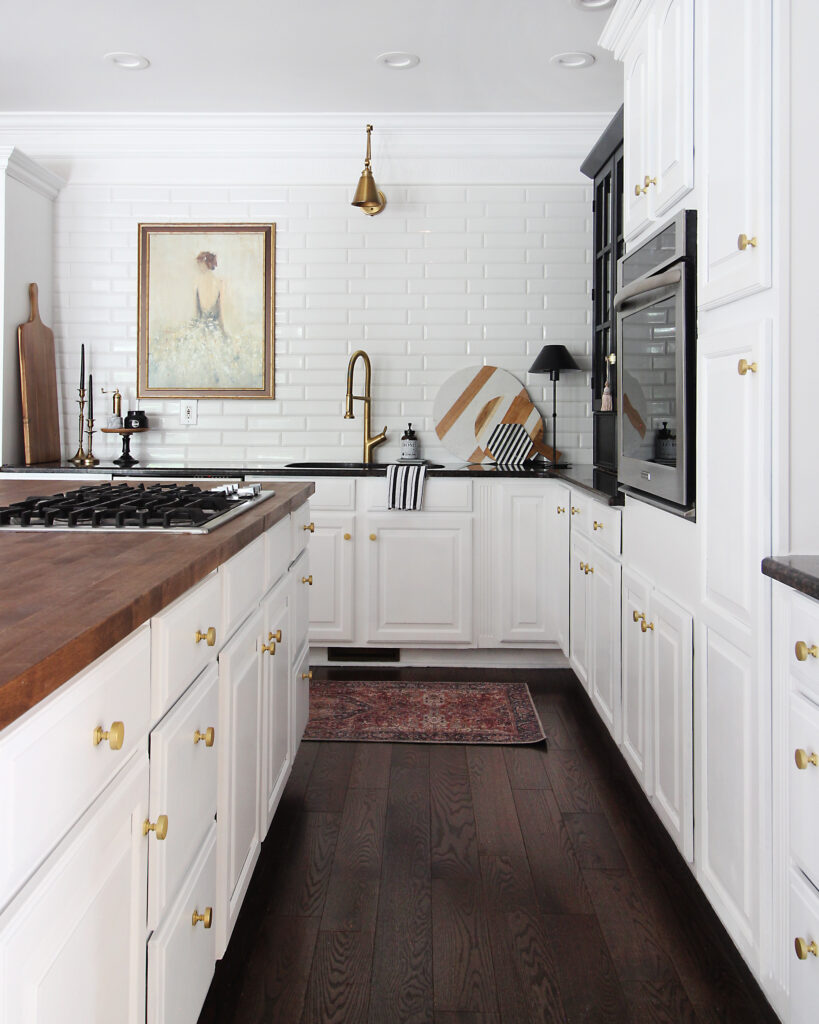 How Have They Held Up?
Honestly? Great! It's been about 10 months with unsealed butcher block countertops and I am really happy. We have them around the stove and even with the heat nearby, they look great. I'm very happy with the durability they have provided and I'm so glad we used them again upstairs in the kitchenette!
I just love the look of them so much! They bring so much warmth into our kitchen. They were the missing piece I never knew I needed!