It's DEMO WEEK over at The Monarch Revival! After announcing the start our kitchen remodel (click here to read all about the mood board I've planned out), I wanted to share all the ways I have found to make living through a kitchen renovation easier. It's never fun to live in a construction zone and I'm determined to make this as easy as possible on our family. I've learned some great tips over the years and I *think* I've come up with the perfect plan.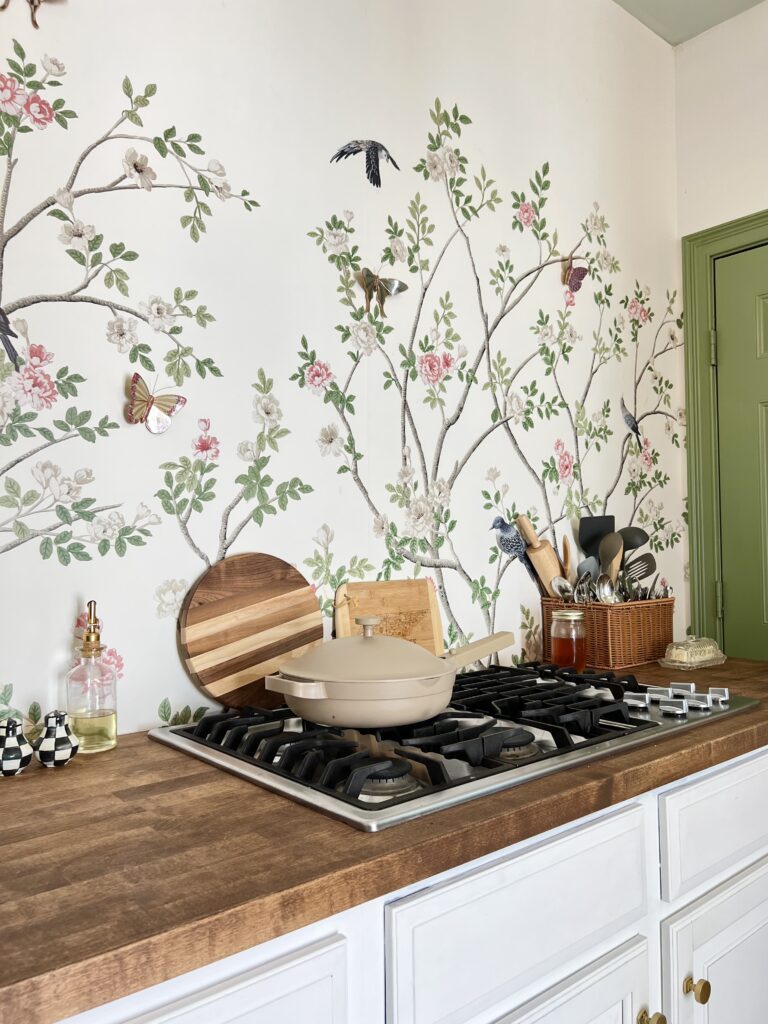 It's normal to feel hesitant about diving into a renovation simply because it is such a hassle. Trust me, I get it! With five boys, living in a kitchen renovation makes everyday life very difficult. It is so worth it in the end, but throughout the process, it can feel hard to be out of our daily routine.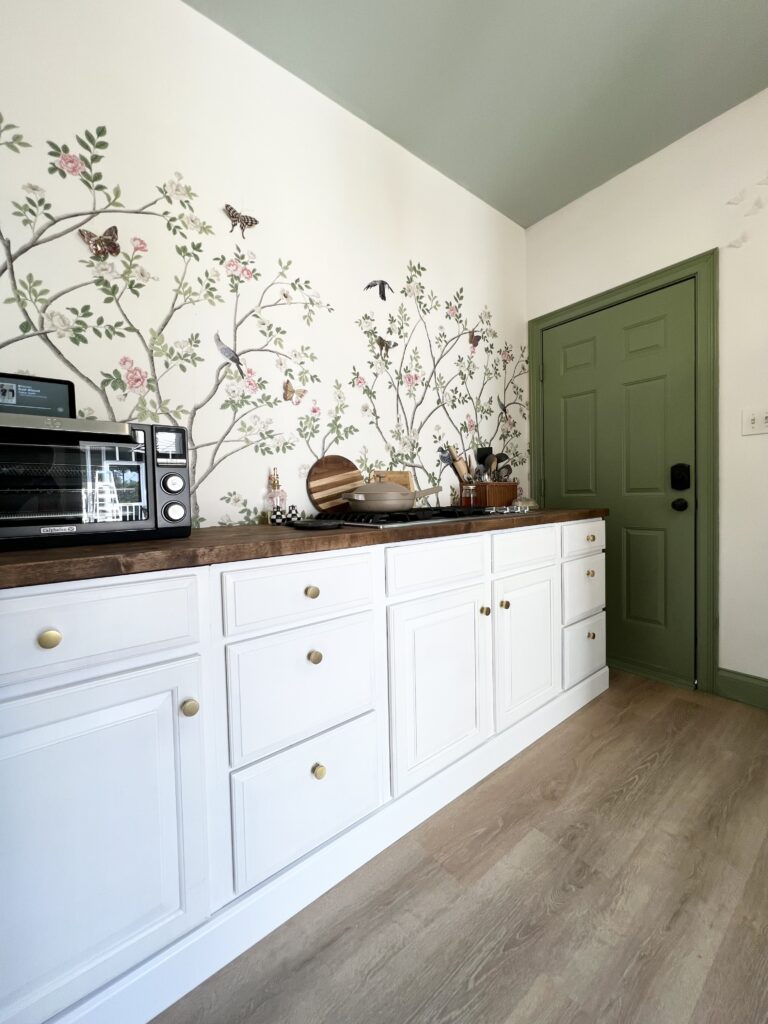 My Kitchen Renovation Tips:
Create A Makeshift Kitchen
It is not sustainable (financially or health-wise) to be eating out for every meal. Plus, I have found this is the best way to guarantee the entire family's sanity through the duration of the renovation. It allows for a sense of normalcy for everyday life.
For our makeshift kitchen, we reused the items we removed during the kitchen demo including, cabinetry, dishwasher, fridge, countertops and even our cooktop! We were so lucky that we could hook up gas and water in this little bonus room. This room is located off of our garage and leads to our backyard, which happens to be right by our actual kitchen and pantry so it's been really handy that its near where we normally prepare food.
We have set up our makeshift kitchen in our garden room, but it really can be anywhere! I suggest finding a place as close to a utility sink as possible, whether it be near the garage or laundry room. I prefer the utility sink over washing dishes in the bathtub. PS: We installed our old garbage disposal in our utility sink! This has been awesome!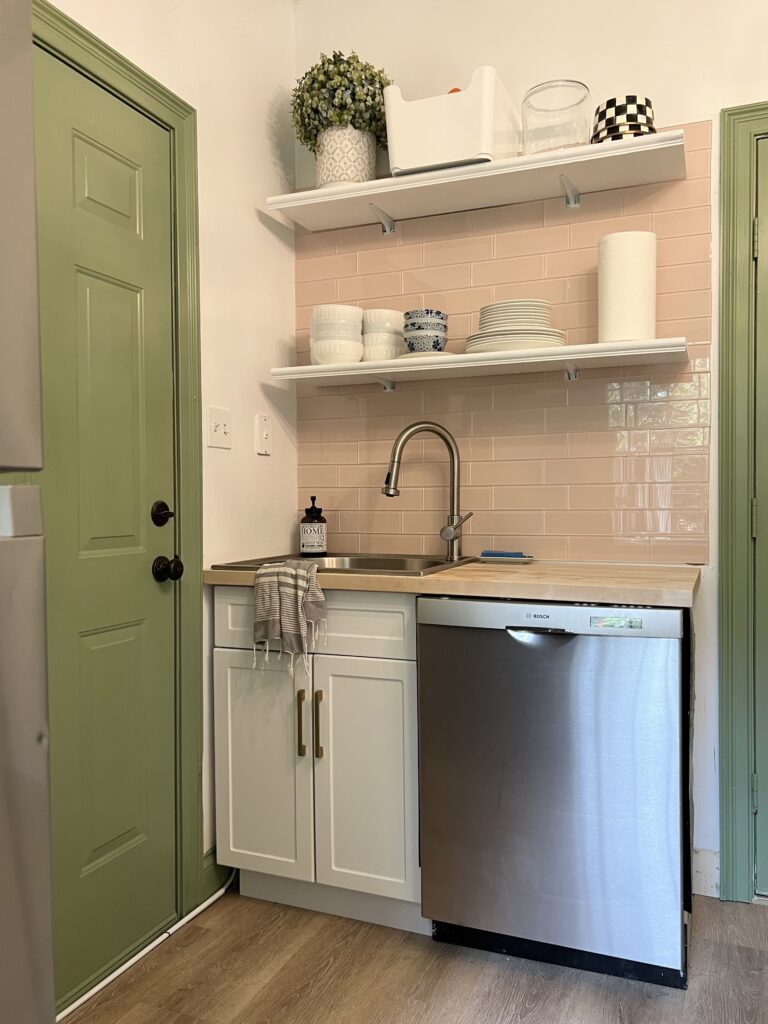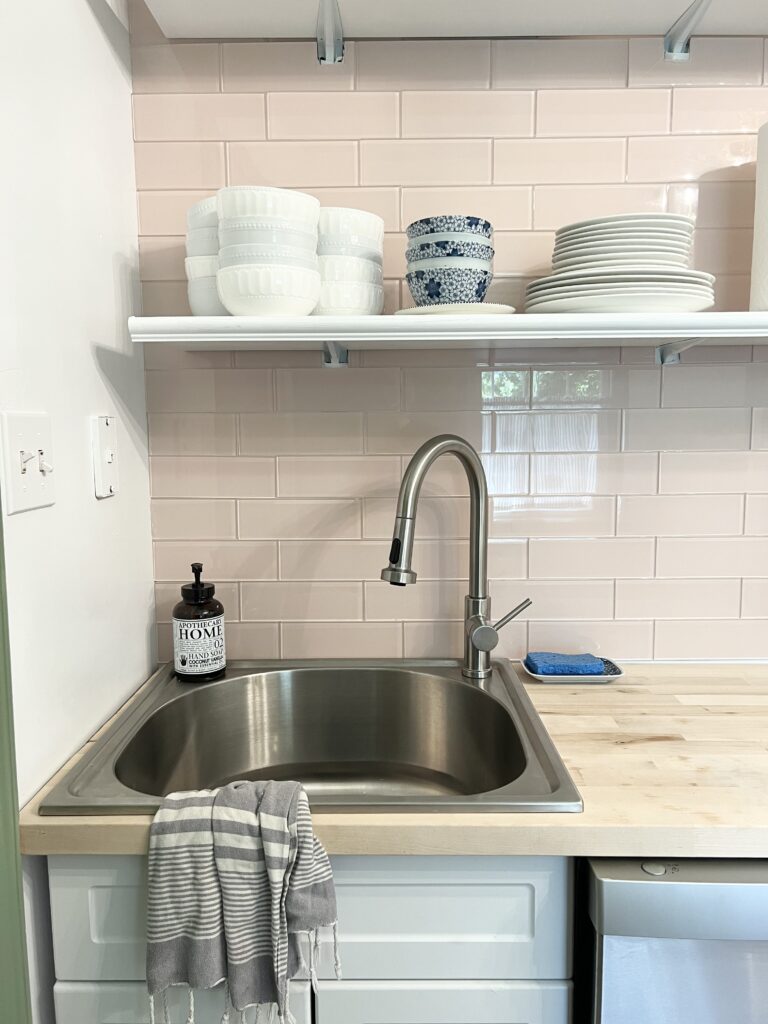 Our garden room set up is far better than some of the kitchens we've lived in and a major luxury for me. It's SO close to our actual kitchen and accessible from both inside and outside. Please remember that I've done this several times without a dedicated room and the tips are helpful just the same.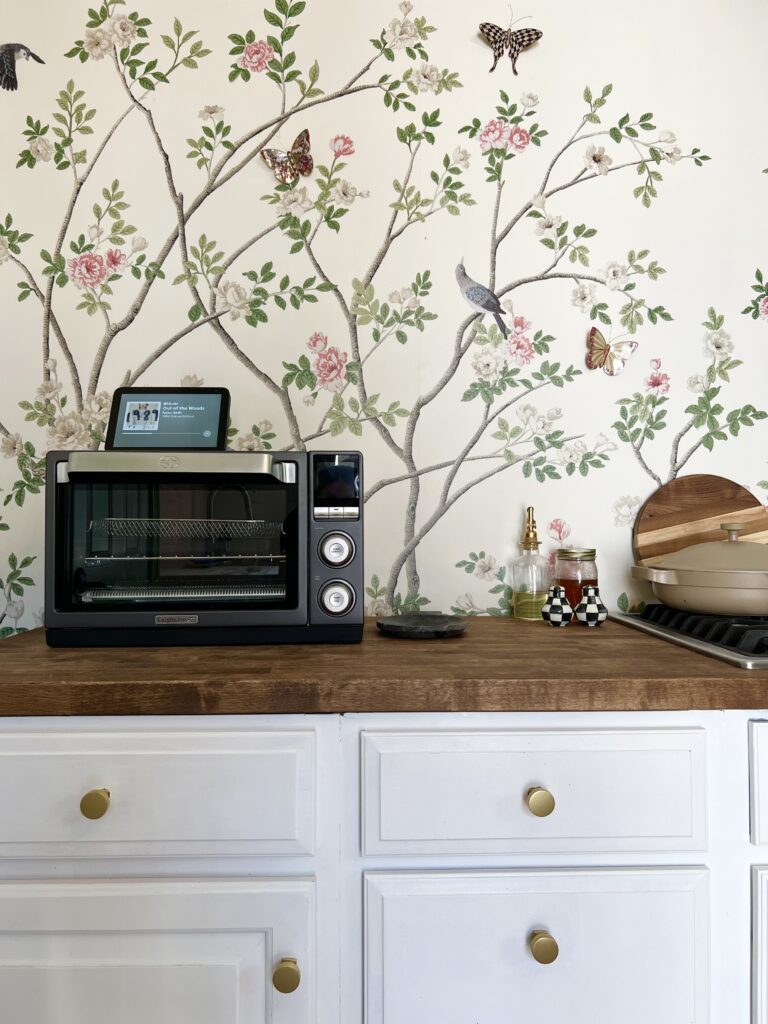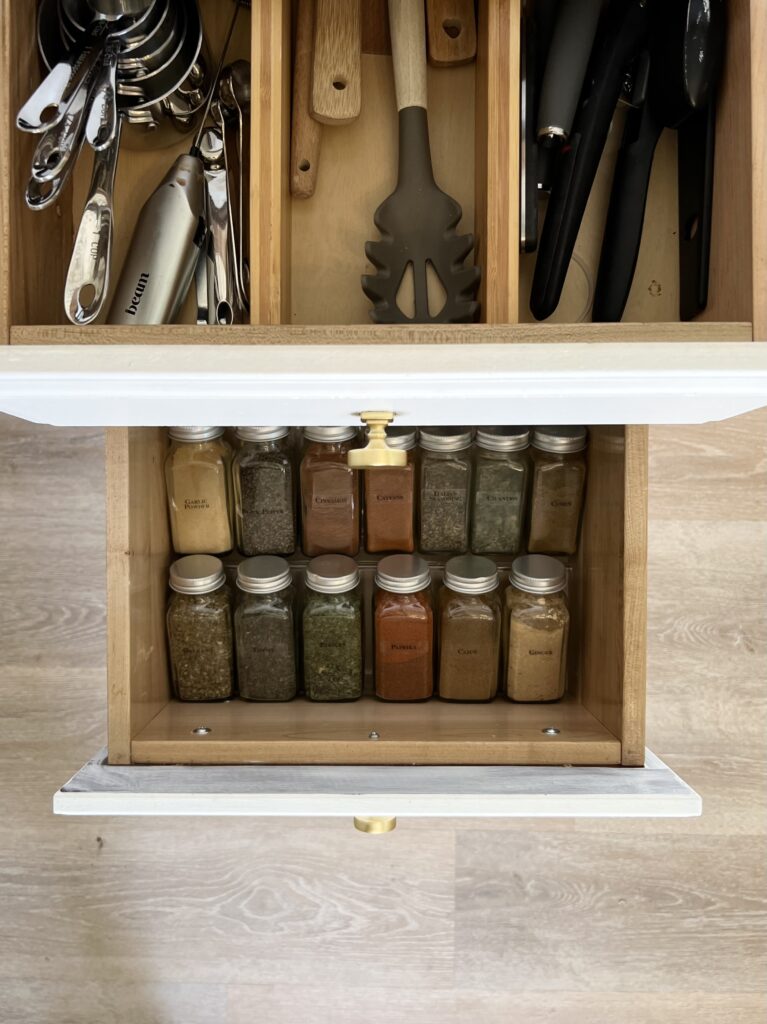 As for other kitchen appliances, here's a list of ones we found most useful to keep closeby:
Camp Stove – we were lucky enough to set up our old cooktop but we've used a camp stove many times and it's a game changer!
Microwave – this one is too cute!
Above all, the fridge proves to be the most crucial aspect (and hardest to relocate) of any for the makeshift kitchen. Temporarily removing the fridge doors to move it to our garden room, I recommend doing whatever it takes to move this appliance to a usable space.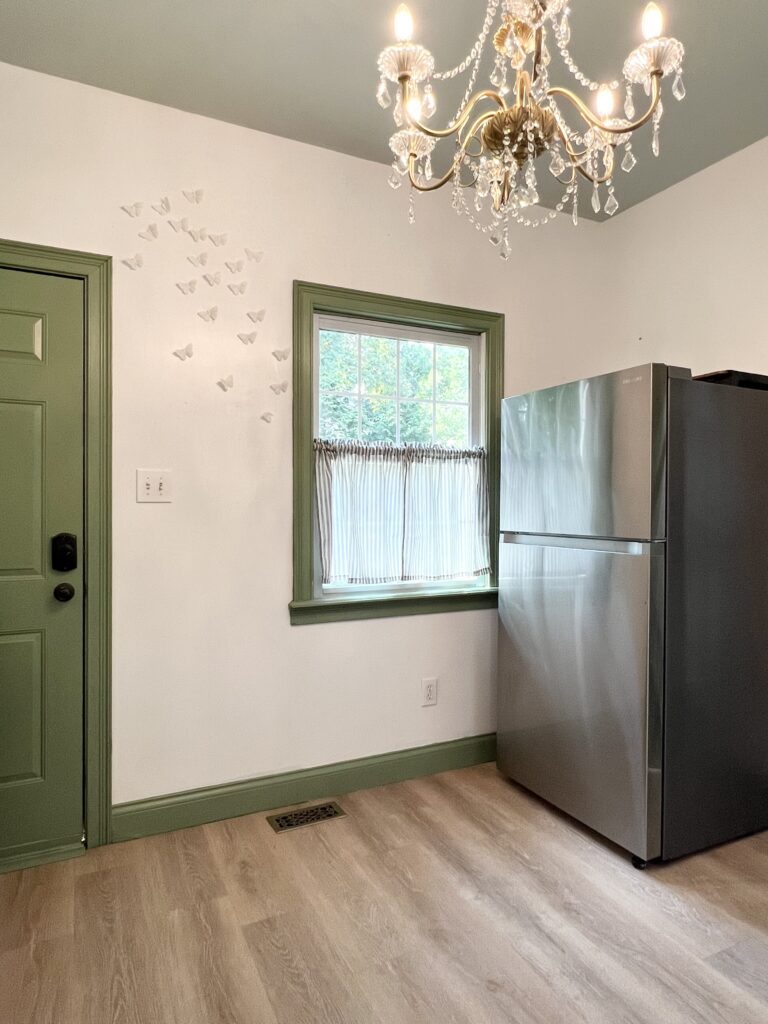 Time To Grill!
We are very lucky to be enjoying a lovely Tennessee summer- fingers crossed it stays that way- so the family has been loving to grill!
Now this way of cooking usually gets pushed to the side by the ease of the oven, but we have been loving it as an option so far. Whether it be using the Crockpot you have been neglecting or trying out your air fryer again, use this as a chance to try something new!
Use Compostable/Paper Products
I try to avoid paper products whenever possible, but sometimes with a large family they are just easier to use. We stay away from any styrofoam options, but have found over the years many more sustainable options.
I have found many inexpensive products that allow for compostability or recycling. It allows for a guilt-free and mess-free evening! While we try to keep it at a minimum, sometimes its necessary.
Create A List Of Easy Meals
Life gets busy and we all have a hard time coming up with dinner plans constantly. On a school night with five boys, the last thing I want to be doing is cooking something new in a makeshift kitchen.
Over the years, we have learned what our easy go-to's are for the whole family and I have modified them to work in the makeshift kitchen. Experiment on the weekends to find meals you enjoy and write them down!
Hang Up The Meals List
There will be times where after a long day the last thing you want to do is cook, especially in a makeshift kitchen. Sometimes I literally just can't think of something! I have found that hanging up this list in an easy-to-see spot allows for little debate over what to cook, resulting in a stress-free evening.
To take this idea even further, make the list look fun! Use pretty paper or colors to make it look even nicer hung up on the wall. This kitchen is just the temporary replacement until your dream one is finished, so make the best of it.
Eat Out Once A Week
Whipping up three meals a day in a makeshift kitchen, whether it be for just yourself or a whole family, is a hassle! Give yourself a break and go out once a week.
As a family, we use this time to try out new restaurants we have wanted to try, or pick a type of food we have all been craving. This week is Chinese takeout!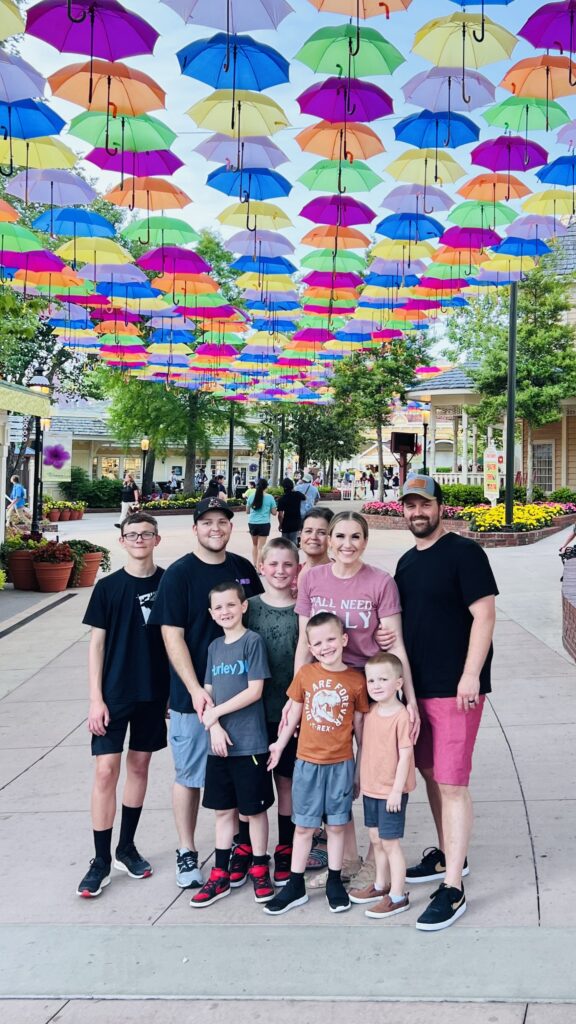 what's not working!
So this room is about 10×12′ and while it's super spacious for a makeshift kitchen, the biggest drawback is that it can heat up super quickly when we're cooking in here. There are 3 doors that my kids are constantly leaving open and since we're doing this in the middle of the summer it gets HOT in there if the doors are left open. There is HVAC but there isn't a thermostat so it doesn't kick on when it heats up. We've had to go inside the house and crank there air down for a few minutes while we're cooking to keep it comfortable. It stays cool if my kids don't leave doors wide open but we're working on breaking that habit!
I also need to stain and seal the butcher block countertop by the sink because thats a high splash area and I don't want the wood getting ruined.
Remember Your Why
It may sound cheesy, but renovating our kitchen feels like a dream coming true. Not a day goes by that I don't feel extremely lucky to be designing my own home from its bare bones.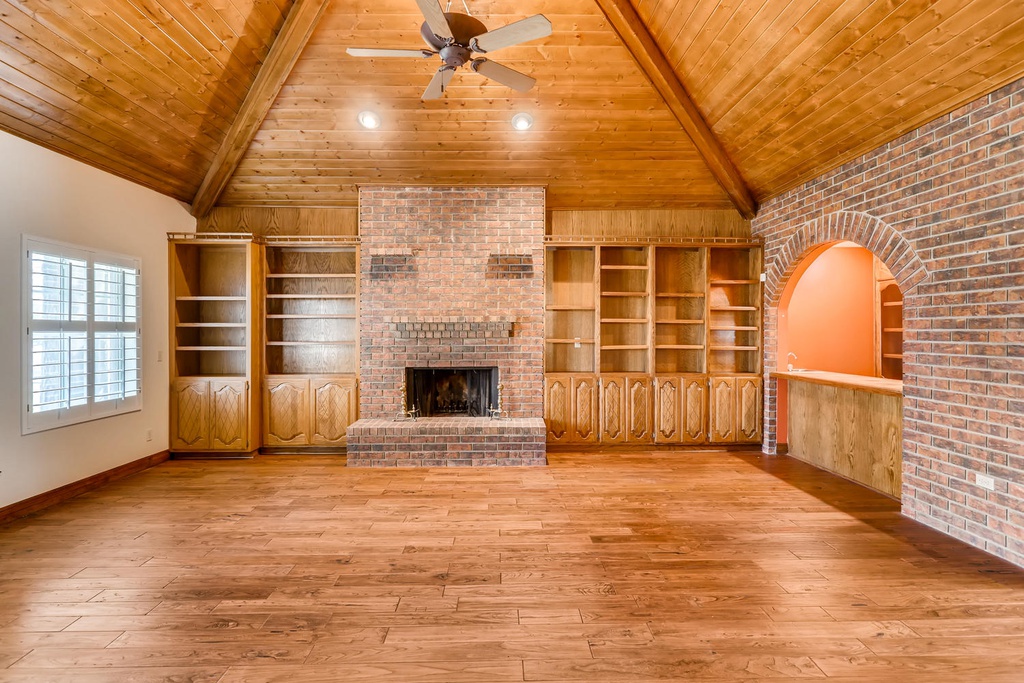 Remember that your makeshift kitchen and a few odd meals are just the temporary price you pay for a house that feels like YOU! If you try any of these tips out or have advice of your own, let me know in the comments!