It's no secret the Monarch Revival kitchen remodel has been one of my favorite projects of all time. I've never had one space inspire me so much to use it! While moving my pots and pans back into cabinets, I decided to ditch my mismatched sets and invest in a better system. I wanted to purchase cookware that would hold up to all the recipes I'm trying.
There are so many great brands out there, but I fell in love with the Caraway cookware collection and just had to give their products a try.
Before we dive in, I also did a review on the Always Pan from Our Place – if you're interested!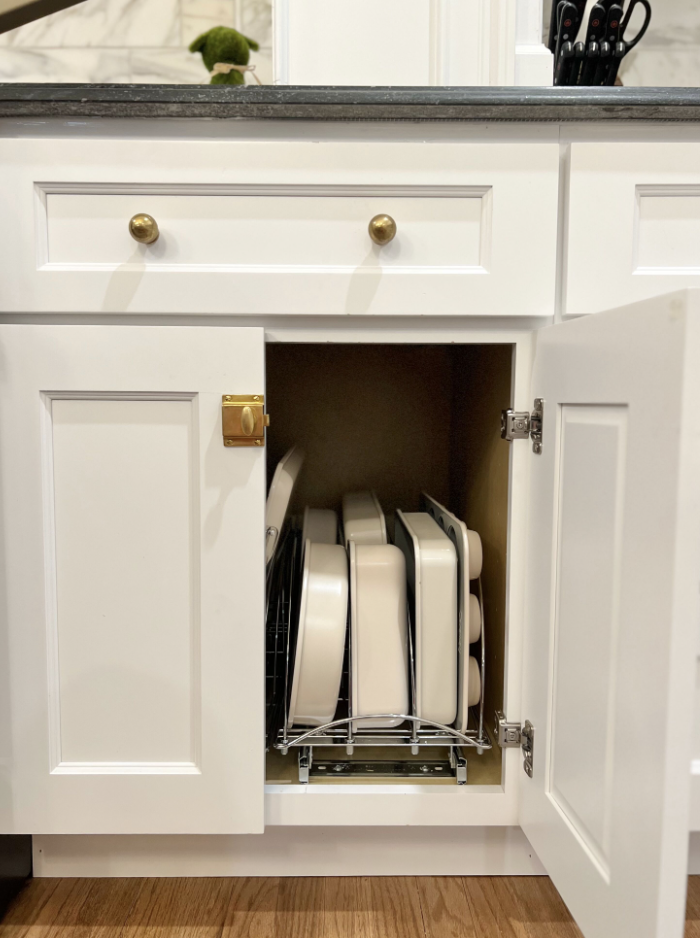 Today on the blog, I'll be giving my complete Caraway review! While the beauty of the cookware is obvious, I want to answer the question on if the 5-star reviews are actually telling the truth. 
Want to see a peek into all of my other kitchen drawers and cabinets? Click here!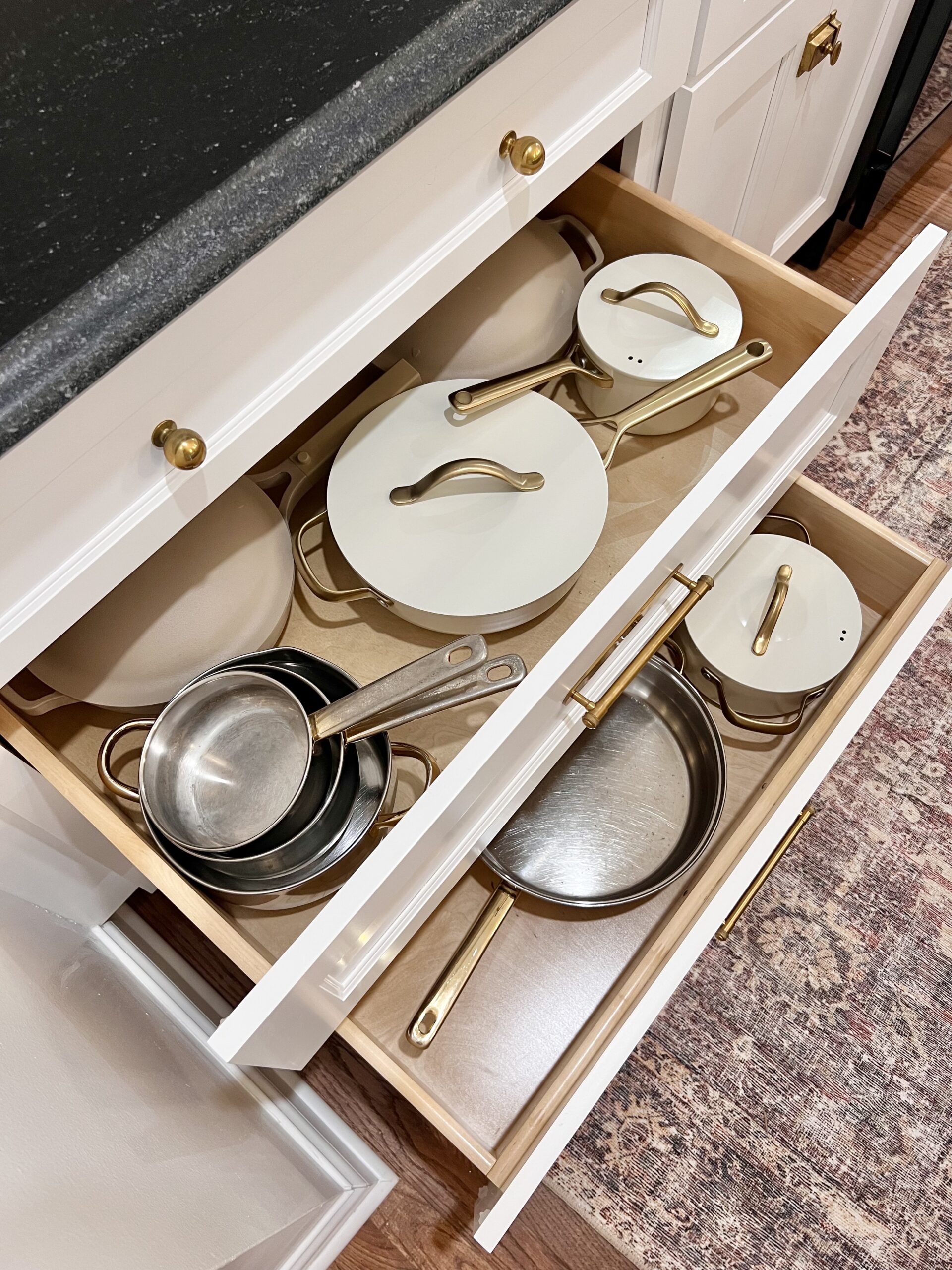 What Is Caraway Cookware?
Caraway may possibly be the most stunning cookware I've ever seen. The brand is created with the idea of "quality cookware, without chemicals" and tries to create a beautiful meal made with beautiful pots and pans.
Caraway is a nonstick cookware brand, which is new to me and caused initial concern. There is potential harm with nonstick pans releasing their coating when heated up too much, but Caraway assures this is not the case.
Caraway Review: What I Like
The Quick Rundown:
The design is absolutely beautiful
The nonstick actually works
Easy to clean
Even heating throughout the pan
It comes with an organization system!!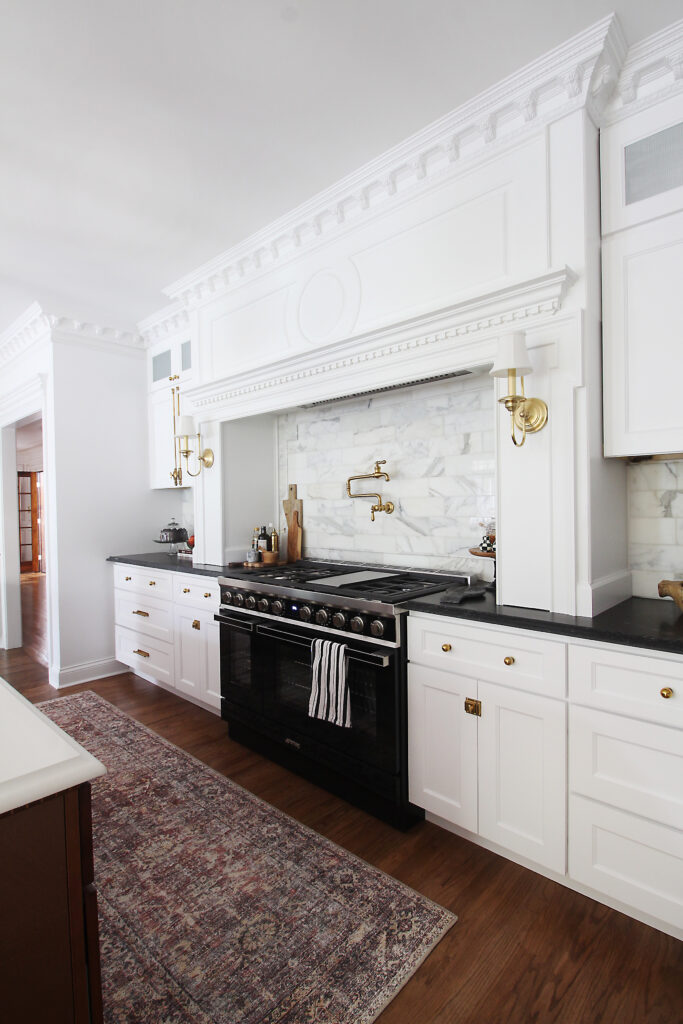 I think the main reason everyone loves Caraway is because of their stunning design. I get compliments every single time I cook with it in front of company. The glossy finish is beautiful, but does it actually work well? Yes!
The slick nature of the design provides the perfect nonstick coating that performs well every time I use it. The clean up is exceptionally easy as well- just one paper towel swipe and you're good to go.
Although it needs to be hand washed, it takes absolutely no time at all. I've ruined multiple good pans by sticking them in the dishwasher, so this extra step is definitely worth it.
I love having a dedicated cabinet to my pots and pans and this organizer makes it a breeze.

Caraway Review: What I Don't Like
The Quick Rundown:
Staining may happen over time
It's definitely an investment
I've seen a lot of reviews discussing the chipping experience with Caraway. This has not been the case for me, but I see some light staining on the inside. It is not noticeable to me and I expect some normal wear and tear.
The only other downside to Caraway I've experienced is the price. This is the most expensive nonstick brand on the market, but I truly believe cookware is an investment. My Caraway collection has held up beautifully, so I think it's worth the cost.
Living With Caraway Cookware
I mean this with total sincerity- I love living with my Caraway cookware collection. This Caraway review is intended to be as unbiased as possible, but I've never had a cookware brand keep up with my family of seven so well. Each pot and pan flawlessly holds up to breakfast, lunch, and dinner- even for big holidays or family events.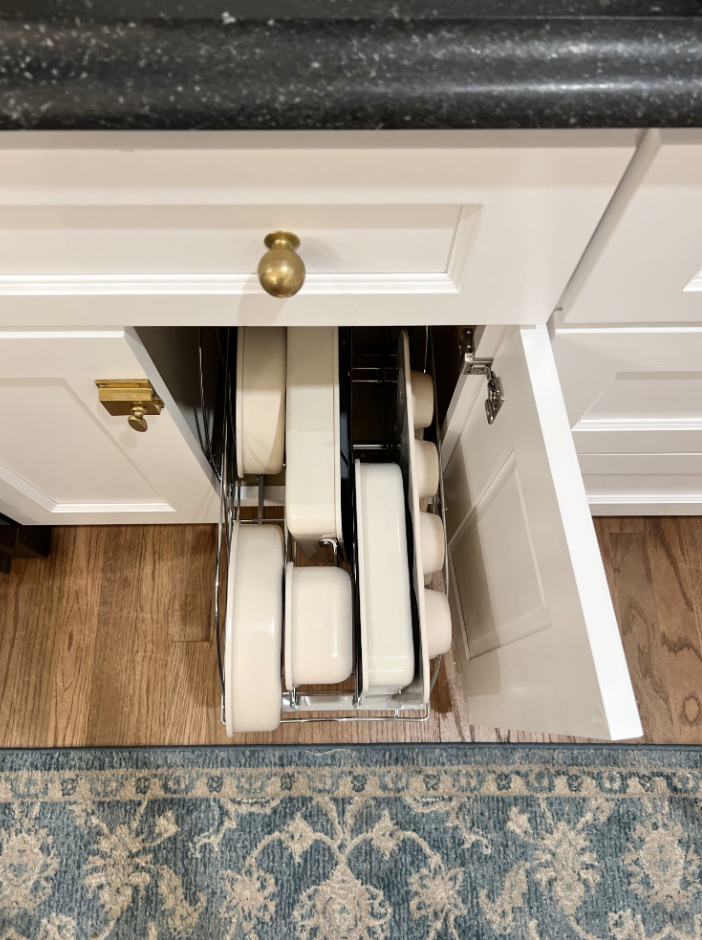 The interior design lover in me has such a soft spot for this collection. It's absolutely beautiful. The kitchen remodel has a piece of my heart in every corner, so these pots and pans feel like the cherry on top of the space.
Caraway Review: My Final Thoughts
If you can't tell by now, I absolutely recommend Caraway to anyone looking to invest in a new cookware collection! These stunning pieces hold up better than I could ever imagine, and except for some minor staining, I've had zero problems.
Have you ever tried Caraway pots and pans? Please let me know your thoughts about them in the comments! And to keep up with all things on the blog, check out my latest posts: