I can't believe it's been almost a whole year since the Monarch Revival Kitchen Remodel reveal! This project changed my life and allowed me to really lean into my design taste more than ever before. Looking back, I feel happiest that I focused the entire renovation on trying to blend functionality and beauty together. My favorite example of this? My workstation sink!
Today on the blog, I'll be giving my workstation sink review after a year of use! Although I wasn't sure if the utility of a workstation sink would prove to be practical, this is one of the best decisions we made for day-to-day use in the kitchen.
What Are Workstation Sinks?
Workstation sinks have the utility of a normal kitchen sink, but with a lot of bells and whistles added. Each sink comes with built-in accessories and you can customize based on what you use daily.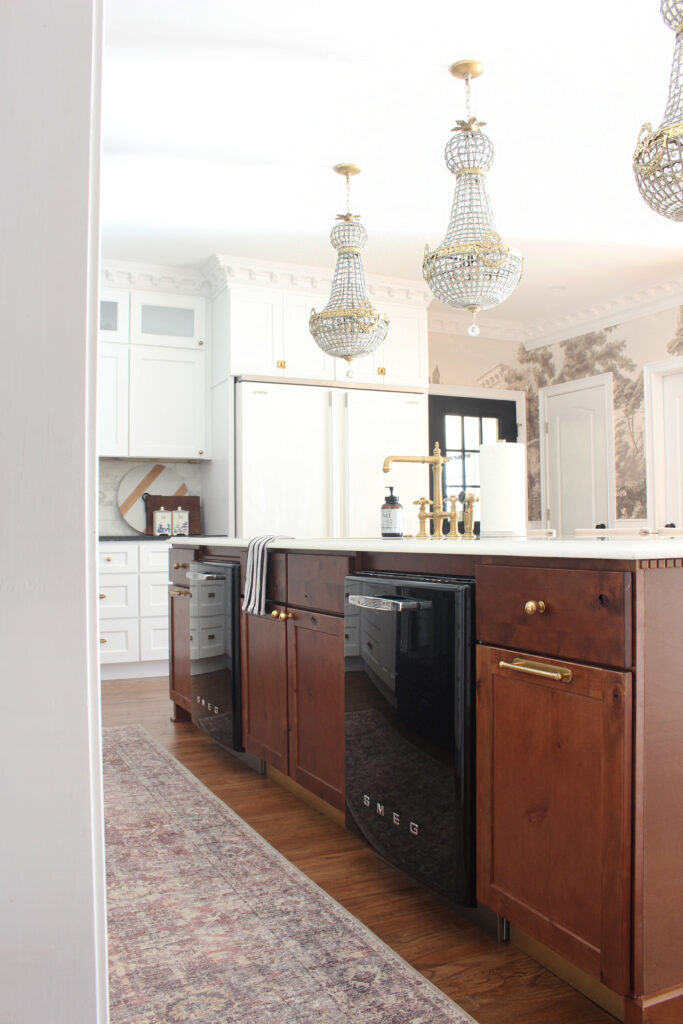 Think of it as an all-in-one kitchen workstation, complete with adjustable cutting boards, colanders, drying racks, and even handy dish grids. These features are designed to fit snugly into the sink, allowing you to utilize your sink space effectively and save precious counter space. Best of all, cleaning up is a breeze!
Different Types Available
There are several different types of workstation sinks to choose from. I opted for a single-bowl sink over a two-bowl as I found it more spacious and easier to clean. Plus, I've always loved the look of a single bowl in a kitchen. No right or wrong answer here, just personal preference!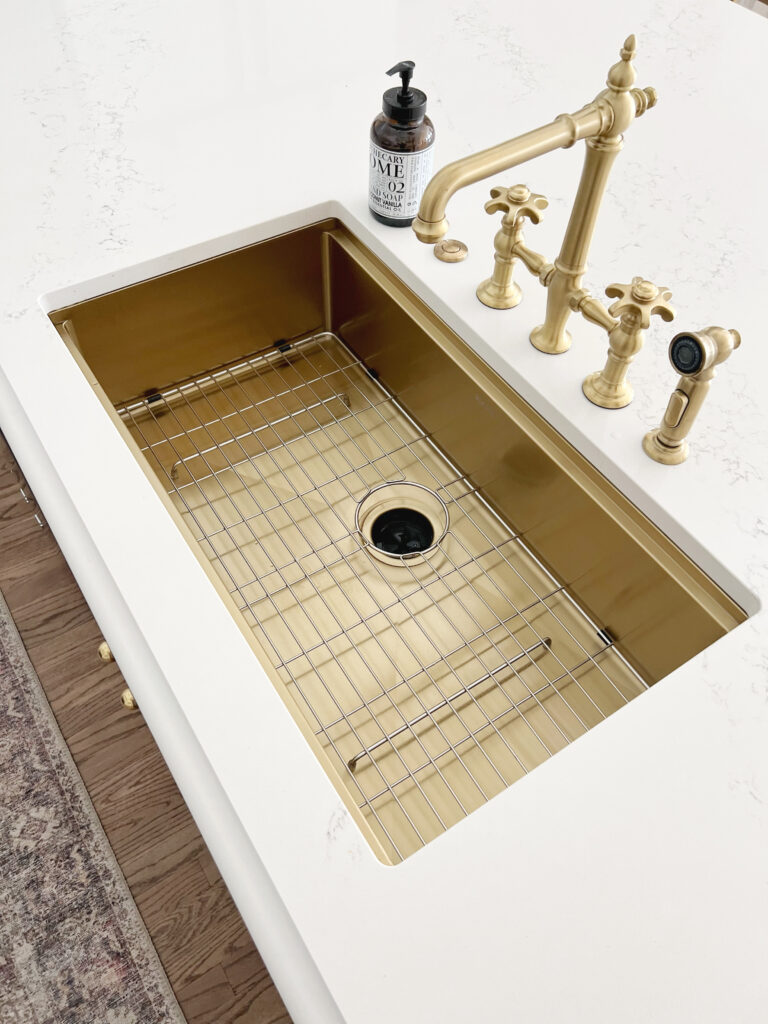 Once you've chosen a bowl type, you can choose between top-mount and under-mount sinks. The under-mount style creates a seamless and clean look with no exposed edges, while the top-mount provides easy installation and suits various kitchen designs. I went with the under-mount option to maintain the elegant aesthetic of my kitchen space.
Lastly, workstation sinks are available in various materials, such as stainless steel or composite. After much contemplation, I chose a beautiful gold stainless steel sink. It adds a touch of sophistication to my kitchen, but also adds that vintage touch to contrast the appliances.
What I Love About Our Workstation Sink
I didn't know I could feel so strongly about my workstation sink, but the love is just as strong as the day it was installed. Although I was a bit nervous to see how it lasted over a year, here are my favorite things about it:
Gold Color
The gold sink and base are my favorite parts to this day- they're just so pretty! Although I was a bit nervous about how the gold would wear, there is not a scratch in sight. Cleaning it is a breeze too. It acts as the most perfect centerpiece to our island.
The workstation sink I chose: Giana Undermount 33-in x 19-in Matte Gold Single Bowl Stainless Steel Workstation Kitchen Sink
Accessories Included
The accessories in this workstation sink are exactly what I wanted! The workstation we chose included a basin rack, cutting board, and drain assembly. Although it's just a few simple add-ons, these are perfect for daily use and have nothing unnecessary, just add clutter.
Single Bowl Sink
Single bowl sinks have been one of my favorite kitchen details for years. I love the oversized look of them, plus they provide a ton of space to clean. I was nervous I'd miss having a sink to soak things in, but I've never thought about it for a year! I won't choose anything except a single bowl sink from here on out.
Workstation Sink Review: Do I Love It A Year Later?
Without a doubt, I absolutely love our workstation sink a year later! The convenience and practicality of it works so well for our family of seven, plus it's a stunning addition to our renovated kitchen. I love being able to have more countertop space for my boys to sit at while I cook, it's made this place feel like the heart of the home.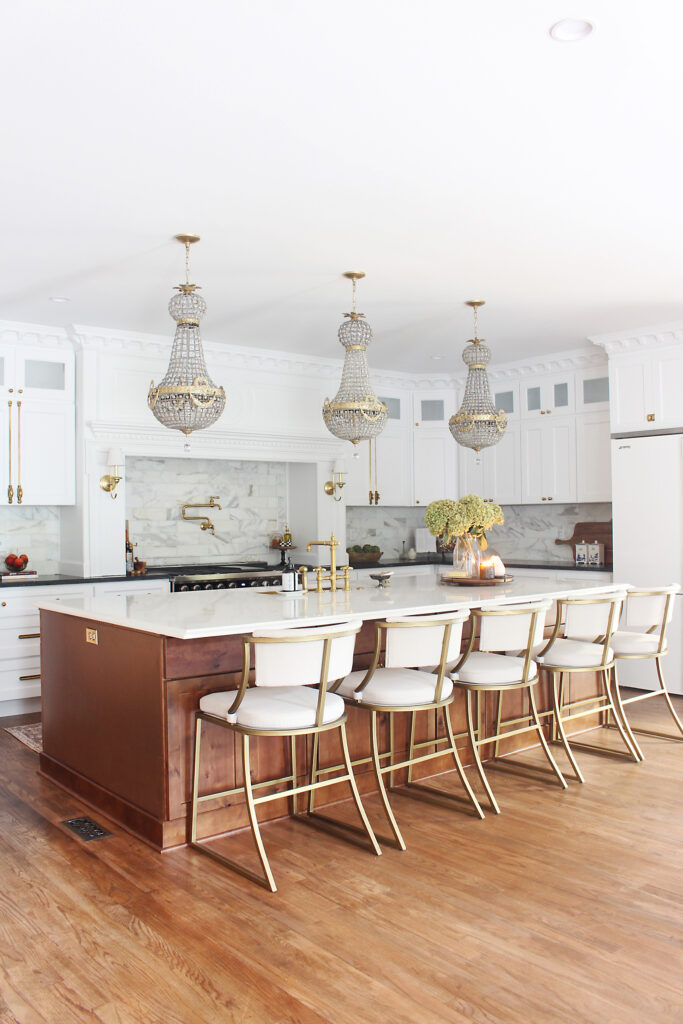 What do you think about workstation sinks? Let me know in the comments! And to keep up with all things on the blog, check out my latest posts: