There are three ideal flooring scenarios when it comes to purchasing a new house:
The obvious answer is that you LOVE the floors and never have to consider replacing them!
The flooring needs to be replaced and you can plan for that ahead of time (and choose exactly what you want!)
You have hardwoods that you have the option to refinish if you want to!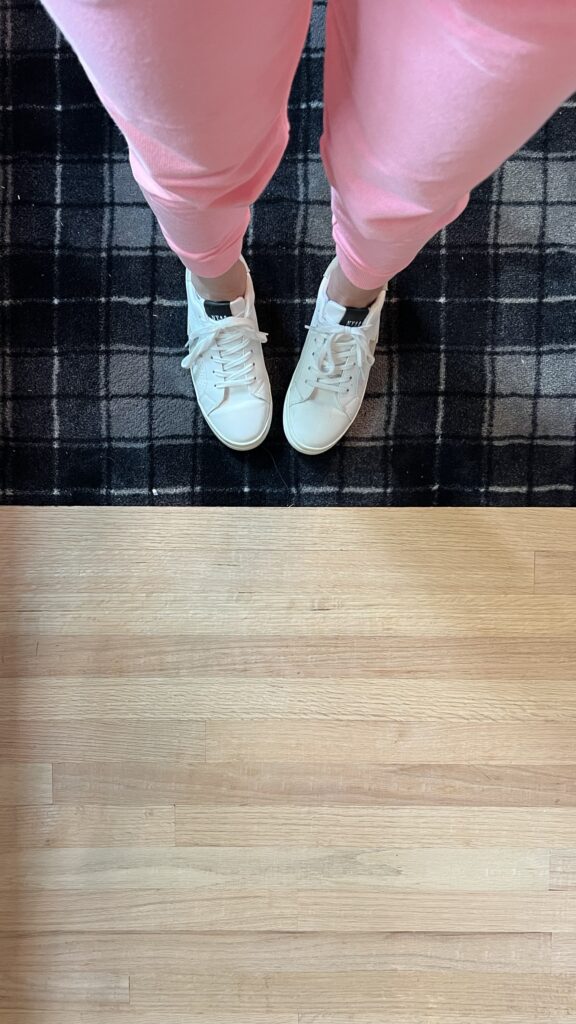 I've seen all three of these play out in the homes we have lived in and it's tough to say which is my most favorite. In The Monarch Revival, we were so excited about the hardwoods that were already installed. They are warm, beautiful, and make me so grateful to walk across them each any every day!
In my last home in Mesa, we replaced all of our flooring with engineered hardwood -and I loved that too!
That being said, there are a few key differences to keep in mind when choosing your own flooring. Here's what you need to know about solid hardwood vs. engineered hardwood.
Solid Hardwood vs. Engineered Hardwood: What's the Difference?
To the untrained eye, solid and engineered hardwood flooring look nearly the same. That's because the real difference lies beneath the surface! Solid hardwood flooring is cut from a single, solid piece of wood. Engineered hardwood, on the other hand, is made up of three layers: solid hardwood on top and bottom and a compressed layer of plywood in the middle. Both give you the look and feel of hardwood floors, but there are some key differences.
Real hardwood in The Monarch Revival: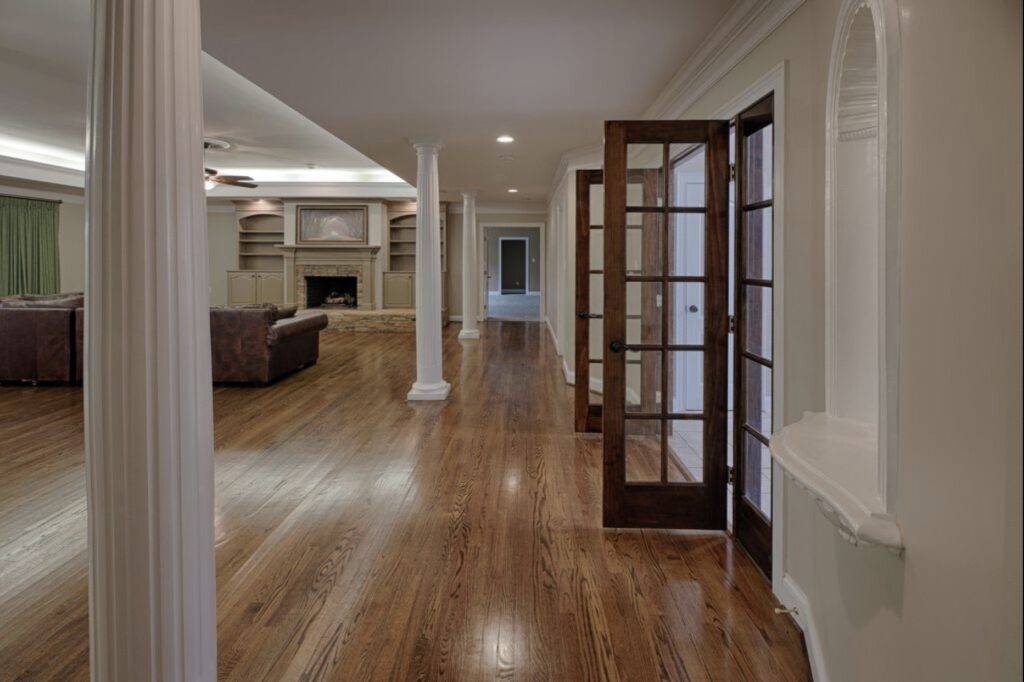 Engineered Hardwood in House No. 13: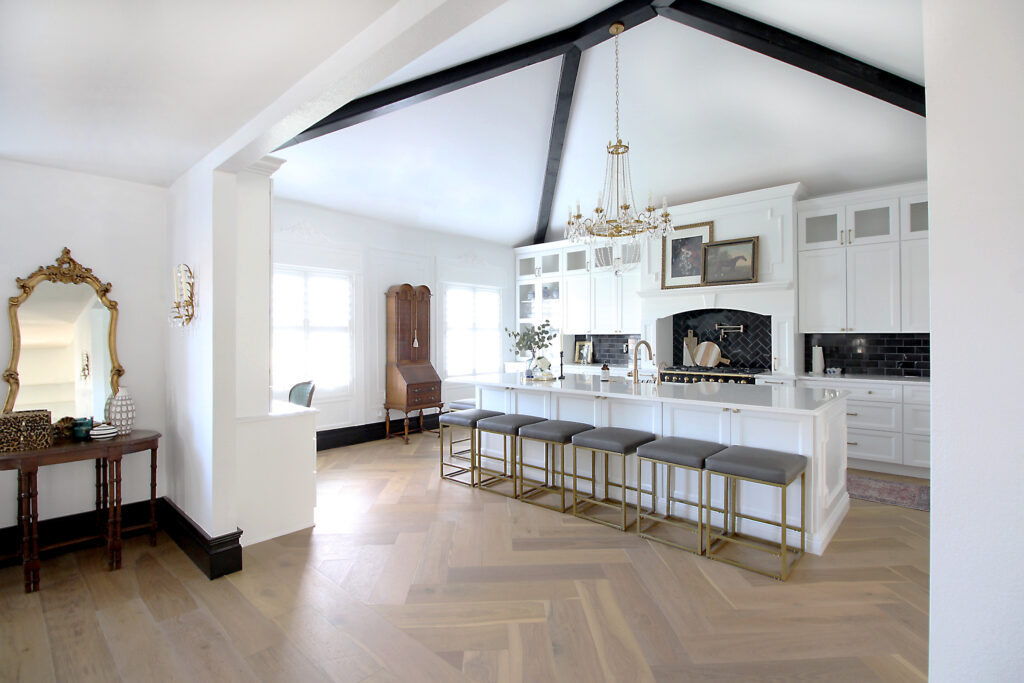 Hardwood vs. Engineered Hardwood
Look & Feel
Both types of flooring offer that classic hardwood look, and you can get them each in a variety of materials and finishes. You'll find more variety with engineered hardwood, though. Because the plywood core offers added durability, you can find engineered hardwood in softer wood types and more unique finishes.
While the two feel pretty similar, engineered hardwood has more of a hollow sound underfoot. A high-quality engineered hardwood that's installed well shouldn't feel or sound too different. I've found that glue down engineered hardwood sounds best. That seems funny but its true!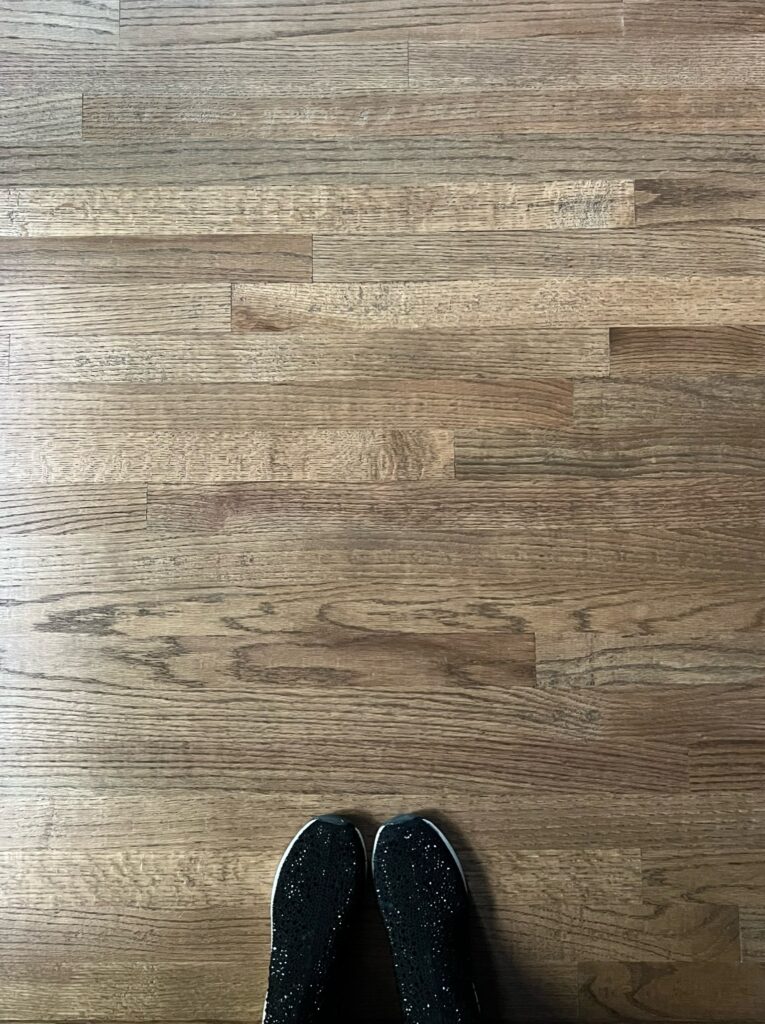 Installation
When installing hardwood, you nail the flooring pieces into the subfloor, which is usually made of plywood. While you can also use this method with engineered hardwood, most are built with a click-and-lock system so they can snap together over the subfloor. With engineered hardwood, most people use a cork or foam subfloor or glue down applications. In my experience, solid hardwood is a bit easier to install, but both are manageable with some research and preparation.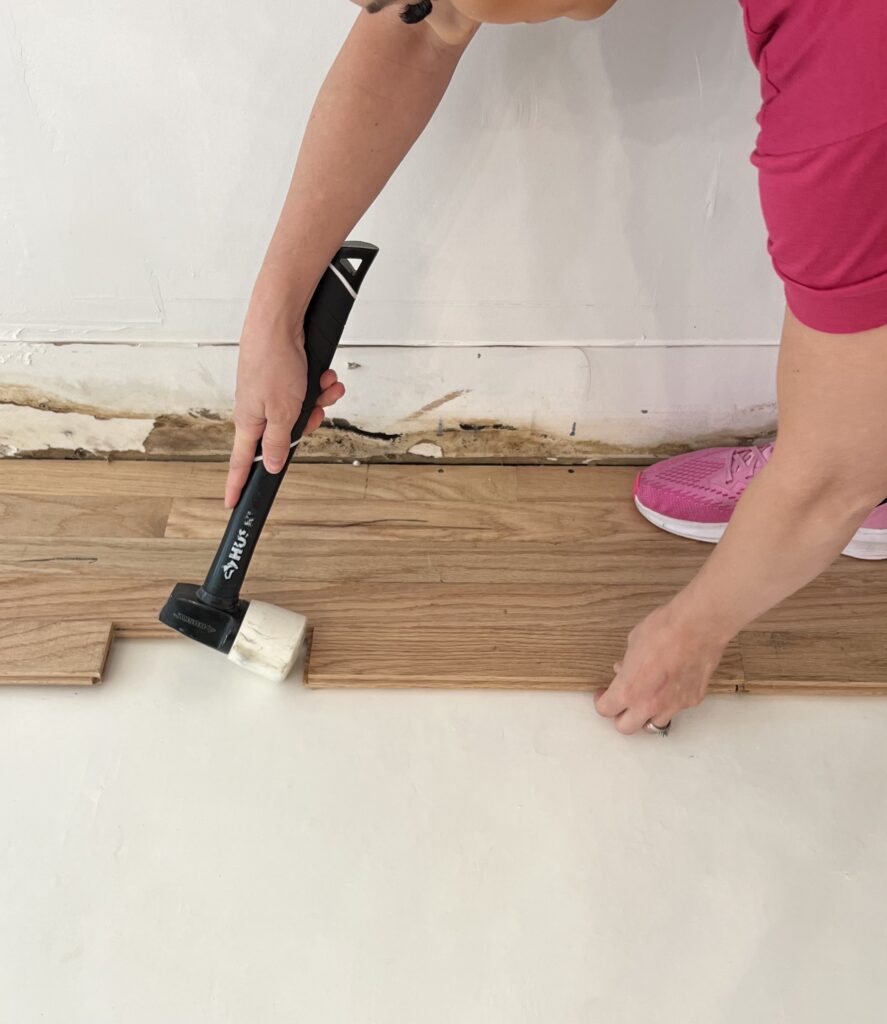 Durability
There's a reason so many old houses still have their original hardwood floors. Solid hardwood – when installed correctly and maintained well – can last 100+ years.
While engineered hardwood is a bit more water-resistant, it's also not recommended for moist or humid spaces. That means no bathrooms (some people do it but its more risky! We have it in our powder bath!) laundry rooms, or basements. That being said, engineered hardwood usually features a water-resistant finish, so it will hold up pretty well against everyday spills.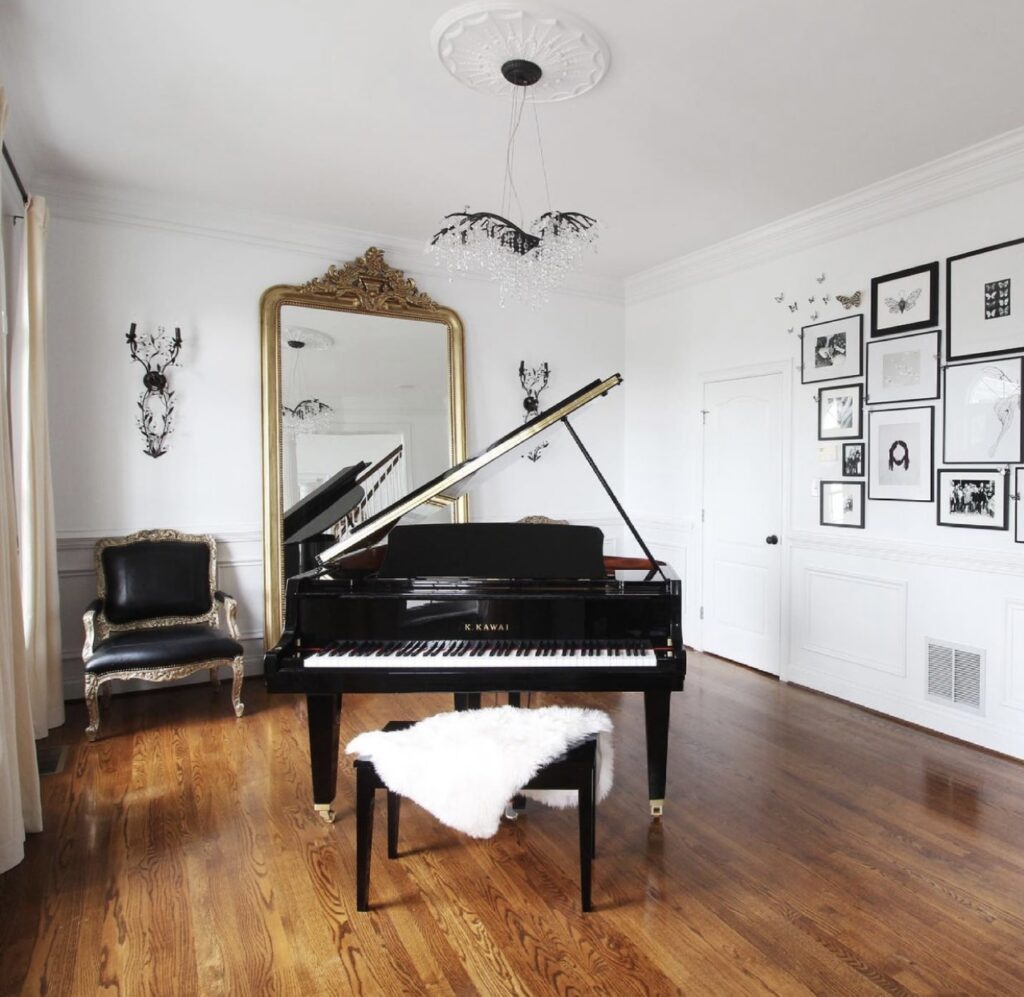 Upkeep
Both solid and engineered hardwood floors are pretty easy to maintain. Most of the time, a sweep and a vacuum will do the trick. For trickier or stickier messes, you can clean them with a mop and speciality wood cleaner.
If your flooring gets stained or scratched, you've got a few options. You can sand and refinish solid hardwood several times for a new, updated look. Engineered hardwood, on the other hand, sometimes isn't thick enough for sanding and refinishing, so it would need to be replaced.
The engineered hardwoods I we had in our last home were able to be re-sanded up to 3 times! That is definitely something to consider when picking out your products.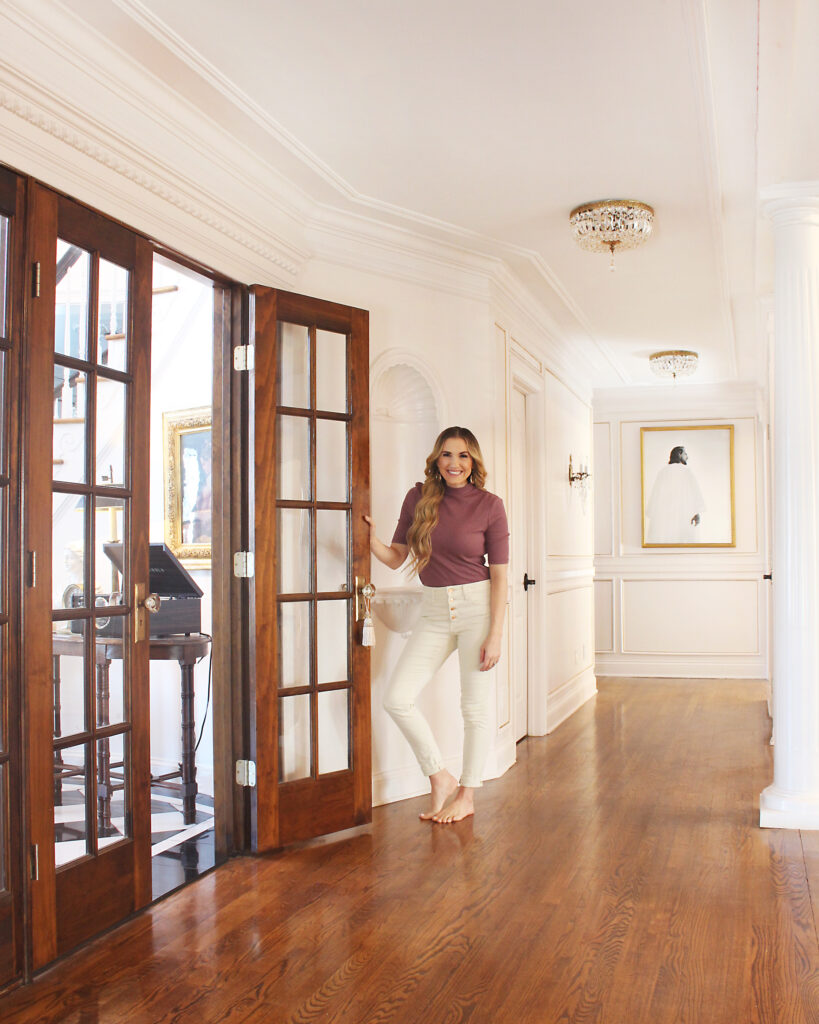 Cost
Here's the kicker in the hardwood vs. engineered hardwood debate! Engineered hardwood is much more cost effective up front than solid hardwood ($4-7 per square foot compared to $8-15). But when you look past the price tag, solid hardwood can be a worthwhile investment. Not only can it last much longer than engineered hardwood, but it also has incredible resale value. If you take care of your solid hardwood floors, they will definitely be worth the added cost up front. (Looking for a more detailed breakdown? Check out this post!)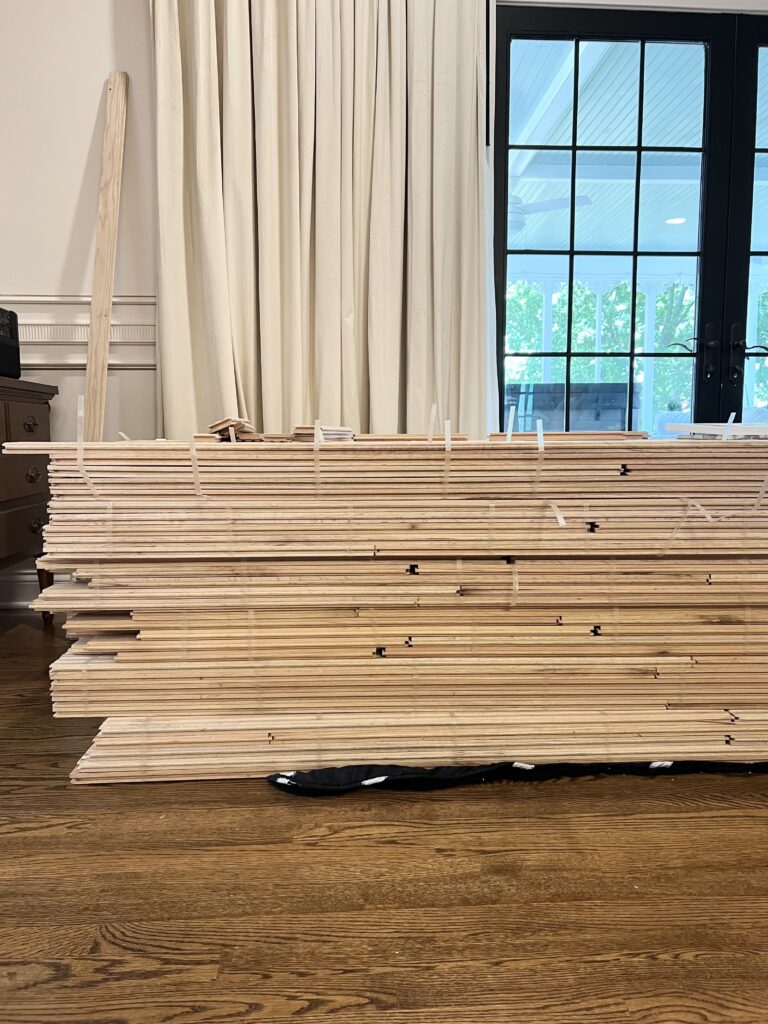 My Own Hardwood vs. Engineered Hardwood Experience
I've always loved the look and feel of both hardwood and engineered hardwood. I was a bit nervous about how they would hold up (especially with our five boys), but they looked amazing from the day we moved in until the day we left.
When we moved into our current house, it didn't make sense to tear up the solid hardwood that was already there. I actually LOVE the skinnier planks that were here because it gives more of the historic vibe I'm going for!
Personally, I love both types of hardwood flooring! And now that I'm comfortable with refinishing and installing it, I feel confident I can make either work in our future homes.
Looking For Inspiration?
Check out these posts for more tips, tricks, and information on making your home look its best!