One of the major selling points of our new home in Tennessee is the beautiful screened-in porch that looked out to the backyard. This space had so much potential to elevate our home, but needed a lot of TLC. Screened in porches are just not a thing in Arizona. Not to mention, summers outdoors are DEFINITELY not a thing in my hometown! If you're interested in learning how to paint a deck – keep reading!
Today on the blog, I am going to share my back porch makeover that included painting our deck! If you're hoping to tackle this project in your own home, read these tips and get to it! This project was well worth the investment – we are ready for a summer of fun out here!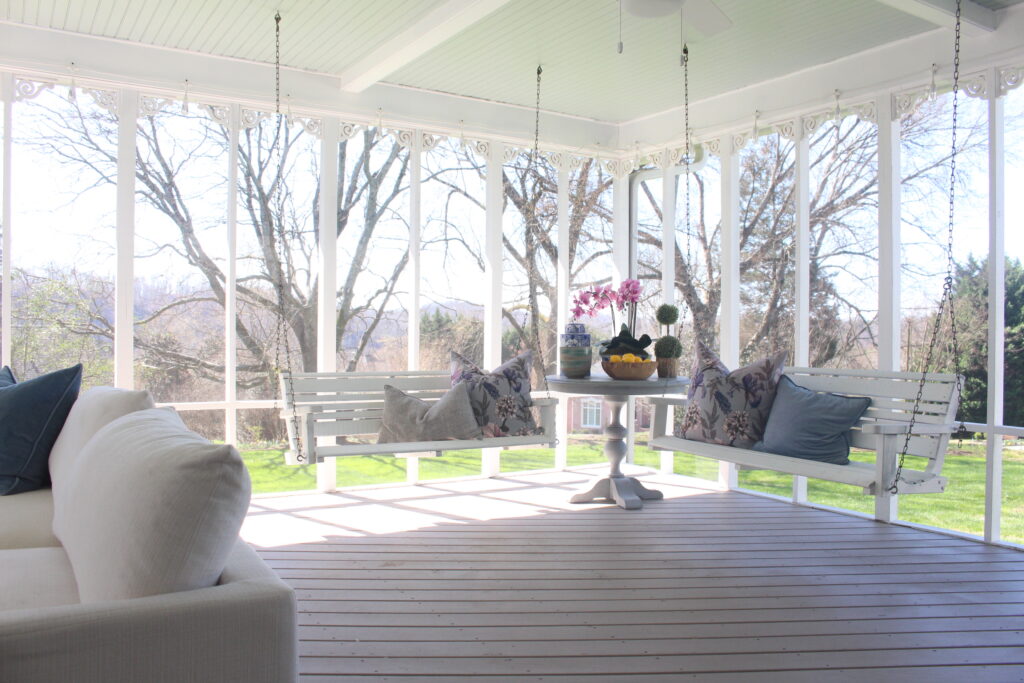 How to Paint A Deck
Start with a good cleaning – using a power washer is great for removing debris and loose paint.
Fill in any holes
Sand any rough edges
Choose The Perfect Color
Paint Using A Sprayer Or Roller – highly recommend Behr Deck Over. I sprayed it on and the finish is flawless!
Enjoy Your Beautiful Outdoor Space!
Take The Prep Work Seriously
To get any wood you're painting to look pristine, there is a decent amount of prep work required. I know it's not everyone's favorite task, , but you will be so grateful when your deck ages beautifully for years to come.
Start with a good cleaning
Any and all loose debris or dirt will hinder the smooth application of your paint. For the deck, I started with a sweep, blow with a leaf blower, then a good scrub with soap and water with my pressure washer.
I did two passes and let it dry, then I was ready to continue the prep work.
Fill in any holes
Sadly, I decided to do this step after I had already painted a base coat on the ceiling of my porch. Any small mark becomes a lot more noticeable when it is no longer hidden in the pattern of the wood- driving me nuts! I knew it would bother me every time I sat outside, so I fixed the holes and repainted.
Learn from my mistakes and do this step before any paint is applied!
Sand any rough edges
We wanted this deck to be 100% child friendly- meaning they could run all over it with no shoes on. That required minor sanding with 80-grit sandpaper along with the sweeping away of any dust.
Finally… the fun part begins!

How to Paint A Deck: Choose The Perfect Color
We undertook an entire patio revamp, so it required lots of choices in terms of paint color. Before committing to a color, sit outside and envision how you want the deck to look in comparison to your home. Does it seamlessly blend? Add contrast or a pop of color?
Here are the colors we chose:
The Deck Paint Color: I wanted the deck itself to add partial contrast to the color of our house, nothing too crazy just enough to add intrigue.

We chose: BEHR DECK OVER in the color Chatham Fog
The Beams Color: My vision was to have the beams seamlessly blend into the color of our home, so it needed to be a bright and beautiful white.

We chose: BEHR ULTRA in a Exterior Satin finish in the color Ultra Pure White.
The Ceiling Color: It is super common in the south to have a light blue ceiling on the patio, so we had to follow suit!

We chose: Benjamin Moore in color Palladian Blue
If you're interested in hearing more about the sources and colors in this room, I wrote an entire blog post that I'll link right here!
Have The Right Tools On Hand
This project would not have been so successful if we did not have tools that were so easy to use.
What I used during the entire project: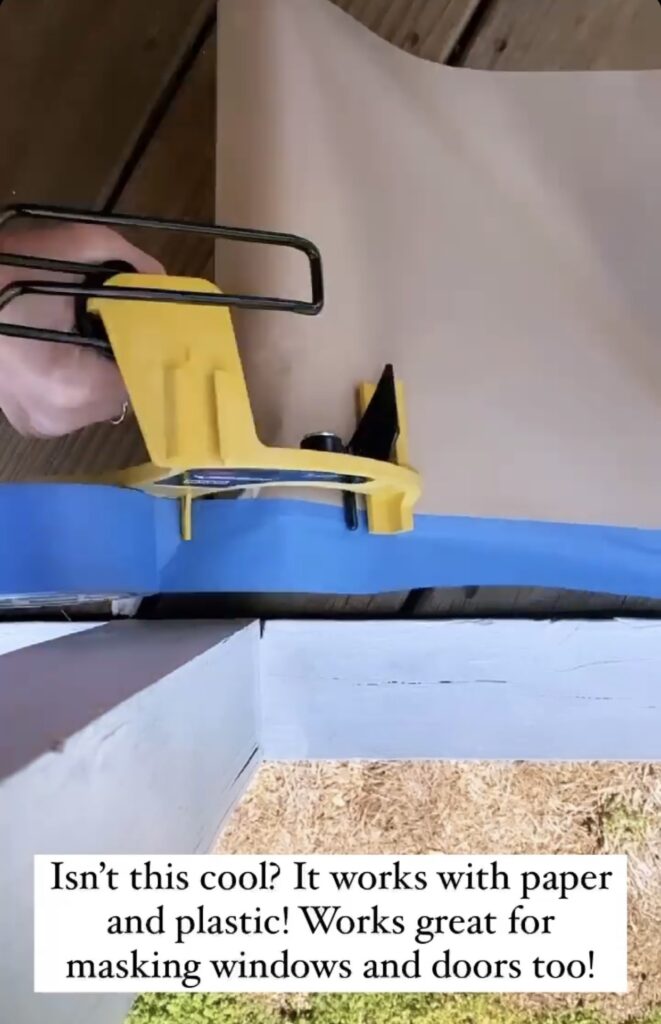 The saving grace to make masking easy is the Scotch 3M Hand-Masker Tape Dispenser. I was able to tape off select areas using paper and get the perfect edge every time.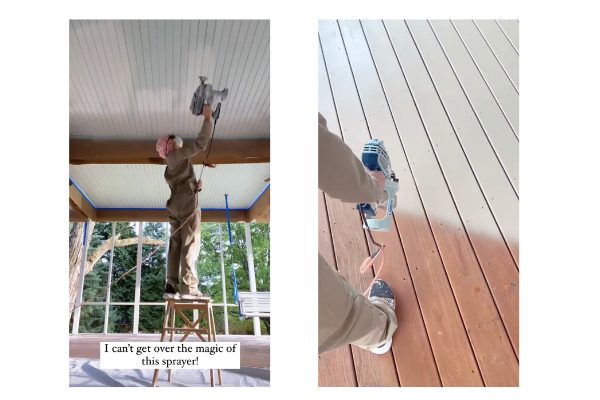 The other best investment to any painting project is a paint sprayer. I used: Graco TruCoat 360 DS Paint Sprayer. It was a super great tool, but my only complaint is how short the cord is so an extension cord is needed. No biggie!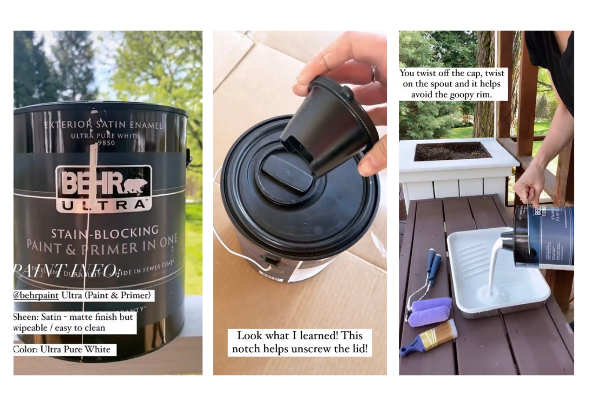 When using Behr paint, your local Home Depot will have free spouts to help pour the paint out of the lids. While sharing on my Instagram stories, one of you all pointed out how the larger side of the spout doubles as an opener for the lid! This made my life so much easier! Don't forget to grab a paint spout!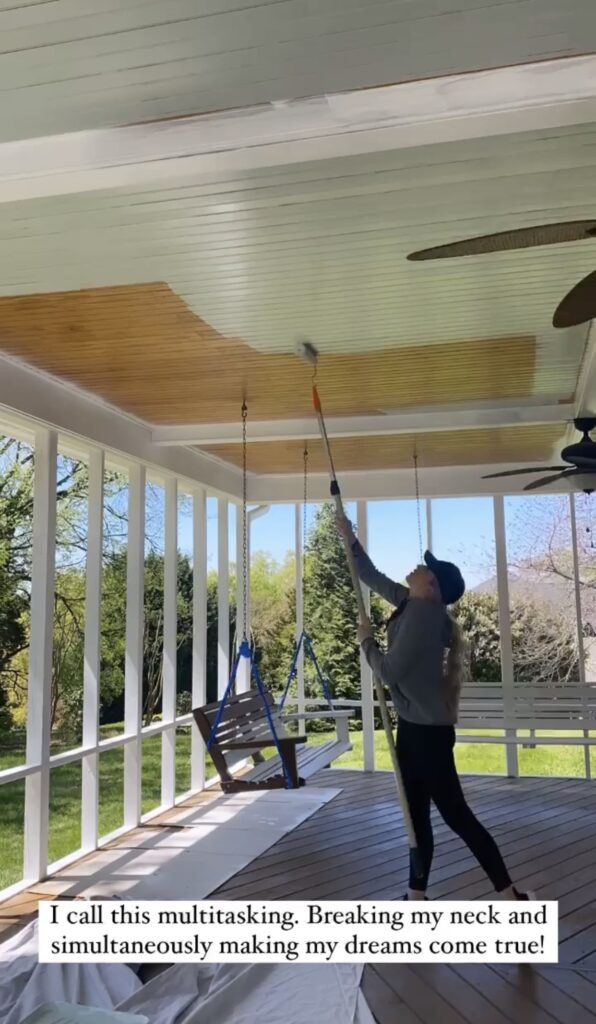 Not every part of your deck will be ideal for a paint sprayer. Sometimes, good old-fashioned rollers and paint brushes do the best job! For our ceiling, I rolled it then I realized it wasn't fully getting in the cracks of the beadboard so I ended up spraying it after all!
Paint With A Purpose
There is a lot of ground to cover when painting a deck, or in our case a whole patio. Usually, it requires 2 coats of paint to make the color perfect- so paint with a purpose and use a thin layer!
Allow for adequate time for drying between each coat to allow for the paint to set and not become goopy.
Finally remember that touch-ups are a part of the process when it comes to painting anything. Don't worry too much about getting into every corner by applying multiple layers and instead wait until the end and take a small brush to add the finishing touches.
Enjoy Your Beautiful Outdoor Space
The whole reason we all want to redo our outdoor spaces is to allow for more areas to have fun in!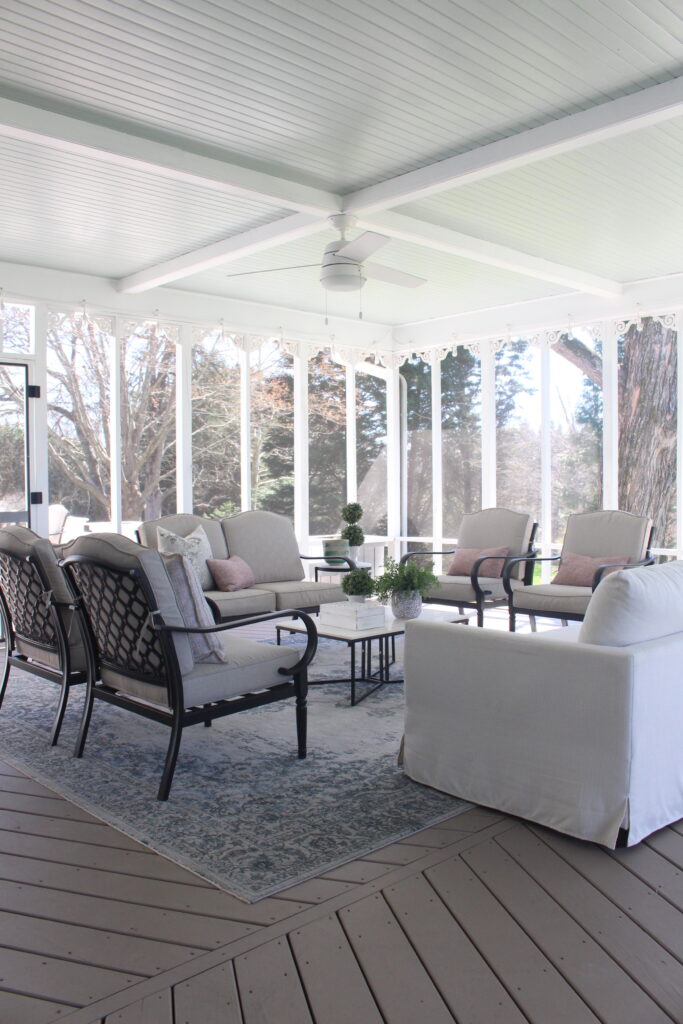 Whether it be buying a new table, or reusing all your owned outdoor pieces, furnish your labor of love with furniture that will draw you outside.
Now that your painted deck is complete, enjoy it!
We have loved our outdoor patio so much and hope you do the same with whatever outdoor project you decided to tackle. If you decide to take the plunge and revamp your deck, let me know in the comments!