Every time I share what I'm working on, people comment saying "How did you learn to do that?!" and the truth is….I learn mostly everything online.
I draw inspiration from movies, old books, my favorite cities, Pinterest and Instagram. When I finally land on a design that I love and functions for our family, my next step is to decide how I'm going to bring it to life.
Should I hire this out or tackle it myself?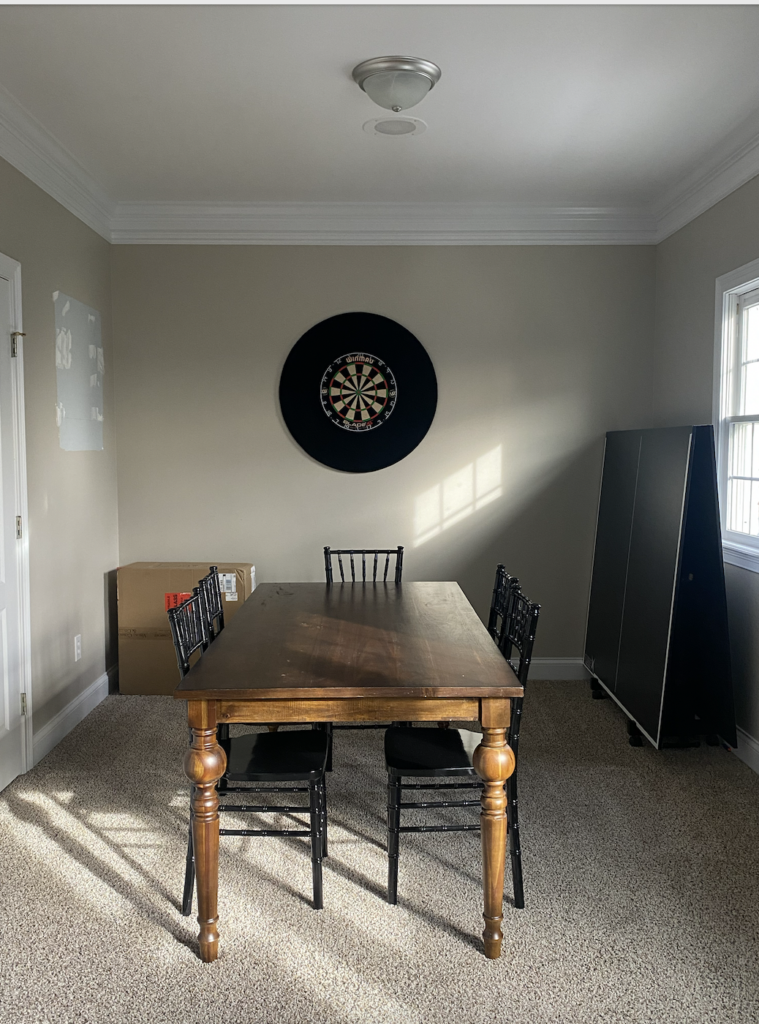 I debate this for almost every single project if it's big enough. My first step is typically to get a bid from a professional. While that is happening, I research the steps and tools necessary to get it done. If I have most of the tools and feel confident that I could at least try – I'm going for it!
Believe me, I've called in reinforcements before. For example, in the living room, I needed some help to finish the demo of our stone hearth. That thing was a beast!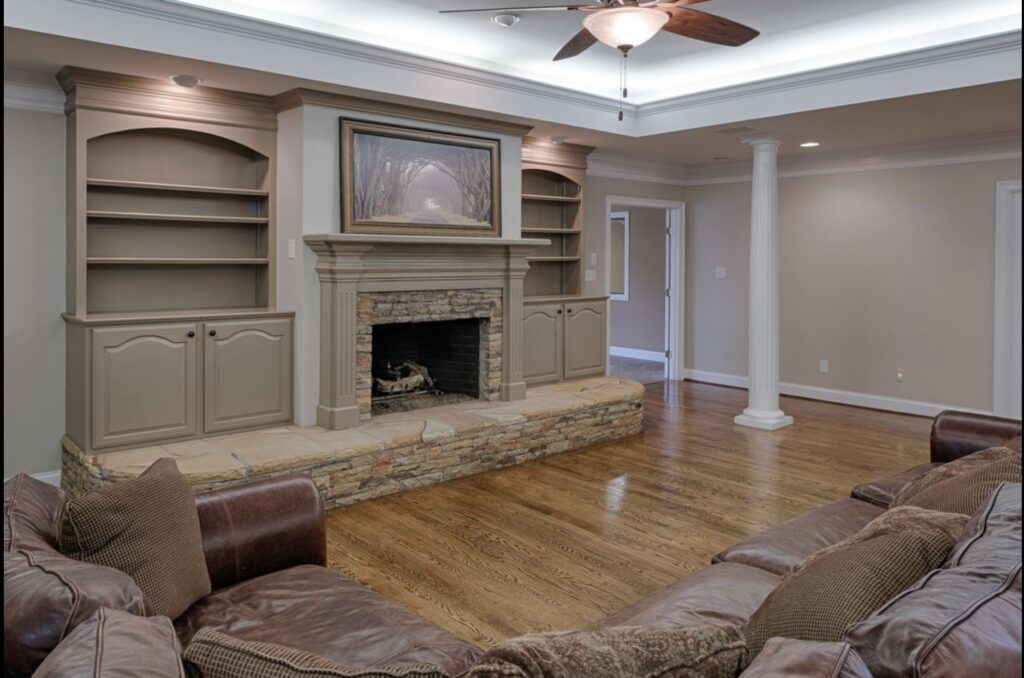 But in this case, for the project I'm sharing today, I did a project I've never done all by myself…with encouragement from Craig and all of you!
I INSTALLED HARDWOOD FLOORS!!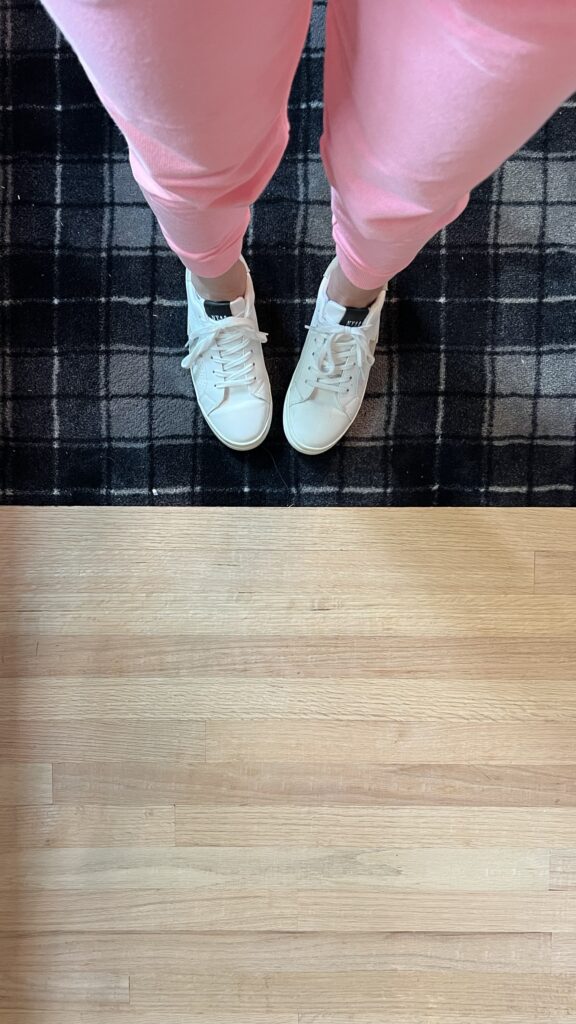 Where did you install them?
As part of the Spring 2022 One Room Challenge, I'm building a kitchenette in our Billiard Room! It's going to be so fun. There was carpet in this room that was replaced a couple months ago. For the kitchenette I needed something a bit more durable that still blended with the rest of the house.
You can check out the entire project game plan right here! It's worth a look.
Cost of Hardwood Floors
It's common knowledge that hardwood floors are pricey. I mean, they are literally solid wood, and wood is expensive these days! I removed the carpet and prepped the floor for wood. When I got to that point, I called in an expert floor installer to get a quote.
I knew I needed to at least see if this is was something I should hire out. Some projects require a professional that has all the right tools. To my surprise, it was going to cost $7,700 for materials AND installation of these floors!! I was SHOCKED. That was way more than I was ever anticipating for such a small space. I knew I had to at least try.
When it was all said and done, I saved $6,000 by doing this myself – including the new tools I needed to buy! If you don't have any tools to start, this could cost more since you'll need to purchase or borrow them.
These are the floors after I stained them to match the rest of our home: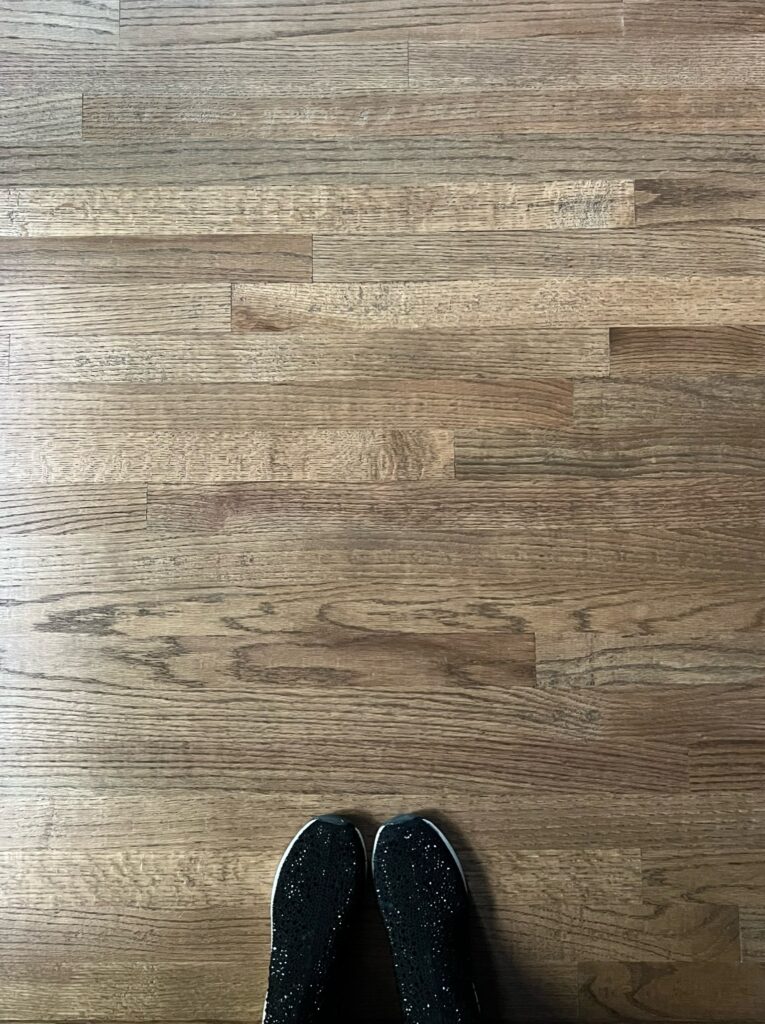 Installing Hardwood Floors: The Tools!
To take on this project, I not only needed to purchase the wood, I also needed materials.
Miter Saw or hand saw
Safety Glasses – Sometimes I skip some of the safety gear but DON'T skip the safety glasses when using flooring nailers. No one wants to be shot in the eye with a nail!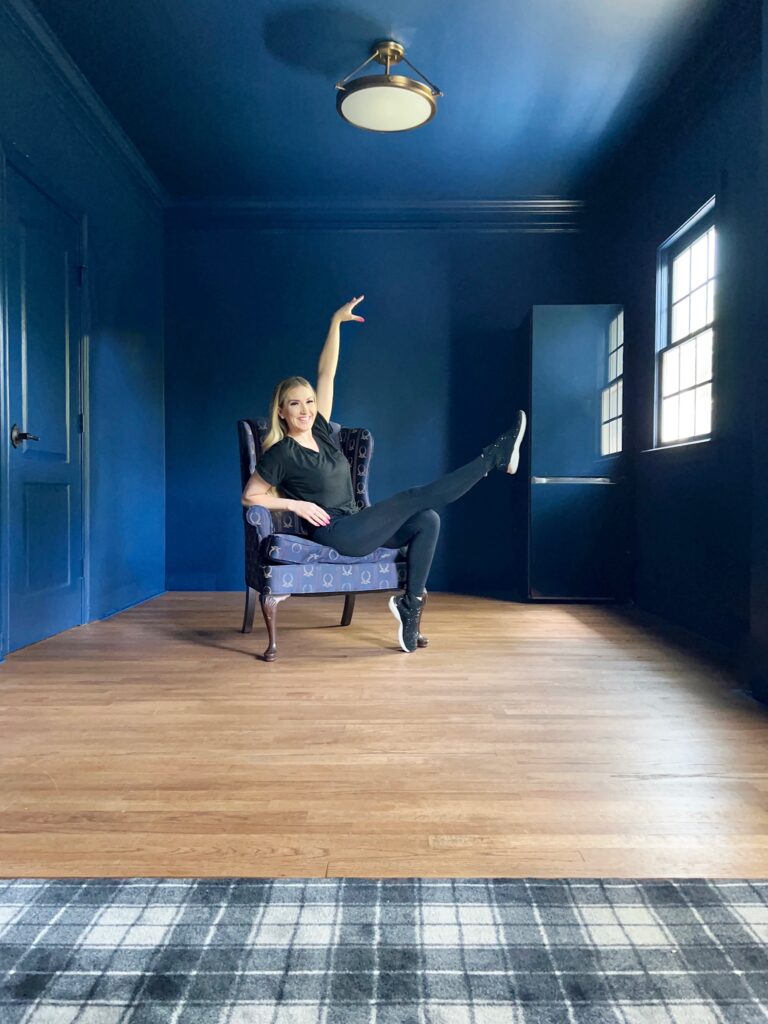 Time needed: 2 days
Let Your Floors Acclimate

Once your floors arrive to your home, you'll need to let them acclimate for at least 48 hours. Some wood floor products need more time. Follow your manufacturer recommendations. Don't skip this step!

Plan Your Expansion Gap

Hold up! Make sure you have at least a 1/4″ expansion gap around the perimeter of your room. Hardwood expands and contracts with humidity and other variables. A perimeter expansion gap allows space for that to happen so your floors don't buckle when the seasons change. Some flooring requires more of an expansion gap so check your manufacturer's recommendations!

Prep Your Subfloor


This first step is very dependent on your existing flooring. You'll need to make sure the surface, is clean and level. We have wood subfloor (not a concrete slab). To my knowledge, the flooring I used is to be nailed into the subfloor so it's not for concrete slabs. I'd confirm this with a flooring contractor but you certainly can't nail into the concrete. You'll also want to install a moisture barrier. While it's debatable for if this is necessary, I say why not! Better safe than sorry IMO! I linked the moisture barrier I used above.

TIP: I also recommend sealing your subfloor with Kilz Premium Sealer and Primer if you have a crawl space or damp basement beneath the area you plan to install hardwoods. This extra step helps prevent moisture from humidity and temperature changes, which ultimately protects and prolongs the life of your hardwood.

Lay Your First Row

Your first and last row need to be installed a little differently because you often can't fit the flooring nailer against the wall to shoot it. Once you have it lined up, nail it to the subfloor from the top of your board closest to the wall as you can, where your baseboard will cover. Nail every 12 inches or so through the board and into the subfloor. This is called face nailing.

Another method is to drill a tiny pilot hole about 1/3 of the way through the tongue and use a brad nailer to nail down the first row. I usually face nail or even screw my first row so it doesn't budge then nail into the tongue on the 2nd row then continue subsequent rows with my flooring nailer.

You want to make sure your first row is straight and square so your flooring continues running straight in the space. You don't want it running at an angle after a few rows because your first row is off.

Continue Laying Down Boards

When you reach the end of your board, grab a new one and align it with the board you just placed. Using a block and mallet, tap the board into the existing board until they are flush and even. Fire a flooring nail into the tongue every 8-12″ or so. TIP: don't drive a nail into the end 2″ of your board. It can split the wood.

When You Get To The End Of The Row…

Cut the last piece to length so it fits against the expansion gap.

Installing Row 2

When you get to row 2, you'll do the same thing, but you'll need to tap the boards in vertically as well as horizontally so they are all flush.

Beyond Row 2, Use A Flooring Nailer

The flooring nailer I have linked makes this process super quick. Once you have 2 rows installed, you'll have enough room to switch from a block and mallet to a nailer.

Installing The Last Row

When you get to the last row, you'll want to switch back to installing manually via Face Nailing vs. with the flooring nailer. Cut the last piece to fit to the expansion gap.

Clean Up!

The last step, and an important one, is to fill all of your nail holes with a similar color putty. This is what makes it look like a professional install!

Sand, stain and seal

This step needs a full tutorial of its own but it's important to finish your hardwoods with a quality stain and polyurethane (or similar sealer) to protect it!

How To Install Hardwood Floors:
If you'd like to keep up with the progress in this space, I'm sharing the behind the scenes on Instagram and updating on the blog with tutorials as much as I can!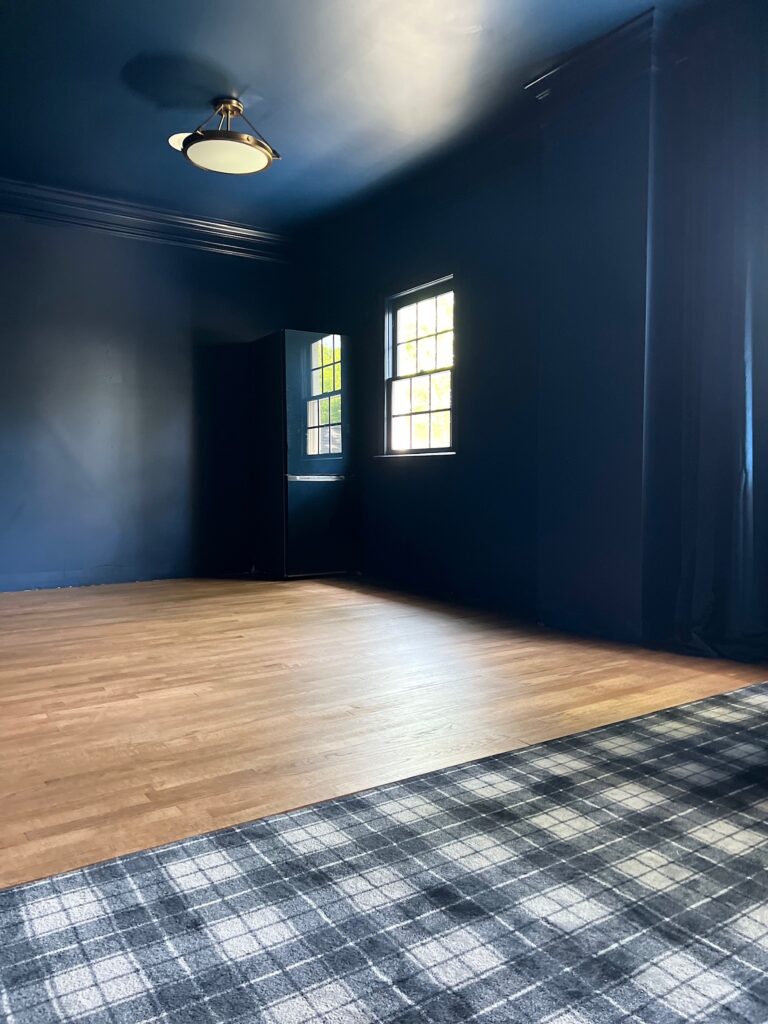 The One Room Challenge is already challenging me in the best ways. I did it!