As many of you know, the Monarch Revival Kitchen Remodel is complete – you can check out the final reveal right here! It feels like forever ago I shared the initial mood board for this space, but looking at the finished photos the time flew by too fast. 
After sharing my initial sketches on Instagram, many of you loved seeing a glimpse of the kitchen planning phase. To continue my reminiscing of the renovation, I thought I'd share all about one of our toughest design choices that shaped the entire project.
Today on the blog, I'll walk you through everything we loved about having a double island kitchen, but why we ended up opting for just one in the remodel.
Our First Experience With A Double Island Kitchen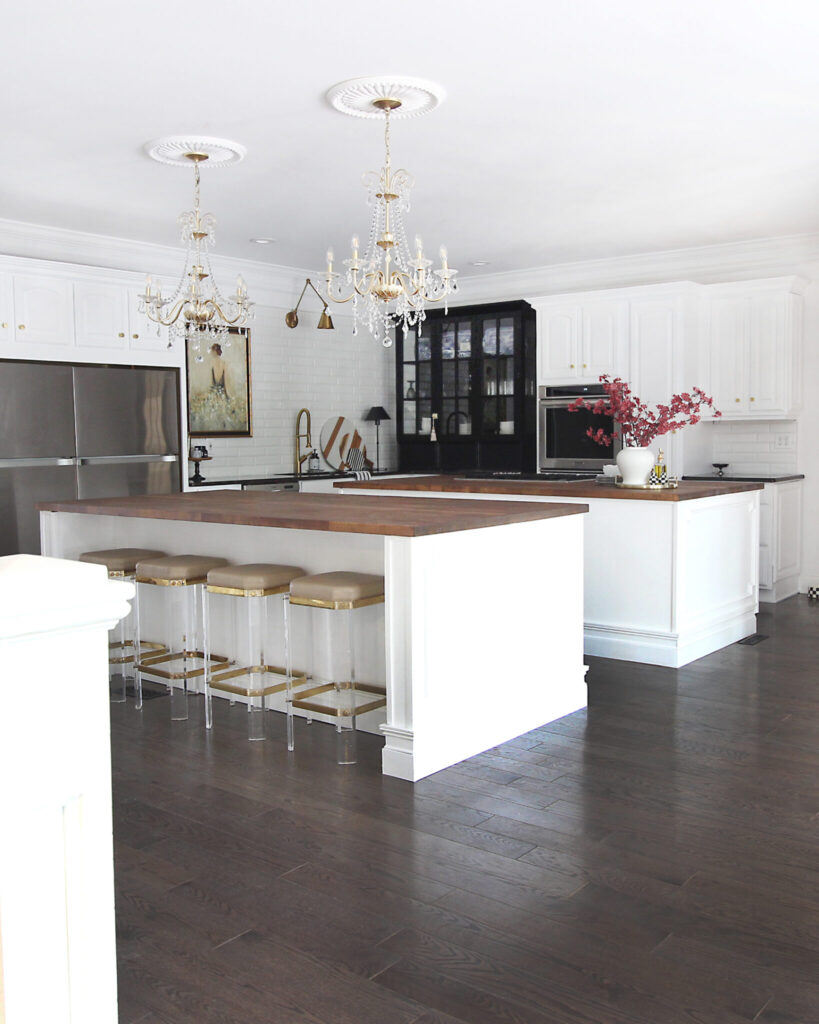 Before the Monarch Revival Kitchen Remodel ever came to be, it started with a makeshift renovation first. While this was never the final plan for the kitchen, I just needed to update the dated space with something more fresh and bright.
Our family lovingly called this middle renovation phase the "band-aid makeover", as we were not moving around any appliances. After removing the initial island, Craig and I realized there was a ton of space available to utilize. I've always loved the look of a double island kitchen, so why not try it out! Once the makeover was finished, I knew the double island kitchen was the perfect choice. To see all the band-aid makeover details, click here.
After living with and loving our double island kitchen for years, here are our favorite things about it:
Double Island Kitchen Pros:
Having a separate space for the boys to eat was fantastic! There was plenty of room to spread out without infringing on cooking.
Everyone would be away from the range. It provided a great home base to sit without being close to any of the appliances.
It looked stunning! With the islands facing parallel to the range, having just one would look too empty.
While I love the band-aid makeover for its purpose, the time arrived to complete the total kitchen renovation I've dreamed of. Only one question remained: should we have one island or two?
Deciding On One Island Or Two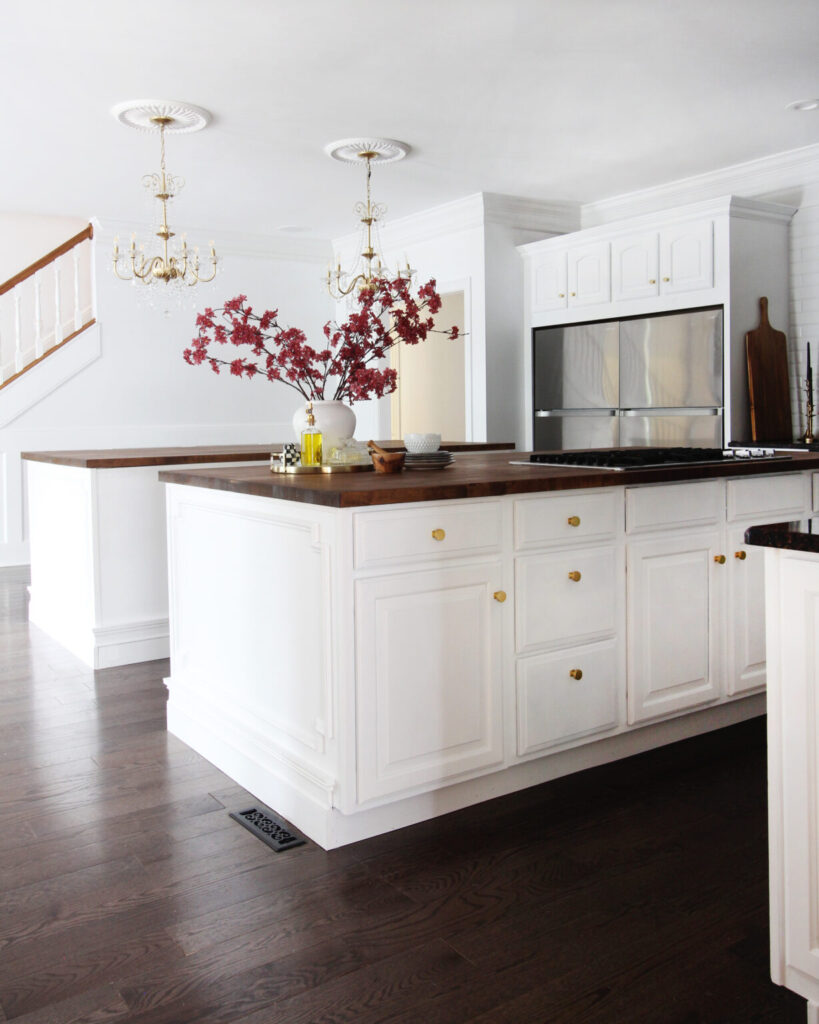 In the initial planning stages, Craig and I thought long and hard about ideally where each appliance would be in the kitchen. During our band-aid makeover, we realized just how impractical our current kitchen was laid out.
After both agreeing to move things around, I still wanted the island to stay parallel with the range. Even though it would be more work making an 180 degree flip, my main priority was guaranteeing the boys could still talk to me while I cook or work in the kitchen. Not only is it safer to have everyone away from the range, but I've come to cherish these kitchen chat memories more than anything.
Realizing both the appliance shuffling and island flip were our top priorities, there just wasn't space to have a double island kitchen again. Although I loved the look and space from two islands, we traded them in for something even greater.
Finished Remodel With One Island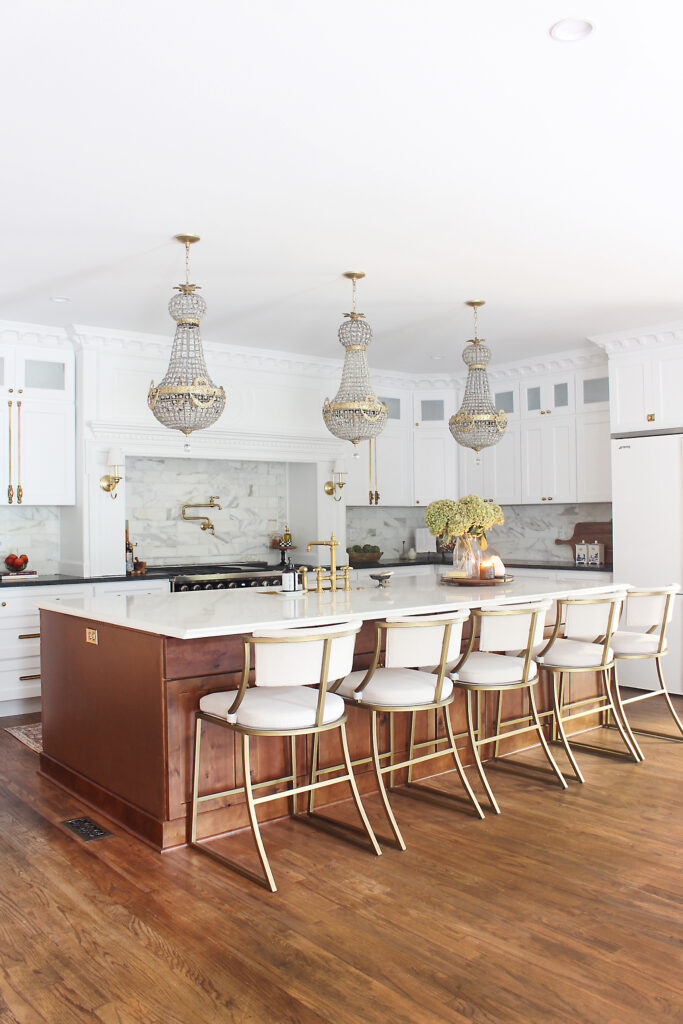 Now that the Monarch Revival Kitchen Remodel is complete, I can say with confidence one island was the right choice for our space. To have two islands face the same way I desired and be an ideal size, it would've been too much space to give up.
As for losing cabinet space, thankfully the opposite problem occurred. I was a bit concerned that taking out one island would deplete our storage options, but the remodel allowed for us to bring in even more cabinets. We gained more storage by removing an island, how funny is that!
Now that the labor side of the kitchen is finished, I can finally work on the organization! With so much space available, I'm excited to share with you all simple and effective organizing solutions that work for our family soon.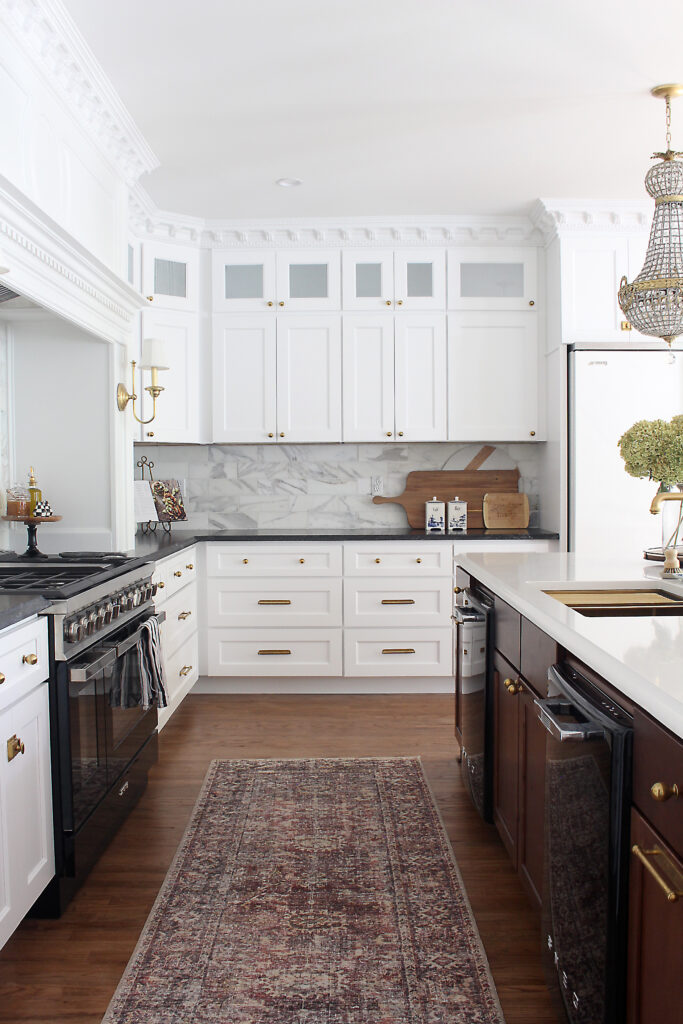 This remodel has been the most physically and emotionally demanding experiences of my life, but it also allowed me to trust my instincts in terms of home design. After 12 years of completing almost every project under the sun, it still feels nice when my decisions work out favorably. Want to see the Monarch Revival Kitchen Remodel reveal? Check out the detailed post here!
What are your opinions on a single versus double kitchen island? Please let me know in the comments!