I take a lot of pride in keeping my home nice and clean, but with the countless projects going on and five boys running around – it's not easy. Although I've tried almost every upholstery cleaner under the sun, there's only one that is actually able to keep up with our family.
Today on the blog, I'll be chatting all about the best upholstery cleaner I've tried: The Green Machine. Although not everything about it is perfect, it's saved my home time and time again from every spill imaginable.
Not sure what I'm talking about just yet? You can check it out on Amazon here.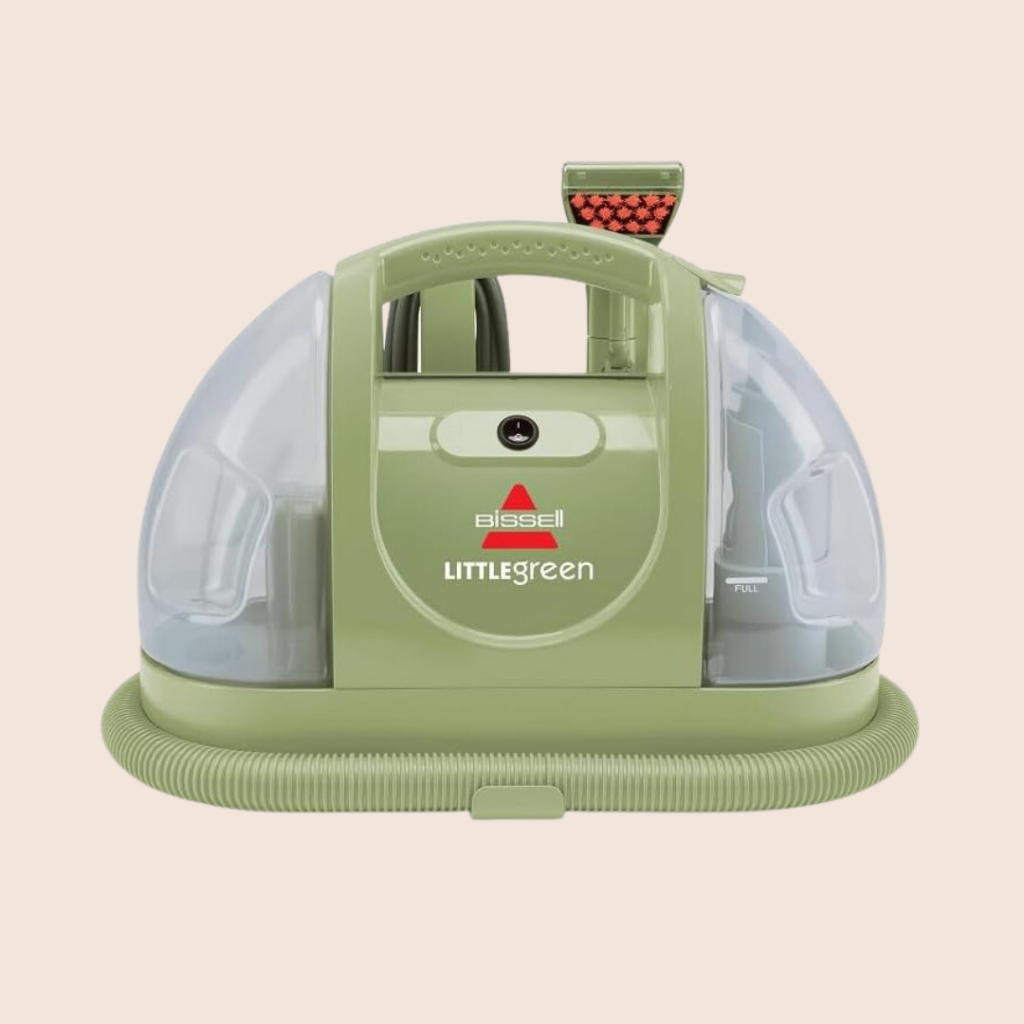 Let's be real…do they work?
Before we dive into the magic of the Green Machine, let's talk upholstery cleaners. Whether it's your cozy couch, your favorite armchair, or even your car seats, upholstery tends to collect dirt, stains, and odors over time. That's where upholstery cleaners come to the rescue. They are specially designed to deep clean your fabric and leave it looking and smelling fresh.
When it comes to upholstery cleaners, I have a clear favorite: the Green Machine. It's not just a cleaner; it's a lifesaver for anyone who values a clean and eco-friendly home. Here's why it has earned a special place in my heart:
Pros:
Eco-Friendly: One of my favorite features of the Green Machine is how clean the ingredients are. It doesn't use harsh chemicals, making it a green (get it) cleaning solution.
Effective Stain Removal: The Green Machine tackles stains with ease. Seriously, there's not a stain that hasn't been removed from this.
Quick Drying: Unlike some upholstery cleaners that leave your furniture damp for hours, the Green Machine has a quick drying time.
Easy to Use: It's such a simple set-up process. Just fill the tank, turn it on, and let it work its magic.
Versatility: It's not just for your living room furniture. I've used it on everything: car upholstery, dining chairs, and even mattresses.
Cons:
Price: It's not the cheapest upholstery cleaner on the market. However, when you consider its eco-friendly benefits and performance, the cost is justifiable.
Cord Length: The cord length is short. Depending on your cleaning needs, you might need an extension cord, I usually do when cleaning in my car.
Now, let's get to the nitty-gritty of using the Green Machine. I promise, it's not rocket science; it's actually quite simple.
Preparation: Before you start, clear the upholstery you want to clean of loose dirt or debris. If you have kids or pets, this step is particularly important. The Green Machine works best with just the stain.
Fill the Tank: Next, fill the machine's tank with warm water and the recommended cleaning solution. It works quite well, smells fantastic, and is chemical-free.
Cleaning: Turn on the machine and make slow, overlapping passes over the stained or soiled areas. The suction does the most of the heavy lifting, removing dirt and moisture.
Drying: After cleaning, let the upholstery dry completely. The Green Machine's drying time is a massive advantage, especially if it's in a spot you consistently use.
My Top Cleaning Tips
Using the Green Machine is just one part of the upholstery cleaning equation. Here are some additional tips to ensure your upholstery stays fresh and inviting:
Regular Maintenance: Don't wait until your upholstery is a mess. Quick spot cleaning and vacuuming can help prevent stains from setting in.
Check Fabric Compatibility: Different upholstery fabrics require different cleaning approaches. Always check the care label on your furniture and follow the manufacturer's recommendations.
Test in an Inconspicuous Area: Before going full steam ahead with any cleaner, including the Green Machine, it's wise to test it in a hidden spot on your upholstery to make sure it doesn't cause any damage or discoloration.
Blot, Don't Rub: When dealing with spills or stains, remember to blot rather than rub. Rubbing can spread the stain and damage the fabric.
Protect and Prevent: Consider using fabric protectors on your upholstery to make it more stain-resistant. And implement some house rules like "no eating on the couch" to prevent future messes.
Do you have a favorite upholstery cleaner? Please let me know in the comments! And to keep up with all things on the blog, check out my latest posts: