When it comes to home improvement, it's often the small spaces that offer the best opportunity for creativity and transformation. I'm excited to share with you the reveal of my powder bathroom, a project that holds a special place in my heart as one of the first I tackled in The Monarch Revival! Over two years ago, I made this space my own thanks to a bit of paint, some well-chosen accessories that I already had around my house. I'm always excited to prove that even the tiniest rooms can make a big impact.
Bathroom Sources: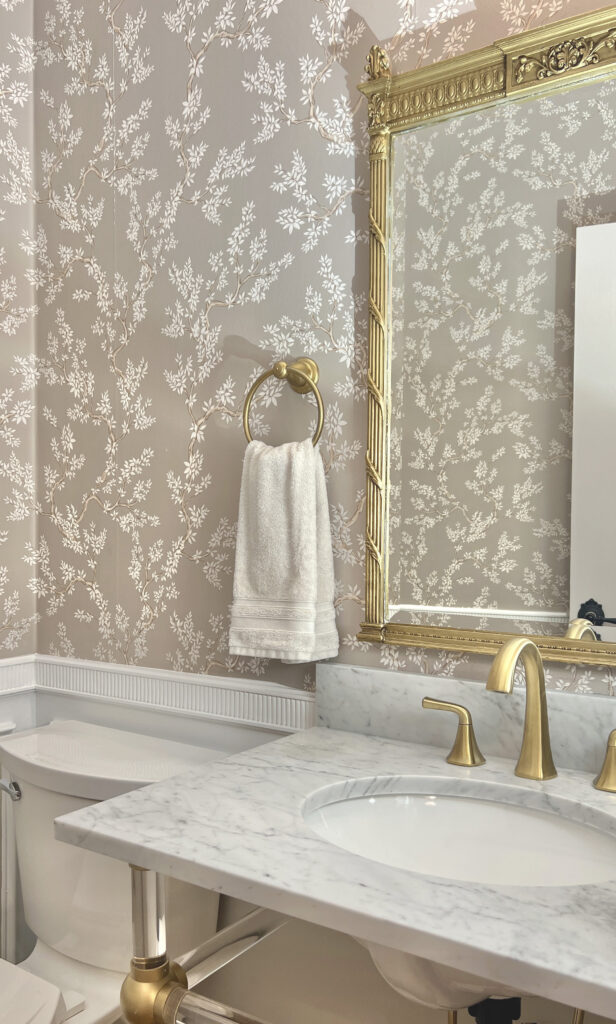 The ALL Black Powder BaThroom
This hallway bathroom has no natural light. I think many would be inclined to keep the room light and bright, but without a natural light source, but since when do I design my home the way everyone else "typically" would? I took the plunge and painted the walls in Carbon by Behr, a paint color that I just love and frequently use in my home projects.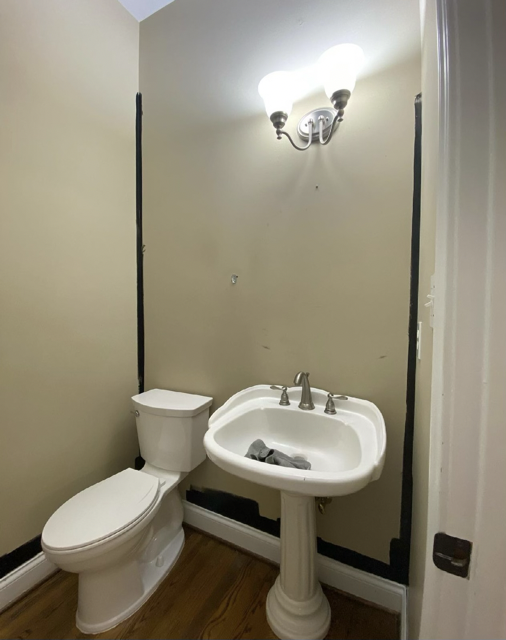 The black walls not only made the space feel more intimate but also drew attention upward to the 10-foot ceilings that had previously gone unnoticed. This bold choice instantly gave my powder bathroom the personality and character it had been lacking.
So, why the change?
Fast forward two years, and I'm now the proud creator of Monarch Home – my wallpaper and home decor line! I actually couldn't help myself, when I saw Kate (the design used in this space), I literally could not wait another second to have this paper somewhere in my home! Wallpaper has always been one of my favorite ways to transform a bathroom since forever, and this powder bathroom was the perfect canvas to showcase the beauty of Monarch Home wallpapers.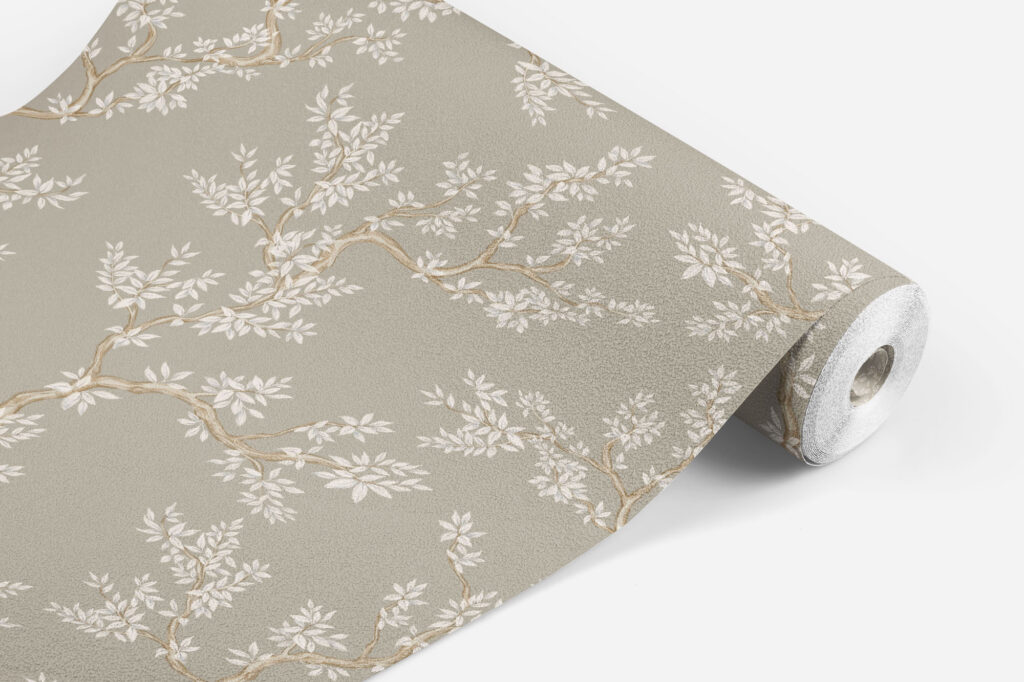 Let's talk about Kate, shall we?
Kate was our best-seller on launch day and I have a feeling that won't change anytime soon. Kate is a floral pattern, elegantly rendered in a soft and calming taupe, provides a subtle and sophisticated backdrop for your home. If you're a fan on neutrals – this one's for you.
All of Monarch Home's wallpapers come with suggested paint colors that pair perfectly with the print!
Suggested Paint Colors for Kate:
Sherwin Williams Skyline Steel
Sherwin Williams Getaway Gray
Sherwin Williams White Flour
Sherwin Williams Pearly White
Sherwin Williams Pewter Tankard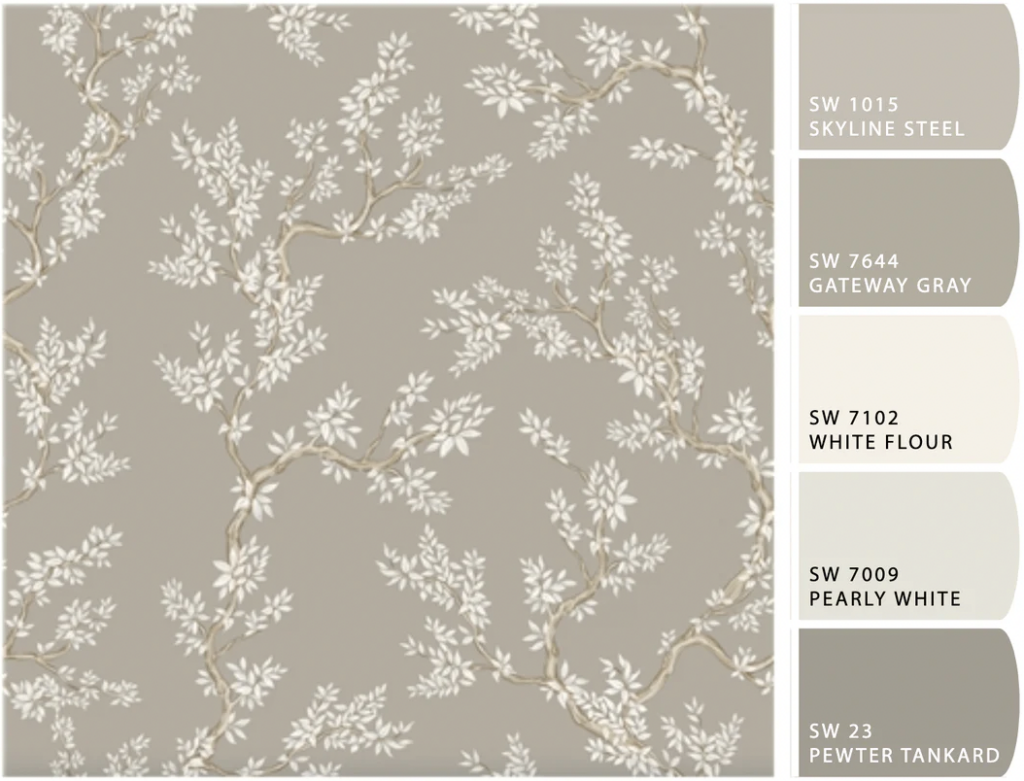 Wallpaper in the bathroom? A big yes from me!
If you're just getting started with wallpaper, I highly recommend a bathroom refresh! Wallpaper in the bathroom makes sense for so many reasons.
In a small space, the impact of wallpaper is magnified times 100! It's a bit surprising, refreshing, and bold – even with a neutral wallpaper pattern or texture.
Because the room is typically smaller, you won't need as much paper as a bedroom. Less paper = less of an investment up front. I'll always be a fan of budget-friendly renos!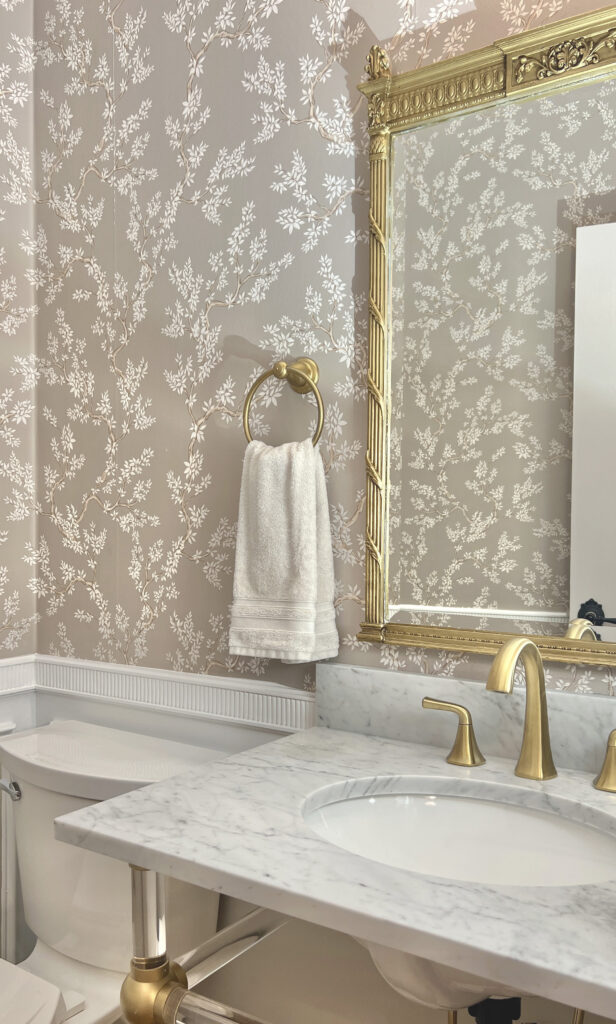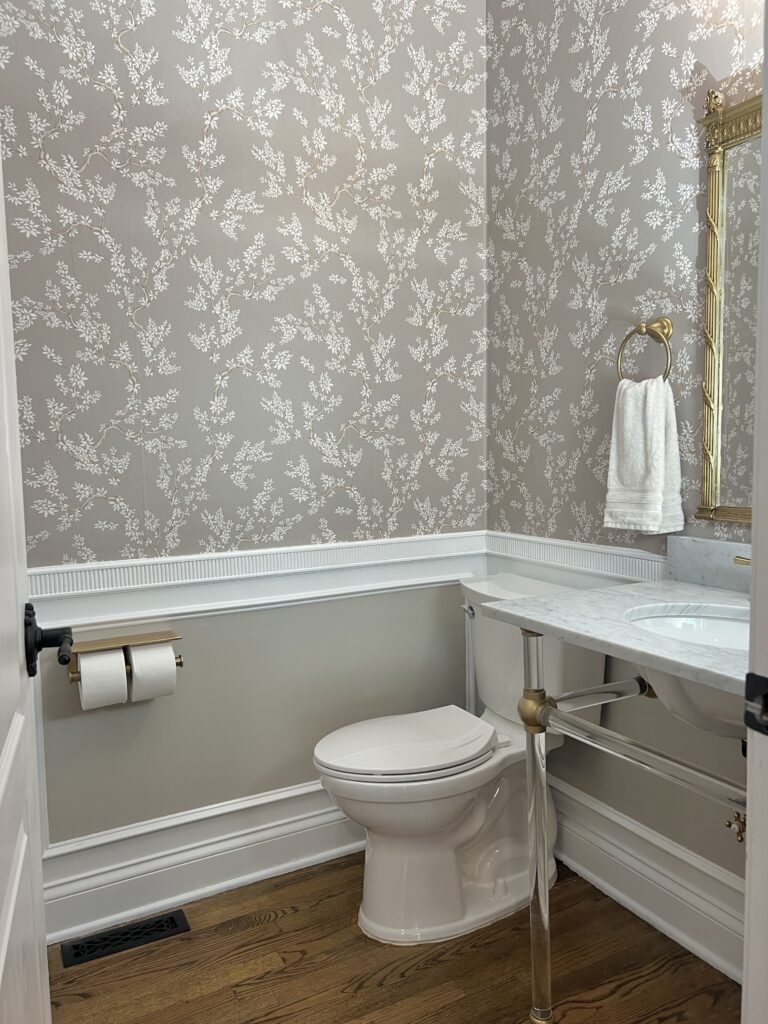 Seeing Monarch Home designs on my walls is nothing short of surreal. It's a huge step toward realizing my dream of having my designs adorn the walls of others' homes. This powder bathroom design had lived in my mind for far too long, and finally bringing it to life has been a true delight. It's a testament to the power of vision, creativity, and a little DIY magic.