Are you here for the Dime Beauty Code? No worries – it's NIKOLAUS20!
I very much remember the days of having really young kids who needed me 24/7. It's the days of cleaning bottles, contact naps, and needing to help someone else before you've even had a chance to use the bathroom in the morning. Friends, hang in there because it gets easier!
When I think back to that time, I mostly remember not taking care of my self as well as I should have simply because I didn't have the time. My kids are a bit older now, but finding time is still my biggest self-care hangup. All this to say – we need to find time for self-care, whatever that means for you!
For me, that means I'm getting dressed and doing my makeup just about every single day. It helps me feel awake, prepared and confident. I have a whole post dedicated my makeup routine right here, but before I start my makeup, I spend a few moments on skincare.
Today on the blog, I'll be giving my Dime Beauty review, including my complete skin care routine that that I've loved for years. While I have not always prioritized clean skin care, it's now a big priority!
Have you seen Dime Beauty on Instagram?
Dime Beauty is heavily marketed on social media right now which I understand makes some a bit hesitant to try it. I initially tried Dime as part of a sponsorship, but have since repurchased so many of the products outside of that partnership. It really is THAT good.
You guys know me, if a product is worth it, I'm going to splurge! I have high-end skin care procucts that I still love and use almost daily (hello, Elemis!), but I love that Dime is much more affordable than what you'd find at Sephora or the drug store and still very effective.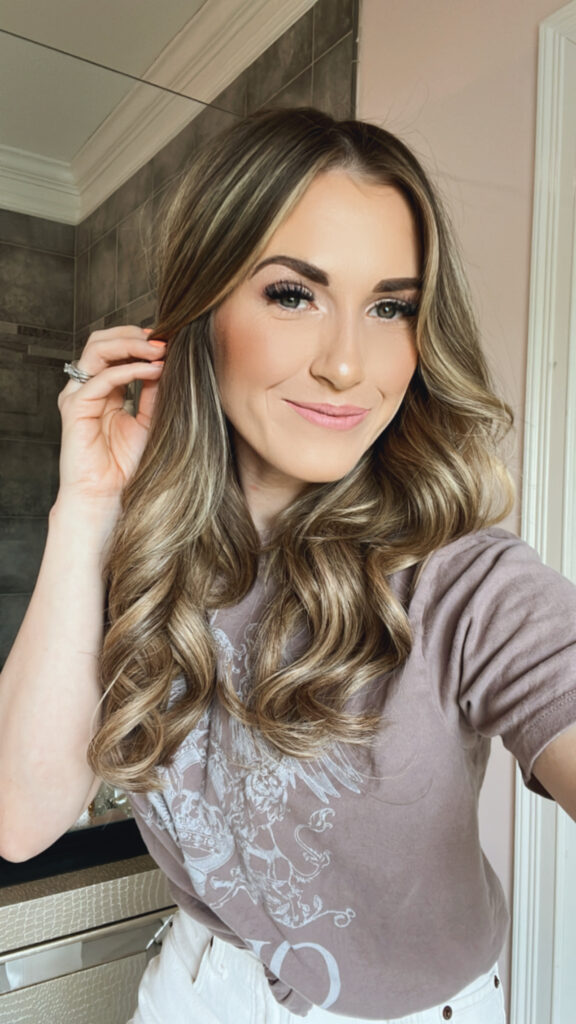 You guys, I've never really had a "skin care routine" before. This was all very new to me at the time, but I have loved having a skin care system that is simple to use.
What To Know About Dime Beauty
Dime Beauty was created to fill the gap in the market for clean skin care. The founders believed in this idea so strongly, she enrolled in esthetician school to learn everything she could about the power of the right ingredients.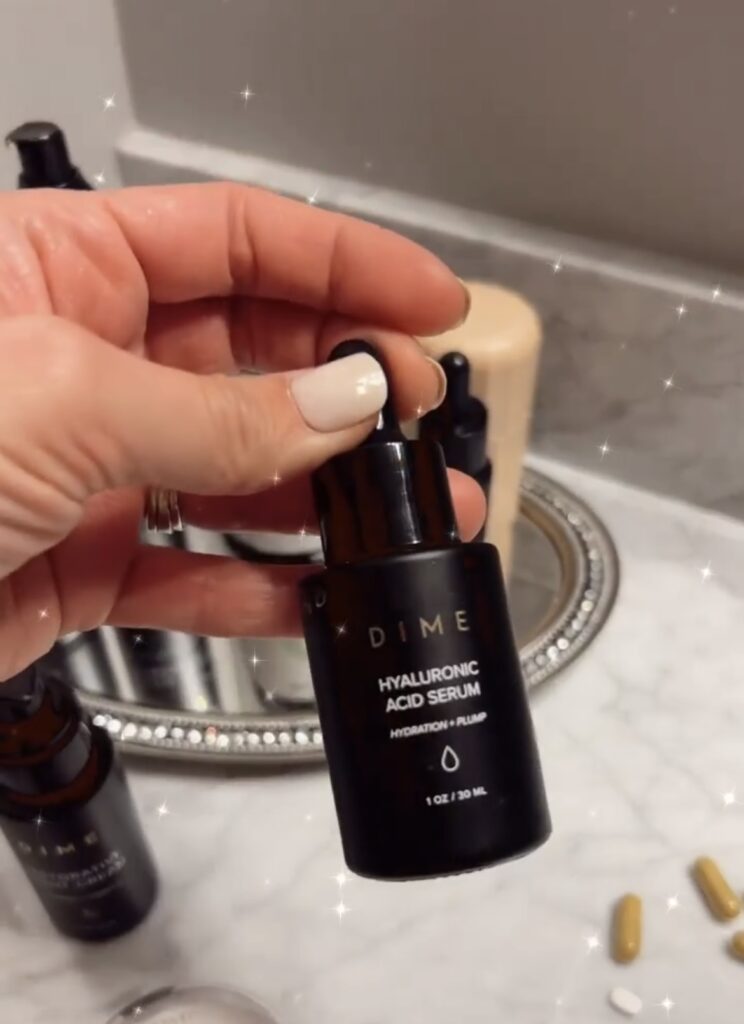 Shortly after, Dime Beauty formed with a mission to provide a luxurious skin care experience that is customizable and affordable. Most importantly all of their products are: cruelty-free, vegan, and created with minimal environmental impact.
Their mission was really exciting to me, but it all came down to if their products actually worked without stripping away any more moisture from my face. 
Does Dime Beauty Have Clean Ingredients?
They do! Every product is completely non-toxic. Dime Beauty products never contain parabens, sulfates, phthalates, or BPA/BPS.
My CLEAN Skin Care Routine with Dime Beauty
I started by purchasing their hyaluronic acid serum, but eventually converted most of my routine entire routine to use Dime Beauty Products. I cannot get enough and my morning and night routine are my favorite self-care acts throughout the entire day. Here is my exact skin care routine:
Step 1: Cleanse
Dime Beauty's Gentle Jelly Cleanser has been my go-to for years because it completely melts your makeup off. I find I've started to lean towards drier skin, so the jelly texture is more moisturizing than a traditional foam cleanser. I use both morning and night after taking off my makeup. 
Step 2: Apply Serum
If it's the morning, I keep my routine simple and skip straight to moisturizing. At night, I've been working hard on nourishing my skin so it stays looking as fresh as possible. I use their Hyaluronic Acid Serum on a red light therapy brush. It's really incredible for the anti-aging and self-care benefits.
Step 3: Apply Moisturizer
The last and final step is applying the Probiotic Gel Cream and I'm good to go. I find keeping a simple routine with the same brand has worked really well for my skin, but the natural ingredients took slightly longer to work effectively. That being said, my skin has that glow from within I've never had until now!
Dime Beauty Review: Is It Worth A Try?
This Dime Beauty review is officially giving my stamp of approval for a clean skin care brand that works. Although it took a few weeks of consistency to see results, I am wowed by the clear, bright skin that never feels tight or dull. Best of all, the moisture benefits help any fine lines stay away.
If you're interested in trying Dime Beauty for yourself, use code NIKOLAUS20 for 20% off your purchase!
Have you ever tried clean skin care? Please let me know in the comments! And to keep up with everything on the blog, check out my latest posts: