I've done a lot of painting in my day – from hundreds of rooms to three home exteriors to countless pieces of furniture, cabinets, decks etc. Over the years, I've discovered a few tried-and-true products that I swear by (and a few I will never buy again). This tool, the Graco Truecoat 360 paint sprayer, is my absolute favorite painting gadget! It's helped me breeze through dozens of DIY paint projects, and I can't recommend it highly enough.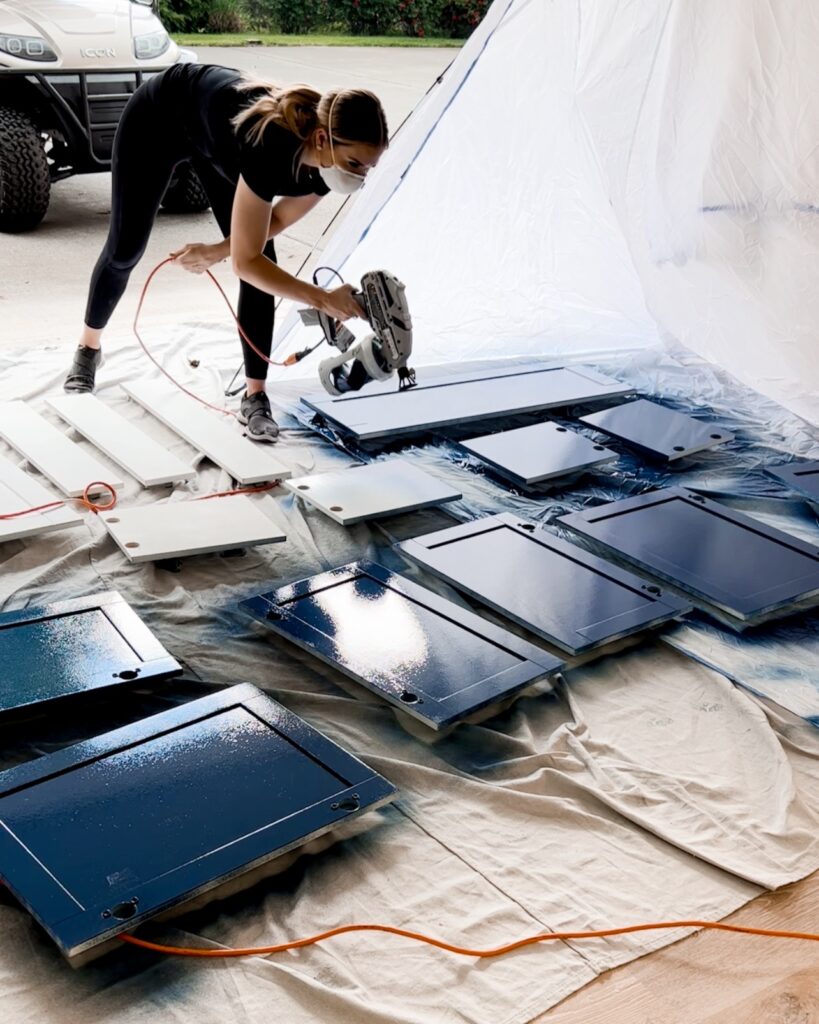 When to Use a Paint Sprayer
Not every project requires a paint sprayer, but once you try one, you'll never want to go back to a brush or roller again! Paint sprayers are way quicker than brushes or rollers, and apply the paint more evenly. The biggest advantage, though, comes when you're working on uneven surfaces. You can use a paint sprayer to paint, stain, or finish textured walls, ornate furniture, and even finicky outdoor decor in a fraction of the time it would take to paint by hand. However, masking your area is a must with a paint sprayer so consider time for prep work!
Personally, I use my paint sprayer on just about every home project. I've used it to paint rooms, finish outdoor furniture, and stain wood accents all around my house. It's probably saved me hundreds of hours of work! And not only that, but it's way easier to clean than brushes and rollers (which, let's be honest, I usually end up throwing away).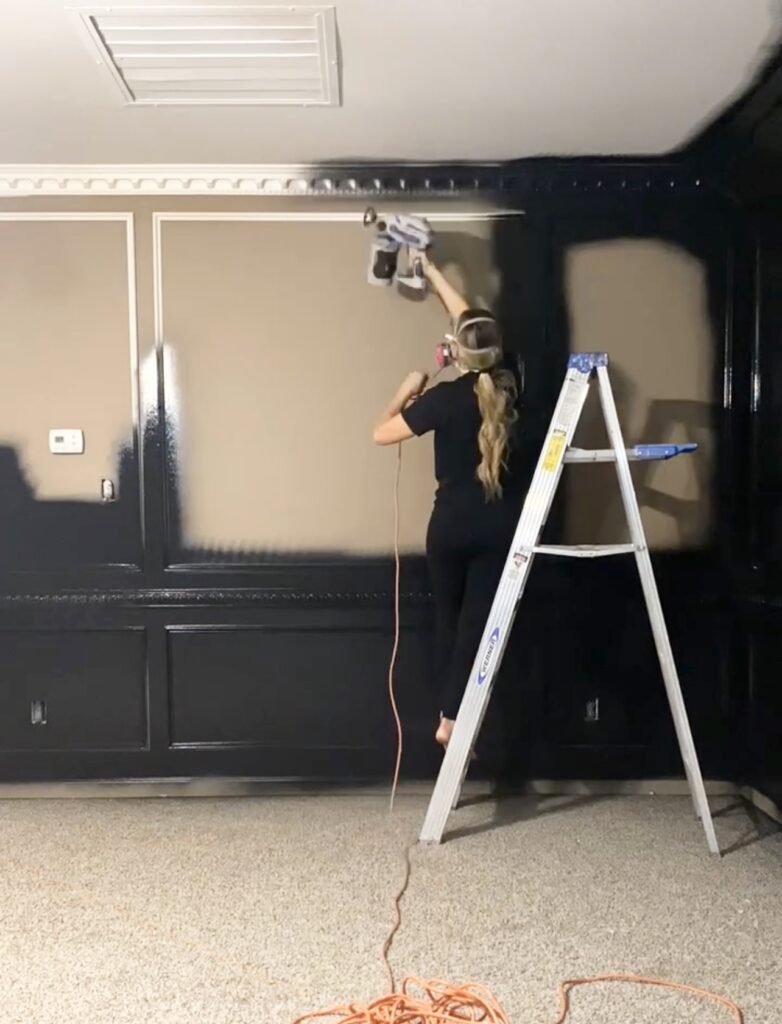 My Favorite Paint Sprayer Gun: The Graco TrueCoat 360 VSP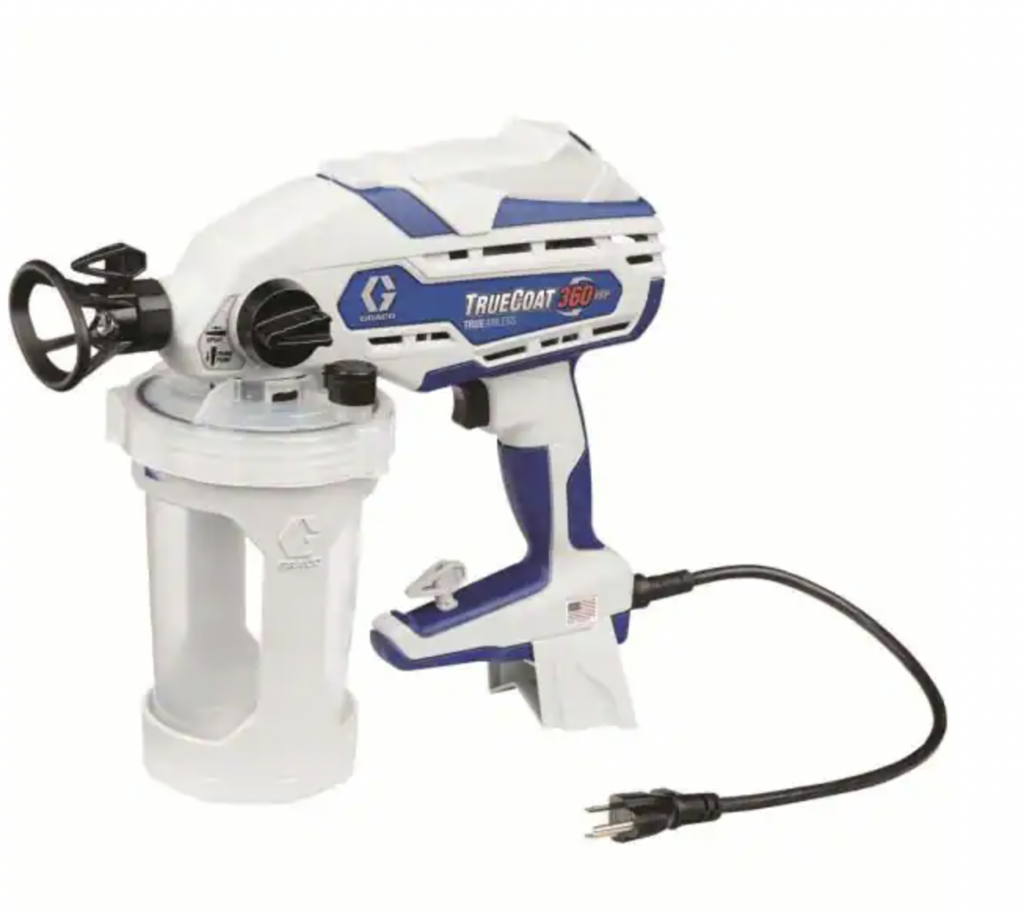 If you're looking for an easy-to-use, beginner-friendly paint sprayer, this Graco TrueCoat 360 VSP is my absolute favorite. Like I said, I've tried a lot of painting tools, and this one is by far my most used and loved. Because it's an airless sprayer, you pretty much just add your paint, plug it in, and go. It doesn't require paint thinner or an air canister, so it's ready to go out of the box. You can complete just about any project with the two different nozzles provided, and you can spray at any angle. No more wrestling furniture around to get those hard-to-reach spots! If you want to spend a little more, you can even get a cordless one!
Here is the link for the Graco TrueCoat 360 VSP!
Additional Necessities for Paint Sprayers
A paint sprayer cannot be successful on its own without the help of other painting tools. From masking tape to small brushes for touch ups, having these at your disposal allow for a seamless paint job. Here are a few of my favorites:

Best Paint for airless sprayers
Choosing what paint to use for anything can be daunting, but especially so when a new tool is incorporated. Do not panic! Using an airless sprayer is meant to make your life easier. I have found that water-based latex and oil-based work just fine in the Graco Trucoat sprayer. For water-based latex, just make sure you clean it quickly because it can clog a bit easier if your paint starts to dry inside the sprayer.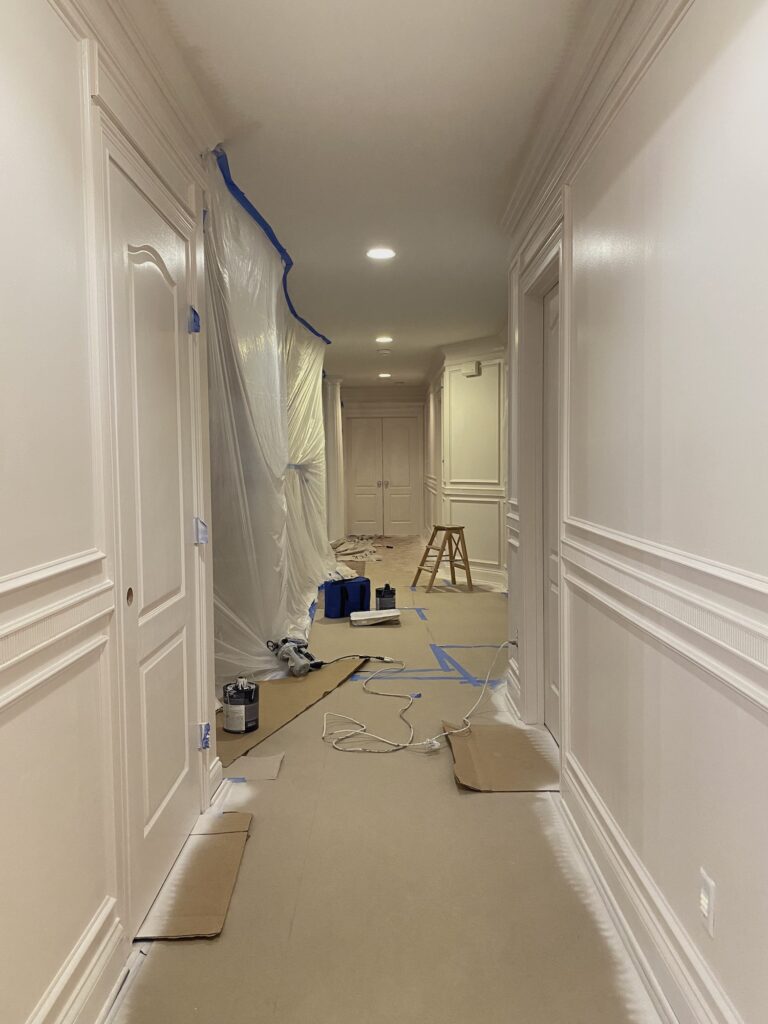 Tips for Using a Paint Sprayer
Since I've used this Graco paint sprayer so much, it makes sense that I've had my fair share of spills, splatters, and mishaps. Before you start painting, here are a few tips:
1. Practice on cardboard or scrap wood.
This sprayer is super easy to use, but still, I recommend practicing a bit before you try a paint project. Use a piece of thick cardboard or some scrap plywood to get your technique down first. The nozzle rotates so it can have different spray patterns. Choose the one that works best for your project.
2. Buy extra paint.
Airless paint sprayers can have up to 40% "waste" of product, meaning the paint goes into the air instead of on the surface you are painting. While I haven't run into this issue with the Graco sprayer, it's always best to buy a little extra paint, especially when you're still getting the hang of it! It does go through a LOT of paint but the coverage is fantastic so it's worth it!
3. Clean it before it dries.
Trust me on this. It's so much easier to clean wet paint out of your sprayer than dried, caked-on paint. Unplug the machine, take it apart, and rinse every piece clean. I like to fill a clean canister with hot soapy water and spray it into a bucket to clean out the guts of the sprayer. Thank me later!
If you're a DIY fanatic like me, I guarantee this Graco paint sprayer is worth the investment! It'll save you so much time (and plenty of headaches, too). I can't wait to see what you create!
If you are interested in all things home improvement, check out my lastest posts!