If you're dreaming of a kitchen redesign, you've come to the right place! With all the different styles on trend right now–from modern to farmhouse to organic–it can be overwhelming to pinpoint your unique style and dream design. Here's a breakdown of my favorite styles and tons of kitchen design ideas to draw inspiration from.
If you're new to the blog – we started our kitchen renovation THIS WEEK!! Eeek! Sharing alll about that on this post right here.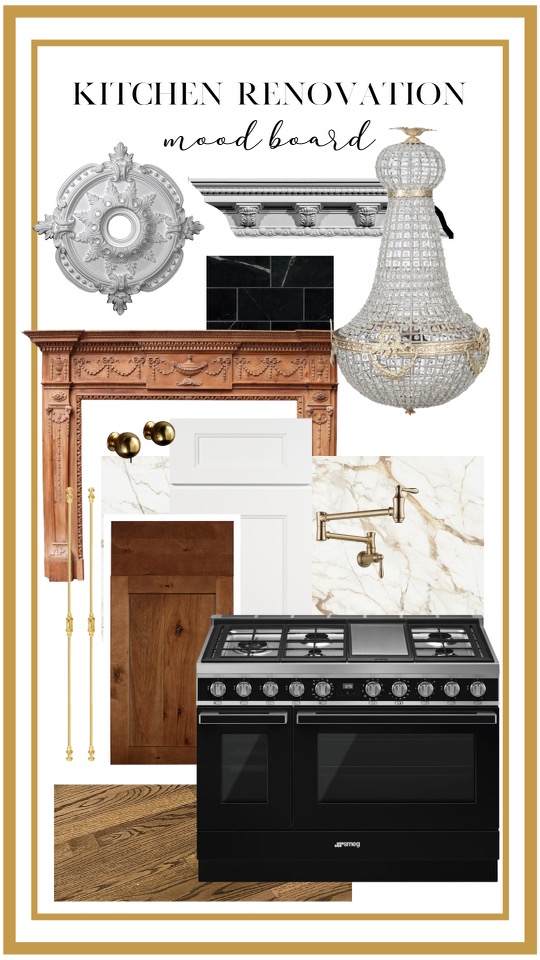 How to Choose Your Design Style
Choosing how to design your kitchen can be super intimidating. Not only is it one of the rooms you'll spend the most time in, but it's also an entertaining space! Every guest you invite over will see your kitchen, so make it a space you're proud of.
When considering which style to go with, think about…
Your tastes. What are you most drawn to? Which design features get you excited? What's all over your Pinterest boards? Go with your gut instinct!
The rest of the house. While I don't believe your whole house has to match, at least make sure it flows. If the rest of your house is in the farmhouse style, a minimalist, industrial kitchen might stick out like a sore thumb.
What will last. Not every style is timeless. Steer clear of super trendy designs that are difficult to reverse, and go with something you know will age well. You can always add new life to the space with a fun rug or some wall art later on.
Of course, it's rare that you get to start with a totally clean slate. Try to consider what your kitchen looks like now and how you might enhance its best features. Does it have a beautiful farmhouse sink? Industrial fixtures? Perfect white countertops? Choose which elements you want to keep, and work from there.
Kitchen Design Inspiration
Modern Kitchen Design Ideas
Modern kitchen design verges on Scandinavian, but in my opinion, it's a less rustic. In a modern kitchen, you might see dark or even black cabinets, white countertops, and tons of natural wood accents. They're not frilly, but they're also not boring. See all of those clean lines?! They're the perfect combination!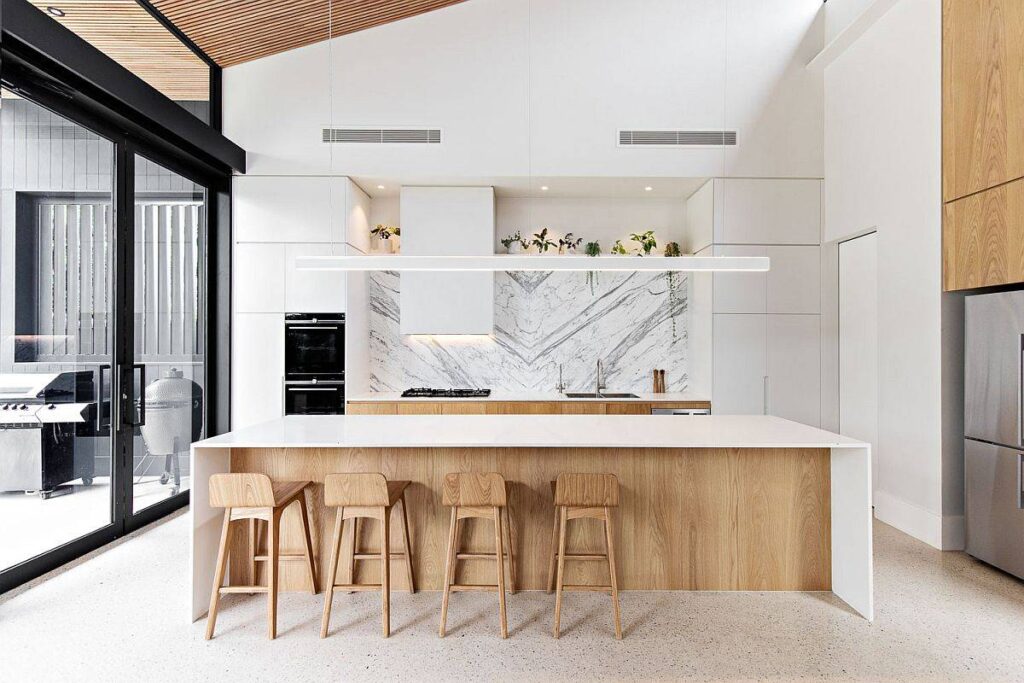 Organic Kitchen Design Ideas
Organic kitchen design is all about natural materials. Think stone, raw wood, wicker, and natural linens. They've usually got a more cool, subdued vibe, but that doesn't mean they're not welcoming! With plenty of natural light, an organic kitchen can become the happy heart of any home.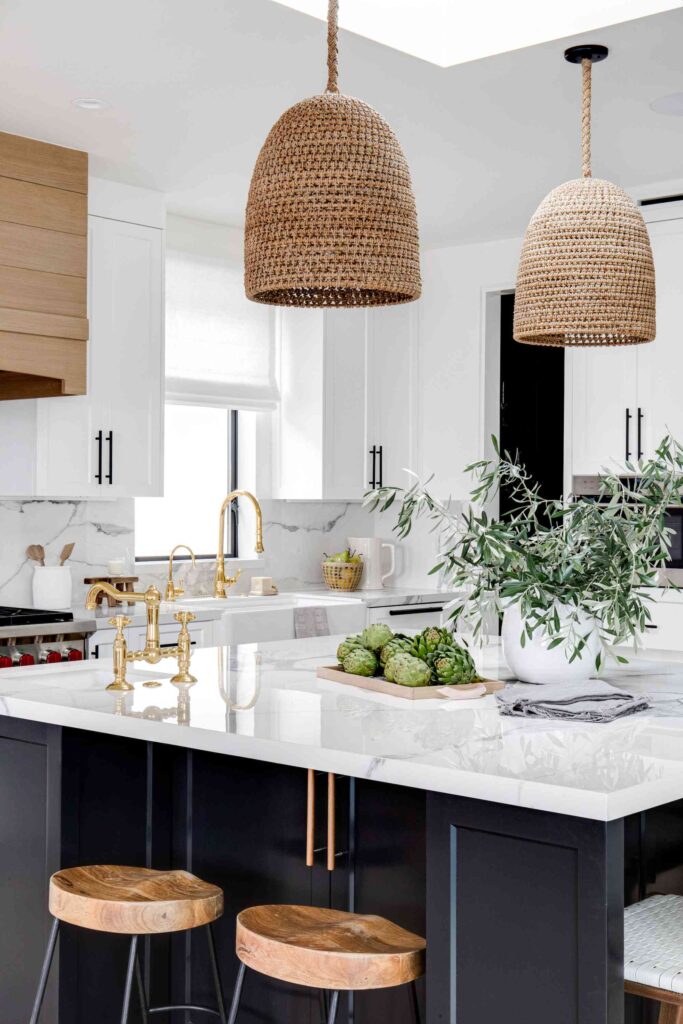 Farmhouse Kitchen Design Ideas
Talk about a classic! The farmhouse kitchen has been around for a hundred years, and I think it's here to stay! In a farmhouse kitchen, you'll see lots of white, some butcher blocks, and of course the icon farmhouse sink. There might also be other homey touches, like exposed shelves or pot racks, that really give you the feeling the kitchen is always in use.
Keep in mind that a farmhouse kitchen doesn't have to be neutral. I used elements of farmhouse kitchen design when I did this budget remodel. Check out that blue wall and open shelving!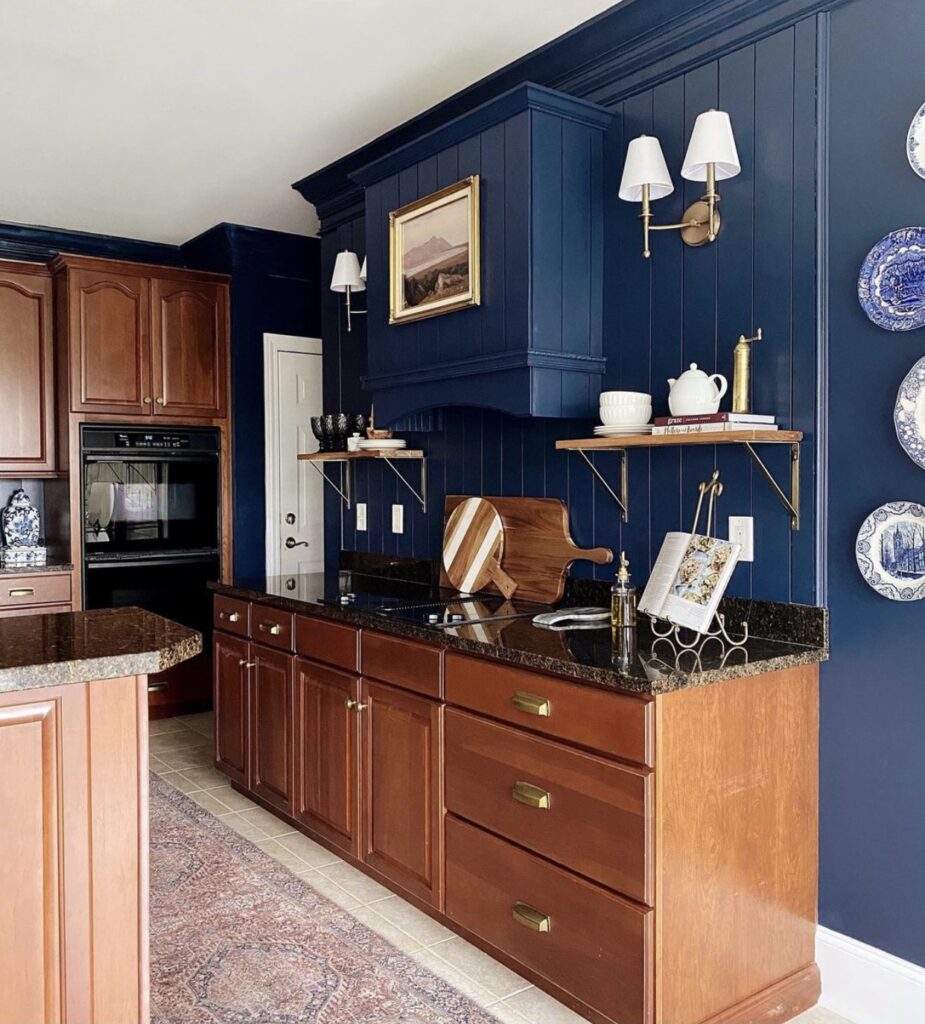 Traditional Kitchen Design Ideas
To me, a traditional kitchen design is what closely matches my design taste. There's still plenty of white and neutral tones, but the lines are more clean and the fixtures more minimal. It's a great foundation for someone who wants to switch up their kitchen decor often with different textiles and wall art. Another element of the traditional kitchen is contrast. In this budget remodel I did a while back, I used white cabinets and black countertops to create tons of visual intrigue in the space. We were working with what we had and it turned out great!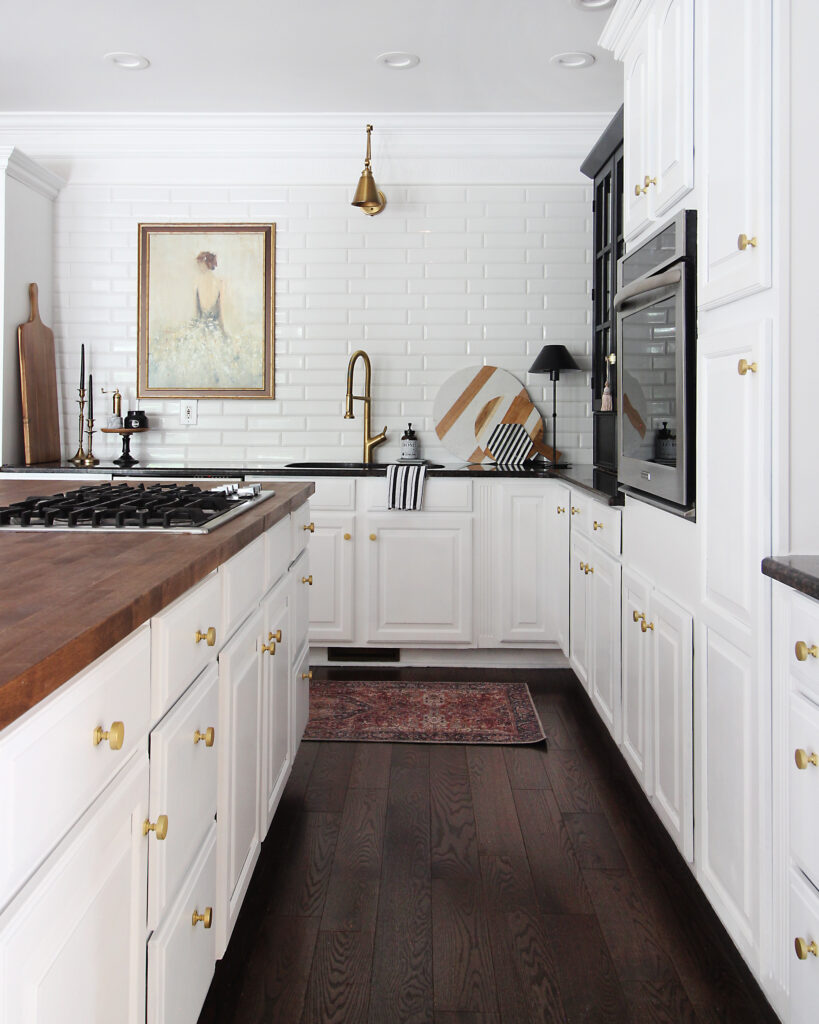 Other Kitchen Design Styles
If none of these speak to you, there are tons of other design styles popping up! Minimalist, maximalist, masculine, you name it–there's a kitchen style out there that's just right for you.
Make it your own!
When it comes to interior design, there really are no rules! Take elements from different styles, and combine them to create a look that's uniquely you. And when in doubt, go with your gut! You're more design-savvy than you think!