A gallery wall is one of the easiest ways to make your home feel decorated and authentic to YOU! It allows you to showcase the treasured people or art pieces, all while elevating a blank wall.
Through the many moves and renovations of our homes, I always seem to fall back to creating a gallery wall. It is just so beautiful! Now that the Monarch Revival is underway, I have a chance to make new variations of this classic design go-to and share them with you.
Today on the blog, I'm sharing all my favorite types of gallery walls to help inspire you to create the perfect one for your own home.
I am asked all the time what types of projects are good for those just dipping their toes into DIY – and this is it! With just a few tools you likely already have in your arsenal, some thrifted frames, and photos – anyone can create a stunning gallery wall!

Types of Gallery Walls
Asymmetrical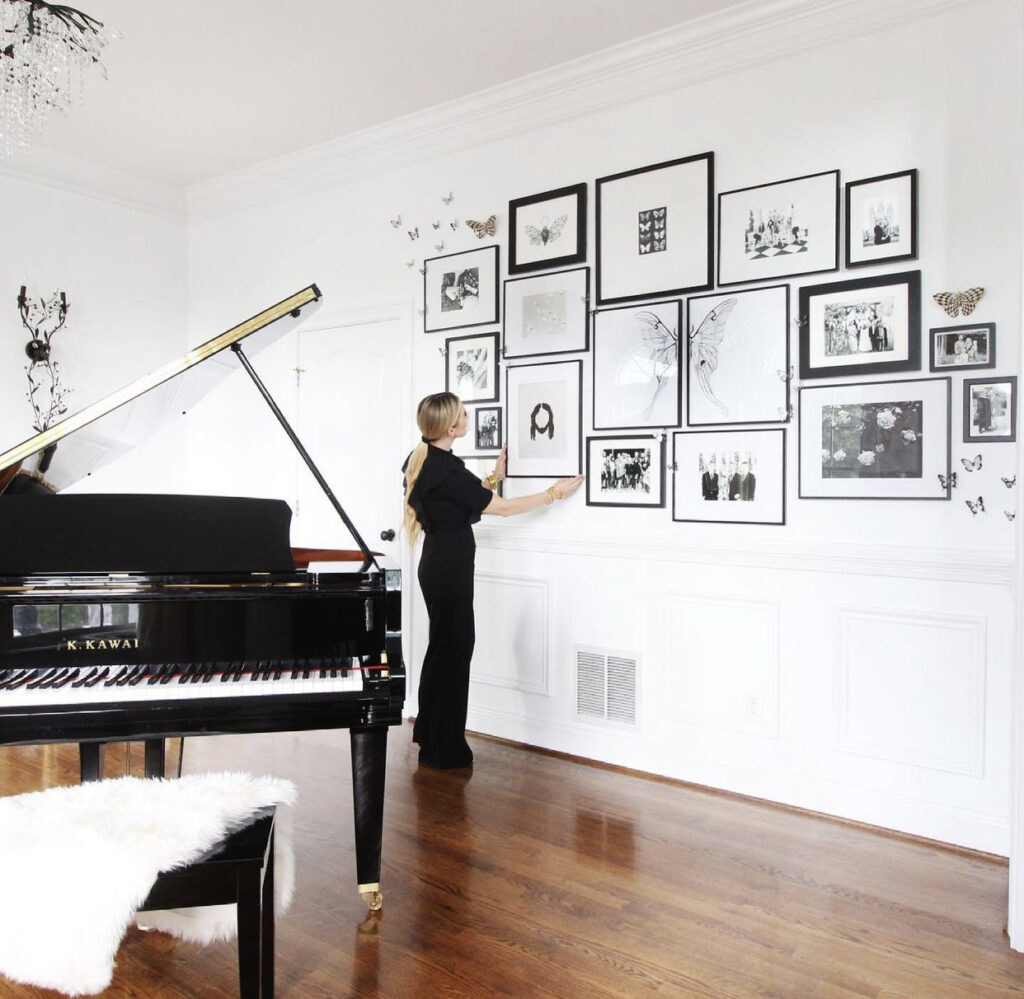 An asymmetrical gallery wall is exactly how it sounds: not symmetrical. Seeming to almost grow out from itself, an asymmetrical wall allows for a more whimsical and impactful design to emerge.
This type of gallery wall may feel daunting, but don't be afraid! Select one design element (black and white, for example) then build off of it. Choose different frames, whether it be color, size, or width, and start playing around until it feels balanced.
Tip: Design this type of gallery wall on the ground first. While I do get antsy myself to just throw up some nails and see what happens, the asymmetrical require planning to look perfect.
Linear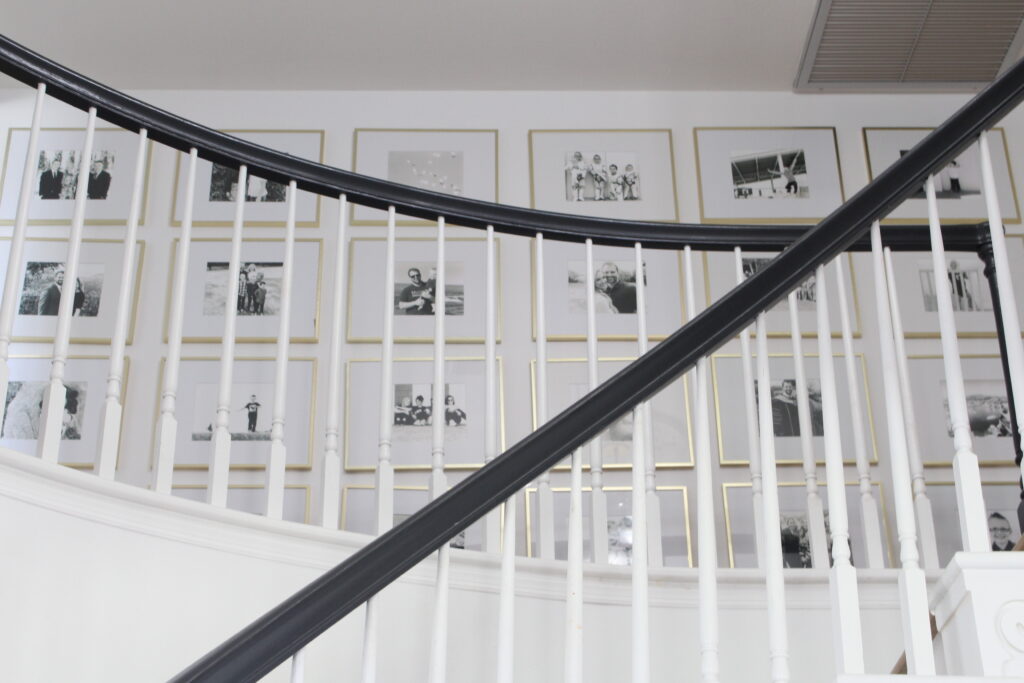 The linear style uses the wall to its advantage by showcasing the value of straight lines. The lay out of your gallery wall will emphasize uniform, thus making your home feel expensive.
As you may have guessed, the hardest part of a linear gallery wall is hanging up every frame perfectly in-line to the next. Tip: Embrace the hard work. With a leveler, some good music, and the end goal in mind, your dream gallery wall will be finished in no time.
I love pairing this design style with the next idea to really lean into the beauty of symmetry.
Themed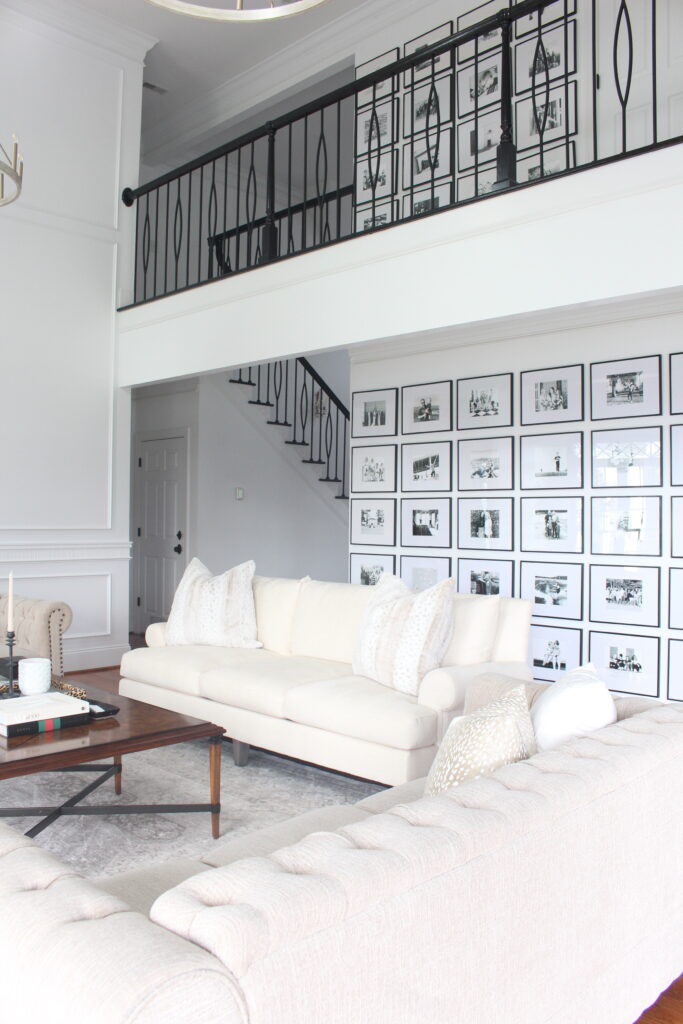 Themed gallery walls may sound daunting in theory, but all it means is you stick to one (or a few) design choices and keep them consistent throughout. This will create a sense of continuity which elevates the luxuriousness within any home.
Some design choices you can consider are:
Color
Print
Frame Type
Size of Border
This type of gallery wall is one of my favorites for larger spaces to work with. I used theming in one of my favorite design decisions: the two-story gallery wall!
To read more about the specifics of the two-story gallery wall, click here!
Eclectic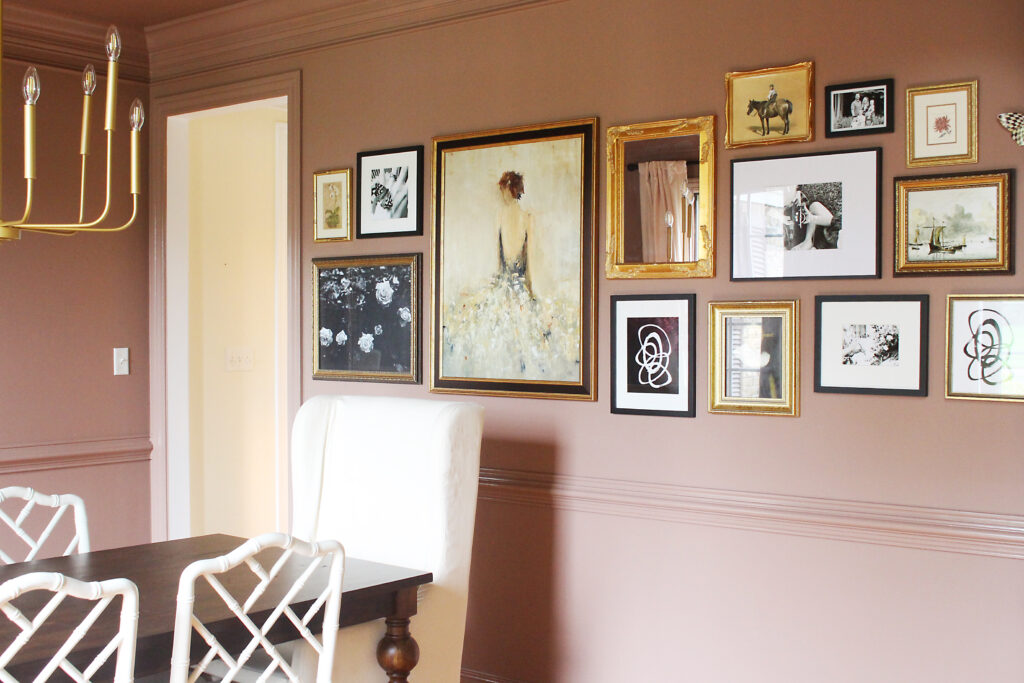 Eclectic is just an elevated way to say a mix of different ideas. An eclectic gallery wall embraces the beauty of mixing different looks to create a masterpiece within your own home.
The first step is to decide just a few elements of continuity (I chose gold, black, and white for this wall) to establish a focus, but do not let it limit you! You are meant to feel like a curator of art.
Tip: Showcase any beloved art pieces in this style. Even the most obscure art I have found fits beautifully into an eclectic galley wall. This way, your home feels even more like you.
Focal Point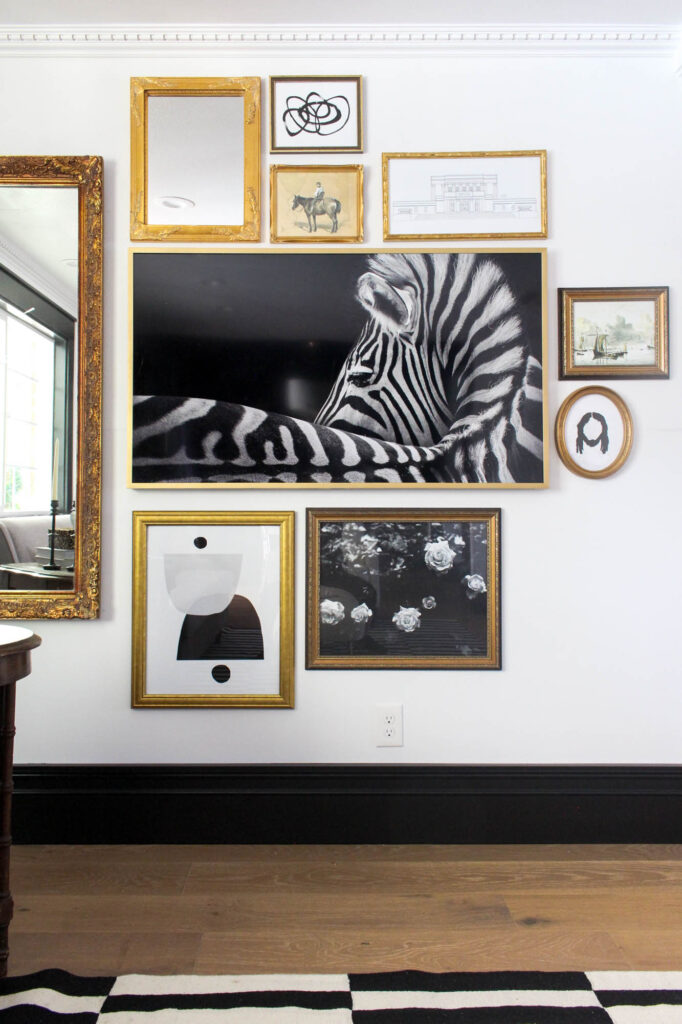 Choosing to build focal point gallery wall is simple: you pick one statement piece and build around, so the eye naturally draws towards it.
This wall can focus on many things, whether it be an intricate frame or a massive zebra print. Regardless of what you choose, hold firm in this decision! A focal point gallery wall can only go wrong when you do not fully commit to the piece you selected to showcase.
You can easily do this by choosing smaller photos or more muted prints. Trust me, focal point will shine.
Corner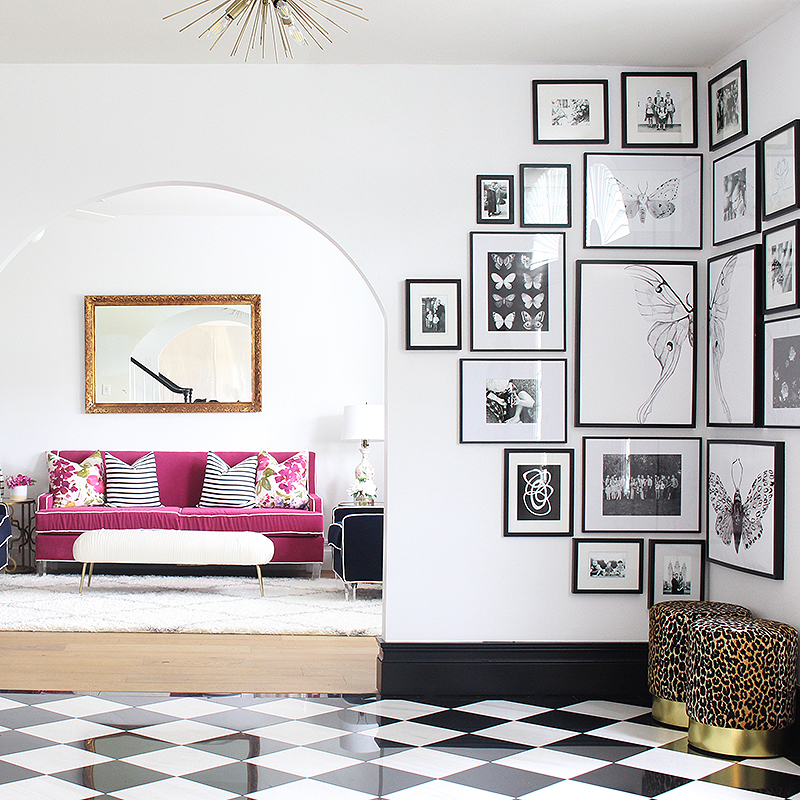 Corner gallery walls are perfect for that space in your home that just needs something. By showing care to design even the most mundane areas in your home, you create an environment that is filled with love.
I find that this type of gallery wall works best when paired with the asymmetrical design idea- it allows for the small corner to grow as large as you want!
Tip: Find an art print that is sliced into two and hang it on both corner walls. Now, you have created a starting point for the rest of your design to go off of.
Where do you get art for your gallery wall ideas?
I get most of my art from BFF Print Shop! I love their selections soo much!
I hope you love these gallery wall ideas as much as I do. If you end up implementing one (or many) of the styles into your own home, let me know in the comments!