I am a huge fan of over the door organizers and one of my favorite ways to utilize them is…a gift wrapping station!
Taking down holiday decorations is such a bittersweet feeling. It brings the end to such a joyful season, but also starts the new year off on the right note. This year, I've made it one of my resolutions to become more organized. One of the ways I did this was through a gift wrapping station! Giving gifts doesn't only happen around the holidays and I didn't have anywhere to keep all of my supplies organized.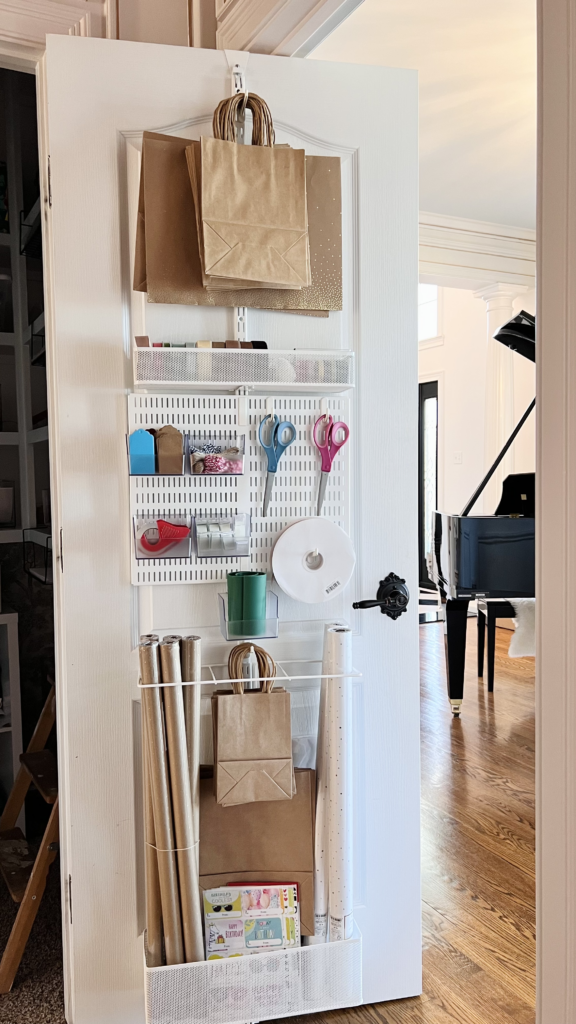 Today on the blog, I'll be chatting all about how I'm using my gift wrapping station to stay organized, even though my home doesn't allow for a ton of space. Hopefully, it can inspire you to look at even the smallest of spaces you can utilize in your home for organization!
Where To Put A Gift Wrapping Station In Your Home
When the idea of a gift wrapping station popped into my head, my initial thought was: I have no space for this! Almost every corner of my house has been decorated, used to hold toys, or is serving some sort of purpose. I was stumped.
While cleaning up our holiday decorations, I realized there was a forgotten closet upstairs in our piano room. Perfect! I was so excited there was even a free closet door to work with. Enter: the over the door organizer!
No matter how little space you think is available in your home, I bet there is a small working storage space that just needs a creative eye. My advice to you is to start opening drawers, closets, or even under-the-bed storage. I can almost guarantee you'll find space for a gift wrapping station you didn't even know you had.
Gift Wrapping Station Tips
A gift wrapping station is as unique as the person who's organizing it, so make it perfect for you! Here are a few tips to kickstart your organizing process, but tailor everything to best fit your needs.
UtilizING OVER THE DOOR ORGANIZERs:
Although I had little-to-no shelf space available anywhere in my home, I did have an empty door! So often I've thought about using hanging organizers in some way, so finally I decided to go for it!
The hanging pegboard system I purchased is exactly what I was hoping for. It's not too heavy, but still provides enough layers to add in everything I need. It's from The Elfa line at The Container Store and I'm super happy with it!
Supplies:
Keep All Your Supplies Together
I can't count the amount of times I'm halfway through wrapping a present, then realize I don't have scissors or tape. It is so frustrating!
To make my life way easier, I bought tape and scissors that are specifically designated for my wrapping area. Although I'm sure eventually they will migrate, I'm trying my best to keep them here just for wrapping purposes.

Always Have Neutral Wrapping On-Hand
After far too many times of having to go and purchase wrapping supplies on the way to a celebration (birthday parties mostly), I decided to buy neutral wrapping supplies that would fit for any occasion.
I opted for solid colors and brown bags, with fun tissue paper to stick out the top. Also, I purchased a few birthday and thank-you cards to keep on hand. Just in case!

Gift Wrapping Station: My Final Thoughts
While a gift wrapping station may not feel like the most necessary addition to your home, I totally recommend it! I love opening up this spare closet and seeing all my fun wrapping items neatly organized. Everytime I go upstairs to use this space, I know it's for something my family has been looking forward to celebrating.
Do you have a gift wrapping station in your home? Let me know in the comments! And to keep up with everything on the blog, check out my recent posts: