It's official…I'm a homeschooling mama and it was time to tackle our school and craft closet!
Something I haven't talked too much about is that our family has decided to homeschool our FIVE boys this year! Well, my youngest isn't technically enrolled, but he's along for the ride and learning so much! He's doing preschool workbooks, learning activities and crafts. He sits in on art and loves to listen in on reading time. That's the beauty of homeschooling! 
To see more of our home, The Monarch Revival, check out these posts: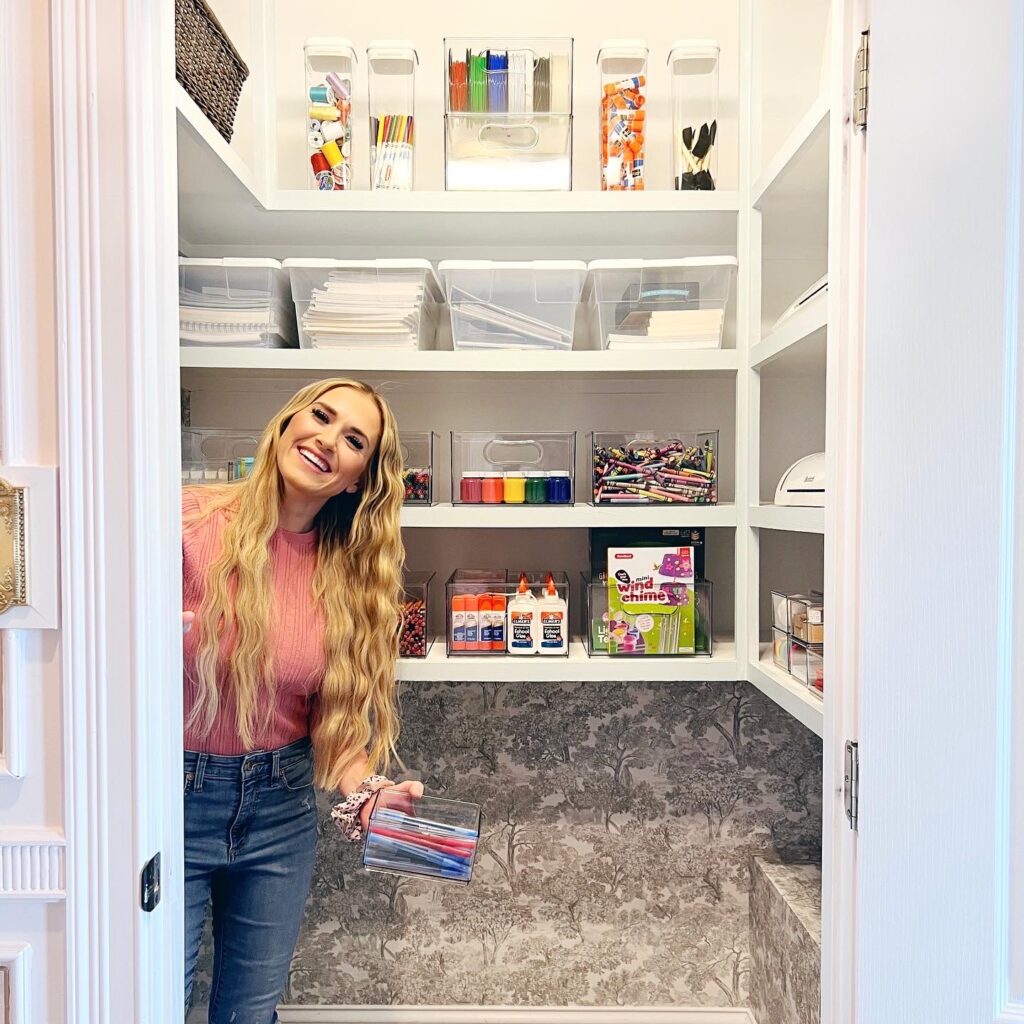 Why We Chose To Homeschool and how I "do it all"
You're probably wondering why we chose to homeschool..and truthfully? It's just a little bit of everything. Nothing "happened". No drama around this decision – it's just what I felt called to do right now. I know homeschooling is growing in popularity and it is because of all of the other families that have paved the way, I felt confident enough to take this on! It's been a heck of a ride, but now that we are in a groove, I know this was the right decision for everyone.
I often get asked how I "do it all". First, I don't. My kids and husband are incredibly helpful with household tasks, cleaning, cooking and even projects. While I do most of the homemaking tasks (cleaning and projects), my husband does most of the cooking, my boys help significantly with chores and laundry and are even showing interest in cooking! I am so grateful to have recently hired a wonderful cleaning team that comes twice a month to help with deep cleaning but I do the daily chores.
I'm a full-time mom but I also work full-time. My business Mallory Nikolaus Home is a full-time job, requiring 40-60 hours per week. I have 2 employees and a manager that manages my brand partnerships. I'm also in the process of launching another business venture, my home decor shop, Monarch Home.
Typically I teach from 8am – noon then the boys do independent work while I work on my projects and on my business from 12 – 6 or 7pm. I work 6-7 days per week. I try to schedule some weekends per month off but since I homeschool the kids and own my own business, it requires more days per week. This is just the season of life I'm in and homeschooling my boys is worth the extra work days to keep my business afloat.
HOMESCHOOL CURRICULUM
We use a Christian-based curriculum for our kids. We use The Good and The Beautiful for most of our curriculum (English, Language Arts, Handwriting, History and Science). We use CTCMath.com for Math. We do PE, Music and Art on our own.
Homeschooling requirements vary state to state so it's important to make sure you're meeting legal requirements for homeschooling your children. We use a local Christian Private school as an "umbrella school" to help us stay on track with state requirements, standardized testing, field trips and more. They help me make sure I don't miss a beat when planning our homeschooling experience.

Homeschooling Supply Storage
I needed to have all of our materials in one place and our current craft closet was not functioning like I originally intended. I had bins with lids that held our supplies like pens, pencils, and other crafts, but none of us committed to putting the lids back on when we were done. It was a mess day after day. In short, our system wasn't working!
The Before: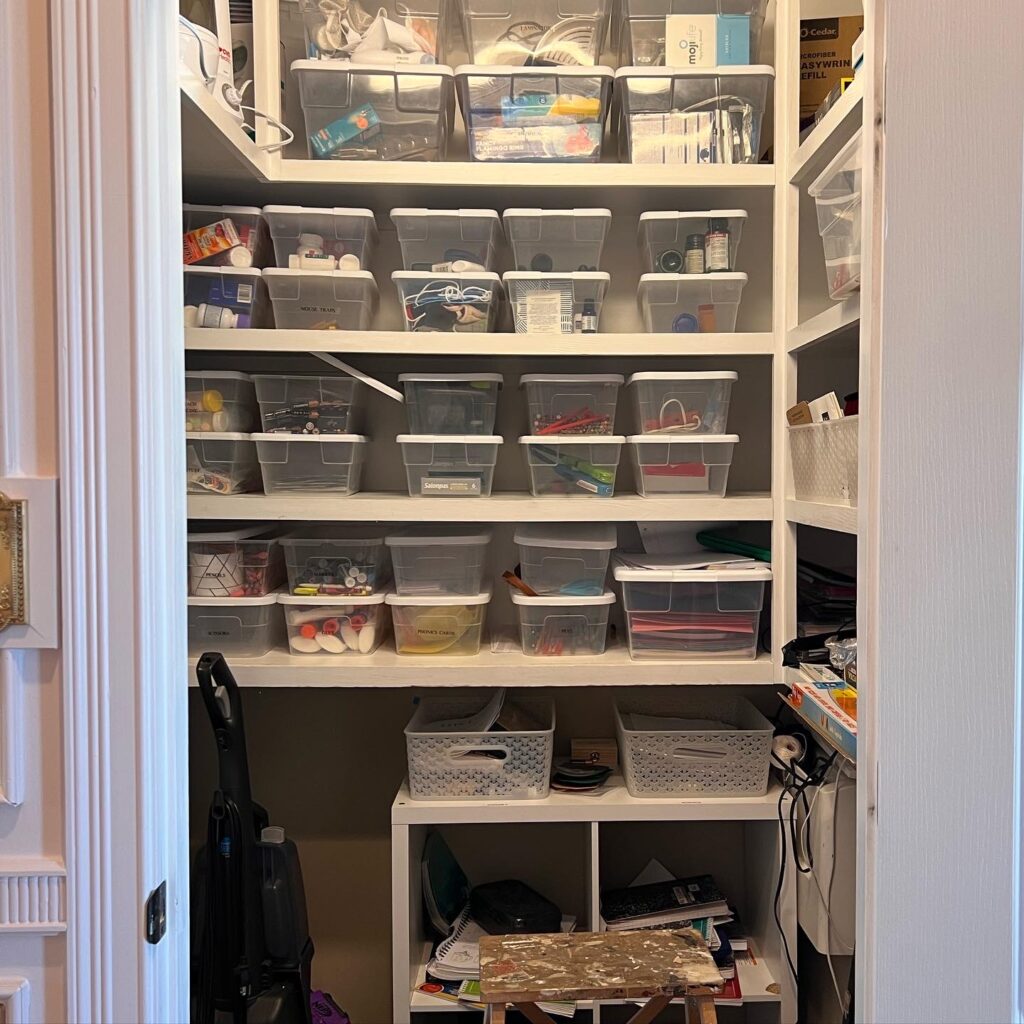 I headed to Walmart to pick out some open storage solutions for our craft closet and found the BEST stuff!

My Craft Closet Organizing Tips
We've been in this house for a short time and this is the second time I'm tackling this closet. It's my goal today to share what I've learned about the best way I've found to organize craft closet and school supplies.
Group Like Items – This may seem like a given, but organizing items by type makes finding what you need a breeze!
Utilize Vertical Storage – I know not every closet has shelving, and if that is the case for you, leverage hanging storage with wire baskets, shoe organizers, and/or hanging shelves!
Open Storage Works Best For Kids – When my kids need crayons or markers, they know where to find them AND can put them back as easily as they pulled them out. That is the key to keeping it organized…making it easy to put away.
Keep Your Most Used Items At Eye Level – Unless it's something messy/dangerous, keep what you use most often right at eye level to grab with ease. If your kid's use this item often, keep it at THEIR eye level!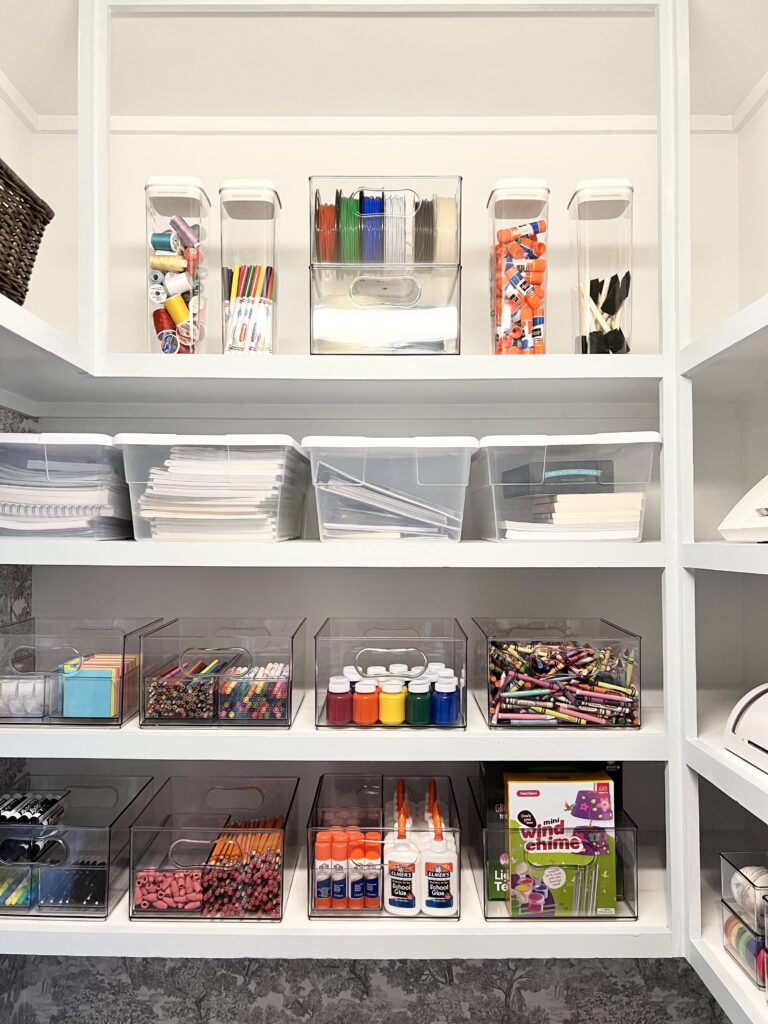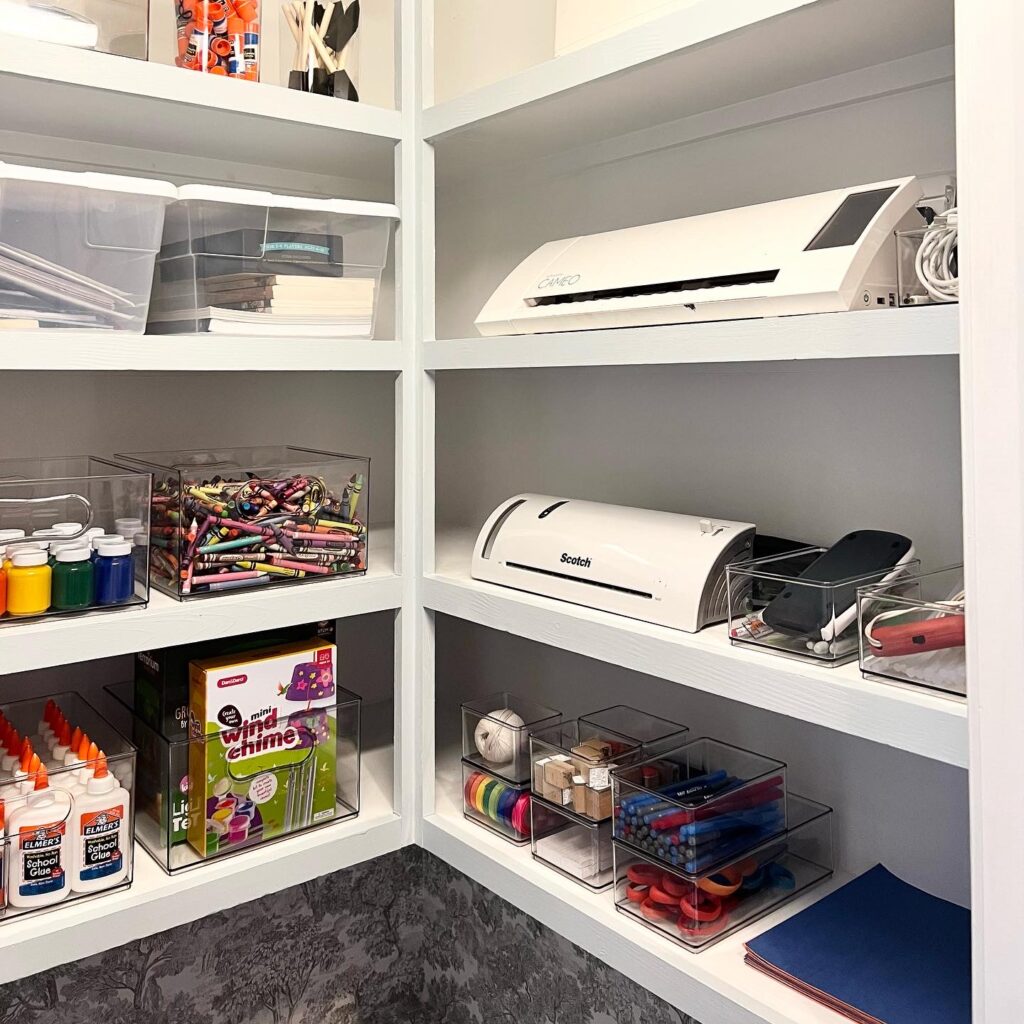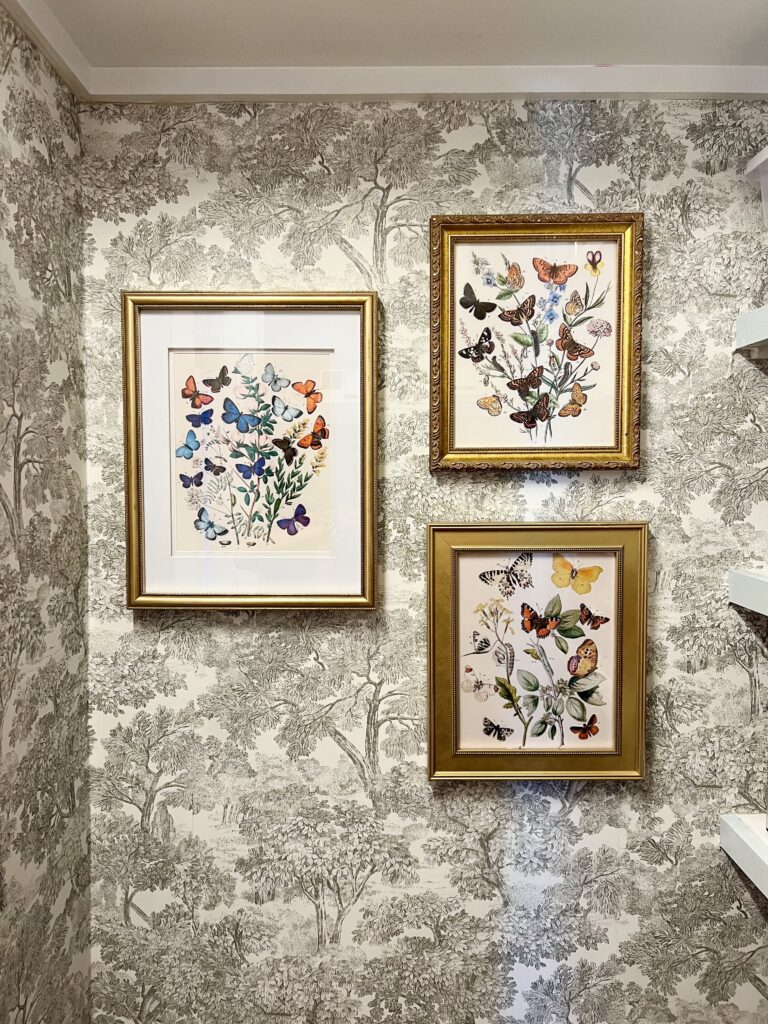 And of course, I wanted to upgrade this closet just a tad, which is why I added this gorgeous wallpaper from Walmart!
Craft Closet Organizing Supplies