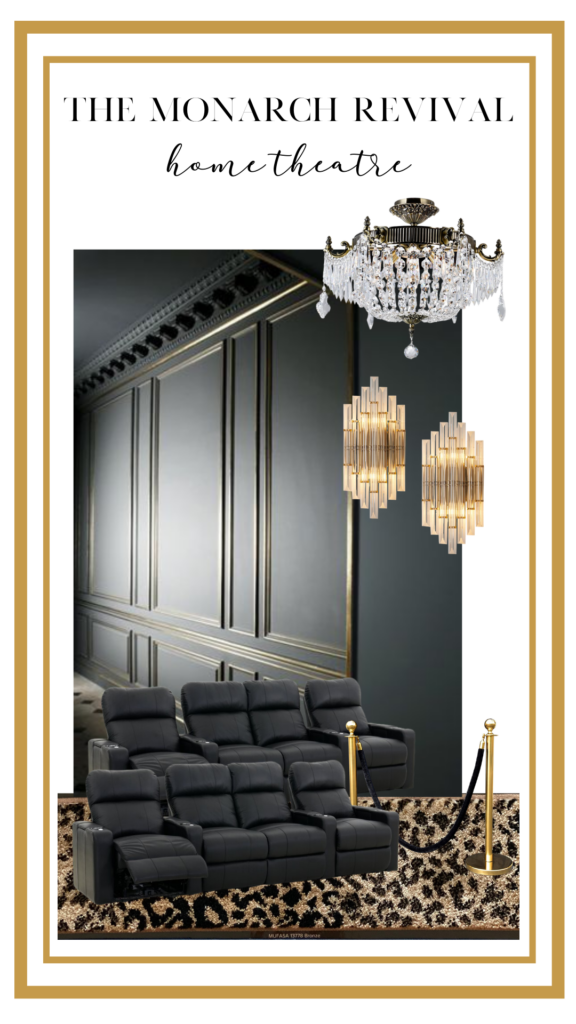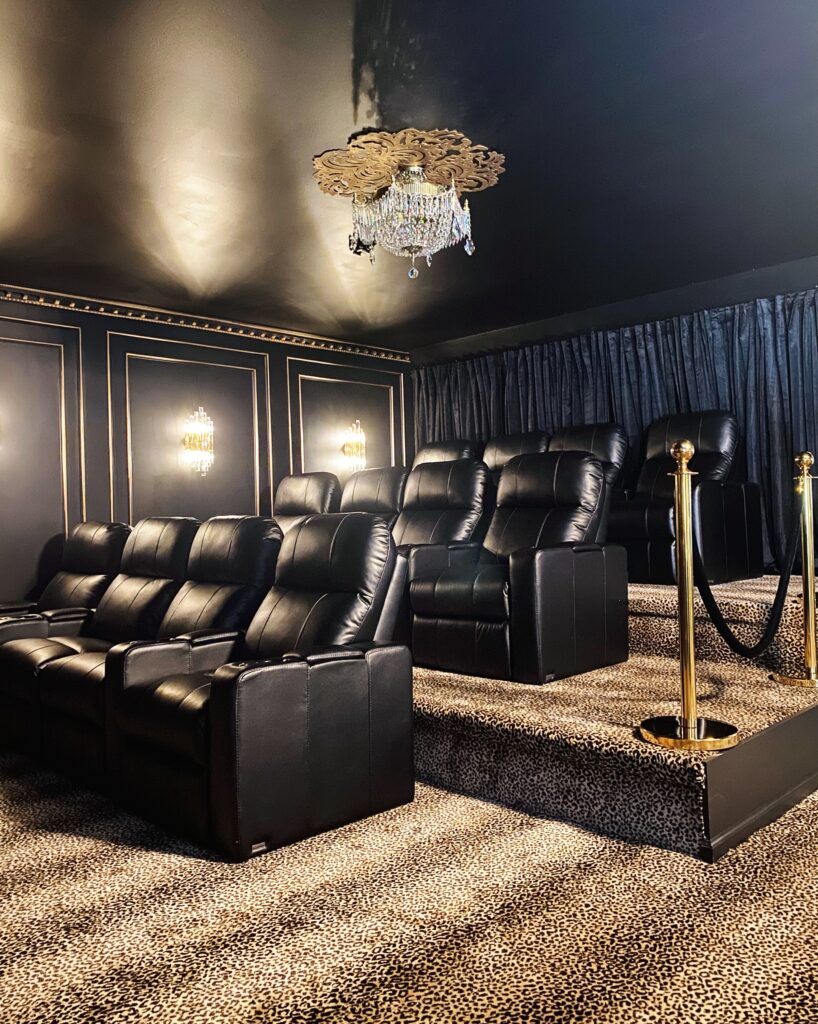 We've been working hard on our new home theatre! I'm still pinching myself that we have space to create this dream my husband and I have had for years! A dedicated home theatre feels so exciting and so surreal. We are so grateful to be able to create this space for our family!
Our home theatre is on the third floor of our home. The room is about 750-800 square feet of open space. We are using a little over a third of the room for our home theatre and the rest will be a game room / playroom!
Here's what the room looked like when we started.
HOME THEATRE BEFORE |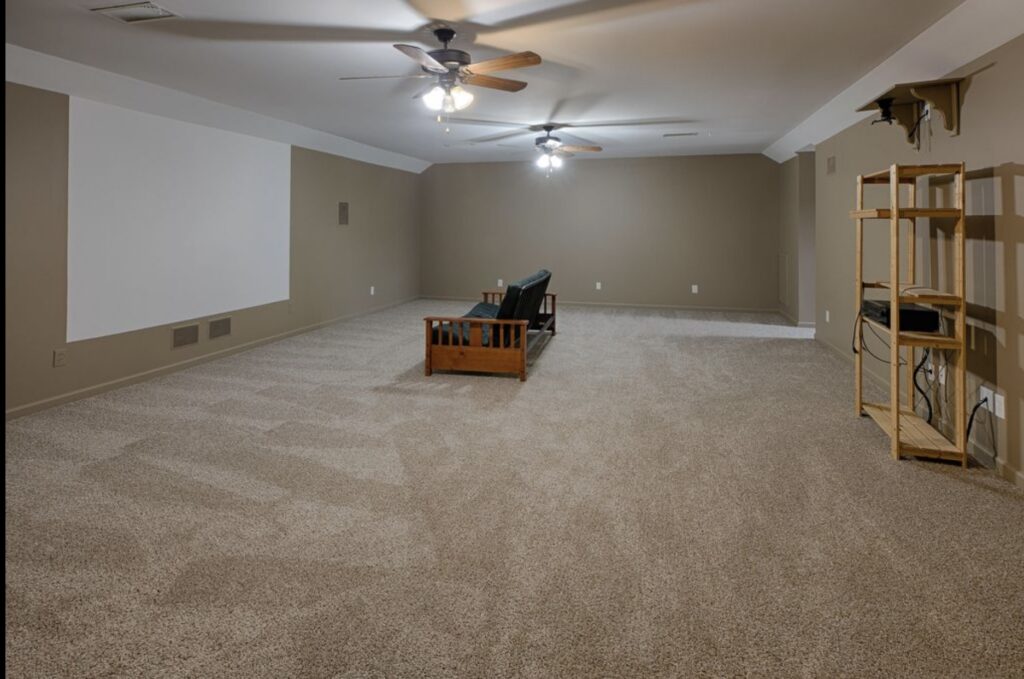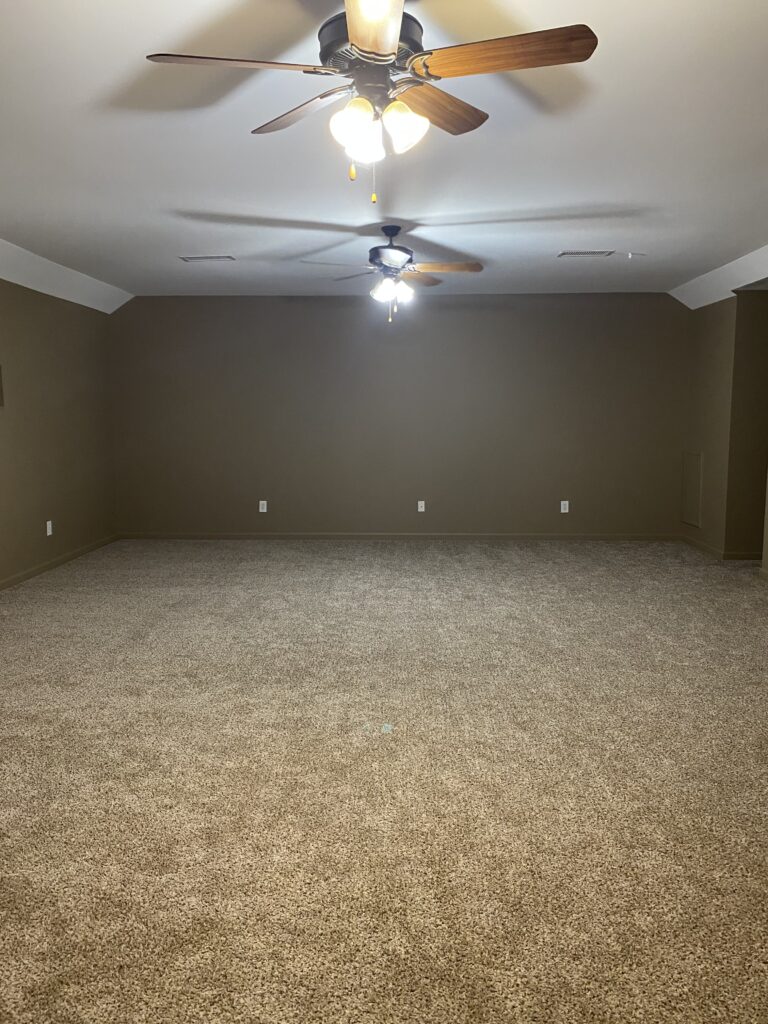 Creating a home theatre can be done in any extra space in your home. A bonus room, bedroom, basement or even the right attic space can be converted to a home theater. I started by emptying out the space. We had a sectional and an old bookshelf that came with the house. We removed the old speakers and closed the holes with drywall. Then, we removed the old ceiling fans, carpet and old carpet pad. This gave us a blank slate for our home theatre project.
With everything removed, it gave me a clean slate to design this space. I knew I wanted dark walls and Craig insisted on them being black! I thought it was a good idea and it helped propel my design forward. Once we decided on elaborate trim, crystal chandeliers and leopard carpet – as long as our carpet supplier had "the right one". I had a very clear idea of the type of leopard print I wanted. Luckily, a local shop had the perfect one so we scheduled a measurement appointment.
We had a few ideas on how to layout the space but the room is really large (48×20′) so it didn't make sense for us to use ALL of the square footage for the theatre. We decided to split the room into a theatre and a game room, hang out space. Dividing it this way allowed for the room to function as both!
For the theatre, we built risers deep enough to accommodate the theatre seating we chose. The first row is on the main floor level, second row is 12″ tall and back row (3rd) is 24″ tall. Our ceilings are 9 feet so the back row still stands at 7 feet tall. Plenty of room for a grown adult to walk to his/her seat. The platforms are wide enough for 4 recliners and a walkway.
Dimensions of risers |
2nd row (first riser): 168 (l) x 125 (d) x 12 (h)
3rd row (top riser): 168 (l) x 65 (d) x 24 (h)
PROGRESS |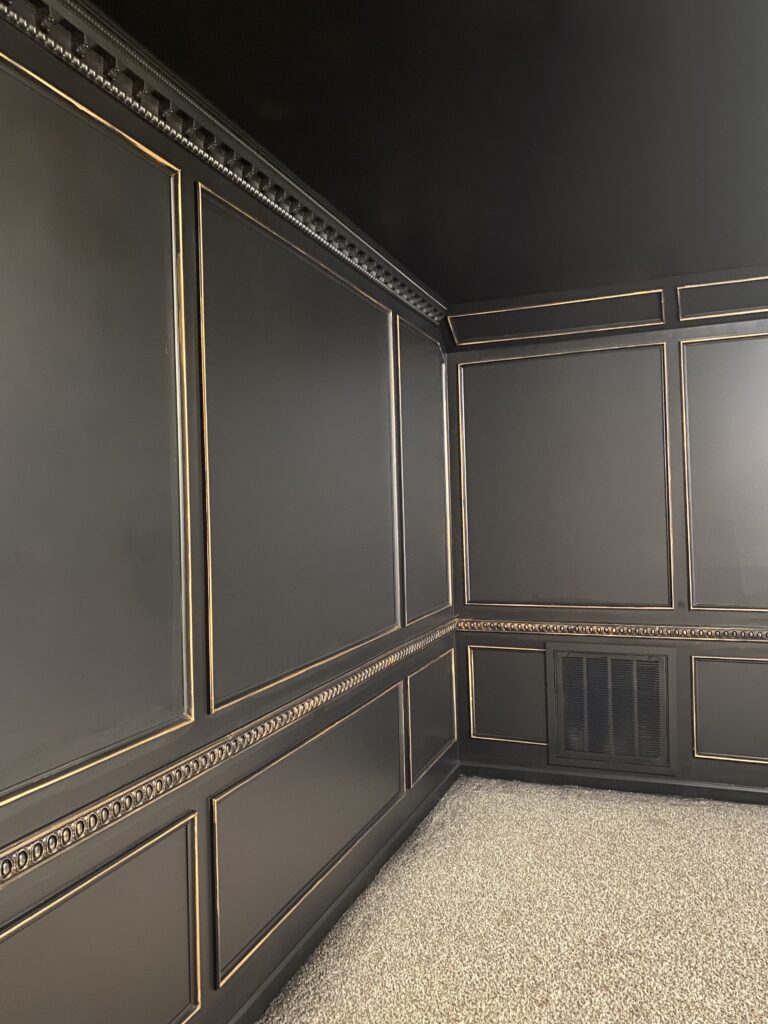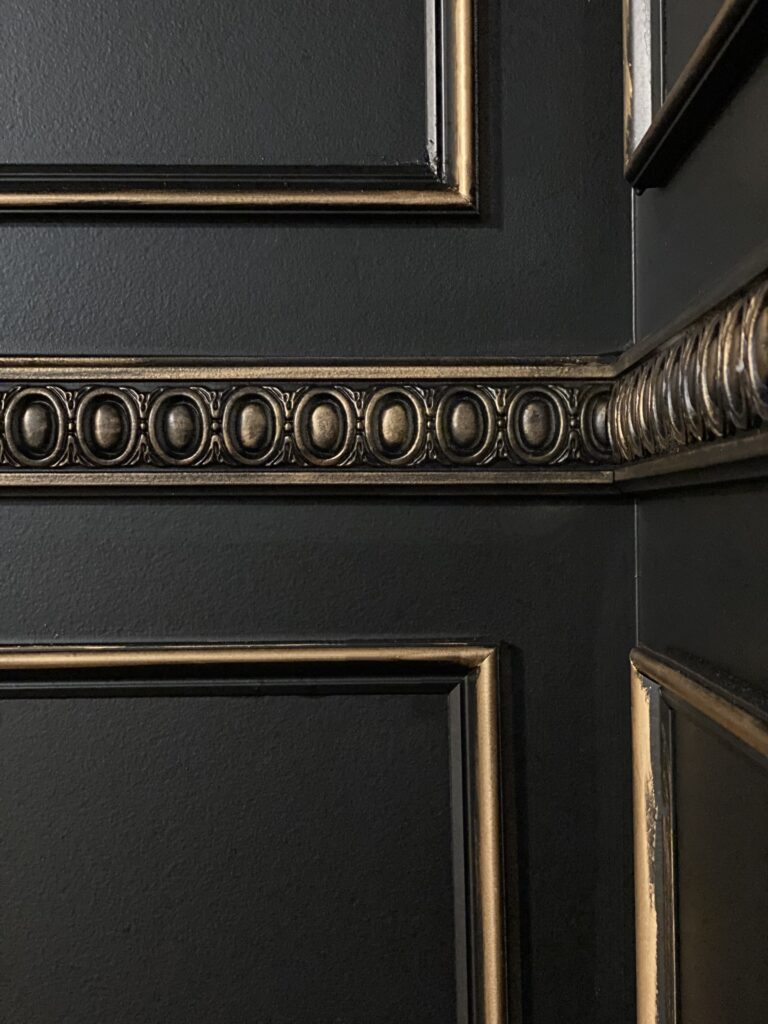 I've been designing this space in my head and on my design boards for months and now that it's time to start putting this together, we're very excited! The goal is to create an upscale Gatsby vibe that is comfortable and inviting. I'm combining rich tones, textures and a touch of glam to achieve that vibe. Nothing boring or understated here!
Home theatre | AFTER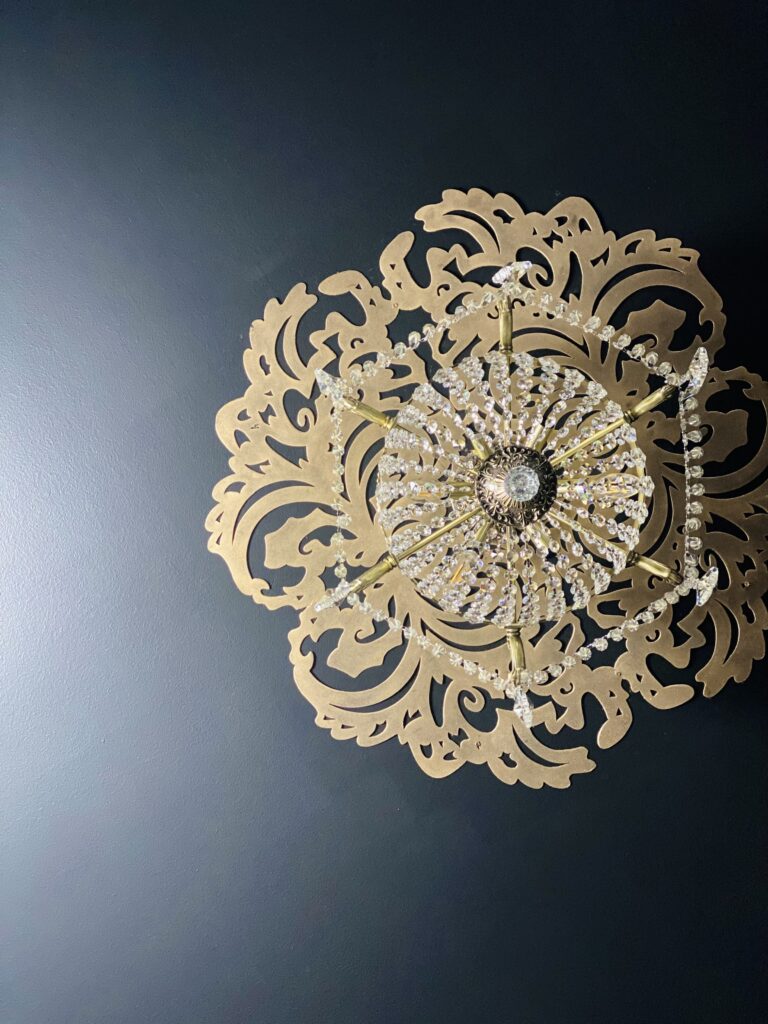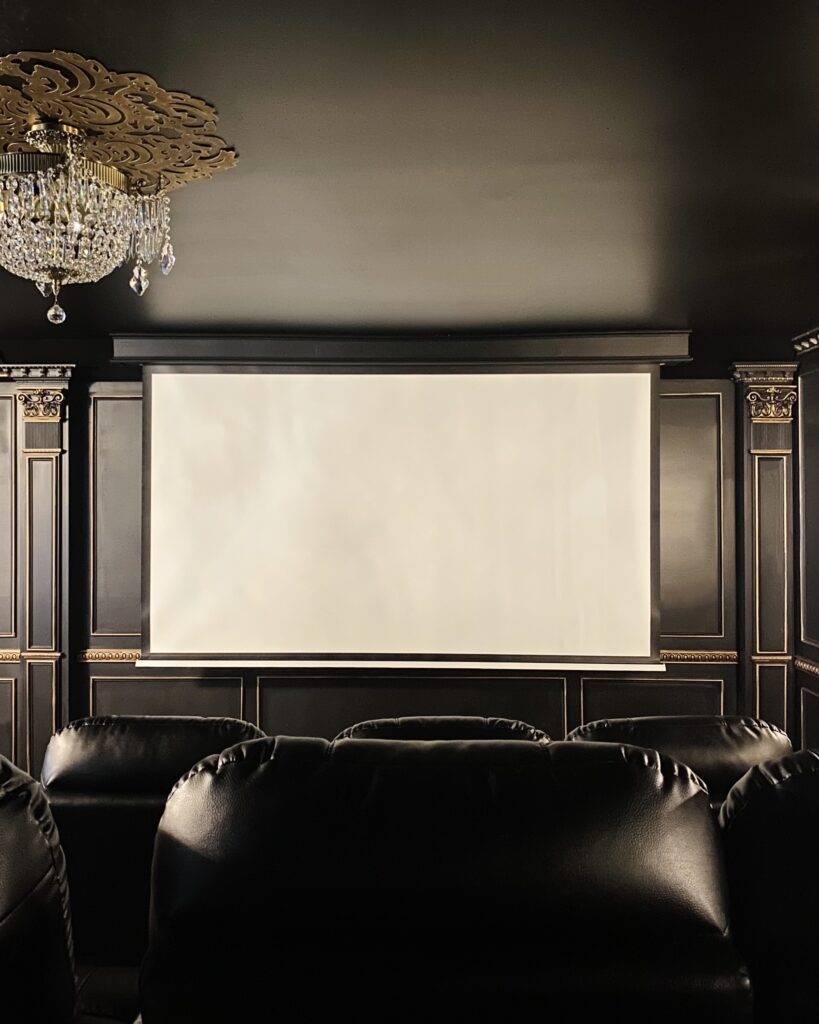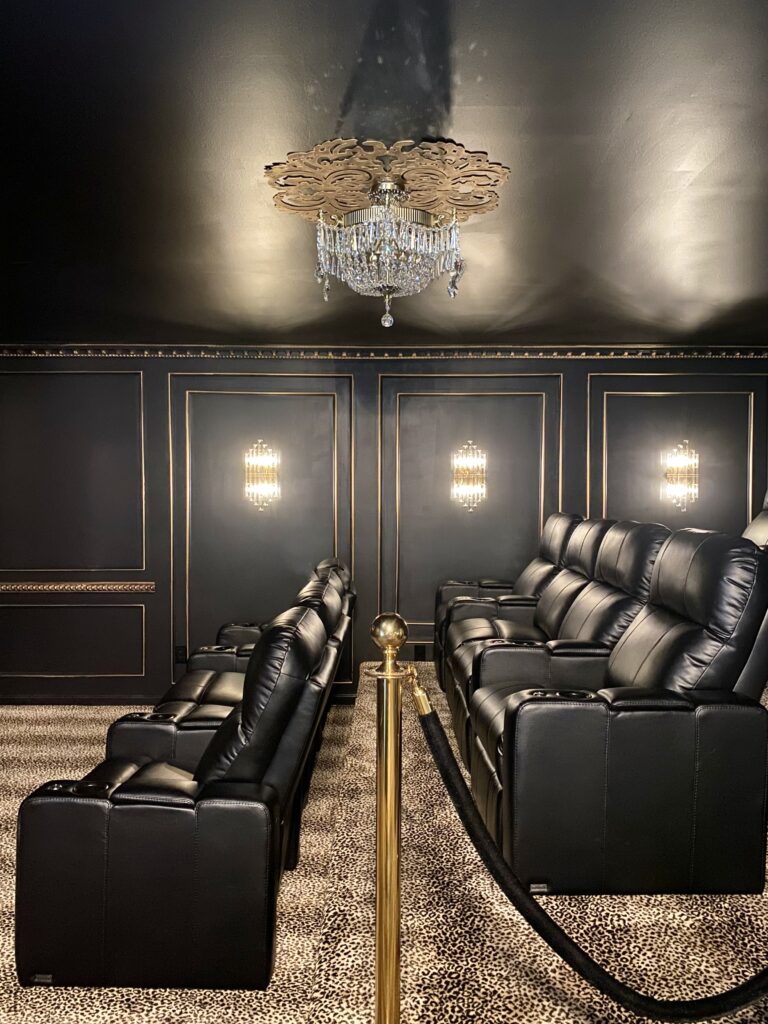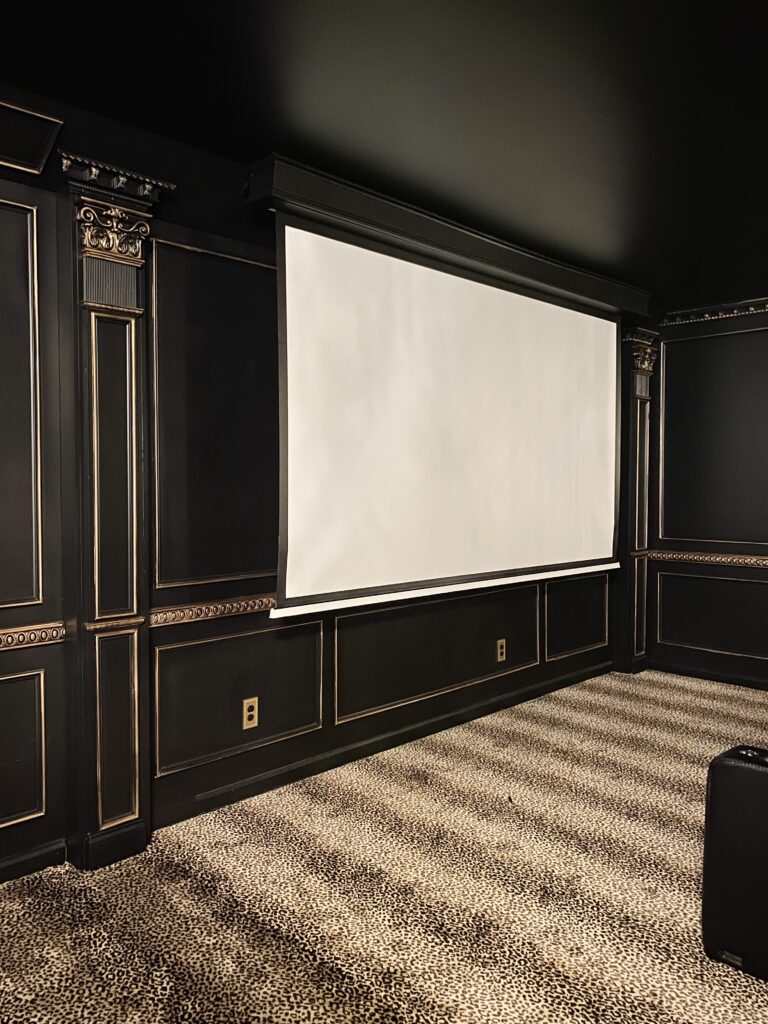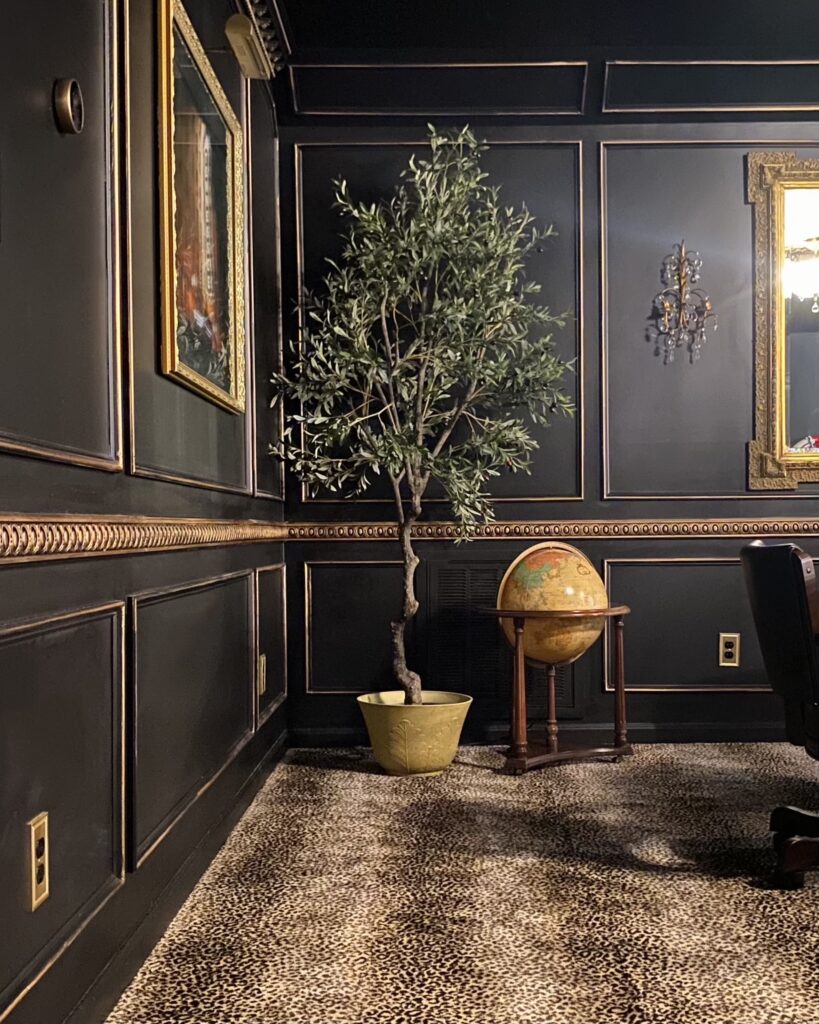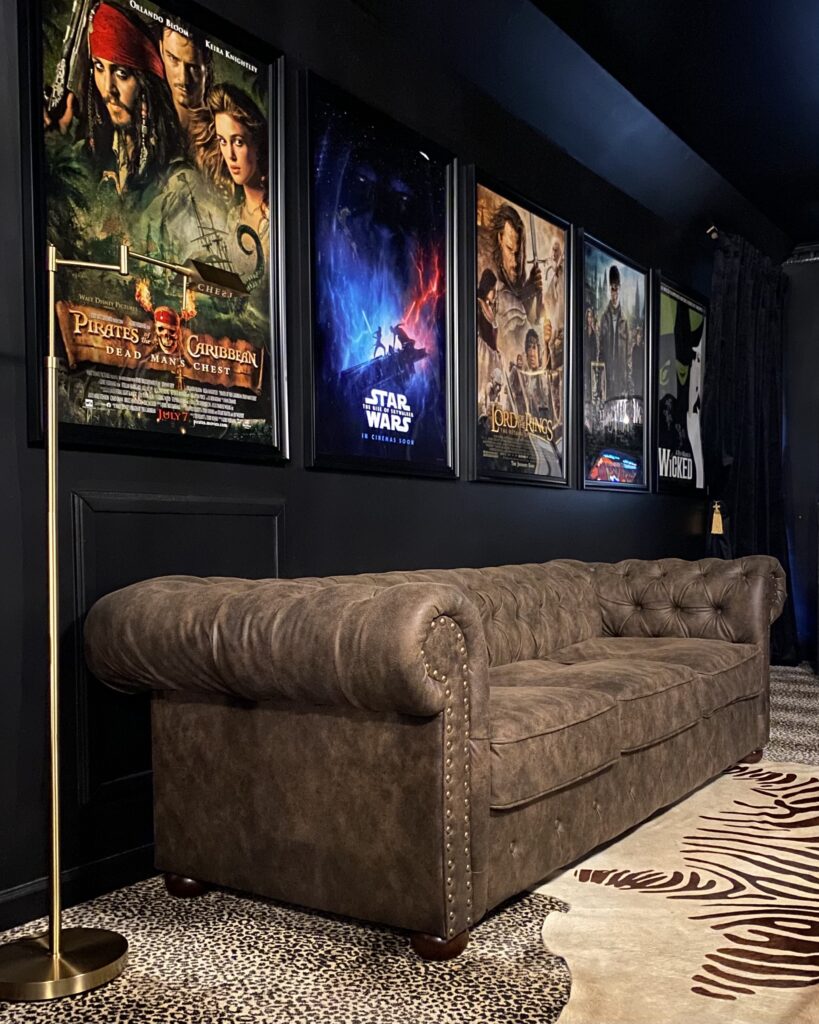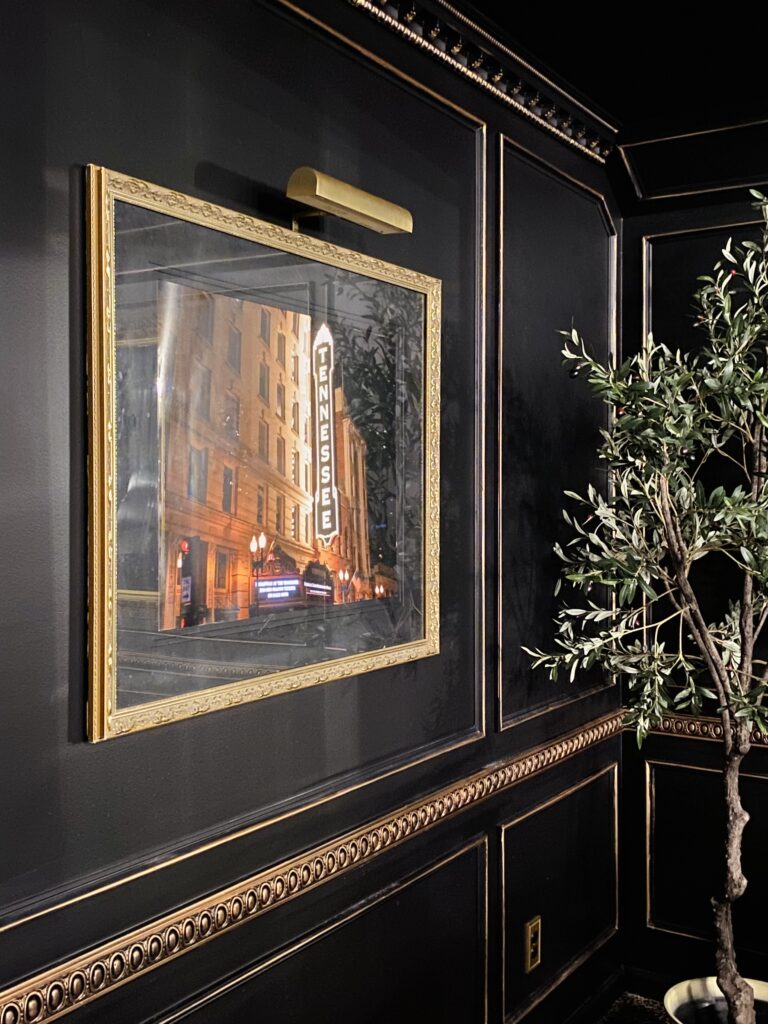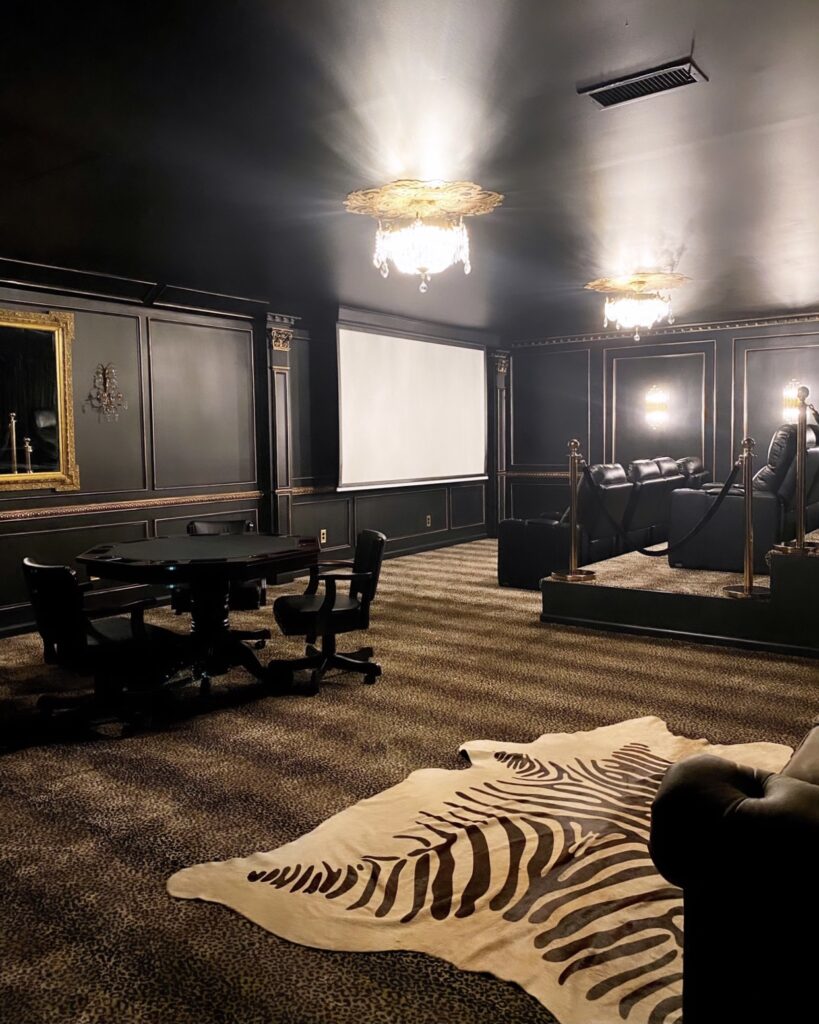 Home Theatre
SOURCES

|
(will update as final decisions are made and orders are placed)
Paint color: Behr Carbon – Eggshell – walls, Satin – Doors
Gold Accent Color: Rub 'n Buff – Antique Gold
Door Knobs: Amazon
Crown Moulding: Amazon
Wall Trim: Home Depot
Chair Rail: Wayfair
Carpet: Stanton Carpet – Mufasa Bronze
Theatre Seating: Wayfair
Chandeliers: Wayfair
Metallic Ceiling Medallions: Horchow
Sconces: Wayfair
Velvet Ropes / Stanchion: Amazon
Black Curtains: Amazon
Black Curtain Tracks: Amazon
Gold Nest Thermostat: Amazon
Antique Brass Light Switch Cover: Amazon
Brass Outlet Covers: Amazon
AV EQUIPMENT |
Projector: Adorama
Projector Mount: Amazon
Speakers: Amazon
Projector Screen: Monoprice
MOVIE POSTERS & ART |