When it comes to making design choices, I always try to push myself towards something unique. Although classic styles make a beautiful base to a room, adding a few fun options guarantees to make your home feel like it's yours. One of the coolest choices I've made to date was using concrete countertops in our Arizona home.
Today on the blog, I'll be chatting about all things involving concrete countertops! From pros and cons, color choices, and install options- I've got you covered to decide if this alternative countertop is the choice for you.
What's The Buzz Around Alternative Countertops?
While we all love the traditional marble or granite, there's something fun about having a unique option in your home. I've been playing around with different materials for countertops for years and have loved the end results.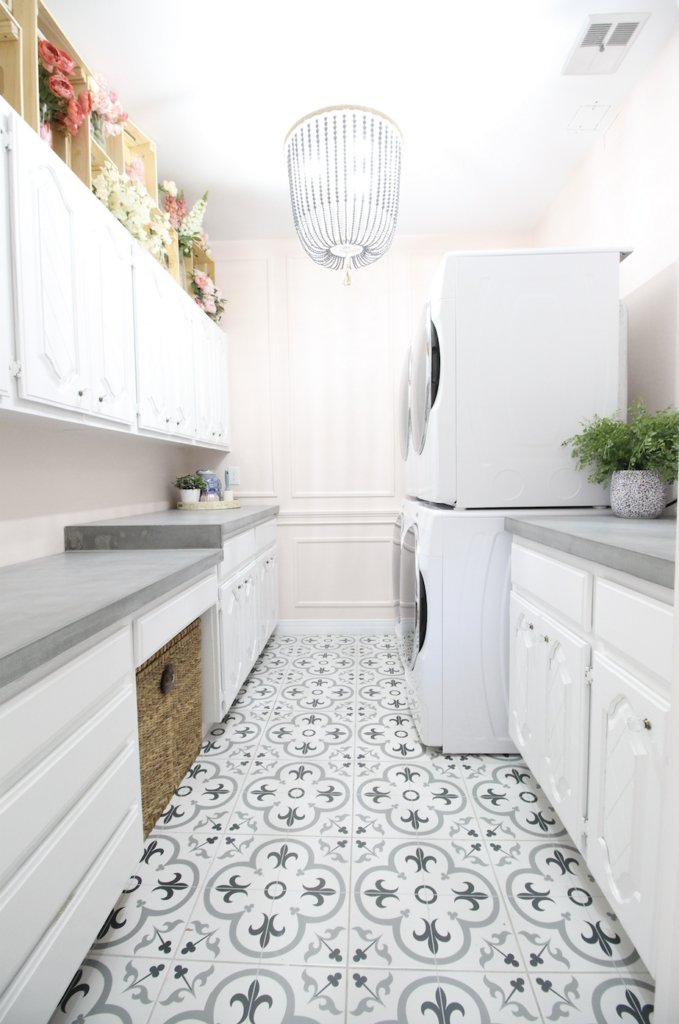 In our Mesa home (House No. 13), the time had come for a fresh facelift in our laundry room. I wanted something cost-effective and durable for this space specifically. I debated between butcher block and concrete countertops, but decided to go with concrete – I'm so glad we did!
Although we no longer have concrete countertops in our home, I still love them so much and think they're a really interesting take on typical countertops that offer a lot of appeal.
My Pros And Cons
Although I absolutely loved our concrete countertops for the laundry room, here's what I learned along the way.
CONCRETE COUNTERTOP PROS:
Material affordability
Long-lasting
Heat-resistant
Versatility in color options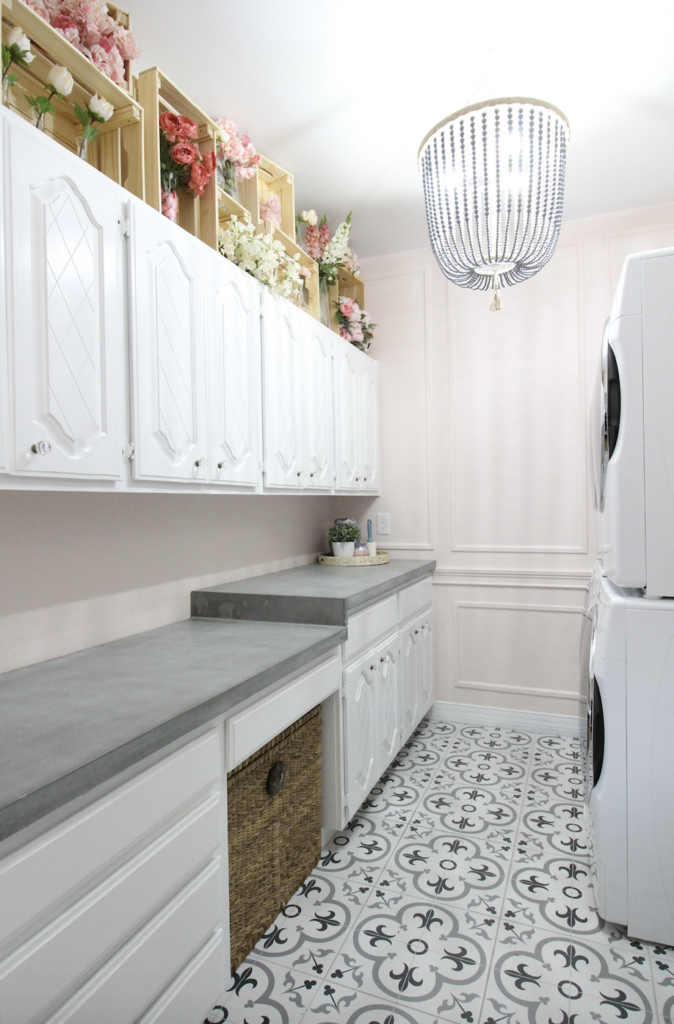 If you're looking for a more affordable option to marble or granite that will last forever, concrete countertops are the way to go! This is quite possibly the most durable material you could choose for your counter, especially if you're considering in the kitchen for their heat-resistant properties. Overall, they held up great the entire time we lived in our Arizona home.
Another exciting option with concrete countertops is the versatility in color choices. Although the typical gray is a beautiful option, it tends to lean really industrial. Now, various shades of gray, white, and more are available.
CONCRETE COUNTERTOP PROS:
Potential for stains
Cracking overtime
Heaviness
The main concern with concrete countertops is the potential for stains. Because concrete is such a porous material, liquids can absorb really quickly. If concrete is put into heavily-trafficked areas (especially where your kids spend a lot of time) staining is guaranteed to occur.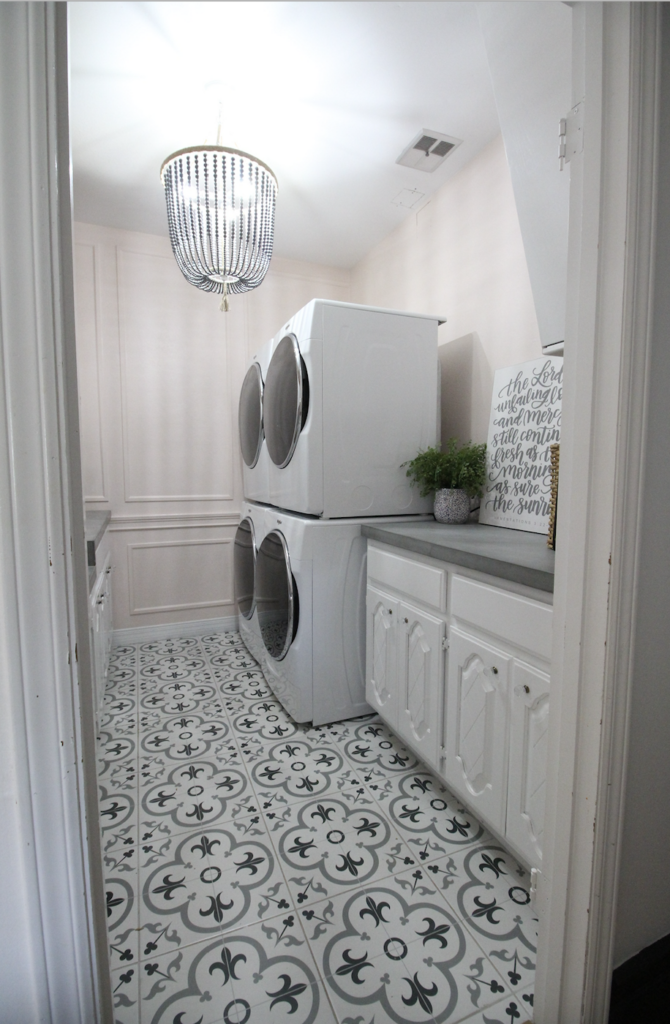 Another huge con for these countertops is the guarantee for cracking due to hardening continuing over time. Personally, I love the character that comes with the natural age of concrete, but it's all preference.
The last issue to consider with concrete countertops is their heaviness. Depending on how much concrete you use, additional support is needed in both your flooring and cabinets. This can be incredibly expensive to make sure it's done correctly.
Install Options: Can You DIY Concrete Countertops?
Concrete countertops are really popular within the DIY community because it's such an accessible material to purchase, but I'm not sure I recommend trying to make countertops yourself. This is an incredibly messy, drippy, and hard to finagle substance that takes a lot of precision to make flat and smooth. Biggest concern of all is the weight that comes with concrete as it dries.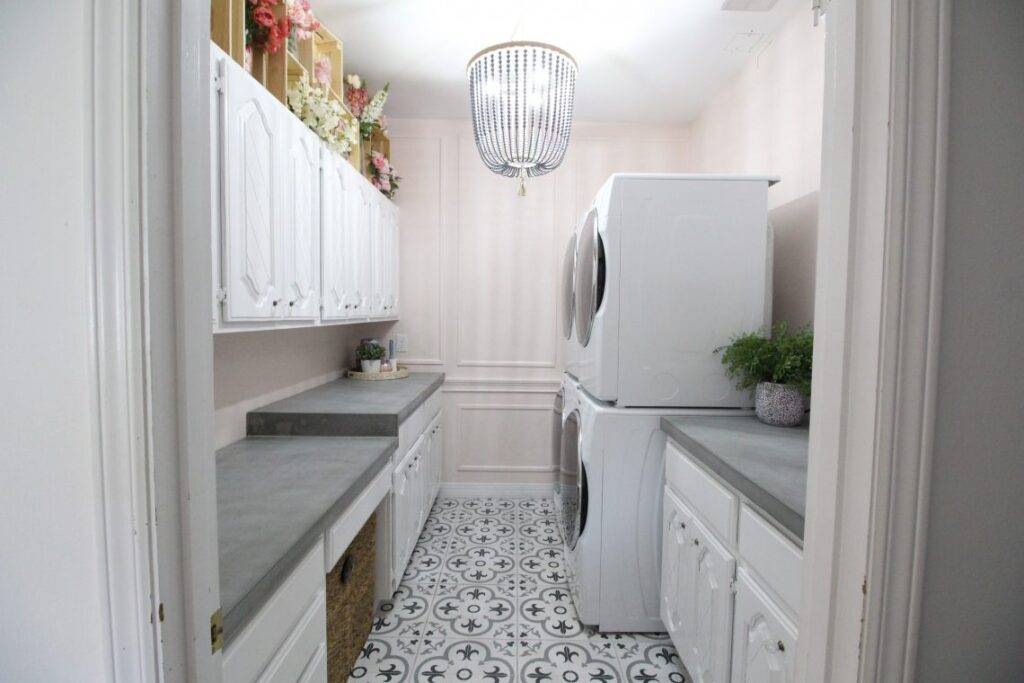 For our laundry room, we worked with Compound Concrete, a local Arizona business that did an incredible job! I cannot recommend hiring professionals enough to show you all the options available and make your install process simple.
Color Options
One of the things I love most about modern concrete countertops is the variety of colors available. Through working with Compound Concrete, they introduced me to concrete colors I didn't even know existed. My favorite of all is a beautiful white color that mimics marble- especially as it ages. A really classic choice that doesn't feel as industrial as the typical gray option.
What do you think about concrete countertops? Please let me know in the comments! And to keep up with all things on the blog, check out my latest posts: