Today on the blog, I'm sharing an alternative to an upholstered headboard DIY. Instead of reupholstering my headboard, I found inspiration in London to wrap my favorite fabric around wood panels and mount them to the wall for a unique, detailed look.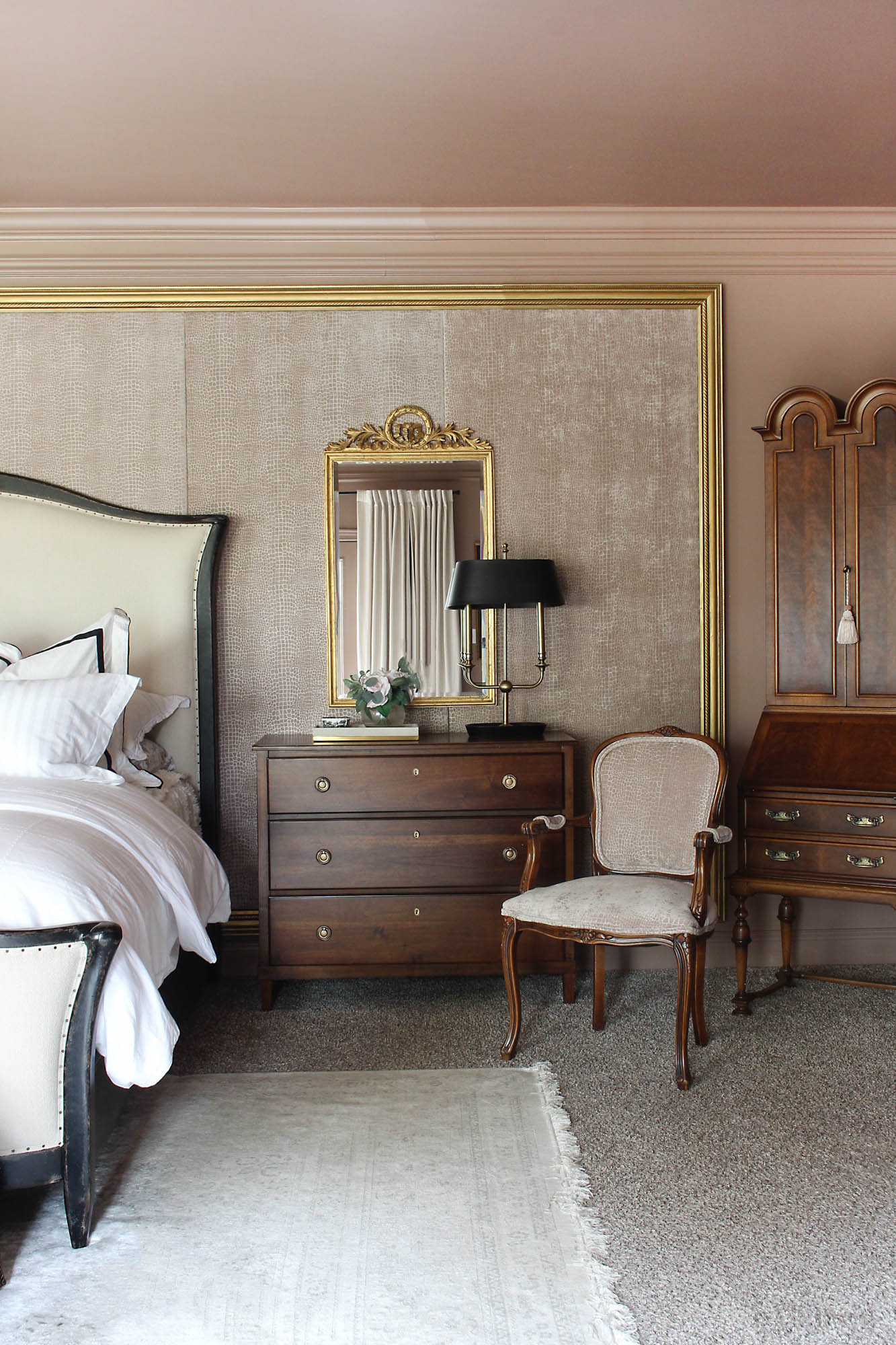 I left for London feeling a bit depleted of my creativity. We had just finished our major hand-made kitchen and also painted our primary bedroom. There is never a shortage of projects around here, but if I don't have a design that I'm crazy about, it's much harder to execute. You can't map out the steps if you don't know where you're going!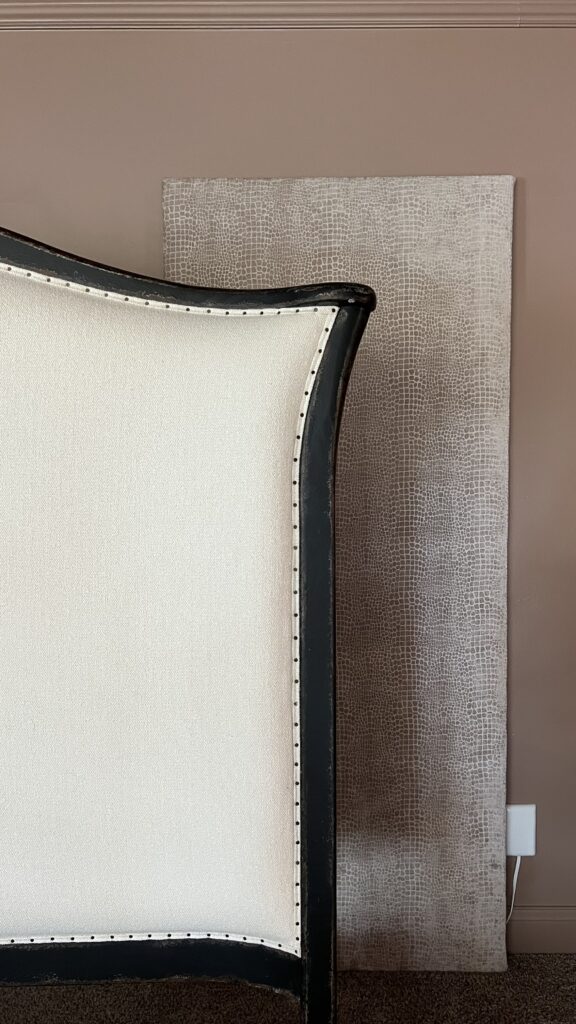 When we were in London, I tried to let the inspiration flow rather than actively seek it out. This wasn't hard to do – ideas were flying at my faster than I could grab my phone to take a photo. When we walked into our hotel room, I immediately felt a sense of luxury and coziness at the same time. I wanted my bedroom to feel this way.
Down the street, the iconic hotel, Claridges brought so much inspiration. I happened upon a photo of a newly revealed suite in their hotel and it hit me! I needed an upholstered wall piece in my life!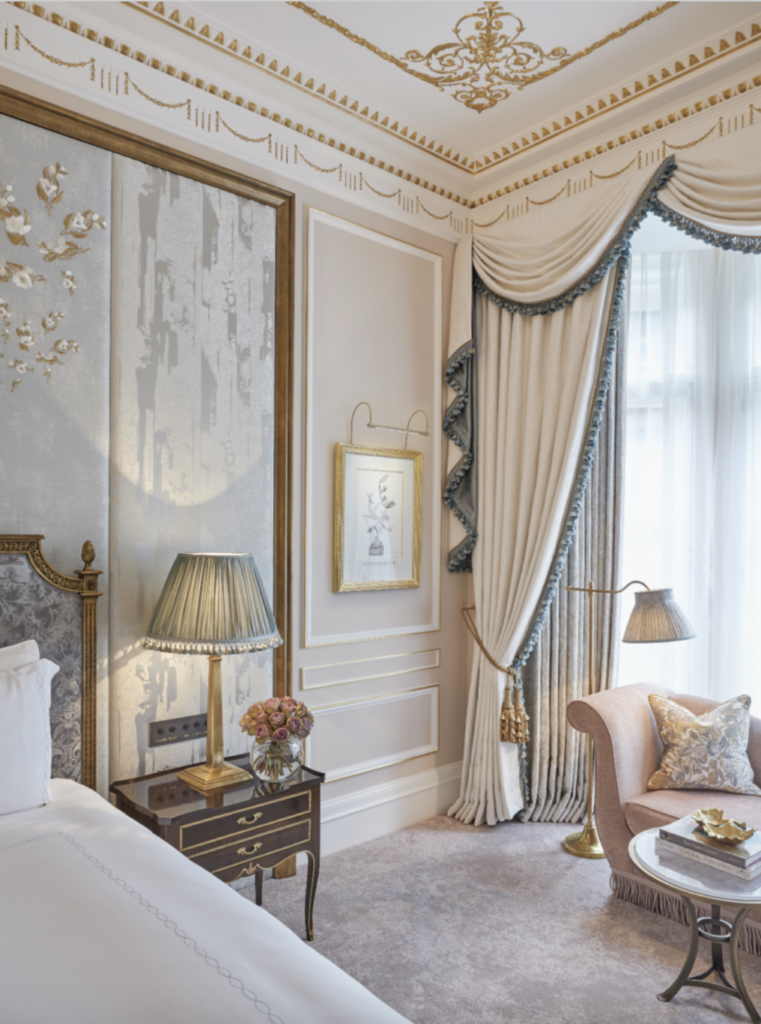 It was separate from the headboard, but added so much interest to the space in a way that I couldn't forget. It was one of those subtle details that took the room from good to great.
Don't think I didn't notice the fringe on the sofa! *wink*
When I got home, I went through my fabrics and realized I should have just enough to pull this off with what I had on hand. I had initially planned to add pillows to my Monarch Home line, and when I decided to pivot to wallpaper exclusively (for now), this favorite fabric of mine found a home in many different projects. Remember when I reupholstered my Great Grandma's chair?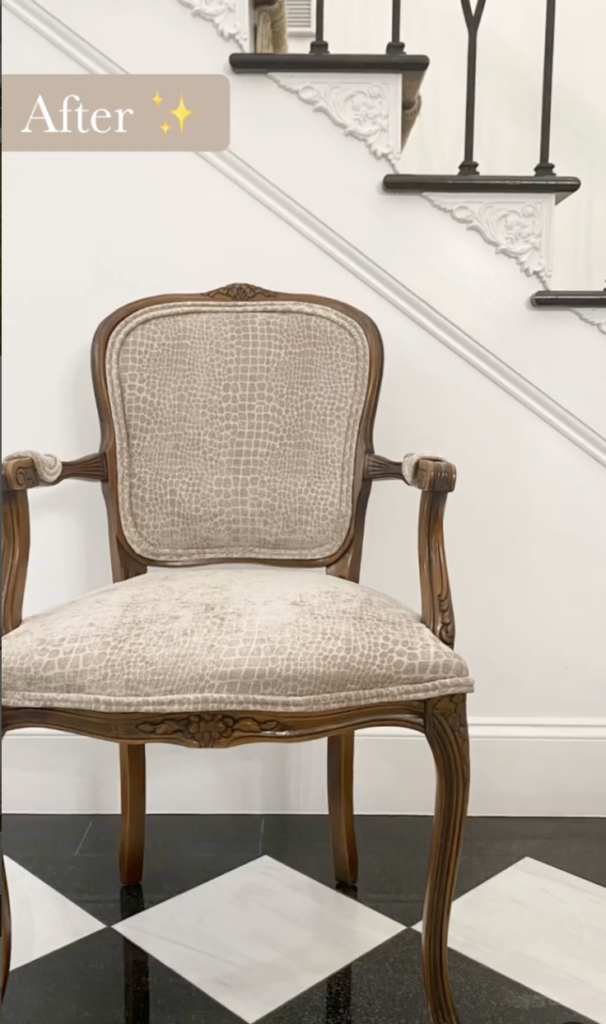 Getting inspired may have been the easy part, but I was determined to make this work in my space.
Project Overview – Upholstered Headboard Alternative
Instead of upholstering the entire wall, my idea was to create panels that I could upholster first, then secure to the wall. This made more sense since the fabric is only 54″ wide and I needed, gulp, 216″.

How To Create An Upholstered Wall For A Fabric Wallpaper Appearance
Upholstered Headboard Alternative
Determine size of wall to be covered and size of panels.


I did 6 panels (3′ wide x 7′ tall).

Cut plywood panels to size


Home Depot or Lowe's will do this for you if needed!

Cut fabric and batting to size ADDING about 3″ extra on each side for wrapping and stapling

Lay fabric face down and layer batting and plywood on top

Wrap sides of fabric around plywood, tightly, securing with staples

Install French Cleat to back of each panel

Install mounting side of french cleat to your wall

This is easier than it looks!

Hang panels on the wall

The final step!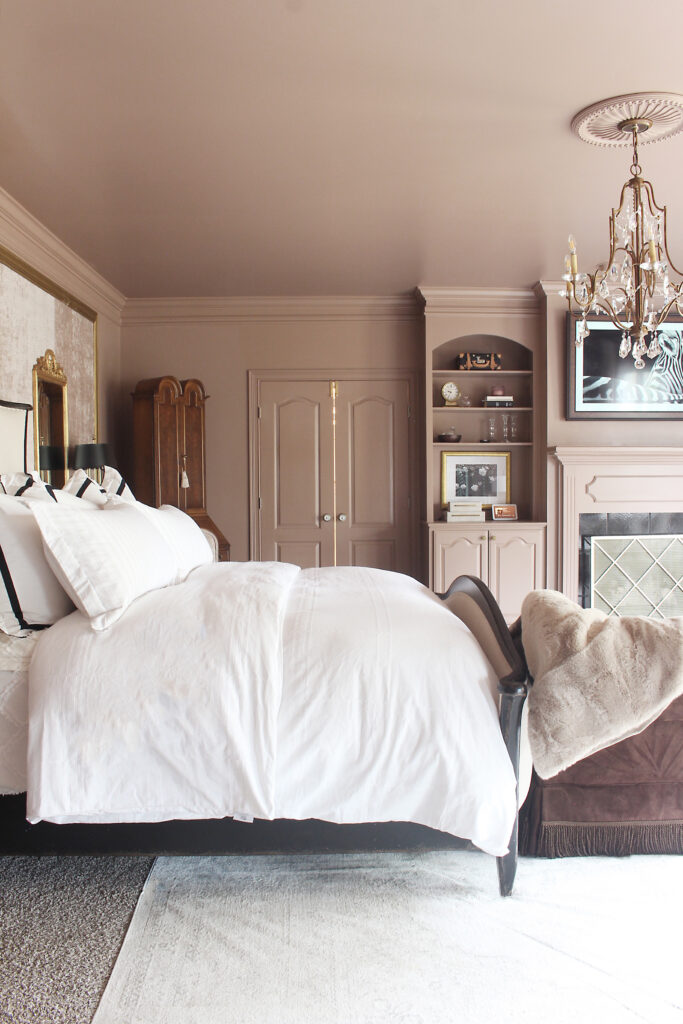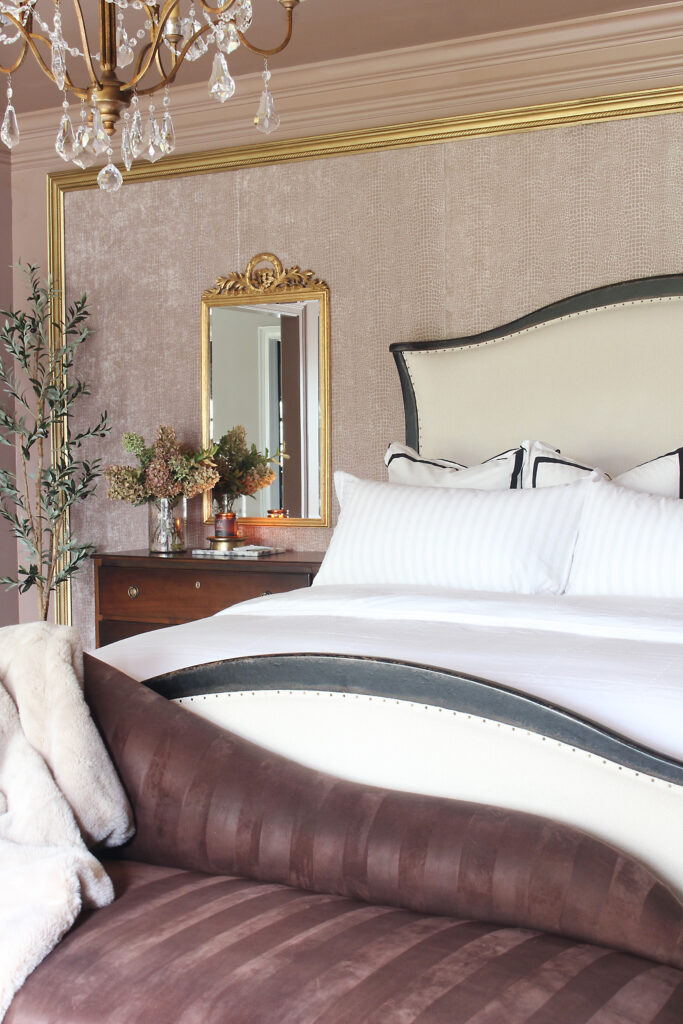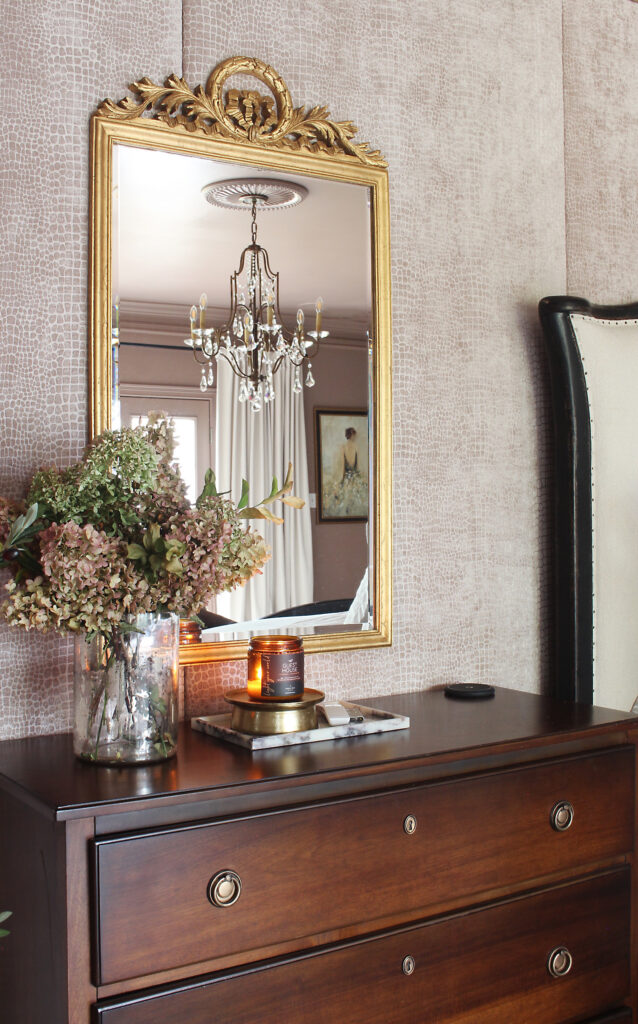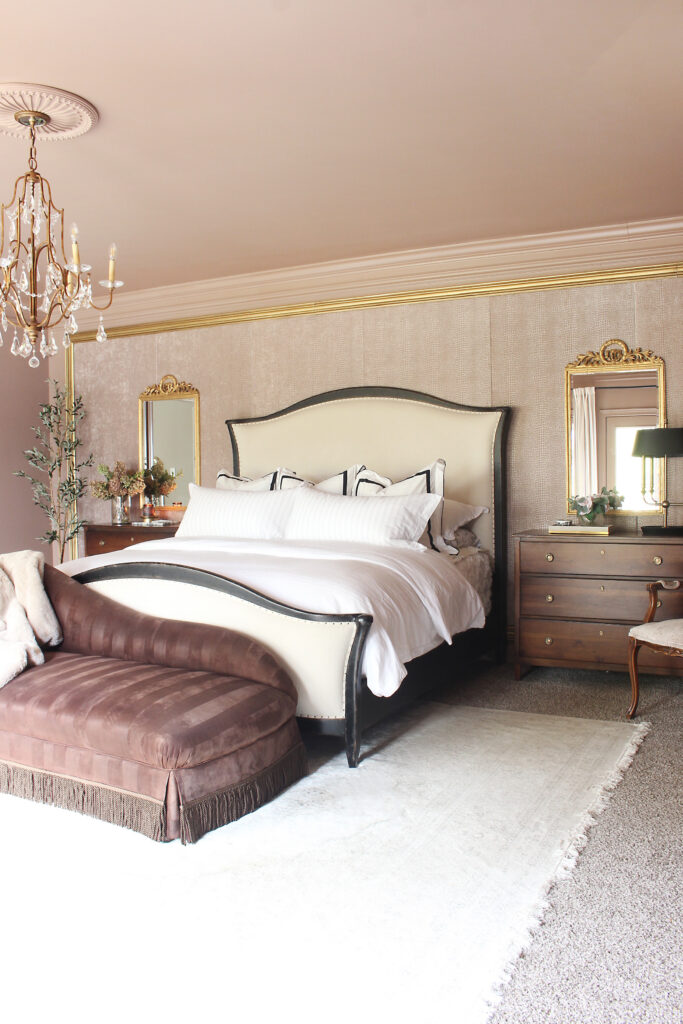 I am loving how this is Upholstered Headboard Alternative turning out and very excited to share the final reveal with you. Our primary bedroom is really coming together. To see more of this space, you can see these posts below:
Finally, I built a gold frame to finish off the entire look and I'm absolutely in love with it! It is exactly what I had pictured! :
Room Sources: