Panel moulding and wall trim has become a staple in my design style – and I wouldn't have it any other way! I love that you can spot my home and my designs because of wall trim. is. everywhere! I get asked all of the time for tips about installing trim. I know, panel moulding can be intimidating, but I promise, with practice, it gets so much easier!
Friends, if you want to achieve this panel moulding and wall trim look in your home, you CAN absolutely do this! Not only is it possible, it's pretty easy once you know how! Today on the blog, I'm sharing how I achieve professional looking panel moulding using materials you can find at your local home improvement store. I plan to do this in several rooms in my home. I just need to take the time to build it!
Let's dive in to the wall trim tutorial! But first, here are a few ideas on different layouts I've done in the past!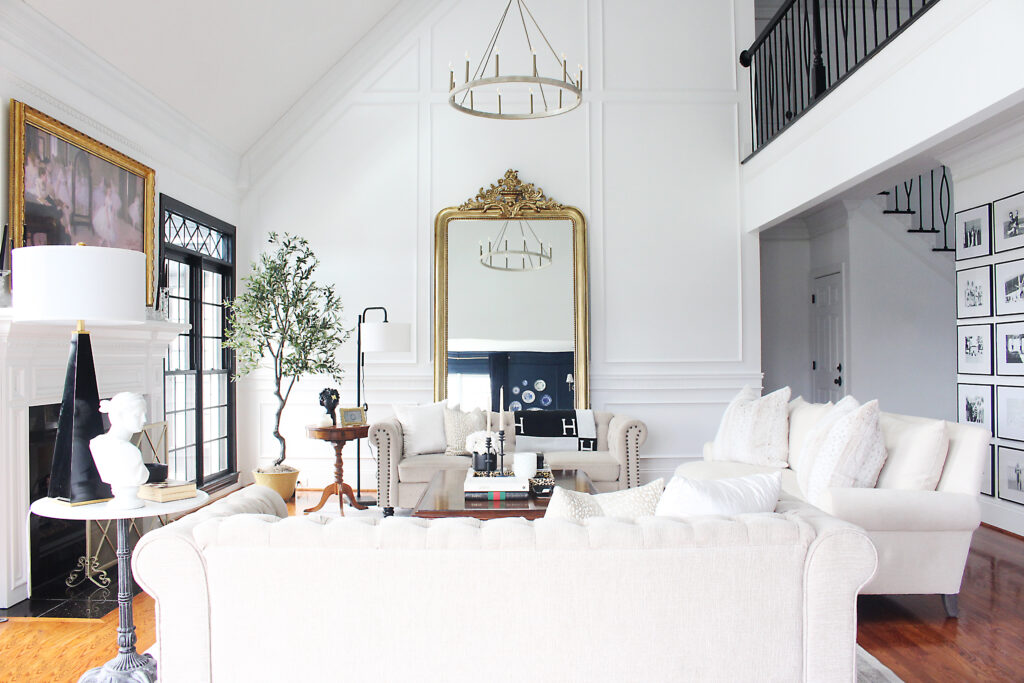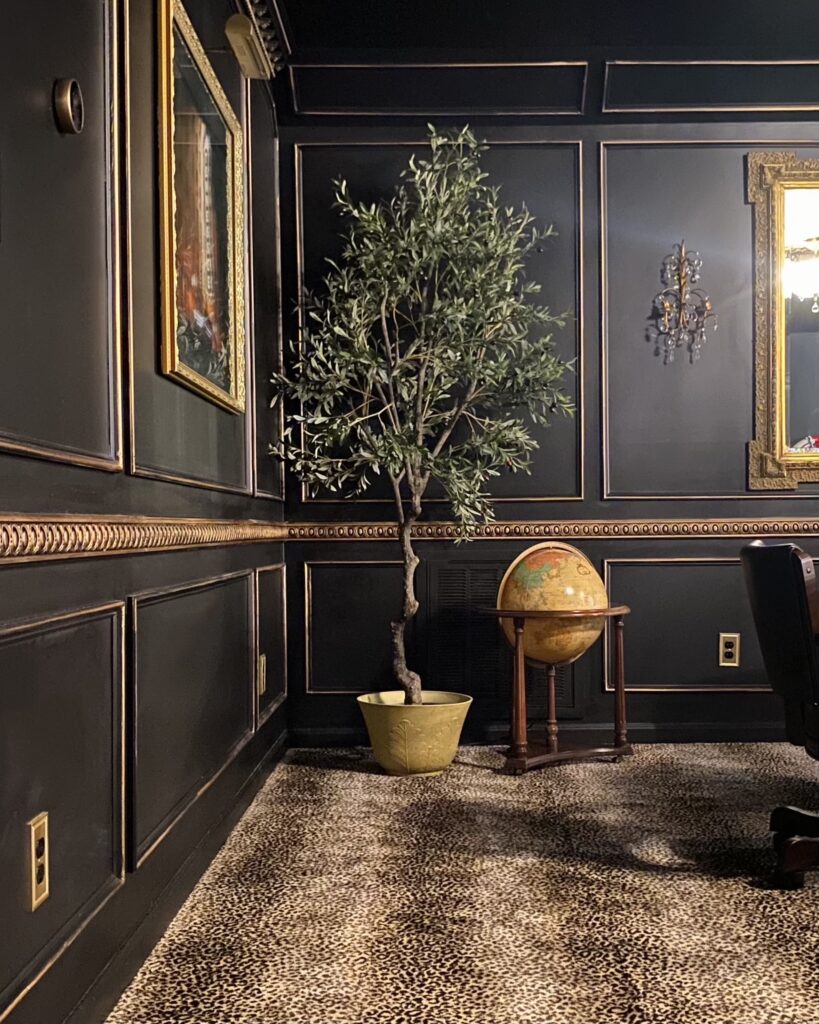 Have you ever been scrolling Pinterest when an image stops you in your tracks? When inspiration strikes, my heart skips a beat and I get SO excited! It's an interesting exercise to pin a bunch of images you like, then go back and evaluate what they have in common. Hint: It's not always what you think! My inspiration boards typically have one thing in common – panel moulding!
What I love about panel moulding (also called trim, or box trim, or wall trim) is the way it elevates any room. Furniture, rugs, and styling items look so much more elegant against trim.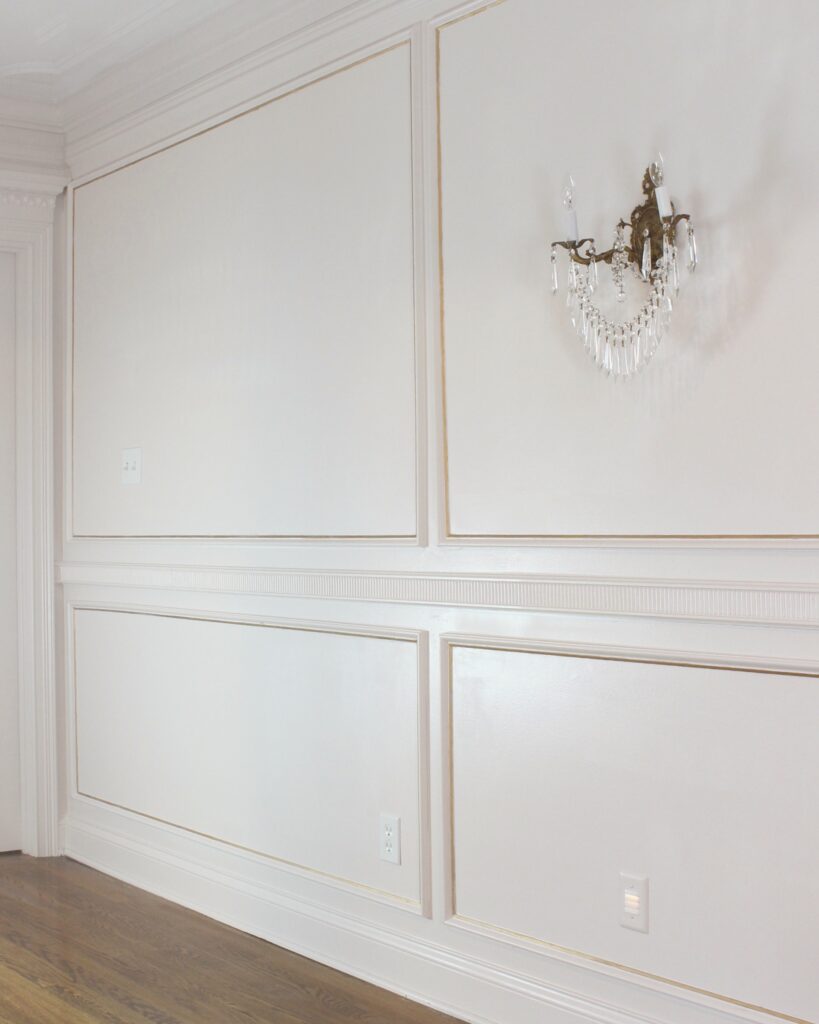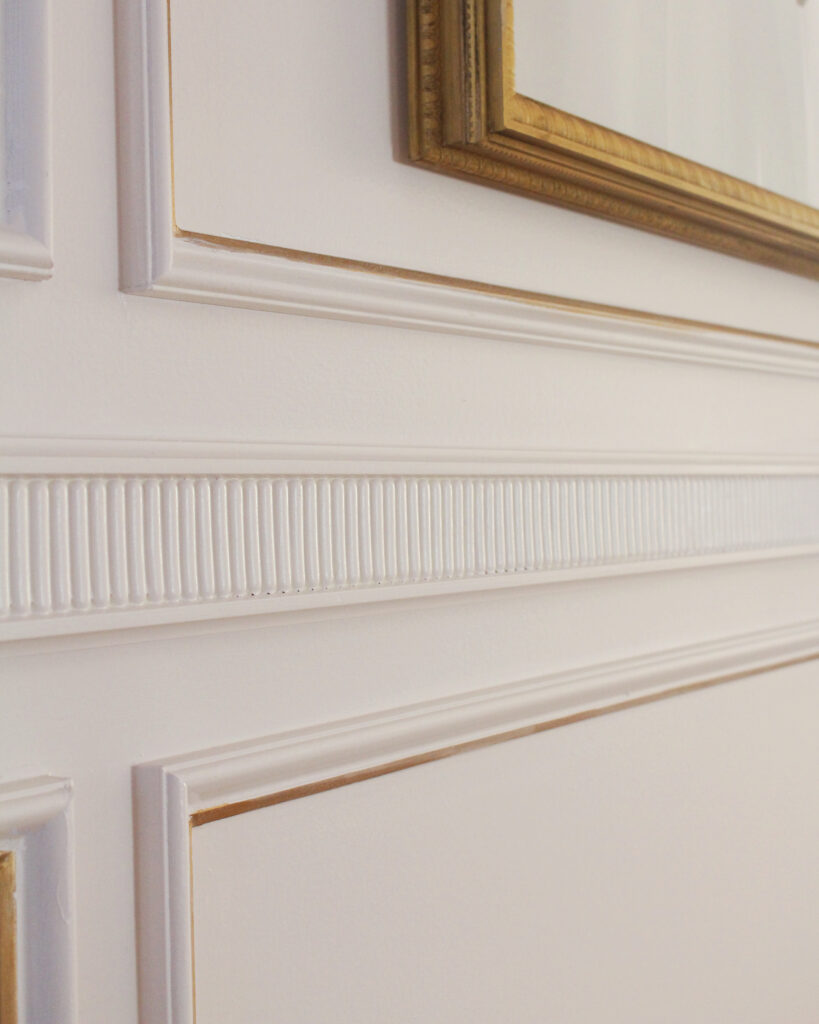 Supplies For Panel Moulding and wall trim
Trim of your choice from The Home Depot (listed some of my faves below!)
Miter Saw OR Miter Box, Saw and Shears (great for beginners!)
Pencils
Tape Measure

DIY Panel Moulding and Wall Trim Tutorial
Time needed: 2 hours
Choose Your Box Layout

Choosing a layout is arguably the hardest part of this project. Take some time to envision what would look best in your space. I always aim for a balanced look.


Install Your Chair Rail

Chair rail is going to separate the top from the bottom. I do mine at 36″ from the floor, but you can put it anywhere you'd like that makes sense for your room. Use a level to make sure it is straight when you nail it in. I use a pin nailer or a brad nailer.


Draw Your Boxes With A Level

Now that you have chosen your layout and installed your chair rail, it's time to draw your boxes on the wall. Drawing them in pencil (and level!) will help you confirm your layout and get the measurements you need to make cuts.


Measure Your Boxes

Once you have your level boxes drawn on the wall, measure them with a tape measure.

Write Down Your Measurements

I like to write them right on the wall so I don't forget.


Make A Cut List

Couldn't do it without my cut list! Write down all of the measurements you have on the wall and organize them into a list.


Make Your Cuts At 45 Degrees

Using shears or a saw, make all of the cuts based from the measurements on your cut list! If you don't cut at 45 degrees, your wall trim won't make a perfect corner.


Organize Your Boxes With Your Cut Wall Trim

Nail Your Trim To The Wall With A Nail Gun and Level

Naill them right inside your drawings! I use my level as a spacer so when I nail it on the trim pieces it can act as a support to give me something to push against with the nailer.



Time For Caulk and Wood Filler!

Caulk is going to make sure the trim doesn't have any gaps against the wall. I run a thin bead of caulk along the trim, dip my finger in water, then run my finger along the bead of caulk. This part is kind of fun! I also fill in any nail holes with wood filler.


Once The Caulk Dries, It Is Ready For Paint!

I spend a lot of my project time on panel moulding and wall trim projects these days. I've figured out so many tips along the way and shared them all in this post! Don't be afraid to dive in – I know you can do it!