I have received so many questions about our Ergatta rower and thought it was time to finally sit down and write a review! Today on the blog, we are going to chat all things Ergatta! Is it worth the price? Do we love it? How does it look in our home gym?!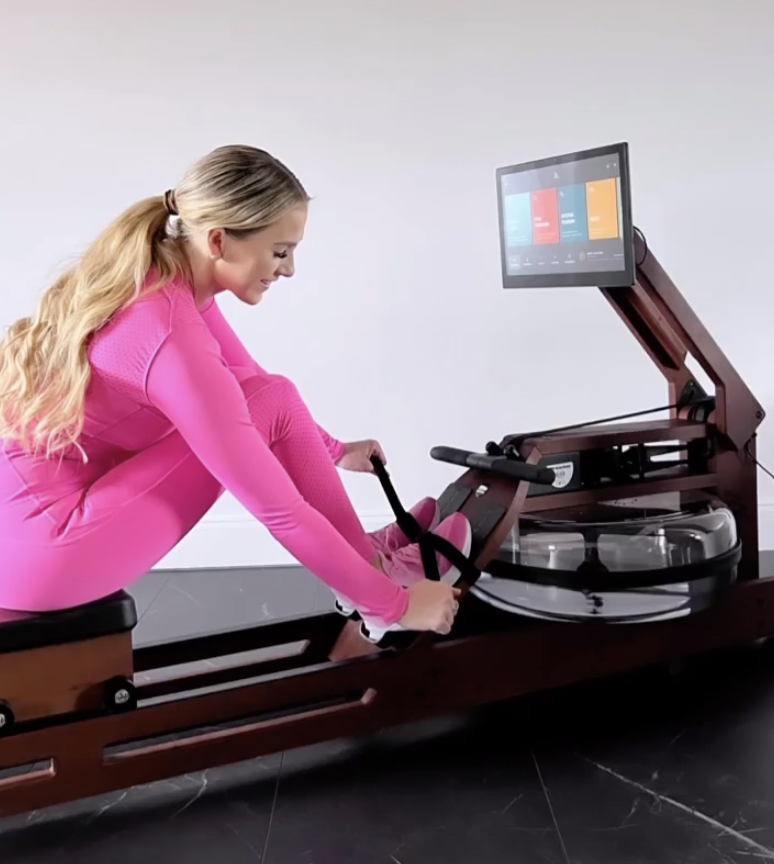 You guys, this One Room Challenge has been kicking my butt! I've been emotionally drained from putting all of my creative energy into this project. Between work, my family, church, and all of my other responsibilities, it can be tricky to fit in a workout that I so desperately need. With this in mind, Craig and I actually tackled our home gym makeover earlier this year and one of the best things we incorporated was our rowing machine – Ergatta!
Although I once loved to run, the impact it had on my joints was too intense and required multiple days to recover. I love yoga and HIIT workouts from time to time, but the rower is the perfect combination of intense and repetitive which is perfect after a long day.
By the way, I did a full blog post about my favorite work out sets which I'll link right here!

I had heard about the Ergatta Rower from a friend and I was super interested becuase I've loved using rowers in the past and the design of this one obviously caught my eye! Slowly, I started hearing incredible reviews of this rower online and I knew I had to try it for myself! When Ergatta reached out to work together earlier this year, I was beyond excited to give it a try.
In full transparency, I did a paid partnership with Ergatta in early 2022. However, this blog post is not part of a paid partnership. As always, all opinions are my own. Remember, I will NEVER share something I don't actually use and love!
In this post I will go over everything you need to know about the Ergatta Rowing Machine to decide if this is the next big purchase for your home.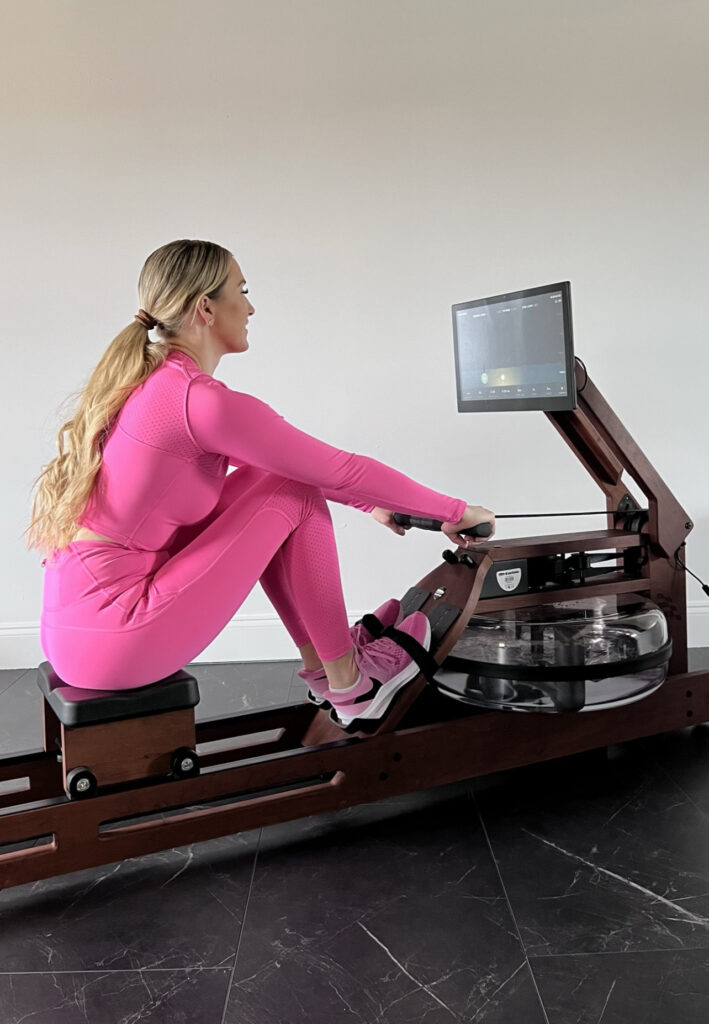 What Is The Ergatta Rower?
Ergatta as a company believes that access to motivating and convenient daily fitness is genuinely transformative to everyone. They wanted to provide a machine that is not just class-based, while making it aesthetically pleasing for your home.
You guys, this machine is BEAUTIFUL!
Their rowing machine claims:
To be designed for the home first
To give a smart and efficient workout
To allow its user a game-like experience that is fun to use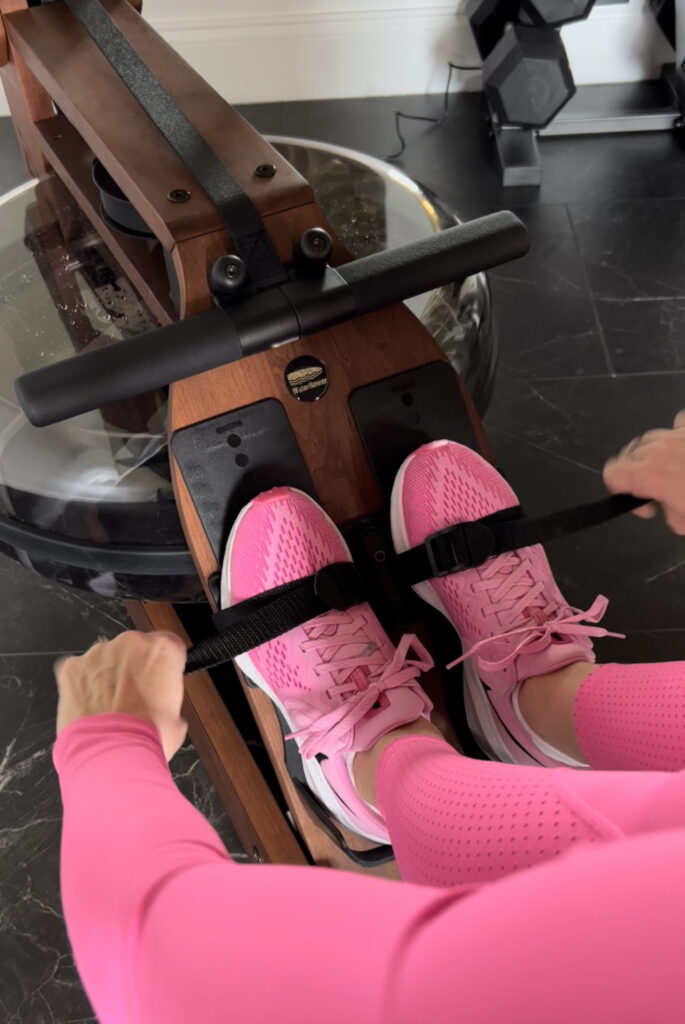 What Type Of Workouts Does It Offer?
The Ergatta is a rowing machine- targeting 86% of your muscles in this full-body workout.
There are 5 different programs you can choose from:
Push programs- goal-based training
Interval workouts- HIIT and endurance based
Race workouts- to unlock your competitive spirit
Open and Scenic rows- self-paced through picturesque scenes
Instructor Led- requires a subscription to access
With so many options, I am never bored when it comes time to jump on the rower.

The Pros- What I Liked:
30-day trial

We were able to truly test it out to find out if we would enjoy it

Amazing Warranty

5 years for the frame, 3 years for the parts, 1 year on the tablet

Delivery and Installation

All done by professionals on your time

Storage

Super easy to fold up when not in use

The Aesthetics

The machine itself is stunning with wood accents

The Cons- What I Wish Was Different:
The Price

There are financing options available for $62 a month + use code MALLORY50 for $50 off, but it is still a splurge. I'm a firm believer in you get what you pay for and this price is absolutely fair for the quality but again, definitely a splurge piece.

Class Pass Is A Subscription

To access the instructor-led classes, it requires a monthly subscription. That being said, you are able to use everything else on the machine without a subscription.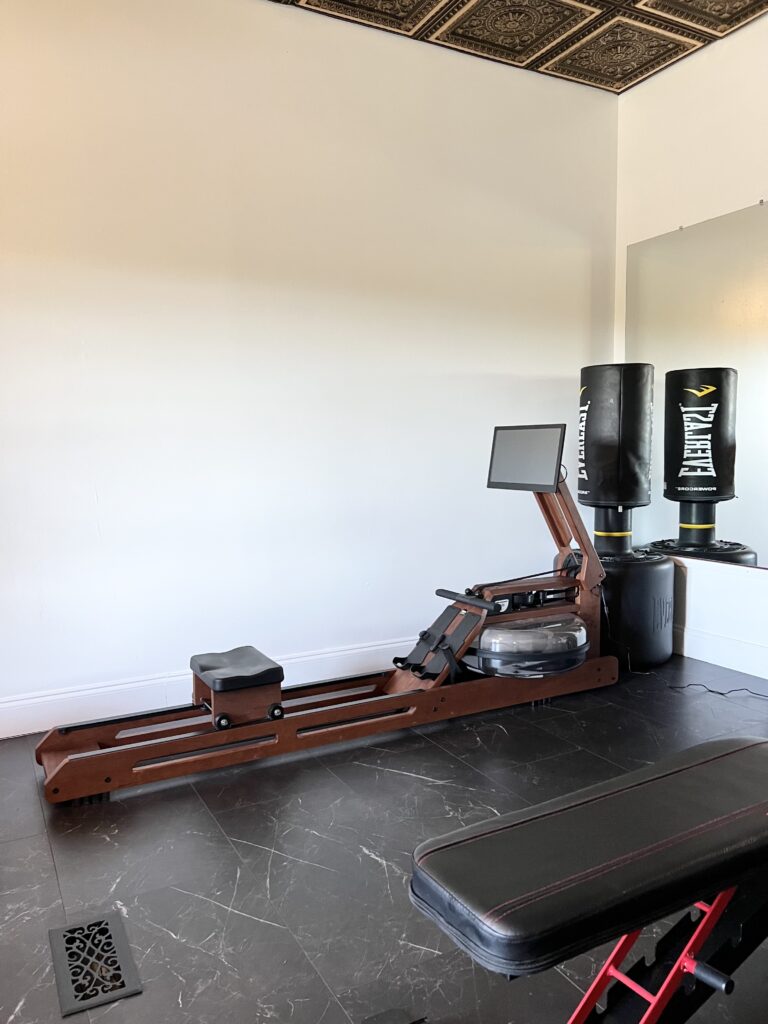 My Overall Experience With Our ErGatta Rower
Craig and I have loved incorporating this new form of exercise into our routine. With the joint pain, running and other high-impact exercises gave me, I slowly started to neglect working out because of the pain factor alone.
Being able to break a sweat while keeping my joints safe has been a game changer for me. I have loved seeing improvements in my mental and physical health by adding a full-body workout into my routine. Between the Ergatta and yoga, I've really found my happy place in my home gym!
What is the most fun to me is how I get to incorporate such a beautiful machine into our home. Workout machines typically sacrifice aesthetics for functionality, but Ergatta was able to do both.
I can easily set up or take down the machine, but the beautiful wood design allows for it to perfectly blend into the design of our home.
While this purchase is an investment, we have never once regretted prioritizing our overall wellness through the Ergatta rower.
If you decide the Ergatta rower is the next perfect purchase for your home, let me know your thoughts about it in the comments!