Homeschooling has been one of the most important and rewarding experienced I've ever had as a mom. I love being able to structure each day around the learning material my boys are interested in, but at times it can be difficult to come up with fresh curriculum.
After months of trying to find ways to create a more hands-on project, I kept coming back to the idea of gardening. The only problem, it's winter in Tennessee! And on top of that, our backyard is currently under construction with a pool coming very soon!
Today on the blog, I'll be giving the first update on our Gardyn and discussing all the details of how we are learning how to grow our own food indoors!
What Is Gardyn?
Gardening is the perfect way to learn the importance of responsibility, healthy eating, and patience. The only problem- it requires going outdoors. Or so I thought! Gardyn solves this problem by being able to grow fruits, veggies, or herbs in your own home with little mess.
USE MY LINK/CODE: MALLORYHOME for $100 off!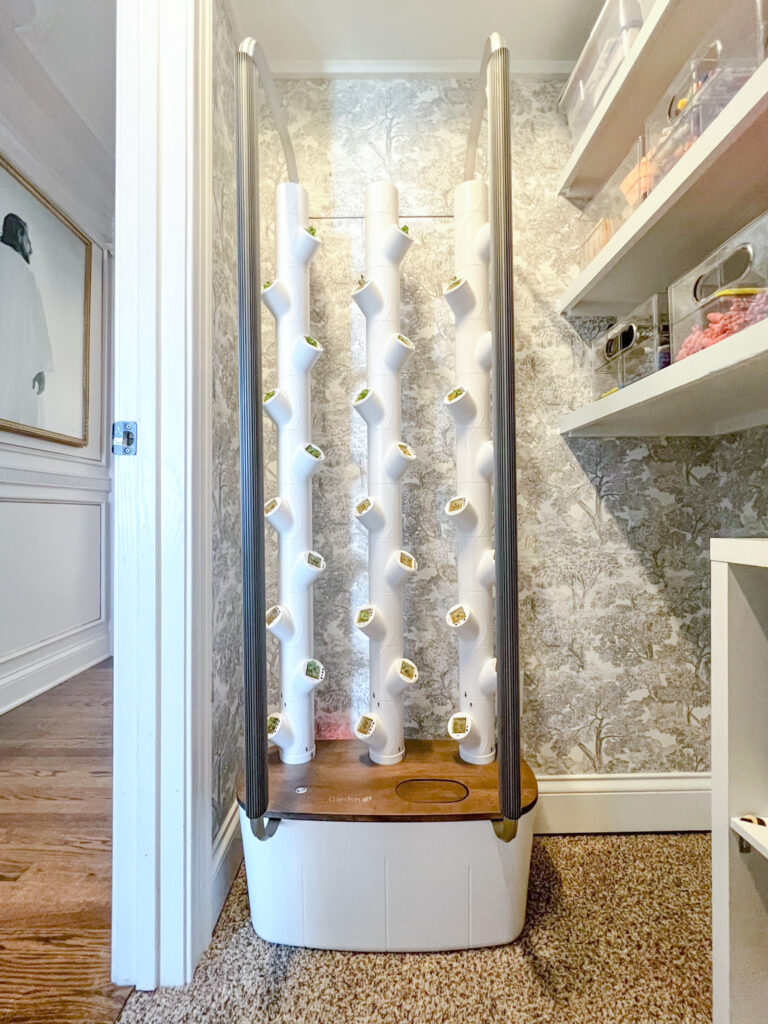 Gardyn is classified as a hydroponic gardening system, meaning they utilize water and minerals over traditional soil. This is how gardening can occur indoors (or in a closet) and still result in fresh produce for your table!
While many gardening systems do this on a small scale, Gardyn wanted to take this idea and grow it (literally) to be something larger!
These are a few highlights I knew needed to be included in my Gardyn review as to what makes this system different:
Highest plant density possible- meaning it can grow 30 plants at once
Vertical LED light system allows for large, tall, and vining plants to grow in any space
Each plant is independent from each other
Uses 95% less water than any other gardening system by recirculating on a schedule

Gardyn Review: The Set-Up Process
I will not lie, the set-up process is a little complicated. All the steps given are really straight-forward, there are just a lot of them and require a lot of pieces. I was able to finish everything in just about an hour, with the app set-up taking only a few minutes.
Gardyn ended up being slightly larger than anticipated, but we already had a perfect spot picked out (our craft/homeschool closet) and it fit perfectly! With space being such a hard thing to come by, I love that the Gardyn doesn't need direct sunlight.
After the Gardyn itself was good to go, the fun part of planting began! I let the boys take charge of this part and it was so rewarding to take a step back and watch the learning process unfold.
Incorporating Gardyn Into Our Homeschool Curriculum
We have been utilizing the Gardyn system in our school curriculum for a few weeks now and I can say it's been one of our homeschool favorites! It allows us to explore the science of gardening and learn about how plants grow in real time. I've also used it as a way to teach more about healthy eating habits!
We check on our Gardyn daily and we were pretty amazed at how quickly we saw some sprouts! The boys are obsessed. We love checking it every day!
Choosing The Plants
Choosing the plants was a group effort. We chose a mix of vegetables, herbs and strawberries to truly test Gardyn out, plus I wanted to make sure the gardening time was spread out throughout several weeks. You can also do flowers during the winter as a pick me up! 😉
Here is what our first harvest will consist of:
Strawberries
Basil
Tomatoes
Lettuce
Green Beans

Day-To-Day Tending
The day-to-day responsibility is shared between me and the boys, but I've really seen a growth in responsibility from everyone involved (me included)! We all look forward to see the progress everyday, and the watering or tending has slowly morphed into one of the best parts of our homeschool day.
Gardyn Review: Do I Recommend?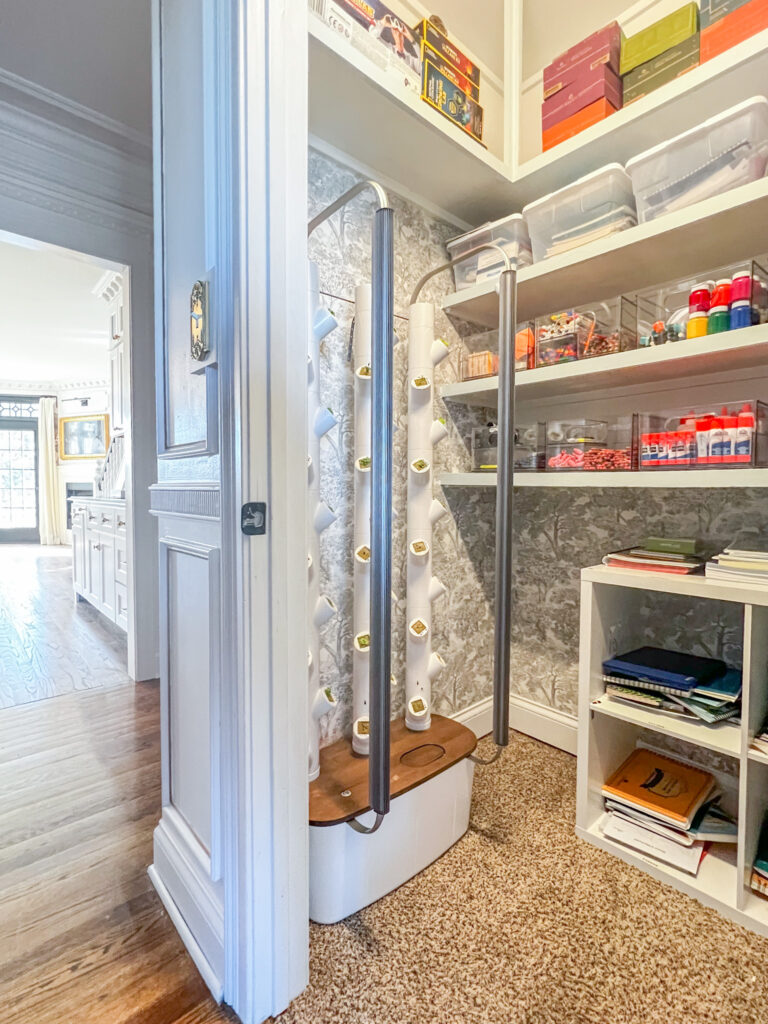 Without a doubt, I would recommend Gardyn to anyone! Whether you're looking for homeschool material, trying to feed a family sustainably, or just have a love of gardening- this is for you.
While none of our plants are fully grown yet, I've been looking forward to our first dinner all together with our veggies as the star. My boys are full of excitement too. I'll be sure to update you as soon as we have some growth. For now, enjoy this photo of our Gardyn in our homeschool closet haha!
USE MY LINK/CODE: MALLORYHOME for $100 off!
UPDATE: After 8 weeks, we have significant growth and can use our herbs and veggies!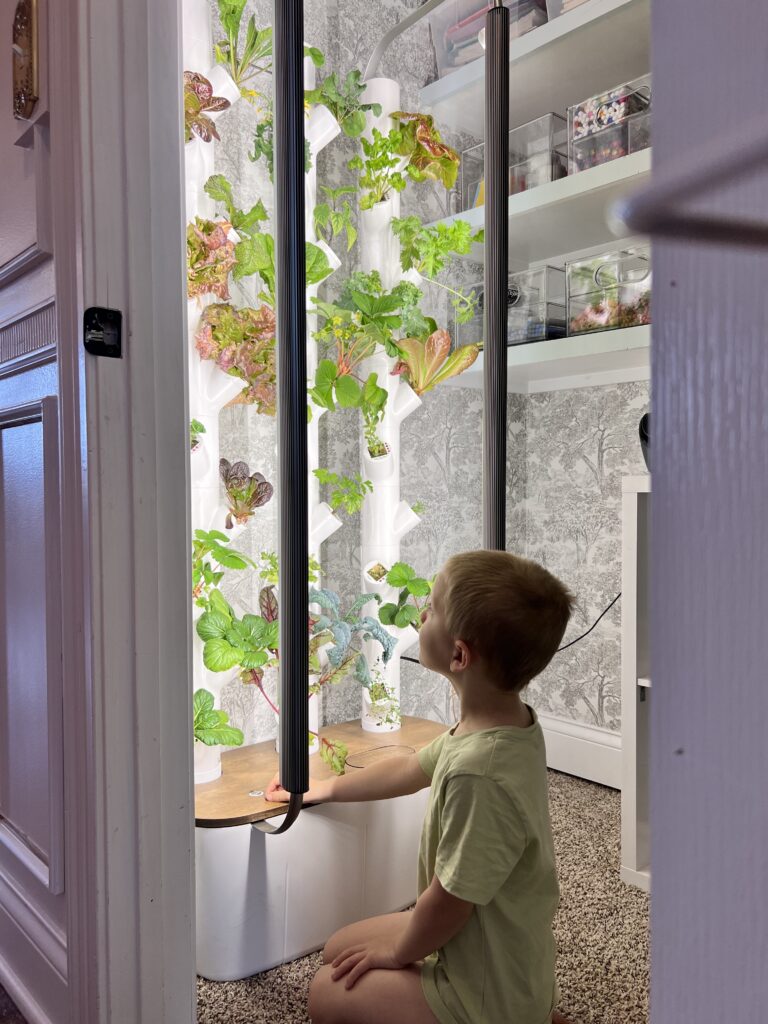 We've been using the lettuce and fresh herbs and can't wait until our peppers, strawberries, jalapeños and tomatoes are ready to harvest!
Have you ever considered growing your own fruits and veggies at home? Please let me know in the comments! And to keep up with everything on the blog, check out my latest posts: