It's been over two years since I've updated my workshop space! I remember it clearly because so many of you were curious as to why the heck I'd start our home renovation in the garage of all places when truth is, I HAD TO! haha!
Product Sources:
PAINT:

White Walls: Behr Frost (Satin)
Paneling: Sherwin Williams Accessible Beige
Doors: Behr Carbon (Semi Gloss)

TOOLS:
ORGANIZERS & STORAGE
The Before: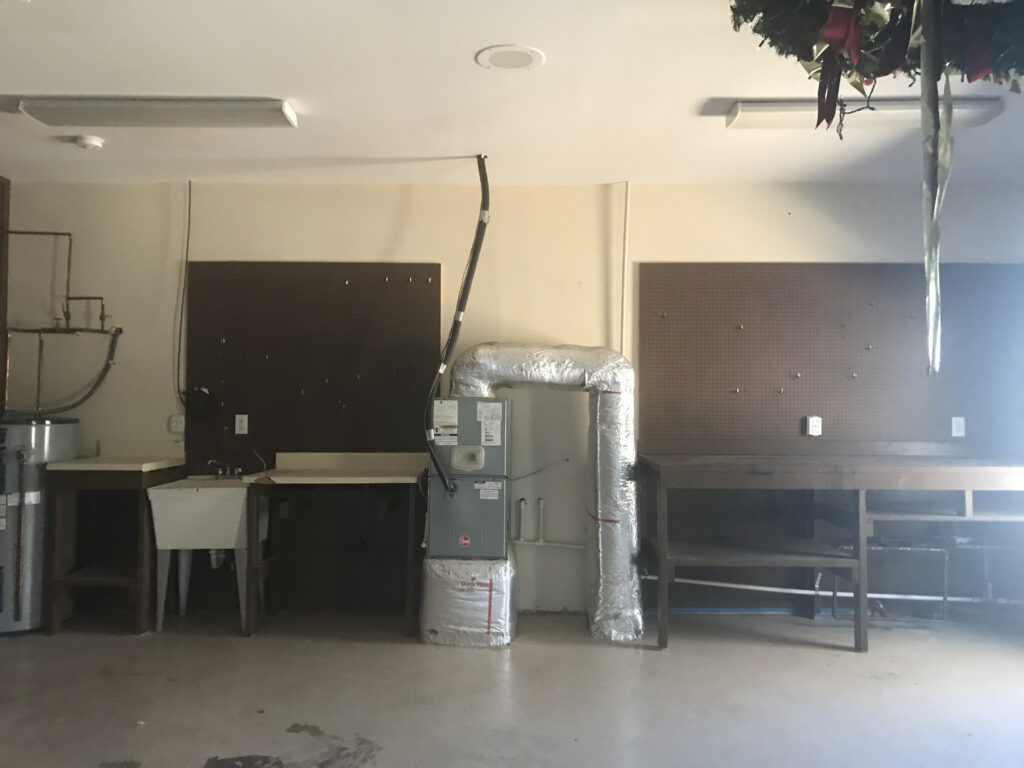 Why We Started In The Garage
I firmly believe in setting yourself up for success and I just couldn't be productive when I couldn't find my supplies! It feels so good to actually know where my gosh dang tools are. The updates we made in here and made the space feel and function so much better and I'm proud to say it's DONE!
My initial project in this workspace was paining the entire space and installing these stunning vinyl floor planks. I have to give them the credit they deserve – they've endured wear, tear, and everything in between and still look as pristine as day one. I love hardwood, but it wasn't the best choice in here for obvious reasons. I'm a huge fan on luxury vinyl where it makes sense – and this is the PERFECT spot for it.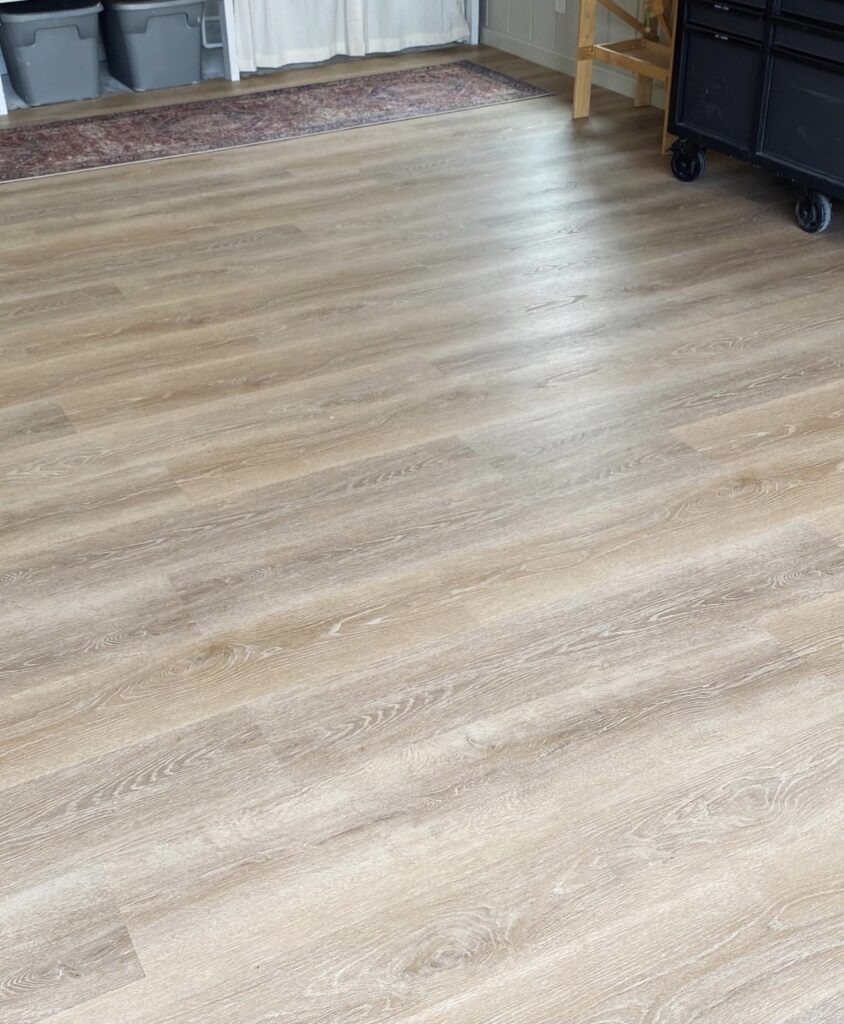 Once the flooring was in place, I organized my tools and trim pieces so it was accessible for me and Craig.
Any DIYer can testify, over time, tools accumulate…and my collection was no exception. As the projects rolled on, my once-spacious garage began feeling cramped again. Even in the most organized spaces, this happens! The more stuff you have, the more effort you're going to need to put towards organizing.
We Installed RTA Cabinets
One of my proudest achievements during this renovation has been the installation of the RTA cabinets for the THIRD time! Through projects spanning my kitchen, this workshop, and our pool house, I've saved a whopping $40,000 in comparison to custom cabinets! And trust me when I say this, the quality and aesthetics of the RTA cabinets can easily rival their pricier counterparts.
OUR RTA CABINET IN-DEPTH REVIEW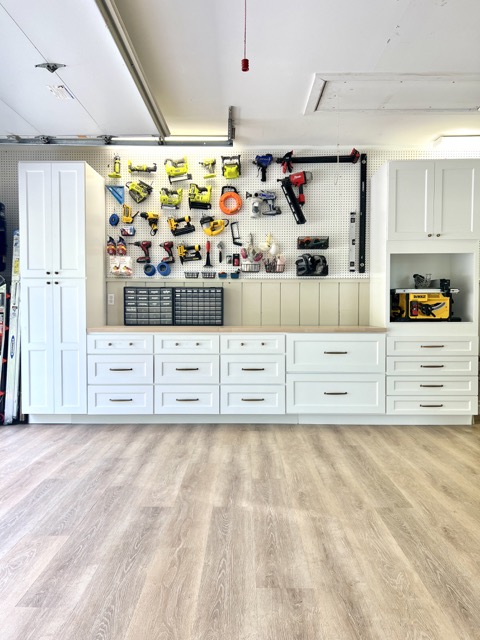 We used RTA cabinets in these projects: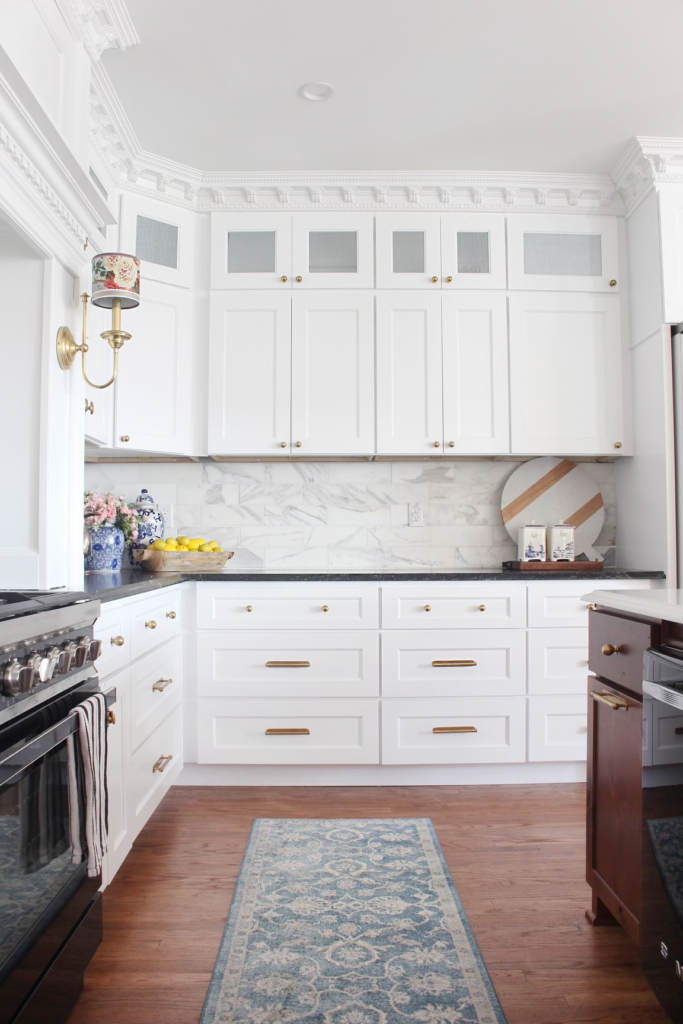 But with great storage, comes the great responsibility of organization. And as someone who finds immense joy in organizing spaces, this was a challenge I more than excited about.
My Organizing Process
The secret sauce to any organized space is relatively straightforward – declutter, group similar items, and invest in the right containers. Taking it a step further, I adore labeling. Imagine the convenience of knowing exactly what lies inside a drawer or container without opening it…that is my love language!! haha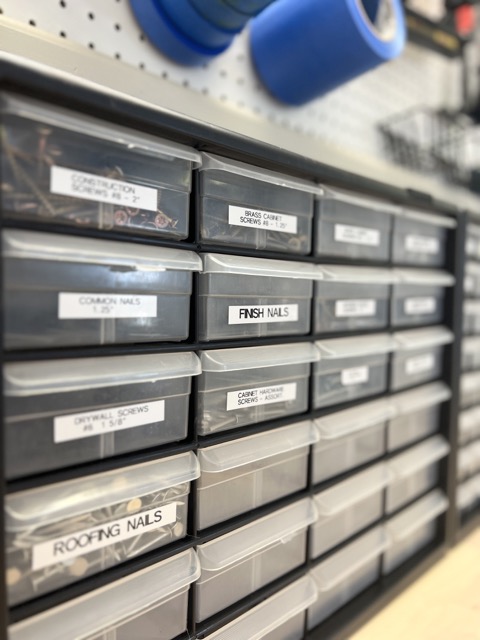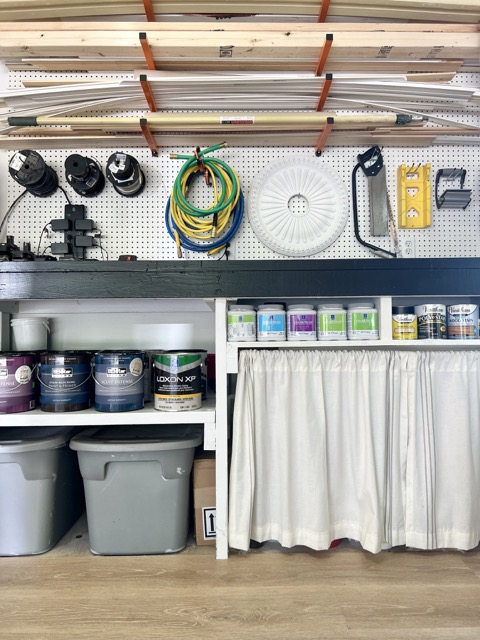 This level of organization isn't just for me; I strive to create a space where even a stranger could locate items without breaking a sweat. I don't plan on strangers navigating my workshop (haha) – but you know what I mean! When it's labeled, everyone can find it and knows exactly how to put it back. It's the key to not just organizing the first time, but keeping it organized.
We LOVE Our Tool Chest
We purchased the 56 in. 23-Drawer Tool Chest and Rolling Cabinet Set from HuskyTools a few years ago I think and wow – it was an investment! We use this every single day and for DIYers, contractors, or craftsman, it's definitely worth it. There are so many different compartments of various depths and it allows me to keep my tools organized, spread out and locked up since they are stored in the garage.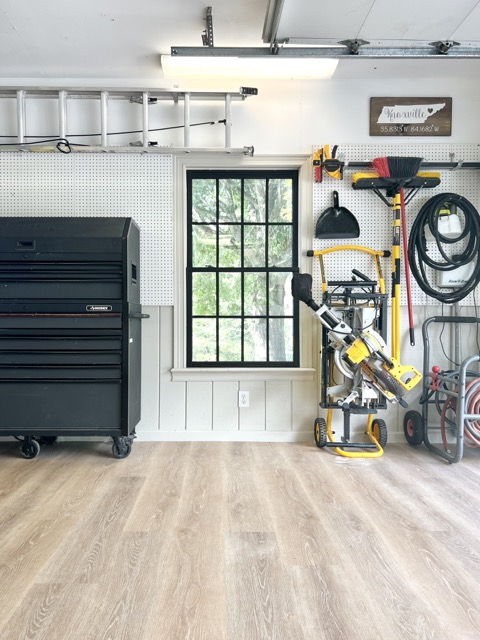 It's All About Containers & Peg Boards
This might be good news or bad news – but organizing is really hard to do without containers. You can use old tupperware or extra jars you have, but to get that Pinterest look, you'll need some clear containers. I used to get them from The Container Store, and while they have a ton of great options, I have really enjoyed all of the options Amazon has.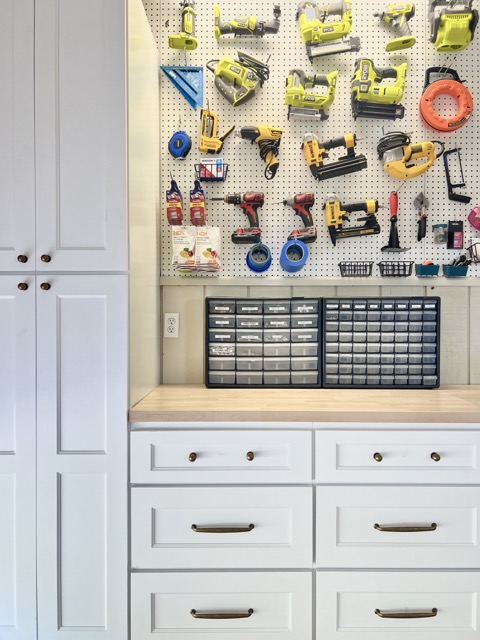 I like to purchase my containers after I've purged and grouped like items so I know exactly how many I need. And remember, you don't need to buy everything all at once! Start with a few and upgrade your storage containers as your time and budget allows. I did that for YEARS!
Our garage came installed with pegboards on almost every wall. If I didn't have these to begin with, I would absolutely be installing them! They are affordable, functional, and allow for storage that is off the floor. I can't recommend it enough!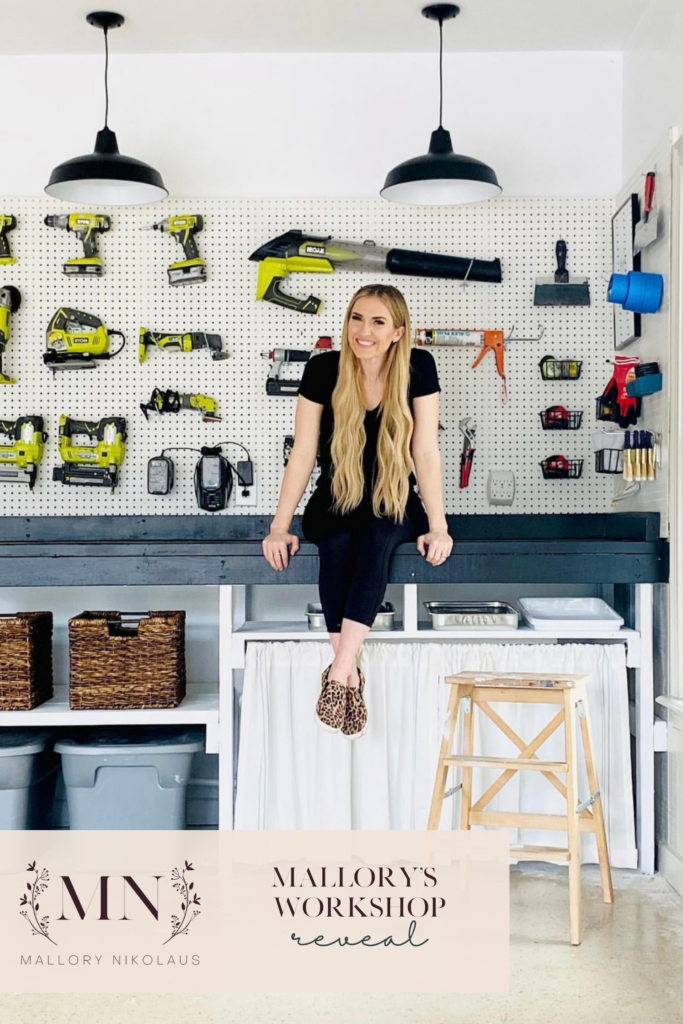 And there you have it! It feels so good to have this space done and off my to-do list! Let's be real, I needed this done so I can tackle another project where the workshop will come in verrryyy handy. Can you guess what it is?!