I decided to write my own Samsung Frame TV Review after receiving SO many questions about this TV and since I absolutely love it and own several of them, I thought a Samsung Frame TV review would be helpful.
The Frame TV was one of my favorite finds years ago. I actually had one in my previous home in Arizona and it quickly became a family favorite.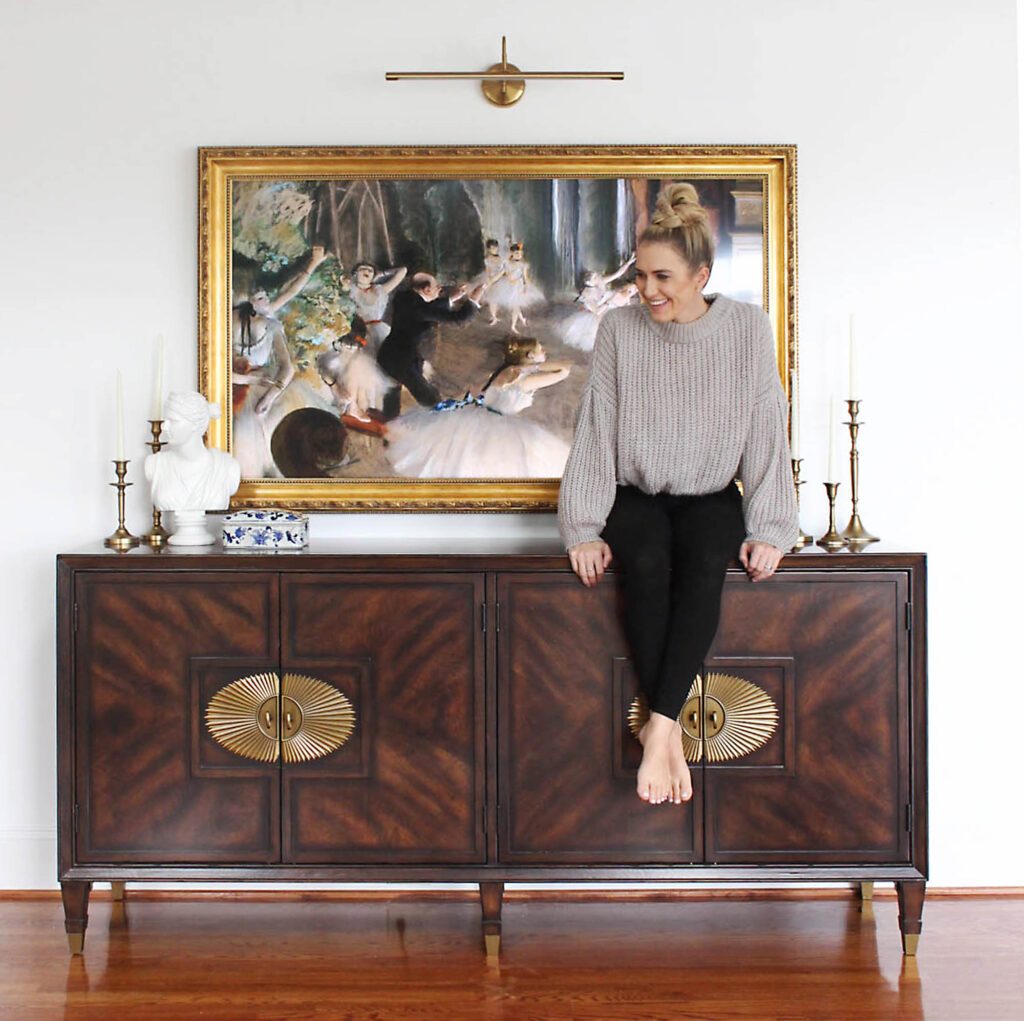 I'm going to be frank – TVs are not pretty! If I were designing a "perfect" home, there would no TV in the family room or living room. But let's be real, I'm not perfect, my home is not perfect, and my family watches TV! We love movies which is why we built a theatre that we are also obsessed with! You can check it out right here.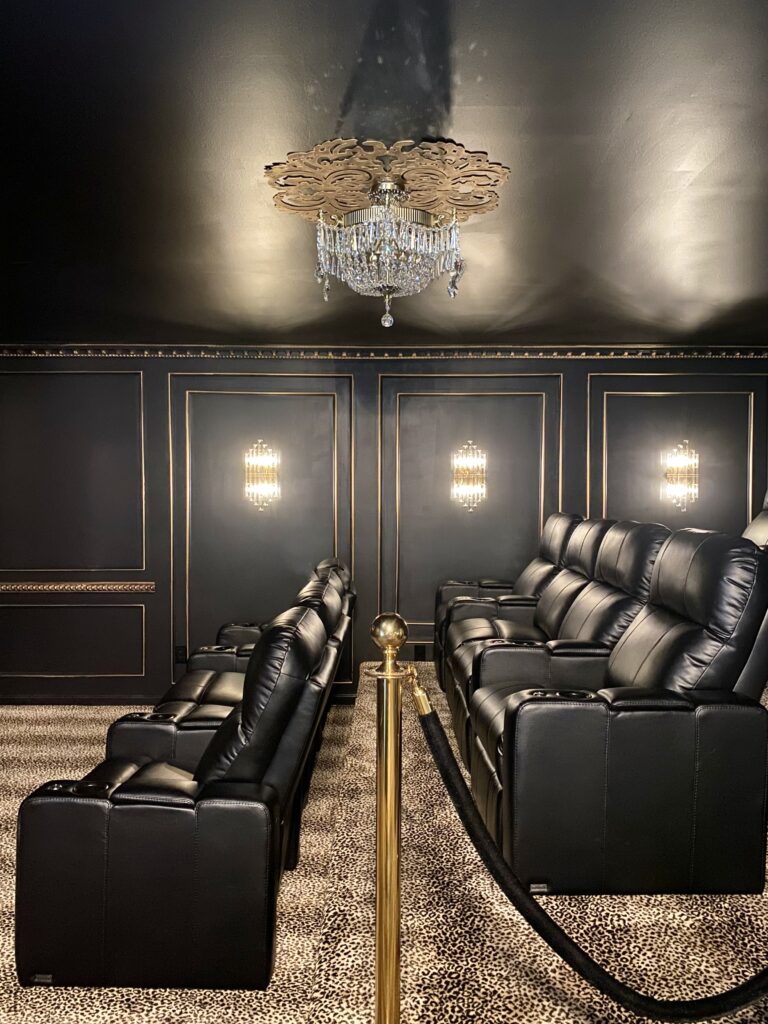 I absolutely LOVE the Samsung Frame TV. As always, I will give my 100% honest opinion on the Frame TV and the important features.
First, this TV is a must for someone who appreciates design and home decor. Nothing kills a gorgeous space like a big black rectangle hung on one of the walls. We've all see it done well but most of the time, it takes away from a beautiful design. The Frame TV has fantastic picture quality and displays beautiful art when it's "off". It has great picture and great sound.
Samsung the Frame TV – What's the Hype?
Art Mode is my favorite feature of the TV. When the tv is turned "off" it can display virtually any image you'd like. You can choose from the art that comes preloaded on the tv, subscribe to the art store, purchase individual images or upload your own. I typically display art from @juniperprintshop and @bffprintshop – both shops are run by some of my dearest friends but sell GORGEOUS digital art curated by talented interior designers and photographers. Highly recommend purchasing their digital art for your Frame TV artwork.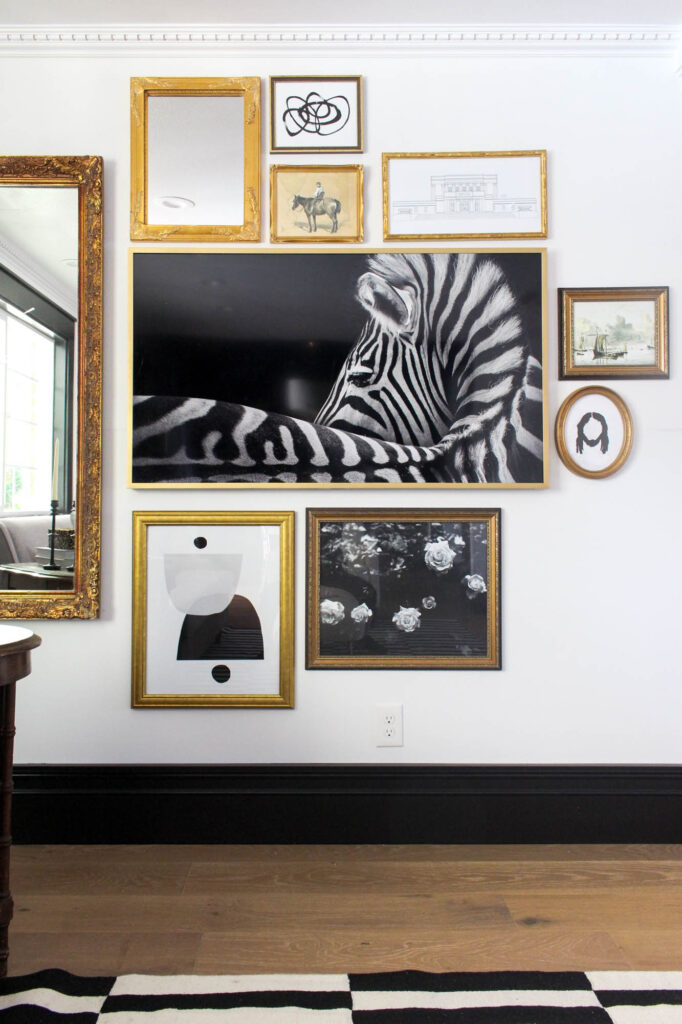 Framing your Frame TV
The Frame TV sits flush with the wall to look like a picture frame, however, with the black frame that comes on it, it still looks pretty much like a tv. They sell beautiful bezel frames that install magnetically onto the tv and it definitely helps it looks like beautiful art!
My DIY Frame TV (and why it doesn't compare)
While The Frame TV solves that problem because it sits flush against the wall, the aesthetic of the Samsung the Frame options leaves much to be desired. I initially hacked my own frame and spray painted mine gold which worked beautifully. Can you spot the TV? Hint: It's striped!
I recently discovered DecoTV Frames through an Amazon search and found that this incredible company sells even more TV Frames for the Frame TV. These frames install in under 2 minutes (In installed mine live on Instagram!) and brings the Frame TV to NEXT LEVEL beauty! You truly CANNOT tell that my Frame TV is a TV at all with the Vintage Gold Frame I installed on it.
Deco Frames provides stunning, high-quality frames for Samsung the Frame TV. It's genius, really! They have 27 different styles to choose from so you can pick the one that matches the decor style of your home.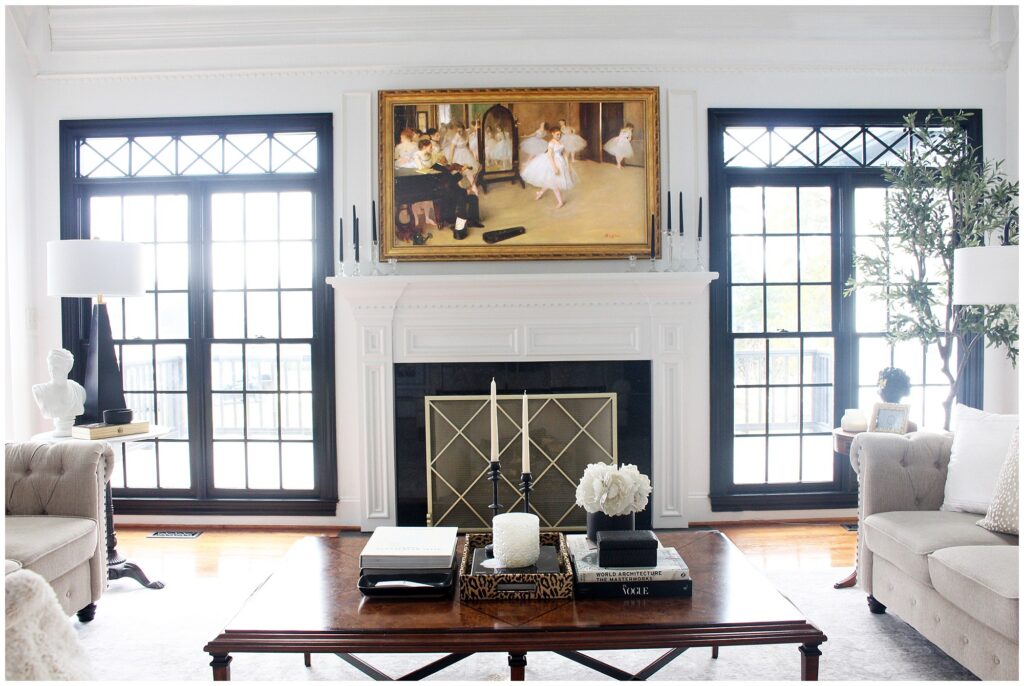 My Deco Frame Review After 2 Years
The Deco TV Frame has completely enhanced our living room space (which you can see here!). If you're not familiar, the Samsung the Frame TV has the ability to look like art when it's not in use. Having a stunning frame surrounding the TV makes it even more realistic. Whether your TV is hung at eye level or above a mantel like mine, you are going to want your guests to see this beauty up close!
Why I Love Deco Frames
The product is awesome – plain and simple! I love the look of the frames so much.
They are manufactured in the USA.
The price point matches the quality.
It solves a design problem!
It doesn't impair the function of the TV.
It's extremely easy to install. I put mine together in less than 2 minutes!

My Favorite Deco Frame
I personally have the "Vintage Gold" frame and as I mentioned above, it's amazing! What is really cool about Deco Frames as a company is that they will actually send you corner samples so you can see them up close before you purchase.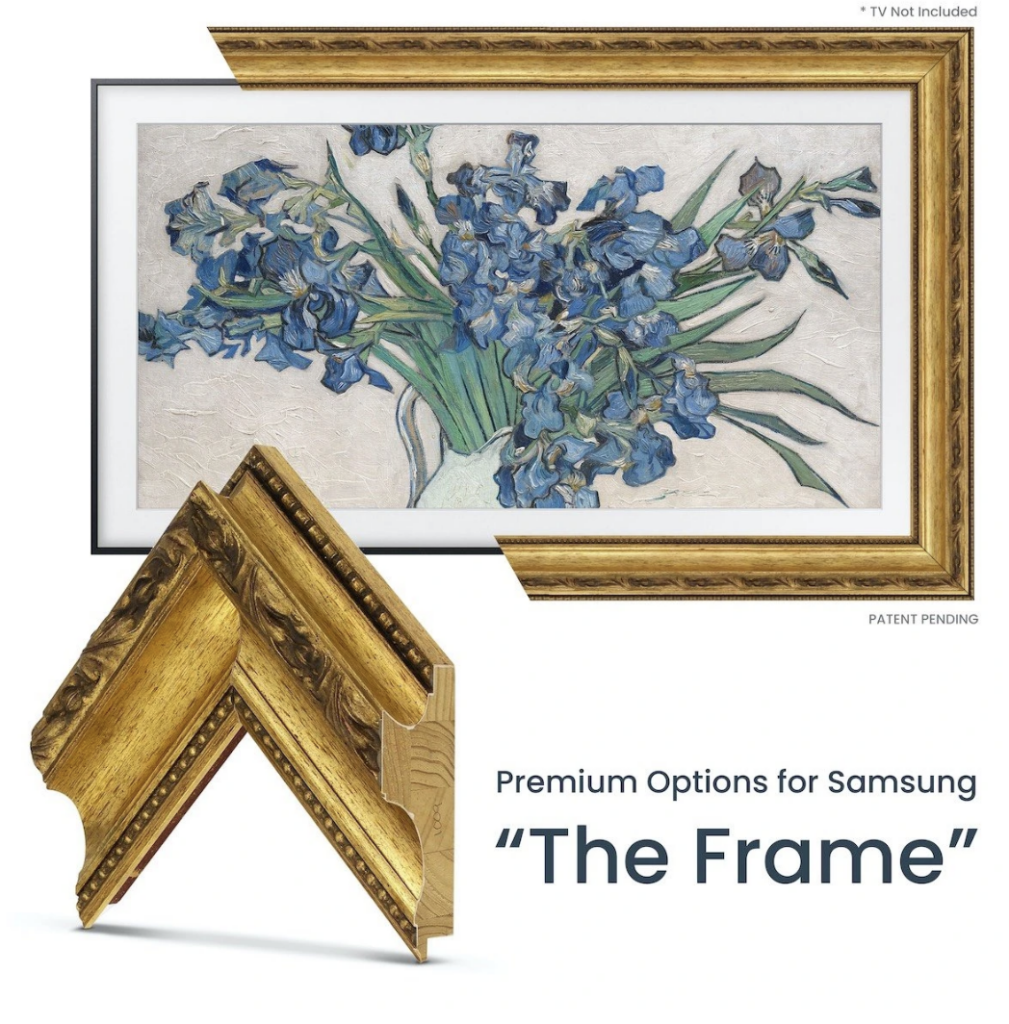 Ultimately, Is A Deco Frame Worth It?
A Samsung the Frame TV is pricey as it is, and adding a Deco Frame on top of that is not very budget-friendly. I completely understand that this is a luxury purchase, but in my opinion, it has been worth it. The Vintage Gold frame fits the aesthetic of my home in a way that the standard frame doesn't.
The reality is, you have to purchase a frame with your TV. Samsung charges a premium as well. If I could go back, I would not order the frame from Samsung and instead buy a Deco Frame right off the bat.
Thinking About Purchasing a Samsung the Frame TV?
If you're reading this and haven't yet purchased your Samsung the Frame, you're in LUCK! Deco Frames also sells TVs as a Samsung Authorized Reseller. They are brand new TVs at a price you will not find anywhere else. I wish I would have bought mine from Deco Frames years ago and saved myself some money.
*DEAL ALERT* DecoTV Frames reached out and is offering my community $50 OFF their TV Frames! They also carry the Samsung Frame TV's at the lowest price on the market and they are a Samsung authorized dealer. Use the code MALLORY50 to save $50 on their frames!