Today on the blog, I'm giving you my honest review of Athletic Greens! Plus, a super sweet surprise if you're like me and interested in giving it a try!
Sometimes even the most simple self care tasks can feel hard – making a nutritious meal, working out, managing your stress – it's a lot to manage. I'm a mom to five, wife, friend, sister and business owner. Somewhere in the mix, I learned to take care of others before myself which has been to my own detriment on occasion. I know I'm not alone! Thanks to social media, it's clear that this is a widespread problem amongst women. It has become really important to me to take care of myself so that I'm the best version of myself to show up for my loved ones.
I haven't gotten it all figured out, but I do have what I like to call my "baseline". My baseline means that I'm eating nutritious meals, I'm incorporating some type of movement into my week, and I'm managing my stress as much as I can. When those things are taken care of, life just seems a little bit easier. One of the ways I'm doing that is by adding Athletic Greens into my day.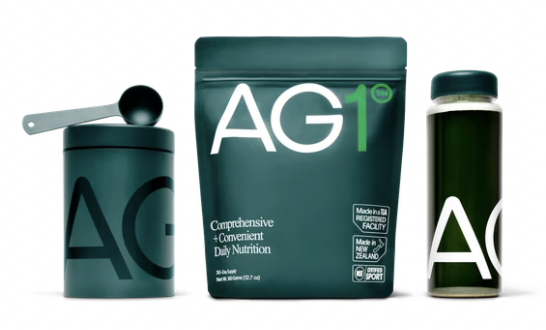 What is Athletic Greens / AG1?
Athletic Greens is the company and the product I'm specifically reviewing is called AG1. AG1 is a powder that you mix with juice or water to get insane health benefits.
Superfoods that provides the antioxidant equivalent of 12 servings of fruits and vegetables per scoop!
Dairy free probiotics
Enzymes and mushroom complex for digestion
Potent plant extracts, herbs and antioxidants (some that even help you adapt to stress)
Tons of vitamins and minerals
I add 1 scoop to glass of juice (you can also do water!) every single day.'
Is This A Paid Partnership with Athletic Greens?
I've been using AG1 for a few months now and I'm telling you – I love it. I initially tried it out because a friend recommended it. After loving it for 3 months, I was lucky enough to collaborate with them to share my love for it with you. I have continued to use it because I genuinely see the benefits of this product long after the partnership. This blog post is not sponsored by Athletic Greens and they did not ask me to write this. I don't see it leaving my routine anytime soon!
How does Athletic Greens Taste?
Athletic Greens is full of awesome fruits and veggies and it tastes very tropical! I get hints of pineapple and mango for sure.
It's pretty "green" tasting, but it's not bad at all. If you've ever had a smoothie with spinach – that is a similar taste. I always drink mine with fruit juice! Fruit juice makes AG1 taste delicious, so much so that you'll look forward to it. If you drink AG1 with water, expect it to taste "healthy"! Maybe over time I'll mix water and juice, but for now, I'm happy mixing my Athletic Greens with apple juice!
Interested in giving it a try? You can get 5 free travel packs using this link right here.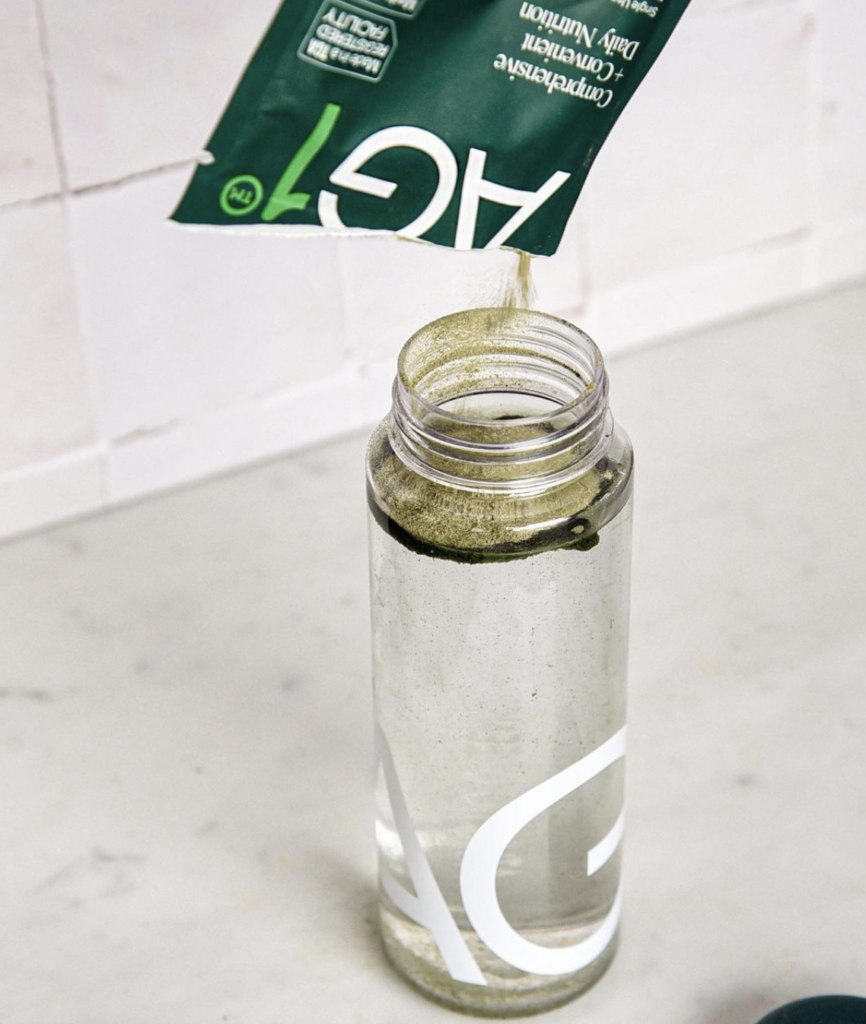 Why I Love Athletic Greens
The ingredients! These are definitely ingredients that I am not getting into my diet naturally. I typically eat a well-rounded diet, but I was for sure missing key vitamins and nutrients. You can read all about the ingredients and their benefits right here.
Alpha Lipoic Acid
Biotin – amazing for hair and nail growth
Bromelain
CoQ10 – important for egg quality and overall heath
Folate
Methylcobalamin
Niacin (Nicotinamide)
Niacin (Nicotinic Acid)
Pantothenic Acid
Riboflavin (B2)
Thiamin (B1)
Vitamin A
Vitamin B6
Vitamin C
Vitamin E
Vitamin K2
Is AG1 a meal replacement?
No, it's not! In fact, I drink mine with my meal. It has 50 calories per scoop, so while it is nutrient dense, it is not meant to be a meal replacement.
Adding Athletic Greens Into Your Routine
I don't like the idea of depriving myself of any specific food or food group. Instead, I start by adding something nutritious to my diet which for me was AG1 by Athletic Greens. That way, I know I'm getting something of substance every single day. I like to add good habits first, then work on reducing the ones I don't see health benefits from (like relying on my kids' leftovers as meal!)
As I mentioned above, I drink mine with juice every morning. I usually have my breakfast and AG1 at the same time. If you're into smoothies, adding a scoop will be an easy way to incorporate Athletic Greens into your day.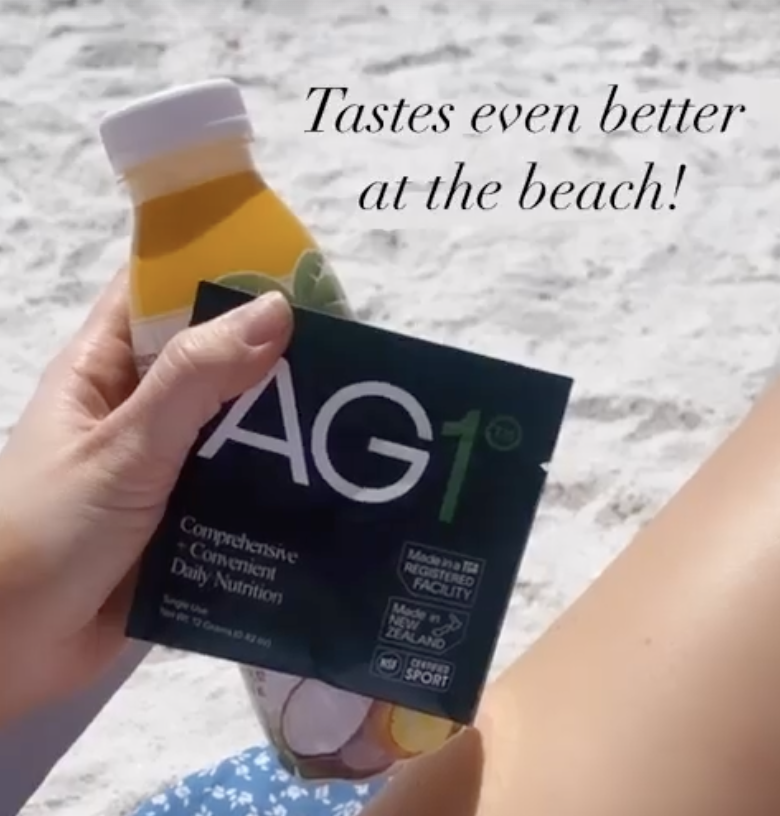 If I'm on the go, I love the individual packets! I've traveled with them a few times now and they are really handy. And yes, this is actually a photo me with AG1 at the beach!
If I'm at home, I use the container from my subscription.
How Much Does AG1 Cost?
It's $80 for a 30 day supply of AG1. I know this isn't super budget friendly, but it's something I am prioritizing this year. I've very much noticed a difference in my overall health, specifically my energy and hair/nail growth!
You also get a shaker with your initial purchase! Very handy!
How To Get 5 Free Travel Packs + 1 Year of Vitamin D Drops
AG1 was kind enough to offer 5 free travel packs PLUS a one year supply of vitamin D drops when you use my link. I love that you'll be able to give it a try completely free!
If you're looking for something to add into your routine, consider AG1! It gets two thumbs up from me!