Today on the blog – we are chatting all things bathroom remodels!
Last week, I shared about our plans to remodel all 8 bathrooms in The Monarch Revival at some point during our time here. Wondering how and why we have 8 bathrooms? Check out the full explanation here!
We are knee deep in a renovation on the Star Wars bathroom for my boys and it's going really well. Craig and I, along with my older boys, demoed the entire space last week and it's been sitting there waiting for me ever since. I wanted to finish the flooring install in the new playroom first before diving into another project.
While we could technically renovate other bathrooms at the same time, there are a few reasons we didn't go that route – time, money, and energy! Plus, it's nice to keep our reno mess contained to one area.
This is a bathroom Craig and I renovated in our home in Prescott, AZ!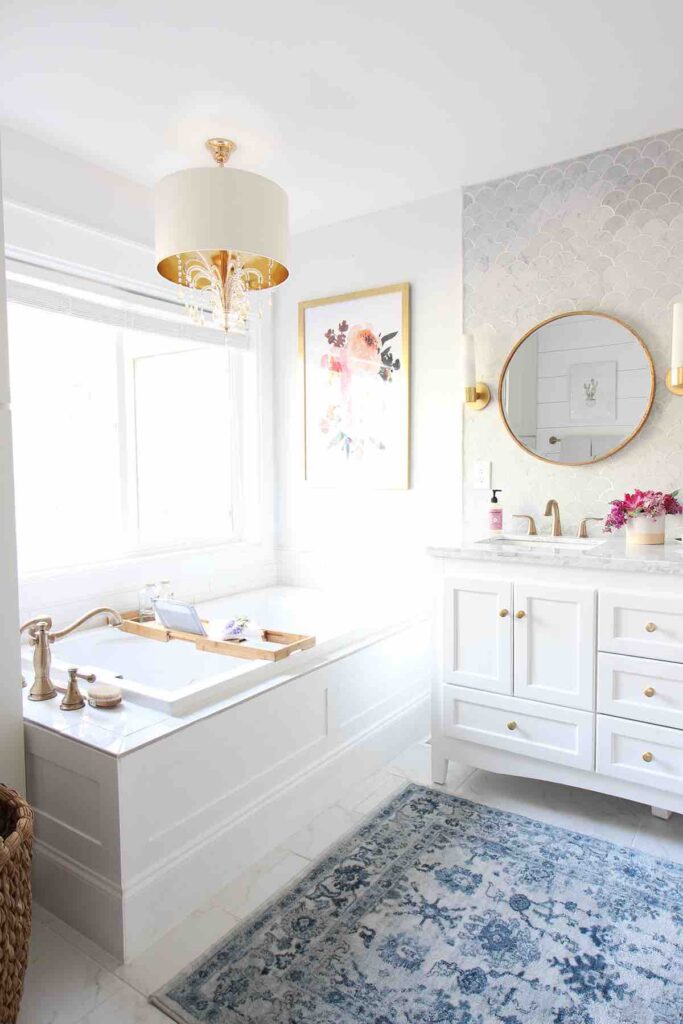 How Much Does A Renovation Cost?
How Much Does A Renovation Cost?
To put it simply, a bathroom remodel can cost anywhere from $9,000-$30,000 depending on the size and finishes you choose. It could be less if you're not hiring a contractor or labor, or more if you're splurging on finishes, fixtures, custom stone work, etc.
Renovations can run the full gamut when it comes to cost. It ultimately depends on whether you take on pieces of the project yourself or hire a contractor to handle the entire thing for you. I'm going to be honest, I haven't hired out an entire bathroom renovation before so it's hard for me to speak to that specifically. However, I have renovated what feels like one million bathrooms with Craig over the years and I know very well how much the materials cost.
Because I know so many people prefer to hire it out (or are at least curious), I reached out to a friend in Arizona who recently tackled their bathroom renovation and she was able to find her actual quote for two small bathrooms each with a shower. She also had some flooring replaced in her closets which explains the extra line item. Everything else is related to the 2 bathrooms!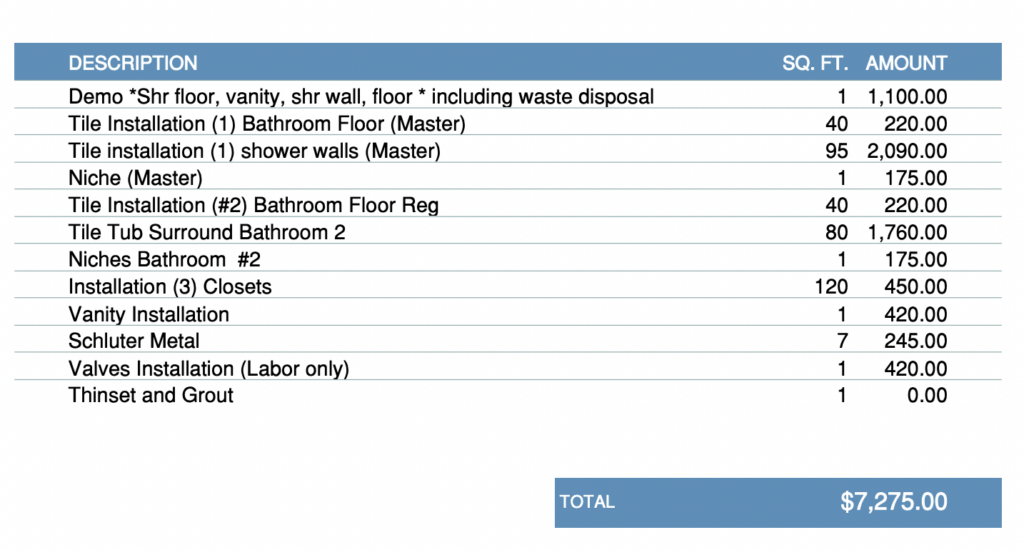 What Does This Bathroom remodel Cost Include?
This cost breakdown is mostly the labor involved. As you can see, there are some big expenses missing:
Cost of the tub
Cost of the tile she chose
Shower door
Vanity
Finishes like faucets, toilet paper holders, etc.
In this scenario, she chose to purchase everything herself and then find a company to complete the demo and the tile work. This definitely saves some budget because the contractor isn't marking up your supplies.
Should I hire a contractor for my bathroom remodel?
The downside of not having a contractor is that you won't have anyone coordinating your project or double checking your work. Did you order the right size tub? Did you purchase enough tile? Questions like this would be avoided if you had an expert guiding your decisions. It seems easier to hire a contractor, but it's a service you will need to pay for.
These decisions aren't necessarily difficult and can be done if you have the capacity and desire to take on a project like this.
Designing a bathroom remodel
Bathroom renovations can feel extra scary because they are somewhat permanent. You can't change your mind about tile without spending a pretty penny to update it again. When it comes to designing a bathroom, you have a few things to keep in mind:
Layout
Tile choices
Faucet
Hardware
Mirror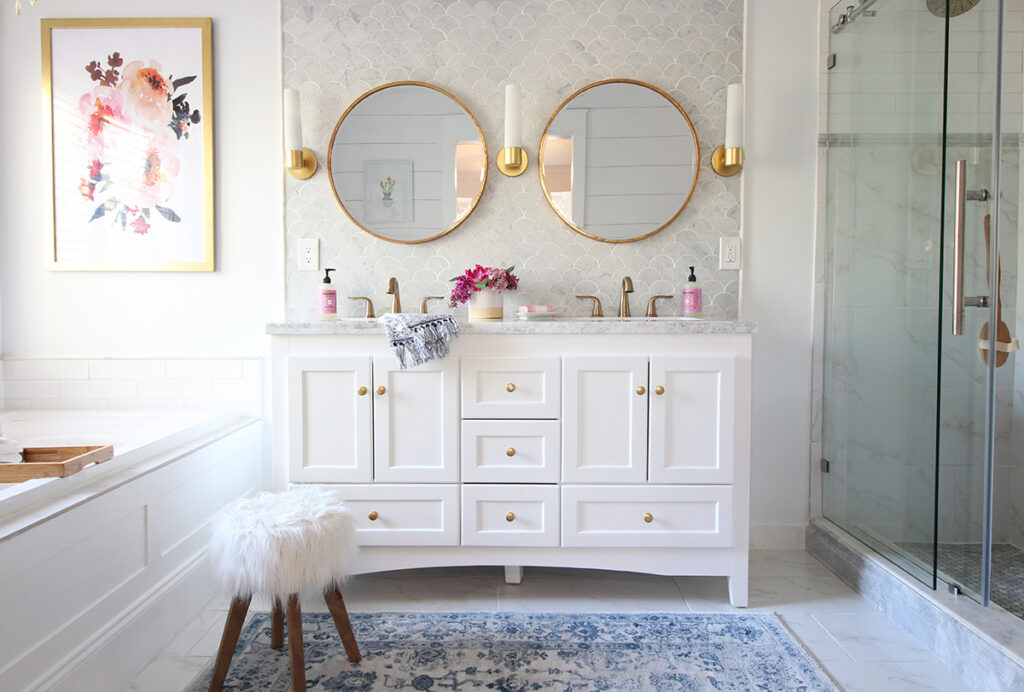 Changing the layout of your bathroom?
If you're doing a full bathroom remodel, it's entirely possible to change up the layout if needed. Thinking about a larger shower or larger vanity? Definitely take this into consideration before you get started. You don't have to keep the layout the same! If you need to move a water line, this will increase the cost of your project, but it's often worth it if it will improve the space.
How to Choose A Bathroom Tile
Tile choices are SO personal! I have decided to keep my bathroom tile choices in line with the rest of my home – classic, neutral, and not too modern. I often see people go out of their comfort zone with bathroom tile and I'm all for it. There is no right or wrong answer here, but I do recommend thinking about tile choices you'll love for years to come.
A trend I've been seeing lately is a solid tiles laid in a specific pattern, as opposed to patterned tiles. You could experiment with a brick lay, stacked tile, or even a herringbone. In my opinion, I think choosing a unique tile layout will age better than a trendy patterned tile. We can't predict how trends will change, so make sure to choose what you love!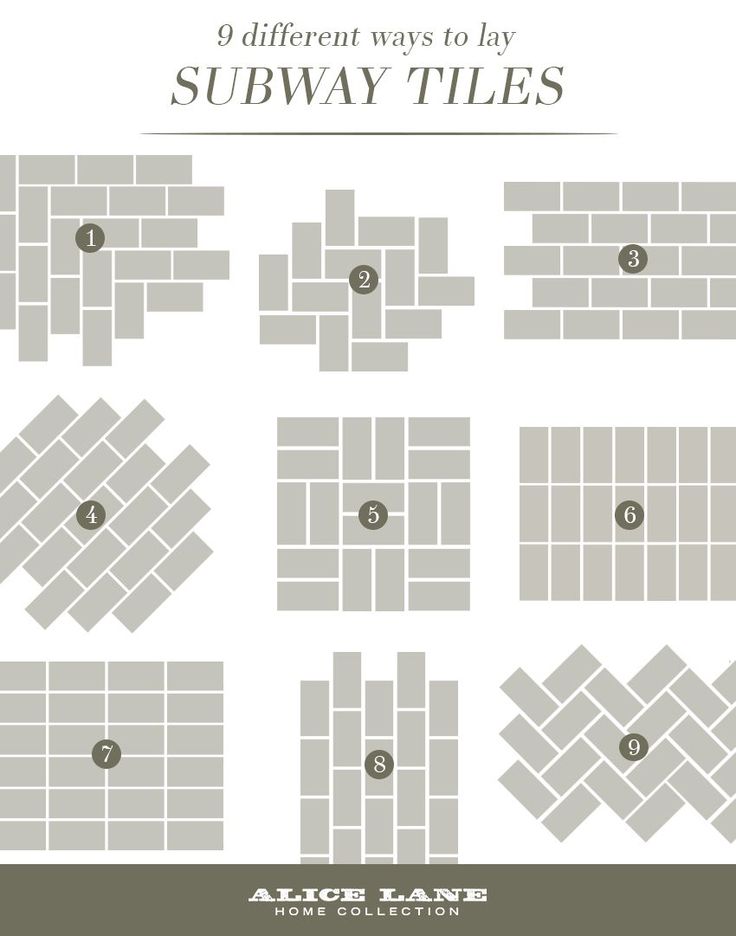 What Color Finishes Should I Choose?
Finishes are best chosen after your tile for your bathroom remodel. Technically, you can update your faucet or shower head anytime without diving into a renovation. You'll see a lot of brass and black finishes these days – or a mixture of the two!
A great tip I've read about mixing finishes is ensure that the color is repeated at least once. For example, if you choose a black faucet, consider a black shower head as well. To incorporate a new finish color, you could do a brass mirror and brass hardware.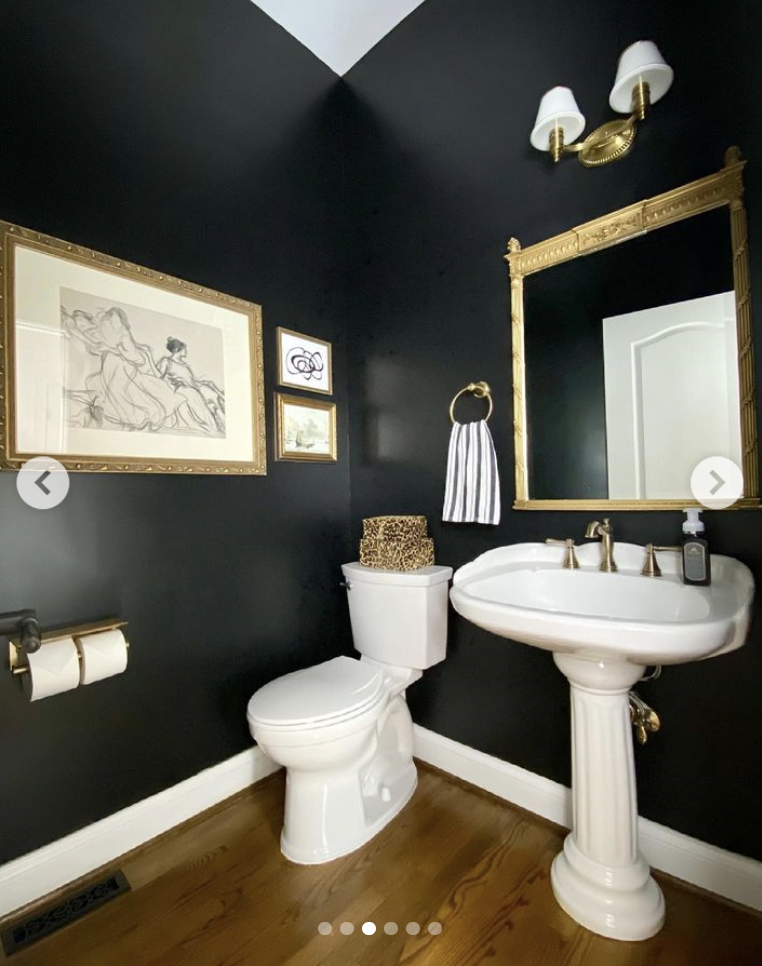 I can't wait to share this bathroom remodel with all of you! If you have any questions, leave them in the comments! xoxo